Vienna 2010 Closes With a Renewed Commitment for AIDS + MDGs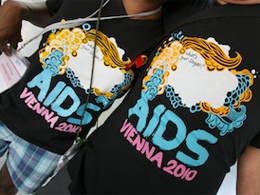 The XVIII International AIDS Conference ended in Vienna today after a week of intense dialogue involving 19,300 people from 193 countries engaged in the global AIDS response.
Delegates and organizers depart Vienna -- where the conference opened 18 July under the theme of Rights Here, Right Now -- with a renewed commitment to push for securing universal access to HIV prevention, care, treatment and support.
"Billions of people stand in solidarity with us in our drive for universal access. We must rally their support behind Michel Sidibé's Prevention Revolution and Treatment 2.0 initiative and UNAIDS to ensure that world leaders do not turn their backs on their pledge to reach the goal of universal access," said Dr. Julio Montaner, AIDS 2010 Chair, President of the International AIDS Society and Director of the B.C. Centre for Excellence in HIV/AIDS in Vancouver, Canada.
The conference saw a renewed commitment to HIV prevention, were treatment 2.0 outlines the effort to merge treatment with combination HIV prevention to ensure a cohesive and resource-maximizing AIDS response. Evidence was seen of tangible progress in HIV research and programme scale up however the AIDS response is facing an urgent need for increased resources, the protection of human rights, and broader use of scientifically sound prevention strategies.
Political, civil society and development leaders, policymakers, scientists and activists from around the world descended on Vienna from 18-23 July 2010 to engage in dialogue on the major issues facing the global response to HIV. The week-long programme featured 248 sessions covering science, community and leadership. The conference was supported by 770 volunteers from Vienna and elsewhere.
The Closing Session featured a video address by South African Archbishop Desmond Tutu, remarks by Rachel Ong, Chair of the Global Network of People Living with HIV, and Patricia Perez, Chair of the International Steering Committee of the International Community of Women Living with HIV/AIDS. Montaner and Incoming IAS President Elly Katabira, Professor of Medicine at Makerere University in Uganda, presented the first IAS Presidential Award to Jack Whitescarver of the U.S. National Institutes of Health and Katabira gave an inaugural address.
The International AIDS Conference is the world's largest HIV forum. It is held every two years and organized by the International AIDS Society, together with a series of partners including UNAIDS. The next conference will be hosted by Washington DC, USA in July 2012 at the Walter E. Washington Convention Center.