Table of Contents
Introduction
In the world of HIV research, 2006 was the year of the head-to-head HIV clinical trial. Well-powered, randomized, controlled, comparative studies tend to be large, expensive and lengthy -- and, as a result, they have a hard time keeping pace with the rapidly evolving field of HIV clinical management. It takes years to go from the initial conceptualization of a study to the release of final results; thus, what at first made for an intriguing research question, frequently ends up becoming mundane -- or worse, irrelevant. Like the light from a distant star, the results of these period-piece trials often come to us long after the drugs under study have seen their market share go supernova.
However, last year, several well-designed, comparative studies were either presented or published that answered questions relevant to today's clinical practice. In several cases, the studies were conducted quickly and were prescient in their design (i.e., ACTG 5142). In more than one case, the relevance is due to the fact that the studies' findings were not at all what the investigators expected (i.e., the SMART study, ACTG 5142 and A5005s).
To a clinical trialist such as myself, this glut of topical research is just way too cool. I found 2006 to be a refreshing and reaffirming 12 months. Refreshing in that we had some excellent comparative studies that broke a stalemate among researchers and clinicians regarding an important clinical issue; reaffirming because some of these studies, with their well-considered design and impressive execution, reminded me of the reason I went into this field.
We design clinical studies to fill gaps in our knowledge, so we can learn how to better care for our patients. Ideally, the motivation for the study is a disagreement among researchers and clinicians as to the answer to a specific clinical question; some hold firmly that the result will lie in one direction, while their learned colleagues shout back that, on the contrary, it will point the other way. To find out the answer, we experiment. This year, our experiments yielded many important answers.
The trials of 2006 that I felt had the greatest immediate or potential impact on how we approach treating people affected by the HIV epidemic are included in the major HIV medical stories of 2006 listed below. Most are clinical treatment studies; others are not, but all, I think, still challenge us to reconsider how we practice HIV care and how we can prevent further expansion of the HIV epidemic. All are worth reading and appreciating.
The SMART Study -- A Treatment Interruption Trial
A review of:
CD4+ count-guided interruption of antiretroviral treatment. Strategies for Management of Antiretroviral Therapy (SMART) Study Group, WM El-Sadr, JD Lundgren, JD Neaton, F Gordin, D Abrams, RC Arduino, A Babiker, W Burman, N Clumeck, CJ Cohen, D Cohn, D Cooper, J Darbyshire, S Emery, G Fatkenheuer, B Gazzard, B Grund, J Hoy, K Klingman, M Losso, N Markowitz, J Neuhaus, A Phillips, C Rappoport. The New England Journal of Medicine. November 30, 2006;355(22):2283-2296.
STUDY SNAPSHOT
Design:
Randomized, prospective study. Control group took continuous HAART with the goal of maintaining viral suppression. Other group was given episodic therapy (i.e., HAART was initiated when the CD4+ cell count dropped below 250 cells/µL and was discontinued when the CD4+ cell count was 350 cells/µL or greater).
Population:
5,472 HIV-infected adults with a CD4+ cell count greater than 350 cells/µL.
Main Results:
Greater risk of clinical disease progression events, serious progression events and overall death in trial participants randomized to the drug conservation arm of the trial. Patients on the drug conservation arm also had an unexpected greater risk of serious hepatic, renal and cardiovascular events.
Significance:
Demonstrates the greater risk associated with interrupting and deferring antiretroviral therapy until the CD4+ cell count drops below 250 cells/µL. Also the trial did not show a lower risk of major organ complications in participants on the drug conservation arm, despite much less exposure to HAART. Beyond adding to existing structured treatment interruption literature, this study may also have ramifications for the "when to start" therapy debate in HIV medicine -- specifically, starting patients on treatment at a CD4+ cell count higher than 250 cells/µL may be beneficial.
Arguably the most important HIV treatment trial of 2006 was not a comparison of antiretroviral regimens. Instead, the Strategies for Management of Antiretroviral Therapy (SMART) study1 was an ambitious study designed to determine whether life would be better, if not longer, for HIV-infected individuals if they could reduce their exposure to antiretrovirals. The investigators had been impressed by data demonstrating that complications occurring among patients with high CD4+ cell counts are often associated with HIV therapy and that deaths in such persons are typically from causes other than opportunistic infections. They hypothesized that a break in antiretroviral therapy may decrease the risk of drug toxicities and improve survival.
The study they designed was straightforward. HIV-infected individuals with a CD4+ cell count greater than 350 cells/µL were randomized to continuous antiretroviral therapy based on U.S. Department of Health and Human Services (DHHS) treatment guidelines2 (the viral suppression arm) versus episodic antiretroviral therapy based on CD4+ cell count (the drug conservation arm), in which therapy was discontinued after the CD4+ cell count rose to 350 cells/µL or greater and then reinitiated when the CD4+ cell count fell below 250 cells/µL.
Participants were eligible for the trial regardless of antiretroviral treatment experience; however, less than 5% of the cohort was treatment naive. As described in an editorial in the New England Journal of Medicine by Judith Currier and Lindsey Baden3 that accompanied the paper's publication, at the time the study was designed, there was considerable concern in some quarters of the scientific community regarding the wisdom of interrupting effective HIV therapy. However, there was also a counterbalancing intense interest among clinicians, as well as patients, in strategies to reduce antiretroviral-related adverse effects and treatment fatigue.
The study, which was initiated by the U.S. National Institutes of Health (NIH)-funded Terry Beirn Community Programs for Clinical Research on AIDS (CPCRA), opened in early 2002 in 33 countries and eventually enrolled 5,472 participants. Over 80% of the participants lived in North America or Europe; the median CD4+ cell count was 597 cells/µL and 72% had a plasma HIV RNA level less than 400 copies/mL. The trial had been expected to run until at least an average of six years of participant follow-up had been achieved. However, the trial was abruptly halted by the study's Data and Safety Monitoring Board (DSMB) with a mean on-study follow-up time of only 16 months.
What happened has become the most recent entry into the "Annals of Completely Unanticipated Study Results." Rather than protect patients, the withdrawal of HIV therapy increased the risk of death from any cause, including that of opportunistic infections. In addition, the rates of cardiovascular, hepatic and renal disease -- which are often considered antiretroviral-related -- were greater in the treatment interruption group (see Table 1).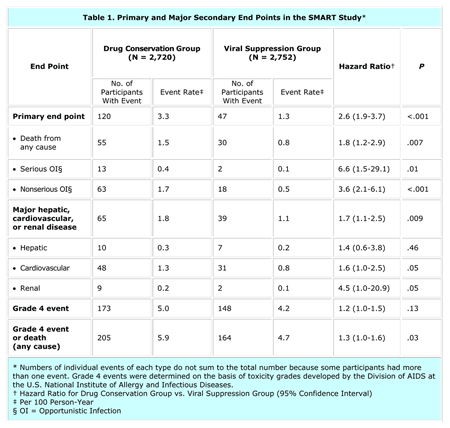 Click to enlarge
Adapted from Wafaa El-Sadr, M.D., M.P.H., et al.
N Engl J Med
. 2006;355(22):2283-2296.
An explanation of these results, which the investigators admit were "surprising," centers on the profound worsening of immunodeficiency observed in the drug conservation arm. CD4+ cell counts dropped by an average of 87 cells/µL per month over the first two months in this group after treatment discontinuation and then continued to decline steadily.
During study follow-up, the CD4+ cell count was an average of 206 cells/µL lower in the drug conservation arm than in the viral suppression arm. Not unexpectedly, the proportion of participants with virologic suppression plummeted with treatment cessation in the drug conservation arm, falling from 72% to 6% during the first two months of study participation.
Adjustment for the latest on-study CD4+ cell count and viral load reduced the hazard ratio for mortality classified as not related to AIDS-associated opportunistic conditions in the drug conservation group compared to the viral suppression group, implying that immunosuppression and uncontrolled viremia provide at least a partial explanation for the differences between the study groups.
According to data presented at the XVI International AIDS Conference (AIDS 2006) in Toronto, Canada, this past summer by the SMART investigators, the superiority of the viral suppression strategy was observed in all subgroups of participants that were analyzed.4,5 While the greatest risk for opportunistic disease or death was, as expected, observed among patients who had CD4+ cell counts of less than 350 cells/µL, continuous HIV therapy was found to be more beneficial than treatment interruption even among those participants with CD4+ cell counts that remained above 350 cells/µL and who, therefore, would be considered at less risk for adverse outcomes.
These analyses also demonstrate that, in fact, patients who had higher CD4+ cell counts and suppressed viral loads experienced particularly worse outcomes during their treatment interruptions. Thus it turned out that patients who were doing well on their antiretroviral therapy had more to lose from stopping therapy than those who were receiving relatively less benefit from their HIV treatment due to non-adherence (i.e., self-directed treatment interruptions) or other factors.
The Bottom Line
This CD4+ cell count-directed-intermittent HIV treatment interruption was found to be hazardous across the board. Patients who may seem most attractive for such a break -- such as those who have higher CD4+ cell counts and lower viral loads -- were most likely to experience an adverse event compared to patients who remained on therapy.
The findings of this trial are significant on several levels. First, the inferiority of the drug conservation strategy has chilled any notion of structured treatment interruptions. In their editorial, Currier and Baden suggest that long-term treatment interruption may be safe only for people who did not need HIV therapy to begin with (e.g., patients who have extremely high CD4+ cell counts when initiating therapy) and that there remain few circumstances in which a treatment interruption may continue to have a role. This would include interrupting treatment following therapy initiated during acute HIV infection and in women with high CD4+ cell counts who received HIV therapy to prevent HIV transmission during pregnancy, as well as brief interruptions (i.e., a few weeks) due to serious side effects in those with chronic HIV infection.
Some people may argue about the appropriateness of the CD4+ cell count "floor" that the investigators used to trigger resumption of antiretroviral therapy. The investigators felt a CD4+ cell count threshold for reinitiating HIV therapy of 250 cells/µL was safe given historic data demonstrating low rates of disease progression among HIV-infected patients with counts above 200 cells/µL.
Those who disagreed countered that a threshold of 250 cells/µL was cutting things too close. They would have preferred that therapy restart at a higher count. It is likely that any future studies of treatment interruption -- were they to be conducted -- would not tolerate the degree of immunosuppression experienced by participants in the drug conservation arm of this study.
Without a doubt, the superiority of continuous HIV therapy brings us back to the altar of treatment-worship. Concerns over the perceived complications of HIV therapies are giving way to a newfound appreciation for the toxicity of unchecked HIV viremia and progressive CD4+ cell count depletion.
The finding that sustained treatment holidays are largely a bad idea is absolutely clear from the findings of the SMART study. Clinicians must now share these results with their patients, who also need to understand the potential perils of their dabbling in therapy interruptions. Given the popular prejudices regarding HIV therapy, more than a few patients will be surprised to find that survival and cardiovascular outcomes were better in the continuously treated participants of this large study.
The intriguing finding of excess cardiovascular, renal and hepatic disease among patients assigned to the treatment interruption arm adds to an emerging body of evidence suggesting a role for both immunosuppression and HIV viremia in the etiology of some of these conditions. Higher rates of renal, hepatic and neurological adverse effects were also reported in untreated HIV-infected patients compared to those starting therapy in the HIV Outpatients Study (HOPS).6 It is possible that viremia, and its attendant immune activation, may provoke inflammatory reactions that can lead to end-organ damage. The suggestion that HIV therapy may actually be protective against cardiovascular disease will require careful examination within this study, as well as other studies.
Lastly, the trial was a coup for the scientific method and a testament to the value of studies on research questions that many people think they know the answer to in the absence of sufficient data. The investigators' hypothesis (that had been shared by many smart people) was proved to be false. The surprising results have led to a dramatic shift in our thinking about antiretroviral treatment and the complications of HIV and its therapies.
ACTG 5142 -- Battle of the Titans
A review of:
A prospective, randomized, phase III trial of NRTI-, PI-, and NNRTI-sparing regimens for initial treatment of HIV-1 infection -- ACTG 5142. SA Riddler, R Haubrich, G DiRienzo, L Peeples, WG Powderly, KL Klingman, KW Garren, T George, JF Rooney, B Brizz, D Havlir, JW Mellors, AIDS Clinical Trials Group 5142 Study Team. In: Program and abstracts of the XVI International AIDS Conference; August 13-18, 2006; Toronto, Canada. Abstract THLB0204.
View slides: Download PowerPoint
STUDY SNAPSHOT
Design:
A phase 3, randomized, open-label study comparing three different regimens: lopinavir/ritonavir + efavirenz, lopinavir/ritonavir + two NRTIs and efavirenz + two NRTIs.
Population:
753 antiretroviral-naive patients with a viral load greater than 2,000 copies/mL.
Main Results:
The proportion of patients with an HIV RNA of less than 50 copies/mL or less than 200 copies/mL at 96 weeks was statistically significantly higher in the efavirenz arm, when compared to the lopinavir/ritonavir arm. Median increase in CD4+ cell count, however, was statistically significantly higher in the lopinavir/ritonavir arm than the efavirenz arm. Of the patients who were receiving lopinavir/ritonavir and efavirenz together without NRTIs, 14% had a grade 3 or greater fasting triglyceride level compared to 6% in the lopinavir/ritonavir arm and 3% in the efavirenz arm.
Significance:
Although efavirenz was virologically superior to lopinavir/ritonavir, lopinavir/ritonavir was immunologically superior to efavirenz. More patients developed HIV drug resistance in the NNRTI arm than the PI arm. This study provided us with an interesting look at the disadvantages and advantages of both of these very potent regimens.
Lopinavir/ritonavir (LPV/r, Kaletra) or efavirenz (EFV, Sustiva, Stocrin)? During the past several years, these were the two options facing the majority of U.S. clinicians selecting an initial HIV treatment regimen for their patients. Sure, there were some, somewhere, who prescribed nevirapine (NVP, Viramune), fosamprenavir (FPV, 908, Lexiva, Telzir) or saquinavir (SQV, Invirase) for first-line therapy, but I would eye these prescribers with curiosity. No trial has found any other agent to be better at suppressing HIV than efavirenz or lopinavir/ritonavir. Therefore, these two agents sat, like expensive liquor on a top shelf, labeled as "preferred" by the U.S. DHHS in its HIV treatment guidelines. The problem was that these extremely different antiretrovirals had not been adequately compared to each other. Enter the U.S. NIH-funded AIDS Clinical Trials Group (ACTG).
Often the ACTG, as a federally funded research network, is uniquely able to conduct comparative trials that the pharmaceutical companies have no interest in performing. Such was the case for ACTG 5142,7 which pitted the two longest-standing, guideline- recommended antiretroviral treatment regimen anchors, efavirenz and lopinavir/ritonavir, against one another.
Naturally, there were the expected ACTG idiosyncrasies. Although independent from the pharmaceutical industry, the ACTG relies on drug companies to provide study medications free of charge. In this case, not everyone from big pharma was eager to play. As a result, for a large proportion of the study participants, not all the HIV medications were supplied at no cost -- leading to an over reliance on extended release stavudine (d4T, Zerit), which was provided gratis to the investigators.
In addition, there are the usual ACTG statistical quirks, such as undetectable being defined as less than 200 copies/mL, composite endpoints and non-traditional P-values. But these probably just indicate that ACTG statisticians are simply smarter than the rest of us.
The design of this trial may be well known to most readers since it snagged a lot of attention this past summer at AIDS 2006, where it was first presented. Efavirenz and lopinavir/ritonavir were compared to each other in combination with a pair of nucleoside/nucleotide reverse transcriptase inhibitors (NRTIs). The NRTIs were chosen by the clinicians and patients, and 753 HIV treatment-naive participants were enrolled.
Importantly, during the initial phase of the study, only one of the NRTI options was provided at no cost to the participant, and this was the extended-release stavudine. Later, tenofovir (TDF, Viread) was also made available by the study at no cost to patients. This led to overuse of stavudine, which is now considered too toxic for use when alternative NRTIs are readily available. A third, "nuke-sparing" study arm consisted of only efavirenz + lopinavir/ritonavir without accompanying NRTIs.
At present, everything we know about the findings of this study was presented at AIDS 2006 during a 15-minute late breaker session by Sharon Riddler of the University of Pittsburgh. Essentially, the study demonstrated that at week 96 a significantly greater proportion of participants who had been assigned to receive efavirenz + two NRTIs reached the virologic endpoints of a plasma HIV RNA level of less than 200 copies/mL or less than 50 copies/mL, compared to participants who had been randomized to receive lopinavir/ritonavir + two NRTIs (Table 2). The nuke-sparing regimen produced results that were, generally, in between those of the other two study arms.

Click to enlarge
Adapted from Sharon A. Riddler, et al.
So, round one goes to efavirenz. However, the results included some more surprises. When looking at participants' immunological responses, patients who had been assigned lopinavir/ritonavir were found to have had a (statistically) significantly greater gain in CD4+ cell counts over 96 weeks of treatment (Table 2).
Although limited data were presented on toxicity, those that were shown were tantalizing. In the two NRTI-containing arms, about one third of participants experienced a moderate or severe laboratory abnormality, and approximately 20% had a new high-grade sign or symptom. But, there were no major differences in the rates of these events between these two arms. The nuke-sparing arm did produce a high rate (45%) of moderate or severe laboratory abnormalities. Off-the-chart hypertriglyceridemia was rare in both NRTIs arms (less than 6%), but was high (14%) in the nuke-sparing arm -- perhaps accounting for much of the excess laboratory adverse events seen in this arm. Data on lipid-lowering drug use was not presented.
Additional lipid and body shape data were reserved for presentation at the 14th Conference on Retroviruses and Opportunistic Infections (CROI 2007) in Los Angeles, Calif.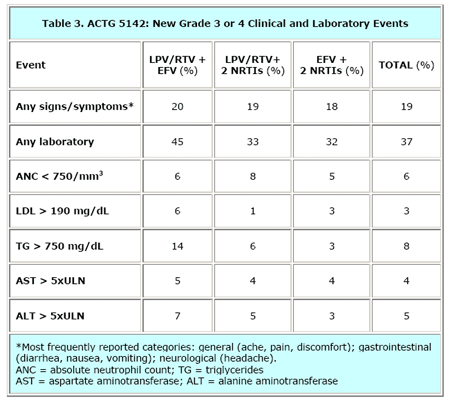 Click to enlarge
Adapted from Sharon A. Riddler, et al.
Particularly noteworthy was that the time to first treatment-limiting toxicity was observed to be no different among the three study arms at 96 weeks. More than 80% of the participants remained free of such an adverse event.
However, when examining the composite study endpoint of "regimen completion" -- which was defined as virologic failure (lack of viral suppression or rebound) or toxicity requiring discontinuation of any component of the regimen -- at 96 weeks, 56% of the patients who were assigned to lopinavir/ritonavir + two NRTIs, compared to 40% of those randomized to efavirenz + two NRTIs, reached regimen completion (P = .02). The proportion of participants meeting the study endpoint of regimen completion was similar in the nuke-sparing arm and the efavirenz + two NRTIs arm.
Therefore, 50% to 60% of the participants assigned to these state-of-the-art therapies experienced either a virologic failure or an adverse event requiring a change in one or more of their antiretrovirals (note: a quarter of the participants were taking extended-release stavudine).
Granted, the protocol-specified definition of virologic failure was more stringent than what is typically utilized in clinical practice. To what extent patients with low-level viremia were considered treatment failures was not included in Riddler's brief presentation. Likewise, still unreported is whether treatment modification was related to problems with the NRTIs (i.e., stavudine) rather than the protease inhibitor (PI) or non-nucleoside reverse transcriptase inhibitor (NNRTI) under study. The specific reasons for drug discontinuations also remain unreported.
Less surprising were the viral resistance data. No resistance to lopinavir/ritonavir was observed in participants who were assigned to this boosted PI plus two NRTIs. In contrast, resistance to efavirenz was detected in almost half of the patients who failed efavirenz + two NRTIs (however, resistance testing results were not available for everyone). NRTI resistance was observed in more patients with virologic failure while on efavirenz + two NRTIs than in patients in the other two study arms.
The Bottom Line
There was no clear "winner" in this trial, yet it was extremely successful in achieving its goal -- which was to provide clinicians and patients with a side-by-side comparison of two of the most potent and popular antiretrovirals.
Different people will take home differing messages regarding the results according to what is most important to them. For some people, the virologic data will reinforce confidence in efavirenz-based regimens. For others, the resistance and immunologic results will bolster faith in lopinavir/ritonavir and, perhaps by extension, in other boosted PIs.
However, the significance of the results of this trial extends beyond the study aims to compare the efficacy and safety of these regimens. In my view, the beauty of this investigation's conclusions is found in how completely unexpected the results turned out to be. In many of today's HIV clinical treatment trials, the outcome is all but assumed: Powerful drug X is pitted against a known weaker drug Y and, voila!, X wins. Who among you would have predicted that efavirenz would lead to significantly greater rates of viral suppression than lopinavir/ritonavir? And who would have guessed that the rates of high-grade hypertriglyceridemia would be similar between these two drugs? Planned analyses of adverse events and metabolic complications may yield even further surprises. More data from this trial was presented at CROI 2007, and surely a manuscript cannot be far behind.
A Trio of Other Comparative HIV Treatment Trials: KLEAN, BMS-089 and Gilead 934
While no other single trial in 2006 was, in my view, as monumental as either the SMART study or ACTG 5142, there were a few other noteworthy HIV treatment trials, which pitted popular treatment regimens against one another to reveal their relative strengths and weaknesses, that collectively merit inclusion in this list.
A review of:
The KLEAN study of fosamprenavir-ritonavir versus lopinavir-ritonavir, each in combination with abacavir-lamivudine, for initial treatment of HIV infection over 48 weeks: a randomised non-inferiority trial. J Eron Jr, P Yeni, J Gathe Jr, V Estrada, E DeJesus, S Staszewski, P Lackey, C Katlama, B Young, L Yau, D Sutherland-Phillips, P Wannamaker, C Vavro, L Patel, J Yeo, M Shaefer, for the KLEAN study team. The Lancet. August 5, 2006;368(9534):476-482.
STUDY SNAPSHOT
Design:
A phase 3, open-label, multicenter, non-inferiority study comparing the safety and efficacy of lopinavir/ritonavir to ritonavir-boosted fosamprenavir both in combination with abacavir/lamivudine.
Population:
878 treatment-naive patients.
Main Results:
At week 48, fosamprenavir + ritonavir was not significantly different from lopinavir/ritonavir in terms of virological, metabolic or immunologic response. Treatment discontinuations due to an adverse event were few and occurred with similar frequency in the two treatment groups.
Significance:
Shows that, during the first year of treatment, lopinavir/ritonavir and fosamprenavir + ritonavir are equally good options in terms of reducing viral load, raising CD4+ cell counts and avoiding adverse events.
The KLEAN (which stands for Kaletra versus Lexiva with Epivir and Abacavir in ART-Naive Patients) study8 compared ritonavir (RTV, Norvir)-boosted fosamprenavir to lopinavir/ritonavir, both in combination with abacavir/lamivudine (ABC/3TC, Epzicom, Kivexa), in treatment-naive patients. As described above, lopinavir/ritonavir has been a popular PI that, until recently, was the only PI to be considered preferred in the U.S. DHHS guidelines (see below). As such, it was a target for contenders for that distinction, including the PI fosamprenavir.
In the industry-sponsored KLEAN trial, the two boosted PIs were compared over 48 weeks in 878 treatment-naive patients at 131 sites across the United States, Canada and Europe. Fosamprenavir was dosed as 700 mg along with 100 mg of ritonavir, both twice a day. Lopinavir/ritonavir in the original soft-gel formulation was also administered twice daily. All study therapy was open-label.
Here again, the results defied the oddsmakers. Across all parameters by which these two regimens were compared -- virologic, immunologic, metabolic -- there were no significant differences between the study arms. There was not even a trend. Both boosted PIs were able to lead to profound reductions in viral load and impressive increases in CD4+ cell count. In the intent-to-treat analysis, in which all those exposed to drug were considered, the rates of viral suppression below 50 copies/mL at 48 weeks were 89% and 88% in the fosamprenavir + ritonavir group and the lopinavir/ritonavir group, respectively (P = NS).
There were no differences in virologic responses by treatment arm when the analysis was stratified by baseline viral load above and below 100,000 copies/mL. The CD4+ cell count increased by a median of 176 cells/µL in the fosamprenavir + ritonavir group (interquartile range [IQR] 106-281) compared to 191 cells/µL in the lopinavir/ritonavir group (IQR 124-287) (P = NS).
Both regimens were also well-tolerated. Only 12% of the patients who were assigned fosamprenavir + ritonavir and 10% of those randomized to lopinavir/ritonavir prematurely discontinued study medication due to adverse events (some of these events were due to abacavir hypersensitivity reactions). The rate of diarrhea, a typical adverse effect with both of these PIs, was similar between the two arms (11% for lopinavir/ritonavir and 13% for fosamprenavir + ritonavir).
Of interest were the lipid data from this trial. There were modest increases in low-density lipoprotein (LDL) cholesterol, high-density lipoprotein (HDL) cholesterol and fasting triglyceride levels in both arms but, again, no differences between the two arms with regard to these parameters (Table 4). This is notable as there has been a perception that lopinavir/ritonavir is particularly deleterious when it comes to on-treatment lipid changes and conflicting data regarding the relative effects of these PIs on lipid parameters.
Click to enlarge
Adapted from Joseph Eron Jr., M.D., et al.
Lancet
. 2006;368(9534):476-482.
The results from the KLEAN study make it clear that these two boosted PIs are more alike than not, and that the relative merits of one agent compared to the other are not to be found in their ability to reduce viral load, to raise CD4+ cell counts or to even be tolerated during the first year of treatment. This point was well-appreciated by the minders of the U.S. DHHS guidelines who, in their October 2006 update,2 added fosamprenavir + ritonavir at the dose and frequency studied in KLEAN to their list of preferred initial HIV treatment for adults and adolescents (see below).
Atazanavir With and Without Ritonavir -- BMS-089
A review of:
Efficacy and safety of atazanavir-based therapy in antiretroviral naive HIV-1 infected subjects, both with and without ritonavir: 48-week results from AI424-089. N Malan, E Krantz, N David, K Kastango, D Frederick, M Matthew, S Schnittman, J Hammond, and the -089 Study Group. In: Program and abstracts of the 13th Conference on Retroviruses and Opportunistic Infections; February 5-8, 2006; Denver, Colo. Abstract 107LB.
STUDY SNAPSHOT
Design:
A 96-week, randomized, open-label study comparing the efficacy and safety of atazanavir at 300 mg daily boosted with ritonavir at 100 mg daily versus 400 mg of atazanavir daily unboosted, both in combination with lamivudine and extended release stavudine.
Population:
199 antiretroviral-naive patients.
Main Results:
Patients taking atazanavir, with or without ritonavir, demonstrated a high rate of virologic response through 48 weeks. Both arms were generally safe and well tolerated, but patients on atazanavir + ritonavir had a higher rate of hyperbilirubinemia.
Significance:
Demonstrates that although atazanavir is known to be more lipid friendly than other PIs, the addition of ritonavir does increase lipid levels.
The other comparison study that made heads turn involved atazanavir (ATV, Reyataz), which has been lauded as the first lipid-friendly, if not lipid-neutral, PI. In studies of unboosted atazanavir, atazanavir was, indeed, found to have a limited impact on lipids.9
Further, in a comparison with lopinavir/ritonavir in treatment-experienced patients, patients who switched from a failing combination antiretroviral therapy to ritonavir-boosted atazanavir saw a mean reduction in triglyceride, LDL cholesterol and total cholesterol levels.10 In contrast, 48 weeks after the switch, study participants who were assigned to lopinavir/ritonavir experienced an increase in triglycerides and total cholesterol and no change in LDL cholesterol. Although these results demonstrated less of an impact by ritonavir-boosted atazanavir on most lipid parameters in comparison with lopinavir/ritonavir in the treatment-experienced, little information on the effects of boosted atazanavir itself on lipids was provided. The absence of these data made it difficult to appreciate the precise degree to which ritonavir offsets atazanavir's beneficial aspects vis-à-vis lipids, which is exactly what the study known as BMS-089 set out to find out.
BMS-089 was a 96-week, open-label trial of 300 mg of once daily atazanavir boosted with 100 mg of once daily ritonavir versus 400 mg of unboosted atazanavir, both administered with extended release stavudine and lamivudine (3TC, Epivir), in 199 treatment-naive patients. The investigators aimed primarily to examine virologic efficacy, but also were able to detail the lipid effects of atazanavir and ritonavir co-administration.
At 48 weeks, the proportion of participants with a viral load less than 50 copies/mL was not significantly different statistically: 75% in the boosted arm versus 70% in the unboosted arm (95% CI: -7.0, 17.0). However, in the unboosted arm, there were 10 virologic failures compared to only three in the ritonavir-boosted atazanavir arm. Although there were few resistance mutations detected during the study, more people (n = 7) in the unboosted arm were observed to have drug resistance, mostly at the 184 codon. Only one patient in the boosted arm had a resistance mutation (M184V).
Interestingly, there were more adverse effects (mostly related to hyperbilirubinemia/jaundice) in the ritonavir-containing arm compared to the unboosted arm (8% versus less than 1%). Almost a quarter of the participants who were taking ritonavir-boosted atazanavir experienced jaundice compared to 7% in the unboosted-atazanavir group.
In terms of lipids, a ritonavir-effect was evident. Changes in total cholesterol and triglyceride levels were significantly higher in the ritonavir-boosted atazanavir arm (Figure 1).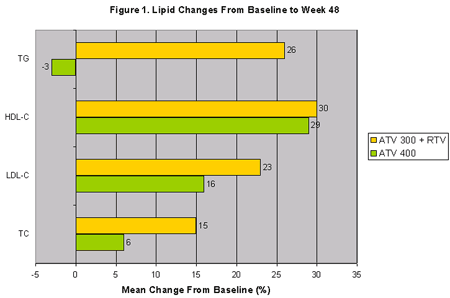 Click to enlarge
Adapted from Niel Malan, et al.
The significance of these results is reflected in the growing popularity of atazanavir. Clinicians are reaching for this once-a-day PI for a variety of reasons, but the perceptions regarding atazanavir's effects on lipids are a leading rationale for many. This study, albeit hamstrung a bit by the independent lipid effects of extended release stavudine, demonstrates that the addition of ritonavir does increase undesirable lipid parameters, especially triglycerides. Notably, the HDL cholesterol levels also increased, almost identically in both arms.
Virologically, although boosted and unboosted atazanavir both led to similar proportions of patients achieving viral suppression, the study was small. The excess virologic failures and detectable resistance in the unboosted arm indicate a relative lack of potency with regard to this (and probably every) PI when it is not boosted with ritonavir. However, the added virologic potency achieved with ritonavir boosting does come with a price -- beyond the monetary type -- and that is the added risk of significant hyperbilirubinemia and jaundice. As was the case for fosamprenavir, ritonavir-boosted atazanavir was recently added to the U.S. DHHS list of recommended initial therapies.2
Tenofovir + Emtricitabine + Efavirenz Versus Zidovudine/Lamivudine + Efavirenz -- Gilead 934
A review of:
Tenofovir DF, emtricitabine, and efavirenz vs. zidovudine, lamivudine, and efavirenz for HIV. JE Gallant, E DeJesus, JR Arribas, AL Pozniak, B Gazzard, RE Campo, B Lu, D McColl, S Chuck, J Enejosa, JJ Toole, AK Cheng, for the Study 934 Group. The New England Journal of Medicine. January 19, 2006;354(3):251-260.
STUDY SNAPSHOT
Design:
In this randomized, open-label, non-inferiority trial, patients received tenofovir + emtricitabine + efavirenz or zidovudine/lamivudine + efavirenz.
Population:
517 antiretroviral-naive patients.
Main Results:
Through week 96, significantly more patients receiving tenofovir + emtricitabine + efavirenz achieved and maintained an HIV RNA level below 400 copies/mL. Limb fat at week 96 was significantly greater in the tenofovir + emtricitabine + efavirenz group.
Significance:
Although tenofovir + emtricitabine + efavirenz was superior to fixed-dose zidovudine/lamivudine + efavirenz in achieving and maintaining an HIV RNA level below 400 copies/mL and an increase in CD4+ cell count, the two regimens were similar when it came to the proportions of patients who reached an HIV RNA level below 50 copies/mL.
The approval -- and subsequent embrace this past year -- of the fixed-dose combination pill efavirenz/ tenofovir/ FTC (EFV/TDF/FTC, Atripla) was, in and of itself, a milestone in HIV therapeutics. For many, a one pill, once-a-day drug therapy has been significant not only in the convenience it offers, but also in the psychological boost of being able to control HIV with one single tablet.
The NRTI components of this combination drug have been most rigorously studied in Gilead 934, a head-to-head study of treatment-naive patients randomized to receive open-label tenofovir + emtricitabine (FTC, Emtriva) or fixed-dose zidovudine/lamivudine (AZT/3TC, Combivir) along with their efavirenz. The 48-week results of this study were first published in the New England Journal of Medicine11 and the 96-week data followed in JAIDS.12
After 96 weeks, the proportion of participants with a viral load less than 400 copies/mL (the primary study endpoint) was found to be significantly greater in the tenofovir + emtricitabine arm. However, the proportions of participants within the study arms with viral suppression below 50 copies/mL were not significantly different. These viral endpoints were analyzed using the time-to-loss of viral response (TLOVR), an approach that is preferred by the U.S. Food and Drug Administration (FDA), and that includes treatment discontinuation for virologic reasons as well as for reasons related to toxicity. Therefore, excessive toxicity in one arm could tip the analysis in favor of the other. This was clearly the case at 48 weeks, when higher rates of treatment-limiting adverse effects (largely anemia) in the zidovudine/lamivudine arm led to a significantly greater proportion of participants in the tenofovir + emtricitabine arm achieving the primary endpoint of a viral load below 400 copies/mL. At week 96, this was still the case; however, at this time point there were also significant differences between the arms with regard to the rates of virologic rebound (5% versus less than 1%), which contributed to the superiority of tenofovir + emtricitabine.
Overall, treatment-limiting adverse events were not common, but were more likely with zidovudine/lamivudine (11%) than with tenofovir + emtricitabine (5%) (P = .008). There were no clinical renal events leading to treatment discontinuation in either arm. The median glomerular filtration rate (GFR), estimated by the Cockcroft-Gault equation, declined in both groups over 96 weeks, with no significant difference between the arms seen. However, the Modification of Diet in Renal Disease (MDRD) equation, considered a more sensitive estimate of renal function, did find a greater decline in GFR in the tenofovir + emtricitabine arm. As in other studies of tenofovir, the clinical significance of small, but statistically significant, changes in GFR estimates is unclear.
DEXA (dual energy X-ray absorptiometry) scans were performed at weeks 48 and 96 (but were not performed at baseline!) to assess regional fat. Interestingly, a significant decline (-700 grams) in limb fat was observed in the zidovudine/lamivudine-assigned participants, while patients who were randomized to tenofovir + emtricitabine experienced a median gain (300 grams) in total limb fat. The observation of a drop in limb fat with zidovudine/lamivudine + efavirenz stands in stark contrast to results from ACTG study A5005s,13 a rigorous metabolic substudy of ACTG 384, which found no change in peripheral fat among patients receiving this combination (this study will be examined further later in this paper). In A5005s, DEXA scanning was performed at baseline and at six-month intervals over 144 weeks.
The Bottom Line
These three compare-and-contrast antiretroviral studies provide useful data that clinicians can mull over before reaching for the prescription pad. The unexpected parity of lopinavir and fosamprenavir in the KLEAN study and the performance of atazanavir in BMS-089 suggest that the differences between ritonavir-boosted PIs may not be as vast as we may have once thought.
The 934 study makes it loud and clear that tenofovir + emtricitabine works (duh!) and that it can more than hold its own against zidovudine/lamivudine. The discordance of the DEXA results between the 934 and ACTG studies is interesting and it will take other studies, including A5142, to better address the affect of zidovudine/lamivudine + efavirenz on body fat.
In terms of further qualification of atazanavir, in the future, we can look forward to seeing the results of an ongoing direct comparison of lopinavir/ritonavir and ritonavir-boosted atazanavir in treatment-naive patients.
Randomized, Controlled Studies of Male Circumcision to Prevent HIV Acquisition
A review of:
Randomized, controlled intervention trial of male circumcision for reduction of HIV infection risk: the ANRS 1265 trial. B Auvert, D Taljaard, E Lagarde, J Sobngwi-Tambekou, R Sitta, A Puren. PLoS Medicine. November 2005;2(11):e298.
and
Circumcision and HIV transmission. TC Quinn. Current Opinion in Infectious Diseases. February 2007;20(1):33-38.
Epidemiologic studies, mostly conducted in sub-Saharan Africa, have overwhelmingly observed an association between male circumcision and protection from infection with several sexually transmitted infections, including HIV.14,15 Even after adjustment for confounding variables, cross-study analyses suggest that circumcised men are approximately 70% less likely to acquire HIV than uncircumcised men.
Given the consistency of the results of these studies, all that was left to clinch this association was a randomized clinical trial. For those of us conducting drug treatment trials, studies that randomize participants to a surgical procedure can seem rather extreme. However, there is a long history of such studies, including recent trials, some even blinded with the use of sham procedures.
Three major randomized controlled studies of male circumcision to prevent HIV infection of men have been initiated in South Africa, Kenya and Uganda. The first of these was published at the end of 200516 and the other two were ended in 2006.17 Each of these three trials was halted when interim analyses demonstrated that medically performed circumcision protected men against HIV infection.
STUDY SNAPSHOT
Design:
Participants were randomized to immediate circumcision or a control arm in which the procedure would be offered after study follow-up.
Population:
3,274 South African men.
Main Results:
At 18 months, when the study was terminated, there were 20 infections in the intervention group compared to 49 in the control group, indicating a 60% reduced risk of HIV infection after circumcision.
Significance:
Furnished strong proof that circumcision protects heterosexual men from HIV.
The South African study conducted by Bertran Auvert et al enrolled 3,274 men before the trial was stopped in mid-2005. Participants were randomized to immediate circumcision or a control arm in which the procedure would be offered after study follow-up. A mean of 18 months of on-study follow-up was achieved by the time DSMB stopped the study.
At that point, there were 20 infections in the intervention group compared to 49 in the control group. This corresponded to a rate ratio of 0.4 (95% CI 0.24, 0.68%; P < .001) -- that is, in this study of South African men, there was a 60% reduced risk of HIV infection with circumcision seen compared to the control group. When these data were analyzed to account for men who were assigned to circumcision and opted out of the procedure and men in the control arm who went and were circumcised on their own during the study, the protective effect was even stronger, at 76%.
The studies conducted in Kenya and Uganda had a similar design to that employed in the South African trial. They too were halted early as a result of the early benefits seen in the circumcision arms. The Kenyan study was conducted in an urban setting and enrolled 2,784 men while the Ugandan trial, based in a more rural region, enrolled 4,996 men.
STUDY SNAPSHOT
Design:
Participants were randomized to immediate circumcision or a control arm in which the procedure would be offered after study follow-up.
Population:
2,784 HIV-uninfected men in Kenya and 4,996 HIV-uninfected men in Rakai, Uganda.
Main Results:
HIV acquisition was reduced by 53% in the Kenyan circumcised men and 49% in the men circumcised in Uganda.
Significance:
Both trials were halted early because the benefits of circumcision were so clear. Together, they provide strong evidence that circumcision has the potential to be an effective HIV prevention technique.
In the Kenyan study, a 53% reduction in HIV acquisition among the circumcised men was observed. In Uganda, there was a 49% reduction among men who were assigned to the procedure compared to the men in the control group.
The Bottom Line
Even a cynic can appreciate how impressive these results are. Given the difficulty found in motivating behavioral change, there is room for alternative methods to assist in preventing the transmission of HIV and other sexually transmitted diseases that can facilitate HIV acquisition. For sure, there are limitations to the application of circumcision as a global HIV preventative method -- as one international HIV researcher said to me, "We are not going to circumcise ourselves out of the HIV epidemic." This procedure clearly has some finite associated morbidity. And, outside of research settings, the risk of infection and other complications may be higher.
Additionally, the protection afforded by circumcision is hardly absolute; some circumcised men were still infected. While rates of new HIV infection among men undergoing the procedure were lower than those of the control groups, the follow-up time was short due to the halting of these trials. Longer-term study will be needed to understand the durability of the protection circumcision provides.
Further, given the limitations of the protection of circumcision, over time one could imagine a false sense of security among circumcised men that could actually lead to risky behavior and a paradoxical increased exposure to infection.
Additionally, there are few data to indicate whether circumcision will be of much effect in protecting men who have sex with men (MSM). In a study of MSM in the United States, acquisition of HIV was twice as likely in uncircumcised men compared with men who were circumcised.18
That said, in a world where policymakers tell us that the choices for preventing HIV can be summarized by the first three letters of the alphabet, even the limited protection of circumcision is more than welcome.
The Benefits of HIV Treatment and the Price Tag
A review of:
The lifetime cost of current human immunodeficiency virus care in the United States. BR Schackman, KA Gebo, RP Walensky, E Losina, T Muccio, PE Sax, MC Weinstein, GR Seage III, RD Moore, KA Freedberg. Medical Care. November 2006;44(11):990-997.
STUDY SNAPSHOT
Design:
A computer simulation model calculated HIV-related medical costs based on clinical guidelines and data on medical visits and hospitalizations from the HIV Research Network, as well as various other sources.
Main Results:
From the time of entering HIV care, projected life expectancy for a person with an initial CD4+ cell count less than 350 cells/µL is 24.2 years, and the lifetime cost for such a person's treatment is $385,200.
Significance:
This study gives us an idea of the cost and the magnitude of the benefit of HIV treatment.
Almost every scientific article providing an overview of HIV therapy now starts with a sentence or two noting that the advent of potent combination antiretroviral therapy has resulted in dramatic improvements in survival. Certainly, the remarkable results of highly active antiretroviral therapy (HAART) are one of the greatest achievements of medicine. But just how effective HAART is at improving survival, and at what cost, were the focus of this interesting analysis by Bruce R. Schackman et al.
Since the beginning of the HIV epidemic, there have been obvious advances in HIV care. This began with the expansion of the antiretroviral armamentarium from one agent to more than 24 agents, spanning at least four drug classes today. In addition, sophisticated tests for the detection and quantification of HIV viremia, as well as drug resistance (and soon co-receptor tropism), have become part of the standard of HIV clinical care in the United States and elsewhere. At the same time, among HIV-infected patients, hospitalization rates have declined, as have serious incapacitating illnesses.19 This has led to prolonged disease-free survival.
To quantify the benefits and costs of HIV medical care in the United States today, Schackman et al created a hypothetical cohort of patients presenting for HIV care. The investigators modeled the characteristics of the patients, their utilization of health services (medication, outpatient and inpatient services and laboratories) and their disease progression. They used data from a number of sources, including the HIV Research Network (HIVRN), a consortium of U.S. HIV clinics, the HIV Cost and Services Utilization Study (HCSUS), the Multicenter AIDS Cohort Study (MACS), U.S. DHHS treatment guidelines, and previously devised models.
Under this model, patients entered care with a mean CD4+ cell count of 310 cells/µL at 39 years of age. The distribution of HIV RNA levels of new patients was based on data from a Boston HIV clinic. Therapy initiation followed the U.S. DHHS guidelines and treatment consisted of a sequence of regimens starting with tenofovir plus one other NRTI and efavirenz and ending with an enfuvirtide (T-20, Fuzeon)-containing salvage regimen. Medication toxicity and virologic failure rates were based on clinical trial data. In all, the investigators aimed to create a realistic model of the U.S. HIV-infected patient population and were inventive in their inclusion of details that could influence care and its costs.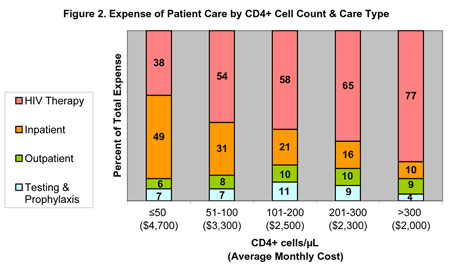 Click to enlarge
Adapted from Bruce R. Schackman, Ph.D., et al.
Med Care
. 2006;44(11):990-997.
The main result emerging from this simulated model of care was that the projected life expectancy from the time of entry into care for a hypothetical HIV-infected patient was found to be 24.2 years. The total lifetime care cost for a patient who initiated therapy at a CD4+ cell count of less than 350 cells/µL was $385,200 when rebates and other discounts on HIV medications were taken into consideration (the cost increased to $618,900 without such discounts). HAART cost made up 73% of the discounted cost followed by inpatient services (13%), outpatient care (9%) and other HIV-related medication and laboratories (5%). CD4+ cell count influenced cost of care and the sources of the expense. For patients with high CD4+ cell counts, the monthly average cost of care was $2,000 with 77% of this cost due to HIV therapy. In contrast, for patients who had counts less than 50 cells/µL, costs rose to $4,700 per month and inpatient care accounted for 49% of the expense of care.
Analyses were conducted in which the timing of HAART initiation and its effectiveness were looked at. One of the most interesting findings of one of these analyses was that when HAART was initiated when the CD4+ cell count dropped below 200 cells/µL, both cost and survival were reduced, the latter by 1.7 years.
On the other end of the spectrum, if HAART was started at the time of infection, survival jumped to 32.1 years, with a total lifetime cost of only $303,100. The low cost in this case was due to anticipated continued discounting of HIV medications at a rate of 3%.
The Bottom Line
Modeling studies such as this one do what cannot be done with actual human beings. But a model is only as good as the data it is based on and here the investigators -- a dream team of experts in this field -- worked painstakingly to account for everything that may influence cost and care. There are inevitably holes in the virtual reality they created and there are assumptions that may not prove to be true (such as the projected cost of HIV medications). Not included were other costs -- such as those for hepatitis C therapy; mental health and substance abuse treatment; as well as costs for the management of diabetes and cardiovascular disease.
Despite these limitations, these analyses were extremely instructive in that they provided an estimate -- based on all the considerations one can throw into the mix -- of the magnitude of the benefit of HIV therapy and care and, at least, a ballpark figure on the costs. The prognosis aspect of the findings is of great importance to our patients who understandably, want to know what they can expect. This study gives the clinician a reasonable basis from which to answer that toughest of questions.
Value of HIV Viral Load in Predicting CD4+ Cell Count Decline
A review of:
Predictive value of plasma HIV RNA level on rate of CD4 T-cell decline in untreated HIV infection. B Rodríguez, AK Sethi, VK Cheruvu, W Mackay, RJ Bosch, M Kitahata, SL Boswell, WC Mathews, DR Bangsberg, J Martin, CC Whalen, S Sieg, S Yadavalli, SG Deeks, MM Lederman. The Journal of the American Medical Association. September 27, 2006;296(12):1498-1506.
STUDY SNAPSHOT
Design:
Repeated-measures analyses of two multicenter cohorts to find how well plasma HIV RNA predicts variability in rate of CD4+ cell loss.
Population:
Chronically HIV-infected patients who were observed for at least six months before beginning treatment. 1,289 in the first cohort and 1,512 in the second cohort.
Main Results:
Higher initial HIV RNA levels were associated with greater subsequent CD4+ cell count declines. However, only a small proportion of CD4+ cell loss variability (4% to 6%) could be explained by initial viral load.
Significance:
This study challenges our understanding of the importance of viral load as a predictor of CD4+ cell count and suggests we should look for other factors to explain disease progression.
Fact: HIV viral load predicts CD4+ cell count decline and HIV disease progression.
Viral load testing was ushered into clinical practice as a result of data from MACS, an ongoing prospective U.S. study of the natural and treated history of MSM. This cohort demonstrated that higher levels of plasma HIV RNA meant increases in the rate of progression to AIDS or death. Since the publication of these results in 1996,20 they have left an indelible impression on HIV care.
Extrapolating from these results, many clinicians refer to the actuarial-like tables derived from MACS and other cohorts to help patients appreciate the likelihood of disease progression given their CD4+ cell count and viral load. The importance of the pre-treatment plasma HIV RNA level is also reflected in its inclusion in the U.S. DHHS treatment guidelines2 as a parameter to consider when determining the appropriate time to initiate a patient on HIV therapy.
However, there are several observations that have called into question the preeminence of the pre-treatment viral load as a predictor of the rate of CD4+ cell count decline for an individual patient. Foremost, many clinicians have cared for patients who have low viral loads and unexpectedly experience rapid CD4+ cell declines. In addition, there is emerging evidence21 for the role of cell phenotype, co-receptor tropism, immune activation as well as individual HIV-specific immune responses in HIV disease progression.
A study by Benigno Rodríguez et al22 set out to examine the ability of pre-treatment HIV viral load to accurately predict the rate of an individual patient's CD4+ cell count decline. They analyzed data from 1,289 HIV-infected patients culled from several sources, including the Centers for AIDS Research (CFAR) Network of Integrated Clinical Systems sites (seven major clinical centers in the United States), the San Francisco Men's Health Study of MSM in that city and the Research in Access to Care for the Homeless (REACH) cohort (a cohort of homeless and marginally housed HIV-infected individuals in the San Francisco area).
All patients included in the analysis were HIV-therapy naive, and it was largely determined that they were not in the throes of acute HIV infection. The investigators were able to collect a contemporaneous viral load and CD4+ cell count and a repeat CD4+ cell count at least six months later, during which time the patients were still not receiving HIV treatment. These data were used to create a model in which a slope of the CD4+ cell count change per individual -- calculated using data from the cohort -- and viral load were included to determine how well the viral load predicted a patient's yearly CD4+ cell count decline.
As has been seen in other cohorts, when patients were grouped into broad categories based on viral load levels, the higher the presenting HIV RNA level strata, the greater the patients' overall subsequent CD4+ cell count decline. Specifically, the median annual-model derived CD4+ cell count decline for those with a viral load of less than 500 copies/mL was 20 cells/µL, for 501 to 2,000 copies/mL it was 39 cells/µL, for 2,001 to 10,000 copies/mL it was 48 cells/µL, for 10,001 to 40,000 copies/mL it was 56 cells/µL and for greater than 40,000 copies/mL it was 78 cells/µL. Therefore, a group of patients with similar viral load levels tends to lose CD4+ cells at a faster rate than a group of patients with a lower level of HIV viremia.
However, the pre-treatment viral load was found not to be an accurate predictor of the speed at which an individual's CD4+ cell count changes. The variability in CD4+ cell count decline between patients was poorly explained by baseline viral load, which indicated that there are other factors with greater influence on the decay of the pool of these cells.
In an attempt to validate these findings, the analysis was repeated -- this time using data from MACS. When this was done, the results were found to be remarkably similar.
To understand how viral load levels can be associated with changes in CD4+ cell count when categorized into broad groups, but not be predictive of the decline of these cells at an individual level, it is helpful to look at Figure 3, in which the distribution of CD4+ cell count changes within each quartile of viral load measured is displayed. There is clearly a wide range of CD4+ cell count changes within each viral load category. In addition, there is marked overlap in the changes in CD4+ cell count across the viral categories. Therefore, while the average CD4+ cell count drop may be steeper in the higher viral load quartile, there are a significant proportion of individuals with similar CD4+ cell count changes in each of these viral load strata.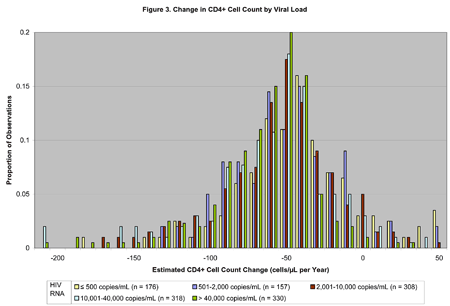 Click to enlarge
Adapted from Benigno Rodríguez, M.D., M.Sc., et al.
JAMA
. 2006;296(12):1498-1506.
The Bottom Line
This is an extremely interesting analysis that dramatically challenges the existing belief system regarding the predictive value of quantitative HIV viremia. There are important limitations to Rodríguez et al's study, including the fact that patients who initiated HIV therapy within six months of their initial viral load were excluded from the dataset. In addition, the investigators relied on relatively few viral load determinations to predict CD4+ cell count decline over a fairly short period of time.
However, the rigor with which the investigators attempted to confirm their controversial findings -- reconstructing the analysis using data from the MACS cohort, the very population that was first used by John Mellors and colleagues20 to describe the associations between viral load and HIV disease progression -- makes it difficult to not be impressed by these results and their implications, despite the shortcomings.
Many clinicians have focused on the CD4+ cell count over the viral load when considering treatment initiation. Others, however, take a more aggressive approach and recommend antiretroviral therapy to patients who have high levels of HIV viremia even at relatively high CD4+ cell counts. This study suggests that given the wide variability in CD4+ cell count decline, HIV treatment of such patients cannot be justified as a means to prevent CD4+ cell count depletion.
The study also makes the point that there are other factors besides viremia itself that seem to drive disease progression. In an accompanying editorial,21 Keith Henry, Pablo Tebas and Clifford Lane list several potential influences on the fate of CD4+ cells in HIV-infected individuals and call for the development of therapies that go beyond the targeting of the virus and that enhance immune responses to HIV.
It can be expected that the issue of the predictive value of the viral load will continue to be studied and debated until a consensus is achieved through the replication of study results. Meanwhile, the prudent clinician should perhaps be a bit less dogmatic about what a patient's pre-therapy viral load foretells.
My Big Fat Metabolic Study: ACTG A5005s
A review of:
DEXA outcomes in antiretroviral-naive subjects randomized to nelfinavir or efavirenz or both plus dual nucleosides: long-term results from A5005s, a substudy of ACTG 384. M Dubé, L Komarow, K Mulligan, S Grinspoon, R Parker, G Robbins, P Tebas, the AIDS Clinical Trials Group A5005s and 384 Study Teams. In: Program and abstracts of the XVI International AIDS Conference; August 13-18, 2006; Toronto, Canada. Abstract WEPE0167.
STUDY SNAPSHOT
Design:
A randomized, multicenter trial that assigned patients to nelfinavir, efavirenz, or both combined with zidovudine + lamivudine or didanosine + stavudine in order to study long-term regional body fat changes.
Population:
157 antiretroviral-naive patients.
Main Results:
Median limb fat, measured by DEXA scans every 16 weeks, increased similarly in all treatment arms during the first 32 weeks. After week 32, limb fat decreased by 1.7%/year for patients taking zidovudine + lamivudine and increased 19.0%/year for patients taking didanosine + stavudine. In particular, zidovudine + lamivudine + efavirenz showed no overall pattern suggesting limb fat loss over time and was significantly superior to the pooled zidovudine + lamivudine + nelfinavir (with and without efavirenz) arms.
Significance:
This as-treated analysis showed that patients taking zidovudine + lamivudine + efavirenz did not experience limb fat loss, while those taking NRTIs with a PI did.
With all of HIV medicine's successes, one of the most confusing aspects of HIV care for both clinicians and patients is surely the metabolic complications caused by HIV and its therapies. I have seen renowned HIV experts who can rattle off genotype resistance mutations as if they were reciting their social security numbers fall silent and appear queasy when asked about fat accumulation. In their defense, it is easy to be bewildered by the limited and, at times, conflicting data regarding changes in body shape, lipids, glucose metabolism and bone mineralization during HIV infection and antiretroviral treatment. In addition to the absence of hang-your-hat-on-it data, the entrenched perceptions of patients and their clinicians regarding the causes of these changes have also made it difficult for the results of well designed studies to be appreciated. This is most clearly the case for any body fat changes accompanying HIV therapy. A decade of accusations flung at the PIs as the cause of fat accumulation has become difficult to overcome, even when there is evidence that increases in belly fat during HIV therapy are not specific to this class of antiretrovirals.
The best data we have available regarding body shape during HIV infection come from two studies: the Fat Redistribution and Metabolic Change in HIV Infection (FRAM) study23 and the ACTG study A5005s.24 FRAM was a cross-sectional study that clearly demonstrated that fat wasting was the dominant body shape change in the HIV-infected men and women studied. A5005s is a longitudinal substudy of a cohort of patients who are participating in ACTG 384, a trial of six different antiretroviral regimens in treatment-naive participants (Figure 4). The ability of A5005s to rigorously evaluate changes in body shape over time makes it the best source of data regarding these changes currently available.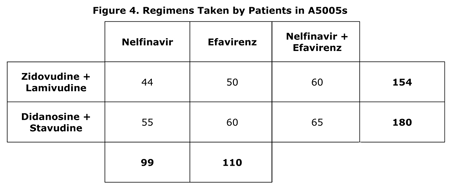 Click to enlarge
Adapted from Michael P. Dubé, M.D., et al.
AIDS
. 2005;19(16):1807-1818.
The initial results of this study were published in 200524 and described changes in fat, as well as lipids and glucose metabolism, over a period of 64 weeks. While much of the attention was drawn to the changes in limb fat, an intriguing finding was that trunk fat measured by DEXA scanning increased in participants who were randomized to either nelfinavir (NFV, Viracept) or efavirenz, regardless of their NRTI assignment. That is, trunk fat increased in all study groups -- those on PI and efavirenz-containing regimens -- with no significant differences in the degree of belly fat gain seen.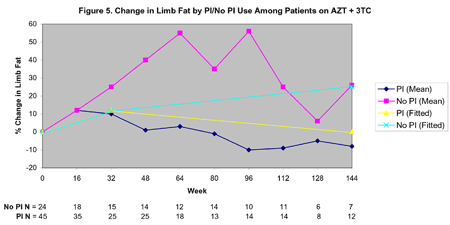 Click to enlarge
Adapted from Michael P. Dubé, M.D., et al.
In response to this rather unexpected finding, a purist may correctly point out that DEXA scans cannot distinguish subcutaneous (pinch-an-inch) fat from the deep visceral fat that characterizes the increased abdominal girth associated with HIV therapy and that this is a limitation of this study. However, the changes in trunk fat were so similar across all treatment groups, that it is difficult to imagine differential changes in adipose volume in the compartments of the trunk that somehow all balanced out across groups.
During 2006, A5005s produced additional information of major importance for anyone seeking clarity regarding fat and HIV. In an article published in the Journal of Acquired Immune Deficiency Syndromes,25 the A5005s study team found that, during the first 64 weeks of antiretroviral therapy, changes in limb and trunk fat were directionally concordant, with increases in both limb and trunk fat observed in 36% of participants and decreases in both limb and trunk fat detected in 32% of participants. One third of patients had discordant results, and only 26% of the cohort had a decrease in limb fat accompanied by a gain in trunk fat -- the purported sine qua non of the lipodystrophy syndrome.
On top of these data, the investigators presented the 144-week DEXA results at AIDS 2006.26 Importantly, their poster examined the effects of assigning NRTI + NNRTI and NRTI + PI regimens in an "as-treated" analysis, wherein patients who switched assignments were censored from inclusion in subsequent analyses. Previously, the authors had presented data using an intent-to-treat approach, which was less than ideal given the rate of regimen modifications that took place during the study, especially in the stavudine + didanosine (ddI, Videx) arm, which was fairly toxic.
The meat of their presentation is found in the PI versus NNRTI comparison. Participants who were receiving nelfinavir had greater fat loss than those who were receiving efavirenz. Interestingly, there was a 7.9% annual decline in limb fat in the patients who were taking the PI + zidovudine (AZT, Retrovir) + lamivudine, compared to a 2.7% per year gain in the NNRTI group (P = .03). Therefore, patients taking zidovudine + lamivudine + efavirenz did not experience limb fat loss, while those taking these NRTIs with a PI did.
The Bottom Line
These data demonstrate a few things:
Patients starting HIV therapy overwhelmingly experience changes in their limbs and bellies that are directionally concordant.

Both PI-based and NNRTI-based regimens are equally associated with increases in trunk fat.

Limb fat loss was observed with zidovudine + lamivudine only when these NRTIs were administered together with a PI. Limb fat loss did not occur when efavirenz was included.
Regardless, these data should be better appreciated. The finding that trunk fat increases no matter what HIV therapy one starts, provided it works well, is not that much of a surprise as every antiretroviral study that has bothered to look has found likewise (repeat after me, "It is not only PIs that increase belly fat").
The lack of an effect of zidovudine + lamivudine + efavirenz on limb fat is touchier. The industry-sponsored 384 study, discussed above, found that this combination did reduce limb adipose volume. However, as mentioned previously, baseline DEXA scans were not done in that study, so the follow-up time is less and cannot be compared to pre-therapy scans. Again, A5142 provides the best opportunity to examine this combination's effects on regional fat.
Patients are making decisions about therapy based on their perceptions of which therapies are considered most likely to cause metabolic disturbances. At a minimum, they should be advised that fat wasting has become rarer with the U.S. demise of stavudine, and it seems to be even less likely with stavudine-free, NNRTI-based regimens.
Patients should also be told that bigger bellies occur following treatment with both NNRTI-containing and PI-containing regimens. Now that we finally have some clarity on this issue, it is time to plow ahead and discover precisely why some people accumulate visceral fat and others do not and how this complication can be prevented and treated.
Brave, New CDC HIV Testing Recommendations
A review of:
Revised recommendations for HIV testing of adults, adolescents, and pregnant women in health-care settings. BM Branson, HH Handsfield, MA Lampe, RS Janssen, AW Taylor, SB Lyss, JE Clark. MMWR Recomm Rep. September 22, 2006;55(RR14):1-17.
HIV TESTING IN THE UNITED STATES
Number of persons estimated to be living with HIV in the United States in 2003:
1.0-1.2 million
Number estimated to be unaware that they are infected:
252,000-312,000
Estimated percentage of adults in the United States who had been tested for HIV in 2002:
38%-44%
Number of persons in the United States aged 18-64 years tested annually for HIV:
16-22 million
The U.S. population reached 300 million for the first time some time in October 2006,27 and, according to the U.S. Centers for Disease Control and Prevention (CDC), as many as one million are HIV-infected.28 Although the majority of the HIV-infected population know their status, a substantial proportion do not.
Despite the prevalence of this deadly viral infection, screening for HIV has historically targeted people considered to be at "high-risk." Sizing up an individual patient's risk, however, has been a tricky affair for clinicians -- who have been notoriously wanting when it comes to taking sexual histories. It is complicated by the movement of the epidemic to new populations, such as women, who may have relatively few obvious risk factors for infection other than occasionally having sex with a man.29
Clinicians had been previously advised by the CDC to offer HIV testing to only those patients who they considered at risk or more broadly if the prevalence of HIV in the area was 1% or higher.30 The drawback with this suggestion is that most primary care physicians have no ready access to local HIV prevalence data.
As HIV incidence has remained essentially stable over the past years, but has been on the rise in some groups, it has become evident that current screening practices are not working. Following a series of consultative meetings over the last few years, the CDC overhauled its HIV testing recommendations.31 The major revisions include:
HIV screening is recommended for all patients ages 13 to 64 years. This has been expanded to include all health care settings. Patients need to be notified that testing will be performed and unless the patient declines (opt-out screening) testing will be done.

Separate written consent for HIV testing should not be required; general consent for medical care should be considered sufficient to encompass consent for HIV testing.

Prevention counseling should not be required with HIV diagnostic testing or as part of HIV screening programs in health care settings.

Persons at high risk for HIV infection should be screened for HIV at least annually.
For pregnant women, the CDC recommends:
HIV screening should be included in the routine panel of prenatal screening tests for all pregnant women.

HIV screening is recommended after the patient is notified that testing will be performed, unless the patient declines (opt-out screening).

Separate written consent for HIV testing should not be required; general consent for medical care should be considered sufficient to encompass consent for HIV testing.

Repeat screening in the third trimester is recommended in certain jurisdictions that have elevated rates of HIV infection among pregnant women.
Clearly, attracting the most attention are the recommendations that HIV testing should be offered widely and written informed consent need not be obtained prior to testing. As the epidemic has shifted into a diversity of populations, a significant proportion of HIV-infected persons do not necessarily practice behaviors that could be considered high-risk. Recent studies have described relatively few risk behaviors among some HIV-infected African Americans in the southern United States, especially those who are female.29 Therefore, broad testing will expand testing beyond those who consider themselves, or are deemed by their clinician, to be "at-risk."
The dropping of both the written consent and the extensive counseling prior to HIV testing reflects the experience of clinicians who feel that these procedures are an obstacle to testing.31 Importantly, it must be clear that it is not consent that is eliminated. According to the recommendations, patients still must be informed that they are being tested for HIV and provided an opportunity to opt-out of that testing. But, this information now can be provided verbally.
An additional major departure from prior versions of the CDC recommendations is the suggestion that the results of HIV testing be reported in the same manner as other diagnostic tests. Most clinicians, however, prefer to break the news of HIV infection in person in order to provide emotional support for the patient.
The Bottom Line
Expanding and simplifying HIV testing will surely lead to an increase in testing and is intended to reduce the number of persons unaware of their serostatus. The ultimate goal is to identify people with HIV infection so that appropriate counseling and treatment can be applied to reduce their infectiousness. These bold changes have, not unexpectedly, sparked some controversy.32 Although the potential benefits of expanded and routine HIV testing both to the individual (in terms of detection of HIV earlier in the disease course) and to public health (reduced HIV transmission) have been predicted by published models,33,34 there are concerns that these benefits come at the expense of an individual's autonomy.
Critics point out that HIV continues to be a stigmatizing infection and that the weakening of the consent process heightens the risk of patients being tested without being fully aware of the potential consequences and, in the worst-case, without their consent. There is an additional concern that the increased detection of HIV infection will tax the already overburdened U.S. health care system (including the AIDS Drug Assistance Program [ADAP], which already has capped enrollments and waiting lists in some states35) and lead to increased demand on the limited resources available to care for those currently already known to be infected.
My own view is that we can no longer ignore undetected HIV infection. "Routinizing" HIV testing, I think, is a step toward reducing the stigma associated both with HIV testing as well as being HIV-infected. Certainly, at least some of the people who remain undiagnosed are unintentionally infecting others.
The unwavering incidence of HIV infection in the United States justifies a revamped effort to identify those with chronic and acute HIV and testing is the lynchpin to making headway in reducing HIV transmission. While any resultant surge in HIV diagnoses may increase the short run utilization of care, if these efforts are successful, we will see a reduction in the numbers of persons living with the virus requiring care due to a decline in new HIV cases.
Unfortunately, at present, the CDC recommendations have had limited impact for most clinicians and patients. There are statutory or other regulatory impediments to their implementation, particularly the opt-out screening provision, and these will need to be dealt with before the fruits and/or fouls of the revised recommendations can be seen. But local or regional efforts are being made in emergency rooms and clinics across the country.
Updated U.S. DHHS Guidelines for the Initial Treatment of HIV Infection
A review of:
Guidelines for the use of antiretroviral agents in HIV-1-infected adults and adolescents. Panel on Clinical Practices for Treatment of HIV Infection. U.S. Dept of Health and Human Services; October 10, 2006.
The U.S. DHHS' revised Guidelines for the Use of Antiretroviral Agents in HIV-1-Infected Adults and Adolescents2 are almost always a shoe-in for inclusion on this top 10 list. But this year they take their place on the list because of how boldly they have embraced current HIV care in the United States.
As discussed above, for several years the guidelines have provided a list of preferred first-line HIV regimens that the clinical data best support. This list featured efavirenz and lopinavir/ritonavir as first-line therapy options -- along with certain combinations of NRTIs (zidovudine + lamivudine for either, tenofovir + lamivudine or emtricitabine with efavirenz). And so it remained until this latest update, which sparkles as if it has gone through a makeover on "Queer Eye for the Straight Guy."
Free from the shackles of evidence-based medical literalism, the guidelines cut some slack and recognize that some therapies, even if not yet rigorously tested in randomized, controlled studies against competitors, can produce similar results to the stalwarts of the preferred list. Added to the preferred list was fosamprenavir boosted with ritonavir (700 mg/100 mg twice daily) and atazanavir boosted with ritonavir (300 mg/100 mg). The "column B" NRTI choices have been simplified, appropriately, to either tenofovir/emtricitabine (TDF/FTC, Truvada) or zidovudine/lamivudine.
In addition to revamping the top regimen list, given the high rates of transmitted drug resistance being detected in cohort studies in the United States and Europe,36-38 the guidelines have also strengthened their recommendation that genotypic resistance testing be obtained in patients with chronic HIV infection. There were also cautions included regarding the use of lopinavir/ritonavir as monotherapy -- an experimental approach that has received much attention this past year39-41 -- as well as data regarding the use and adverse effects of the new PIs darunavir (TMC114, Prezista) and tipranavir (TPV, Aptivus).
The Bottom Line
Love them or hate them, they are our guidelines. Now there is more to love. The guidelines, always an excellent source of information on the principles of HIV therapy, have evolved to better reflect how HIV is, and should be, practiced.
The inclusion of fosamprenavir in "column A" of the preferred list is completely justified by the results from the KLEAN study (see above). The addition of ritonavir-boosted atazanavir was a bit more of a leap for the guideline committee. There has not yet been a large head-to-head trial of this boosted PI versus any of the other "column A" agents, although, as mentioned above, the maker of atazanavir is conducting just such a comparative study with lopinavir/ritonavir. Nevertheless, it is clear from BMS-089 (see above) that boosted atazanavir is at least as good as unboosted atazanavir, which was found to be similar to efavirenz in viral efficacy in one large study.42
In short, the U.S. DHHS guidelines are a must-read for anyone caring for HIV-infected patients (at least pages 5 through 28). The tables and figures alone are fantastic. The shot of reality that has been injected into this important document will help the many clinicians who rely on them to guide their care.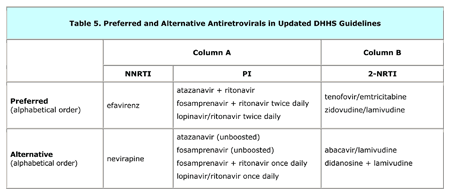 Click to enlarge
Adapted from "Guidelines for the use of antiretroviral agents in HIV-1-infected adults and adolescents," U.S. Dept of Health and Human Services. 2006.
The Next HIV Therapies
It seems as though there can never be enough HIV medications. For one thing, the prevalence of HIV is increasing -- and there is nothing like expanding markets to motivate product development. In addition, none of the current batches of antiretrovirals have been able to provide long-term viral suppression for HIV-infected patients who live chaotic lives punctuated by periods of suboptimal adherence. As a result, regimens fail patients and patients fail regimens and the need for additional drugs that are more durable and can be active against resistant virus grows.
During the past year, the only new medication approved for the treatment of HIV infection was darunavir, a potent PI that is currently being used in patients with prior antiretroviral experience. In 2007, it is likely that three additional agents will be approved:
an inhibitor of HIV integrase,

a new NNRTI with activity against drug-resistant virus and

the first CCR5 antagonist.
Each of these agents is currently available in the United States through expanded access programs and offers patients with multi-drug resistant virus another chance at controlling their HIV.
MK-0518
A review of:
Potent antiretroviral effect of MK-0518, a novel HIV-1 integrase inhibitor, as part of combination ART in treatment-naive HIV-1 infected patients. M Markowitz, B-Y Nguyen, E Gotuzzo, F Mendo, W Ratanasuwan, C Kovacs, J Zhao, L Gilde, R Isaacs, H Teppler, and the Protocol 004 Part II Study Team. In: Program and abstracts of the XVI International AIDS Conference; August 13-18, 2006; Toronto, Canada. Abstract THLB0214.
View slides: Download PowerPoint
and
Potent efficacy of MK-0518, a novel HIV-1 integrase inhibitor, in patients with triple-class resistant virus: 24-week data. B Grinsztejn, B-Y Nguyen, C Katlama, J Gatell, A Lazzarin, D Vittecoq, C Gonzalez, J Chen, C Harvey, R Isaacs, and Protocol 005 Team. In: Program and abstracts of the 46th Interscience Conference on Antimicrobial Agents and Chemotherapy; September 27-30, 2006; San Francisco, Calif. Abstract H-1670b.
View slides: Download PDF
MK-0518 (known generically now as raltegravir [Isentress]) inhibits HIV integrase, an enzyme that is tasked with the incorporation of viral genetic material into human cellular DNA. There is a long history to the development of inhibitors of HIV integrase. Previous efforts have been plagued by a variety of problems, including toxicity. MK-0518 has distinguished itself both in monotherapy and salvage treatment trials by its potency and tolerability.43,44 In addition, available data45-47 suggest that this agent will have few, if any, interactions with other HIV medications and, as if that was not enough, MK-0518 does not require boosting with ritonavir.
Two major clinical trials of MK-0518 studying treatment-naive and treatment-experienced patients were presented in 2006 and have generated a great deal of excitement.
STUDY SNAPSHOT
Design:
An extension of a 10-day monotherapy study. Patients received MK-0518 (at one of several different dosages) + tenofovir/lamivudine or efavirenz + tenofovir/lamivudine.
Population:
198 patients with a viral load of 5,000 copies/mL or higher and a CD4+ cell count of at least 100 cells/µL. 48 participants in part 1 of the study and an additional 150 treatment-naive patients were included.
Main Results:
Viral load decline and CD4+ cell count at 24 weeks were similar between patients taking efavirenz and patients taking MK-0518.
Significance:
Suggests that MK-0518 is effective and well-tolerated as part of a potent, first-line regimen.
In Protocol 004,43 198 treatment-naive patients were administered one of four doses of MK-0518 or efavirenz. All patients also received tenofovir/lamivudine. The mean CD4+ cell count at baseline was approximately 300 cells/µL. At 24 weeks, at least 90% of the participants had a viral load below 50 copies/mL. There were remarkably similar proportions of patients who were treated with MK-0518 or efavirenz with a viral load below 50 copies/mL.
Figure 6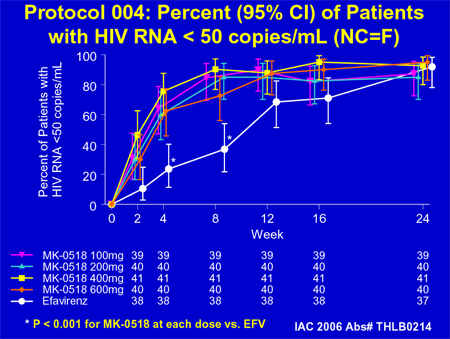 Click to enlarge
Reprinted with permission from Martin Markowitz, M.D., et al.
Impressively, MK-0518 was observed to be extremely active almost immediately after initiation, with profound drops in viremia occurring within the first two weeks of therapy -- perhaps signaling its potency.
Figure 7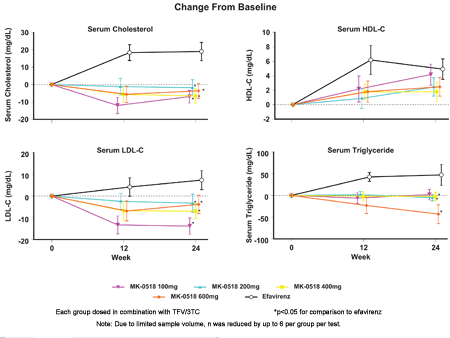 Click to enlarge
Reprinted with permission from Hedy Teppler, M.D., et al.
In addition, the drug was well tolerated by most patients. Analysis of the lipid data48 from this trial demonstrate no changes in cholesterol subsets or triglycerides among patients who were assigned MK-0518. In contrast, there were increases seen in total cholesterol and fasting triglycerides among those receiving efavirenz.
STUDY SNAPSHOT
Design:
A double-blind clinical trial that assigned patients to take 200 mg, 400 mg or 600 mg of MK-0518 twice a day along with an optimized background regimen or a placebo along with an optimized background regimen.
Population:
178 patients with at least one resistance mutation in each of three drug classes (NNRTI, NRTI and PI), HIV RNA above 5,000 copies/mL and CD4+ cell count above 50 cells/µL.
Main Results:
As expected, few (14%) in the placebo arm achieved a viral load below 50 copies/mL by week 24. In contrast, 65%, 57% and 67% of those taking MK-0518 at doses of 200 mg, 400 mg and 600 mg, respectively, achieved a viral load below this benchmark. Only 17% of patients taking MK-0518 discontinued due to lack of virological response, whereas 67% of patients receiving a placebo discontinued for that reason.
Significance:
Suggests MK-0518 has strong promise in patients with multiple drug-resistance mutations.
In the second trial,44 this one focusing on treatment-experienced patients, 178 patients with triple-class drug resistance were randomized to take 200 mg, 400 mg or 600 mg of MK-0518 twice a day along with an optimized background regimen versus placebo plus an optimized background regimen.
As expected, few patients (14%) in the placebo arm achieved a viral load below 50 copies/mL by week 24. In contrast, 65%, 57% and 67% of patients who were taking MK-0518 at doses of 200 mg, 400 mg and 600 mg, respectively, achieved a viral load below this benchmark. As has been seen in other studies of salvage therapies, enfuvirtide use was associated with greater virologic response rates compared to when it wasn't used. In this study, the co-administration of enfuvirtide bumped the proportions of patients with a viral load below 400 copies/mL by about 20% in the MK-0518 arms. Once again, MK-0518 was observed to be extremely well tolerated, particularly at the 400 mg dose, which is the dose selected for U.S. FDA submission.
MK-0518 is an exciting agent belonging to a new class of antiretrovirals. Its potency, tolerability and lack of drug-drug interactions make it an attractive option for treatment-experienced patients who are in need of a critical mass of salvage agents. Further studies, including those presented at CROI 2007, will help identify the role of this drug in the management of HIV-infected patients with less treatment experience.
TMC125
A review of:
Efficacy and safety results at 48 weeks with the novel NNRTI, TMC125, and impact of baseline resistance on the virologic response in study TMC125-C223. C Cohen, C Steinhart, D Ward, P Ruane, J Vingerhoets, M Peeters, A White, B Baeten, M de Bethune, B Woodfall. In: Program and abstracts of the XVI International AIDS Conference; August 13-18, 2006; Toronto, Canada. Abstract TUPE0061.
and
Impact of NNRTI and NRTI resistance on the response to the regimen of TMC125 plus two NRTIs in Study TMC125-C227. B Woodfall, J Vingerhoets, M Peeters, I Peeters, G De Smedt, GD Miralles. In: Program and abstracts of the 8th International Congress on Drug Therapy in HIV Infection; November 12-16, 2006; Glasgow, United Kingdom. Abstract PL5.6.
STUDY SNAPSHOT
Design:
A randomized, controlled study that assigned patients to TMC125 (400 mg or 800 mg twice a day) with an investigator selected background or a standard-of-care control regimen in order to determine the efficacy of etravirine in patients with dual tropic virus.
Population:
199 patients with documented NNRTI resistance and at least three primary PI mutations.
Main Results:
CD4+ cell counts increased by 58, 61 and 13 cells/µL for the 400 mg, 800 mg and control arms, respectively. Virologic failure on both TMC125 arms was 9%. In contrast, in the control arm, 98% of patients discontinued the study, 78% due to virologic failure.
Significance:
While the effectiveness of TMC125 did decline with increasing NNRTI mutations, the drug retained activity in the presence of multiple NNRTI mutations, suggesting it may be useful in cases in which current NNRTIs are not expected to be effective.
With 7% to 16% of treatment-naive patients presenting with NNRTI resistance and treatment-experienced patients overwhelmingly having NNRTI resistance, there is a need for an NNRTI that can work against virus resistant to these agents. TMC125 (etravirine) is an NNRTI that has been found to be active in patients failing current NNRTI-based regimens. In a study of 199 HIV-infected patients with NNRTI resistance and at least three primary PI mutations who were randomized to one of two doses of TMC125 or optimized therapy, 22% to 23% of those receiving TMC125, compared to none of the control patients, had a viral load below 50 copies/mL after 48 weeks of therapy.49
These are encouraging results, particularly given a previous study known as TMC125-C227 with results presented by Brian Woodfall at the 8th International Congress on Drug Therapy in HIV Infection in Glasgow, United Kingdom.50 TMC125-C227 compared TMC125 to a PI-based optimized background regimen. It demonstrated that patients who were randomized to the PI arm had a significantly greater likelihood of suppression of viral load than patients who were in the TMC125 arm. This result led to the early halting of TMC125-C227.
STUDY SNAPSHOT
Design:
A randomized, controlled study that assigned patients to two NRTIs plus either TMC125 or a PI.
Population:
116 PI-naive patients with documented NNRTI resistance.
Main Results:
Viral loads declined by 1 log10 in 57% of patients receiving TMC125 for 12 weeks and 91% of patients who remained in the control group for 12 weeks.
Significance:
The reduced likelihood of suppression of viral load in patients taking TMC125 suggests that an accumulation of many NNRTI mutations may limit the drug's effectiveness.
The virologic effect of TMC125 was thought to be muted due to the large number of NNRTI mutations at baseline. Patients with a single mutation had a mean 1.38 log10 drop in viral load. This compared to a drop of only 0.9 log10 in patients with two mutations and a 0.54 log10 decline when three or more mutations were detected. These results demonstrate that the accumulation of NNRTI resistance can handicap TMC125.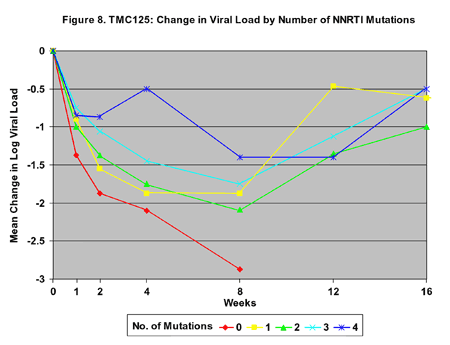 Click to enlarge
Adapted from Brian Woodfall, M.D., et al.
These results are also instructive, since they tell us that patients who are failing efavirenz and nevirapine should discontinue these drugs as soon as possible after failure is detected to avoid cultivation of added mutations. That TMC125 lost effectiveness with accumulated NNRTI resistance does not, however, mean it is of no use when such resistance is present. Even a half log10 drop may be of benefit to someone who has few options, especially when TMC125 is combined with other active agents.
Maraviroc
A review of:
Safety and efficacy of MARAVIROC, a novel CCR5 antagonist, when used in combination with optimized background therapy for the treatment of antiretroviral-experienced subjects infected with dual/mixed-tropic HIV-1: 24-week results of a phase 2b exploratory trial. H Mayer, E van der Ryst, M Saag, B Clotet, G Fätkenheuer, N Clumeck, K Turner, JM Goodrich. In: Program and abstracts of the XVI International AIDS Conference; August 13-18, 2006; Toronto, Canada. Abstract THLB0215.
View slides: Download PowerPoint
STUDY SNAPSHOT
Design:
A double-blind, phase 2b, exploratory trial that randomly assigned patients to optimized background therapy plus maraviroc once daily, maraviroc twice daily or a placebo.
Population:
186 antiretroviral-experienced patients with a mixed population of CCR5 and CXCR4 tropic HIV, a viral load above 5,000 copies/mL and triple-class experience or dual-class resistance.
Main Results:
Viral load change from baseline to week 24 was similar for the maraviroc once daily (-0.91 log10) and placebo (-0.97 log10) groups. Viral load decrease was slightly, but not significantly, greater for the maraviroc twice daily group (-1.20 log10).
Significance:
In patients with dual-tropic virus, maraviroc was not superior to optimized background therapy alone, suggesting that CCR5 antagonists will not be useful for patients with dual-tropic viruses and that tropism assays will become increasingly important in drug selection.
It seems like CCR5 antagonists, a class of entry inhibitors, have been around the corner for ages. Some have come and gone and others are working their way from development-land to market. The first to get to market will likely be maraviroc (UK-427,857).
In early studies, this CCR5 antagonist was found to be effective in reducing viral load when administered as 100 mg twice daily to patients with virus that was CCR5 tropic.51 Maraviroc has no activity against virus that binds to the CXCR4 co-receptor to gain entry into the T cell. A major concern regarding CCR5 antagonists is whether blocking of the CCR5 co-receptor will apply selective pressure that would lead to an outgrowth of CXCR4 tropic virus in patients who have mixed tropic HIV populations. Such a shift from CCR5 to CXCR4 tropic virus has been associated with the progression of HIV disease.52
At AIDS 2006, Mayer et al presented a study53 of 186 treatment-experienced patients harboring a mixed population of CCR5 and CXCR4 tropic viruses who were treated with maraviroc at one of two doses (150 mg daily or 150 mg twice daily) versus placebo along with an optimized background antiretroviral regimen. After 24 weeks, no difference between the arms was seen when it came to viral suppression (15.5% to 26.9% of patients achieved less than 50 copies/mL). However, there was a trend favoring the twice-a-day maraviroc arm.
Importantly, 12 of 52 patients in the twice-daily maraviroc arm and 12 of 57 patients in the once-a-day maraviroc arm had only CXCR4 virus detected at treatment failure compared to only two in the placebo arm. Fortunately, the CD4+ cell count gains were actually higher in the maraviroc arms than the placebo (60 to 62 cells/µL versus 36 cells/µL). This was reassuring since the concern was that CXCR4 virus could be more pathogenic, which would lead to a more rapid CD4+ cell count decline. Why this was not the case in this study still remains unclear. Additional data on maraviroc was presented at CROI 2007.
These results are interesting, because maraviroc was not found to be particularly outstanding in suppressing HIV viremia among patients with mixed tropic virus. In addition, more patients treated with maraviroc had CXCR4 tropic virus emerge at the time of failure. The silver lining was that the CD4+ cell count responses of those on the drug were actually better than patients who were receiving placebo. That said, many clinicians will be reluctant to use maraviroc in patients other than those with only CCR5 tropic virus detected on tropism assays.
That brings me to a new subject. With the arrival of drugs targeting the T-cell co-receptors, it is a foregone conclusion that patients and clinicians will start to care which way their virus swings: "Are you R5, R4 or bi?" To find out, they will order a tropism test. That sound you hear is the ringing of the cash registers at the laboratories slated to market tropism assays. Ca-ching.
The Bottom Line
New drugs are generally good, new classes even better. There should be no complaints about the lack of industry investment in HIV therapeutics in 2007. Remarkably, the pipeline continues to flow. The agents that will become available are needed by the veterans of our days of sequential monotherapy and victims of their own all too human lapses. Even patients with really bad-ass resistant virus will likely benefit from one and perhaps all of the new antiretrovirals of 2006 and 2007. What better note to end on?
Runners Up
Detection of Intramural Spread of HIV in a State Prison
To ignore the spread of HIV in prisons is growing more and more difficult. In the first few weeks of 2007, editorials in the New England Journal of Medicine54 and the Lancet-Infectious Diseases55 went on the record castigating the policies and practices of U.S. correctional settings that promulgate the spread of HIV.
Despite the fact that prisoners are the only group of individuals in the United States for which the provision of HIV care is mandated by law, the quality of that care varies across facilities and HIV prevention efforts in prisons and jails are often spartan.
The problem of HIV in correctional settings should be of interest to everyone in the HIV community. Even HIV clinicians not directly involved in correctional health care are affected, since most will see patients who have been or will be incarcerated. It is estimated that one in five HIV-infected persons pass through a prison or jail annually.56 The prevalence of HIV infection in correctional systems is several fold greater than in the general population.56
However, when most people think at all about corrections and the HIV epidemic, they conjure an image of prisons as incubators of HIV infection. Yet, the available data and clinical experience indicate that the majority of inmates with HIV come into prison with their infection.57 Unfortunately, there are few studies that have examined the spread of HIV and other sexually transmitted diseases within correctional facilities.
In April 2006, the CDC reported on an investigation that had been conducted within the Georgia Department of Corrections following the identification of 88 men who acquired HIV infection during their incarceration from 1992 to 2005.57 For almost half of these men, HIV was detected during a pilot program that ran from 2003 to 2005 during which voluntary HIV screening was offered annually to inmates. (It is unfortunate, if not tragic, that this pilot program has been subsequently halted.)
In the series of case control studies conducted by the CDC, it was found that the following factors were associated with HIV seroconversion during incarceration:
MSM,

receiving a prison tattoo,

black race and

low body mass index (BMI).
While the overwhelming majority of sex reported by the inmates studied was consensual, the association of HIV and low BMI may suggest the victimization of those less able to resist sexual assault. Sex with prison staff was reported by both cases and controls. Condoms (typically makeshift as they are considered contraband in almost all U.S. prisons) were rarely used.
The Bottom Line
These results are disturbing. Even though the CDC focused on one state during more than 13 years, we can extrapolate these numbers to the hundreds of correctional systems in the United States. These numbers suggest that the intramural spread of HIV within prisons is probably not as rare as once believed and is largely missed. That a brief pilot HIV testing program in one state prison system was able to quickly uncover HIV seroconversion during incarceration is telling, as was the response -- the testing program was discontinued.
Further, this study makes plain that we need to do more to protect men and women within prisons and jails, foremost by providing them with the same effective HIV and sexually transmitted disease prevention tool that is available to people who are not incarcerated: condoms. It is the experience of our colleagues in Canada and in Europe that condoms and other prevention interventions, including even needle exchange, can be used safely and effectively in correctional settings.
We need to get with the program. State and federal policy makers must take a leadership role in making U.S. correctional facilities models of HIV prevention interventions rather than dramatic examples of how to avoid dealing with HIV infection. The answer lies in ethical HIV testing procedures and sensible HIV prevention for all 2.3 million people in our country who are incarcerated. Maybe Georgia, where this study was conducted, should take the lead.
HIV Therapy Works in Places Where People May Not Wear Watches
It was not that long ago that one could hear concerns that the provision of HIV therapy to resource-limited nations would be doomed to failure as people in these troubled countries would not take their medications, resulting in the development and spread of HIV drug resistance.
Of course, this turned out to be rubbish. Lots of people living with HIV in the United States, Europe and Australia were found to have their fair share of trouble adhering to their medications, and those in Asia and Africa were able to take their HIV drugs just fine, thank you, as long as it was affordable.
In an instructive analysis58 of the first 1,004 HIV-infected patients initiating triple-drug antiretroviral therapy in Port-au-Prince, Haiti, HIV treatment was found to produce results similar to those seen in developed nations. After one year of therapy, 87% of adult and adolescent patients remained alive and the median increase in CD4+ cell count was 163 cells/µL (IQR 77 to 251 cells/µL).
The majority of patients were treated with zidovudine + lamivudine + either efavirenz or nevirapine. Viral load data were available for only 100 patients who had been followed for at least a year. In 76% of these patients, viral loads were less than 400 copies/mL. The median weight gain at one year was 5.5 kg. Therapy was well-tolerated, with only 25% of patients requiring a change in their initial regimen. In over half of these patients, treatment was discontinued or modified for reasons not having to do with toxicity (such as disruption of supply, sexual activity by women of reproductive age, treatment failure and tuberculosis).
The Bottom Line
HIV therapy works. It works in resource rich countries such as the United States, Canada and countries in Europe, and, we are learning, it works everywhere else. It does have to be free or nearly so for the many people living in poverty -- whether in the Bronx or Burkina Faso -- so they can keep taking their therapies. This study demonstrates that the benefits of HIV treatment in resource-limited nations, despite poverty and conflict, were similar to those seen in resource-rich nations. These findings underline the absolute need for government and private funds to continue to invest in HIV therapy for the millions of persons living with HIV across the world.
Surgery and the HIV-Infected Patient
Surgeons are often reluctant to operate on HIV-infected patients, citing concerns that such individuals are at increased risk for surgical complications. This is a continuing cause of frustration for many HIV clinicians who try in vain to explain to their surgical colleagues that patients with adequate CD4+ cell counts should have little or no greater risk of adverse consequences with surgery than HIV-uninfected patients.
Over the past several years, an increasing number of surgeons have recognized the benefits of HAART and have agreed to perform scheduled surgeries in patients with controlled HIV infection. However, the criteria for acceptance by surgeons varies. Some surgeons insist that they'll only conduct surgical procedures on HIV-infected patients whose CD4+ cell counts are above 300 cells/µL, while other surgeons only accept patients whose counts are greater than 500 cells/µL for the same procedures. Unfortunately, until now there have been few data to which either surgeons or HIV clinicians can point to in order to make their case.
Michael A. Horberg et al from Kaiser Permanente in northern California conducted a case-control retrospective study of 332 HIV-infected and HIV-uninfected pairs of patients59 -- all of whom underwent the same surgery. Pairs were also matched by sex, age at surgery, medical center where the procedure was performed and year of the operation. Outcomes included complications and mortality through 12 post-operative months of follow-up.
The most common surgery was hernia repair (44%) followed by appendectomy (17%), cholecystectomy (14%) and a variety of other procedures. The median CD4+ cell count of the HIV-infected patients was 379 cells/µL and over 60% of the patients had a viral load less than 500 copies/mL.
Surgery-related complications were found to be no more frequent among the HIV-infected patients than the controls (11.1% versus 10.2%). However, non-Pneumocystis pneumonia was observed in eight HIV-infected patients compared to one control patient (P = .04), and 10 HIV-infected patients died compared to only two HIV-uninfected patients (P = .04).
The mean time from surgery to death for the HIV-infected patients who died was 180 days (range: 6 to 318 days). Of the 10 deaths among the HIV-infected patients, none appeared to be a consequence of the surgery, and only two patients died within 30 days of their operation (one as a result of multiple organ failure secondary to lymphoma and the other sudden death was due to arrhythmia).
A CD4+ cell count less than 50 cells/µL was associated with a greater risk of post-operative complications compared to a count above this level. There was no evidence of an increased complication rate among those with a CD4+ cell count of 50 to 199 cells/µL compared to those with higher counts. Similarly, a viral load above 30,000 copies/mL was also predictive of complication postoperatively.
The Bottom Line
This study suggests that the majority of HIV-infected patients can undergo surgical procedures with little increased risk of surgical complications. Patients with the most profound immunosuppression, as evidenced by a CD4+ cell count below 50 cells/µL, however, do face a heightened risk of problems after a surgical procedure. In short, except in the case of such advanced patients, HIV status should not be a criterion used to determine whether a patient should have a surgical procedure. Keeping a copy of this study handy to share with a surgical consultant may be prudent.
References
Copyright © 2007 Body Health Resources Corporation. All rights reserved.