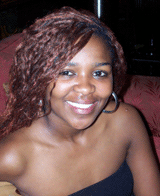 Every day, we learn more about HIV and how to fight it. But every day, more than five thousand people still die from AIDS, most of them in the developing world. Many more die from malaria, tuberculosis and other diseases that are virtually non-existent in wealthy countries, such as the U.S. and most of Western Europe.
There may be no starker example of this tragic fact than that of Thembi Ngubane, an inspiring and outspoken HIV-positive activist from South Africa. Although she was one of the fortunate people in South Africa to be taking HIV medications, she lost her life on June 4, shortly after she was diagnosed with drug-resistant tuberculosis, which is on the rise in Africa. She was only 24 years old.
Thembi's story, though it's dozens of years shorter than she deserved, is still a remarkable one. She was diagnosed with HIV when she was only 16 and South Africa was ruled by officials who were reluctant to acknowledge that HIV was a problem that warranted tackling on a massive scale, even as infection numbers skyrocketed and people died by the tens of thousands.
Three years after her diagnosis, National Public Radio handed Thembi a tape recorder, and everything changed. During 2004 and 2005, she recorded a now-famous diary of what it was like to live with HIV in South Africa, which is currently home to an estimated 5.7 million HIV-positive people. After her diary was broadcast on National Public Radio in 2006, Thembi became one of the few South African women to speak openly about living with HIV. That year, she traveled to the U.S. to speak to high-school students, and in 2008 she co-chaired a major session at the International AIDS Conference in Mexico City. While she was there, TheBody.com was fortunate enough to talk to her about her diagnosis, her daughter, her initial struggles with disclosure and her newfound life in HIV activism.
Thembi leaves behind a legion of admirers, her partner Melikhaya and her 3-year-old daughter Onwabo, who is HIV negative.
Thembi's death isn't just a tragic loss for the global HIV community or for women in South Africa. It's also an incredibly painful reminder that, for all that we in the United States and other rich nations still have to deal with in our fight against HIV, it's nothing compared to what's happening in places like Africa. Thembi had HIV, but HIV didn't kill her. Tuberculosis killed her -- and it still kills 1.3 million people per year throughout the world, many of whom were HIV positive and living in developing nations. (It's also a disease that's actually becoming harder to treat due to the spread of drug-resistant strains.)
If your life was touched by Thembi, either directly or by example, we hope you'll leave your thoughts in the comment section on this page. You may also want to listen to or read this eulogy of Thembi by Joe Richman for National Public Radio's All Things Considered.