The Testing Debate: Is Written Consent a Barrier?
Introduction
There is a growing urgency among policy makers and public health authorities to reduce the high rates of new HIV infections in the U.S. Thousands of people who are HIV-positive are unaware of their status. As a result, they do not seek the medical care that can prolong their lives and prevent transmission to others.
The CDC recommended two changes in HIV testing: "opt-out" testing and the elimination of written HIV consent.
The CDC estimates that over a million people in the U.S. have HIV but that over 230,000 of them don't know it, with about 56,000 new cases each year. Due to the alarming number of people becoming infected, the CDC urged states to make HIV testing a routine part of medical care. They also recommended two changes in HIV testing: "opt-out" testing (an HIV test would be given unless a patient chose not to have one) and the elimination of written HIV consent (a general medical consent form could authorize HIV testing). The rationale for this was based on several developments, including the evidence that HIV treatment is more effective when started earlier, that HIV testing is less expensive than ever before, and that people who know they have HIV are less likely to transmit it.
Opt-out testing is quite different from opt-in testing, in which a provider asks patients if they would like to get tested for HIV. Those who support opt-in testing claim that a test is not useful unless a person knows what the test means and is then able to take steps either to get medical care or to avoid getting HIV in the future. They feel that opt-in testing requires a separate "informed consent" process that is lost with opt-out testing. Advocates for opt-in testing argue that informed consent is essential, since people are unable to provide consent without first being informed. In other words, "uninformed consent" is not consent at all. This is the central point of the argument, one that advocates on opposite sides of the issue do not agree upon.
Those looking to follow the CDC's guidelines claim more people will be tested for HIV, particularly in communities that have been hit the hardest by HIV, such as communities of color. They believe it will also help decrease HIV stigma. Several national organizations support the CDC's recommendations, including the American Medical Association, the American College of Physicians, and the HIV Medicine Association.
The Debate in New York
New York City is the epicenter of the U.S. AIDS epidemic, with one out of every nine AIDS cases. New York City has more AIDS cases than Los Angeles, San Francisco, and Washington, D.C., combined. Over 80% of new AIDS diagnoses and deaths in New York City are among black men and Latinos. Nearly a third of new HIV diagnoses are among women, especially black and Latina women, and half of those women were infected by a man who did not know he had HIV.
New York State is currently one of eight states that require separate written consent for HIV testing, but that policy is being debated. On December 1, 2005, Dr. Thomas Frieden, then the New York City Health Commissioner, wrote an editorial in the New England Journal of Medicine stating that the stigma and discrimination surrounding AIDS had decreased to the point where public health policies specifically for AIDS were no longer necessary. As a result, he proposed changing New York State's HIV policies to match the recommendations provided by the CDC, changing to opt-out testing.
There is also a strong and vocal element among New York medical professionals, service providers, and advocacy organizations for communities of color that maintains that HIV testing laws should be changed due to the number of people who don't know their status, those who come into care with late-stage diagnoses, and the high number of AIDS cases in communities of color. This group includes Patrick McGovern, executive director of Harlem United Community AIDS Center, a proponent of changing New York State law to eliminate pre-test counseling, adopt opt-out testing, and allow for oral consent documented in patients' charts. He reflects the perspective of those who believe that these changes are necessary to reduce stigma, address people's reluctance to test, and remove written consent as a barrier.
McGovern points to Washington D.C., which encourages opt-out testing in medical settings and has seen the number of HIV tests increase from 43,271 to 72,864 in one year, with people diagnosed at higher CD4 counts. He also points to a 2009 study of the San Francisco Department of Health's testing program that showed a correlation between written consent laws and a 12% reduction in HIV testing, compared to 33% increase in monthly HIV testing rates after written consent was dropped. McGovern questions the value of written consent when compared to timely access to lifesaving therapies.
However, there has been significant push-back from HIV activists who think this approach ignores the strong stigma and discrimination surrounding AIDS. These activists believe that eliminating a separate written consent form for HIV testing is not the way to raise testing rates, and that it fails to address the real barriers to getting an HIV test.
Advocates point to data showing that health care providers are failing to offer HIV tests to their patients. Many health care providers don't ask patients to be tested for HIV because they are not trained in HIV counseling, are uncomfortable discussing HIV, or feel the patient is not at risk for infection. Increasing the number of health care providers who offer HIV testing is critically important in making people aware of their HIV status. There is enormous potential to test more people for HIV by shifting the request for testing from patients and HIV service providers to the general medical community.
In fact, studies show high testing rates when patients are asked by their doctors. For example, under the current law, 95% of pregnant women who are offered testing consent to it. This, coupled with the use of HIV drugs during pregnancy, has brought down HIV transmission rates from mother to infant from around 25% to less than 2%.
There is also evidence that HIV testing rates in New York City are already rising under the current law. There has been an increase in the number of people tested resulting from a recent initiative to offer rapid HIV testing routinely to patients seen in health care facilities.
Barriers To Testing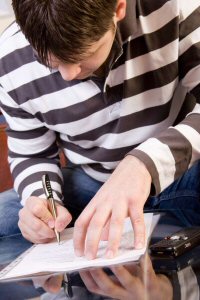 The main impetus behind any change in HIV testing is simply to get more people tested. An uptick in the number of people tested gets those who test positive into care and makes them aware of their HIV status, helping to prevent further transmission. We know that nearly 70% of new infections are caused by people who are unaware they are positive. Decreasing that number will significantly affect the rate of new infections. Further, early detection of HIV will result in fewer people being diagnosed with AIDS at the same time they receive their HIV diagnosis.
The barriers to HIV testing generally fall into one of the following categories - informational, psychological, or physical. These are not only barriers for the patient, but for also the providers.
Dealing with informational barriers is often the first step in dispelling myths about HIV and setting a person's mind at ease. According to a 2006 Kaiser Family Foundation survey, 40% of people in the U.S. believe that HIV can be transmitted by kissing, sharing a drinking glass, or touching a toilet seat. This is a barrier that can be addressed through prevention education and through pre-test counseling. The downside is the time involved. That time can be a psychological barrier for the patient as well as for the provider who sees several patients a day and may not want to devote the time needed. This can lead to the test not being offered in the first place. Many newer statutes attempt to streamline the pre-test phase of testing. This can often be achieved by using posters, brochures, and videos, cutting back the time needed for one-on-one counseling.
The main psychological barrier is the anxiety. There are two methods of testing, a standard blood draw or rapid oral testing. With the rapid test, results are available within 20 minutes and nearly all patients stay to receive those results. But results for the blood test can take up to two weeks, and studies have shown that nearly 13% of patients do not return to get the results. This means nearly 2.5 million people get tested but never get their results. The time and anxiety around waiting for a standard blood test is clearly a significant psychological barrier to testing. Increased use of the rapid test could lessen much of the psychological barrier.
Providers often cite written consent as a barrier to testing. Despite some concerns regarding confidentiality, particularly among immigrant communities, studies have shown that written consent is not a significant barrier for patients. An overwhelming majority willingly sign any number of forms for health care, and one more is not a barrier in their minds. Administrators, however, have complained that an additional form, particularly the need to provide it in multiple languages, can be a problem. Though this may not be seen as a barrier for patients, it is important to look at all sides of testing to determine where barriers exist.
Finally, there are physical barriers to testing. Sometimes forms for written consent are not readily available, making the test in many jurisdictions not possible. Technological advances could assist in this effort. Additionally, some patients are simply afraid of needles, and without the option of an oral test don't get tested at all.
Conclusion
Advocates continue to be at odds over the best way to increase the number of people tested for HIV. It is clear, however, that efforts to inform people of their HIV status must be made. These efforts need to be mindful of the many factors that keep people from getting tested, including discrimination and lack of access to health care. Any newly proposed HIV policies should take these factors into account and help people make informed decisions regarding HIV testing, treatment, and care.
Tracie Gardner is the Director of New York State Policy at the Legal Action Center. Daryl Cochrane is the Director of Public Policy at the New York AIDS Coalition.