Survey Finds Genital Herpes Is Common Among New Yorkers
Condoms Can Protect Against Infection
New York City -- The Health Department reported today that more than a fourth of adult New Yorkers are infected with Herpes Simplex Virus-2, the virus that causes genital herpes. HSV-2 is a lifelong sexually-transmitted infection that can cause painful genital sores in a minority of cases, but most people have no recognizable symptoms. The prevalence of the condition is also concerning because it facilitates the spread of HIV -- doubling the risk that a person will contract HIV when exposed to it. HSV-2 can also be serious when transmitted to newborns, although these cases are rare.
The new study suggests that genital herpes is more common in New York City than nationally (26% of adults versus 19%). Among New Yorkers, the rate is higher among women than men (36% versus 19%), higher among blacks than whites (49% versus 14%), and higher among men who have sex with men than those who don't (32% versus 18%). This is the first measurement of New York City's infection rate, but the national rate has declined in recent years.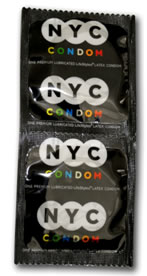 "Genital herpes alone will not cause serious problems for most people," said Dr. Julia Schillinger, Director of Surveillance for the Health Department's Bureau of STD Prevention and Control and lead author of the study. "But some people will have painful genital sores and the infection fosters the spread of HIV. We advise New Yorkers to protect themselves and others. Using condoms consistently will help you avoid getting or spreading genital herpes."
The new findings were published this month in the journal Sexually Transmitted Diseases. The data come from the city's Health and Nutrition Examination Survey (NYC HANES), which used door-to-door interviews and in-person medical exams to assess the health of New Yorkers on a variety of measures, from diabetes to depression.
Genital herpes isn't the only risk facing sexually active New Yorkers. The Health Department received more than 65,000 reports of sexually transmitted infection in 2007 alone. Rates of gonorrhea, chlamydia, and infectious syphilis are above the national average and, as the Health Department reported last fall, HIV infection is increasing among young men who have sex with men.
Testing and Evaluation for Genital Herpes
If you have genital sores, see a health care provider for an evaluation. The Health Department's STD clinics offer free and confidential herpes testing for people who have sores. New Yorkers can call 311 for clinic locations and hours of operation. Anti-herpes medications can help with outbreaks and reduce transmission to partners.
Blood testing for HSV-2 is not recommended for most people, but a doctor may recommend a blood test if you:
have a sex partner with known genital herpes infection
are HIV-positive
are at high risk of exposure to HIV
"A genital herpes diagnosis can be overwhelming," said Dr. Schillinger. "People may feel ashamed because of the stigma the infection carries. Talk to your doctor or a mental health professional about how you feel. Help is available."
Coping resources are available at www.ashastd.org.
Protect Yourself and Others from Genital Herpes
The best way to prevent genital herpes is to not have sex. If you are sexually active, use condoms correctly and consistently to help reduce the chance of infection. Free NYC condoms are available at locations throughout the city. Call 311 or visit www.nyc.gov/condoms for more information.
Take special precautions if you or your partner has genital herpes. The infection can be spread even when sores are not present. If you have sores, do not have sex until they have fully healed. Ask your doctor about anti-herpes medications, which can reduce the spread of the herpes virus.
Make sure you have a regular health care provider. People with genital herpes who have a "medical home" are more likely to get diagnosed.
Genital herpes can double your risk for contracting HIV. Genital herpes can also worsen HIV disease. If you have HIV, you need to know your genital herpes status because anti-herpes medications can help improve your health.
More information on genital herpes is available at www.cdc.gov/std/Herpes/default.htm.
Health Department Prevention Efforts
The Health Department has distributed more than 48 million NYC Condoms since 2007 and continues to give away more than 3 million every month at clinics, health clubs, bars, barbershops and other venues. Any business can order NYC Condoms in bulk by calling 311 or visiting www.nyc.gov/condoms.
The Health Department STD clinics provided more than 115,000 free, confidential visits in 2007, including more than 60,000 tests for HIV.
The Health Department runs an STD Prevention Training Center which trains health care providers in the diagnosis, management, and treatment of STDs. The Department also delivered dozens of presentations on STDs at city hospitals in 2007.
About the Data
Genital herpes prevalence data come from the New York City Health and Nutrition Examination Survey, which is modeled after the National Health and Nutrition Examination Survey (NHANES). The survey was conducted in 2004 among a representative sample of New York City adults 20 or older. Of the 1,999 people enrolled in the survey, 1,784 were tested for HSV-2.