Sudden Drop Observed in Transmitted HIV Drug Resistance Among Cohort of Recently Infected San Francisco Patients
An Interview With Vivek Jain, M.D.
There's nothing like hearing the results of studies directly from those who actually conducted the research. In this interview, you'll meet one of these impressive HIV researchers and read his explanation of a study he presented at CROI 2009. After his explanation, he then answers several questions from the audience.
My name is Vivek Jain. I'm an infectious disease researcher at the University of California-San Francisco. This is an analysis of patients who have acute and early HIV infection, which is a special population of patients.1 It's an analysis of patients who have acquired HIV that is drug resistant. This is a major public health problem because patients who acquire drug-resistant virus are at risk of having antiretroviral failure if that drug resistance is not accounted for.

Vivek Jain, M.D.
This project is simply a look at the epidemiology of that trend. We had previously published some trends, going from 1996 to 2002. We now are reporting trends from 2003 to 2008. What we found is that overall, the transmission of drug-resistant virus seemed to increase from 2003 to 2007, to the point where, in San Francisco in the year 2007, 28 percent of all new cases of HIV were resistant to at least one drug.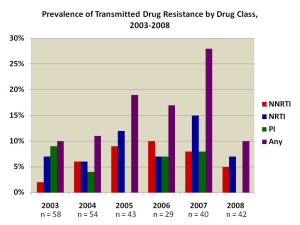 Adapted from Vivek Jain et al. CROI 2009; abstract 673.
Click image to enlarge.
What's interesting is that that following year, in 2008, we had a large drop in that resistance. And this is an interesting trend that we're going to look at now to see what led to that drop.
Wow. So this was a surprising result, wasn't it?
Somewhat, yes. But I think there are several theories as to why that resistance has gone down. I think one of the possibilities that we're starting to think about is that in the second half of 2007 and in early 2008, we had the addition of several new powerful drugs into our armamentarium, and we wonder whether we took a lot of patients who were previously resistant to all the classes of antiretrovirals and got them on these new, more powerful suppressant drugs, eliminated the viremia in those patients; and we're wondering if it's possible that is what led to less transmission among the networks in our city. That's a theory at this point, but it's something we're interested in looking at.
I see that NRTI resistance was more common than NNRTI resistance in 2008. That's sort of a surprise.
Yes. I think, again, the numbers are a little bit on the small side. Some of the years, it's the opposite trend. And I'd say in many of the years they are similar. But I would agree.
How many patients did you have?
This is a total of 266 patients who entered our cohort from 2003 up through the end of 2008. This is one of the largest groups studying patients with acute and early HIV.
We don't know if 2008 is a blip or a trend, right?
We don't yet know because the data from 2008 just finished, as of December 31. We're going to be monitoring the data from 2009 pretty closely, and we will see over time. Time will tell whether these trends hold up. Hopefully, the transmission of drug resistance will be at lower levels. Because this is a major public health problem.
Did you already report the data? Did we already know that it was so high from 2003 to 2007?
That has not been reported yet; we are just about to report that. Part of being here at the conference is to share that data with everybody.
So, there's the good news and there's bad news. The good news is about today, and the bad news was about yesterday.
I think you could put it that way. Again, I'd point out a caveat: This is our experience in one cohort, in one city of San Francisco. But we do have a big problem with drug resistance in San Francisco, so a lot of trends are seen in San Francisco that then are seen in other cities. Hopefully, these results are useful to other clinical groups.
This transcript has been lightly edited for clarity.
Reference
Jain V, Pilcher C, Deeks S, et al. Increasing prevalence of NNRTI-associated drug-resistance mutations in patients with acute, early HIV in San Francisco. In: Program and abstracts of the 16th Conference on Retroviruses and Opportunistic Infections; February 8-11, 2009; Montréal, Canada. Abstract 673.