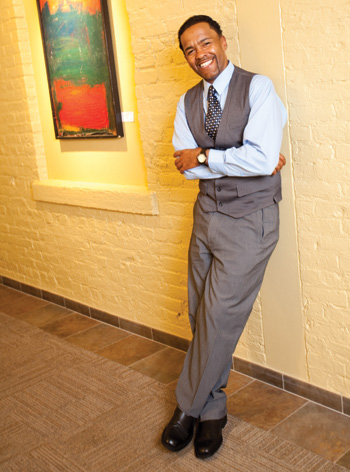 That lesson about not judging a book by its cover was once again reaffirmed as I shook hands with Arick Buckles. I couldn't imagine that the slight, neat, nicely-dressed man I saw before me could ever have been a drug addict and petty criminal, devoid of self-respect, incarcerated six times in Illinois and once in Wisconsin. As he began to tell his story, his gentle, soft-spoken voice and articulate use of the English language made that picture even harder to imagine, as did the sense of dignity and self-love that radiated from him.
But the beginning of Arick's story is sadly not uncommon. He grew up in Chicago's Cabrini Green housing project with no adult ever telling him that he could do whatever he wanted, be whatever he wanted. He accepted at an early age that a life of crime was inevitable for him, never even considering the possibility that he could, as he says now, make better choices. At first, his crimes supported his drug habit, but he has been sober for 10 years now and out of prison for only three of those years. He had gone back to that life of crime every time he was released from the Illinois prison system because, as he says, "I had no skills. After getting sober, I continued to do the crimes in order to survive."
Survival
Doing what he had to do in order to survive was also his guiding principle while he was in prison. "Talking about my first incarceration, I went into prison knowing that I had to do what I had to do in order to survive -- even if that meant having unprotected sex. Today, thinking back on those times, I think, wow! I could have potentially infected quite a few guys." But if he had told his "partners" he was HIV-positive, would it have stopped them? He admitted that he had tried using his status as a weapon to protect himself from prison rape but "some guys just don't hear that. They're just going for the instant gratification."
When asked what was the biggest challenge related to handling HIV while being incarcerated, he answered, "The most challenging for me was actually accepting it. I was in a huge state of denial. Those were some really dark days for me." He said that the first time he went to jail, he was positive, but he was in denial and had no education about HIV or its treatment. "I thought I would die if I were to address it, accept it, begin medicines, and that's actually a common thought among people who are HIV-positive and incarcerated."
Out of Denial
Arick credits Heidi Nass, Director of Treatment Education and Community Advocacy at the University of Wisconsin Hospital's HIV/AIDS Comprehensive Care Program, with being the first HIV-positive person he'd met who "told me her story and put a face to it and normalized it" to help him get out of his fear and denial and start treatment. Heidi and Mary Kay Kollat, of the Prison Case Management Program, helped him to get the help he needed and, along with the people he was referred to when he returned to Chicago, encouraged him to go back to school, to use his experience and knowledge to turn his life around.
Today, Arick works as a medication adherence specialist at Chicago House and Social Service Agency, the AIDS service organization where he first went for help upon his release from Oakhill. He helps his clients to stay on their HIV medications, to identify and overcome any barriers they have to taking them as prescribed by their doctors. He knows from personal experience how important that is. He proudly proclaims that his viral load is undetectable and his T-cell count is high, so he is living proof of the things he teaches his clients.
Though Arick owns his former state of denial, it seems that most prison systems in this country do not. Thanks to their denial of prison rape, of violence perpetrated by both inmates and guards, of sexual activity, of injection drug activity, unsanitary conditions, and their refusal to even consider making condoms available to inmates, HIV, hepatitis B and C, and other sexually transmitted infections run rampant within the prison population. And when those prisoners are released, they carry their infections back to the community at large. Instead of being a "correctional" problem, it then becomes a contributor to public health crises. As much as some would choose to think otherwise, we are all affected by the state of health care in our correctional institutions.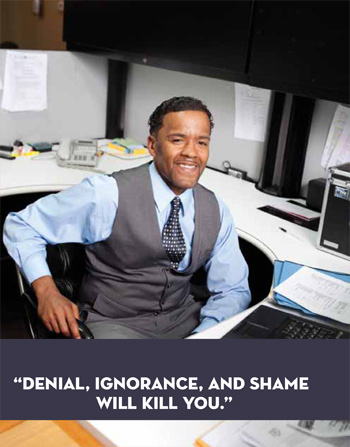 Arick feels strongly that if the infection rate for HIV and other diseases is ever going to decrease, government and prison authorities are going to have to overcome their denial of the risk behaviors that are all too common. He also testifies as to the difference it makes when guards and medical personnel treat inmates with a sense of consideration, if not respect, as he experienced in Wisconsin (see sidebar).
Illinois vs. Wisconsin
The contrast between what Arick experienced in the Illinois correctional system and his Wisconsin experience is stark. As he said, "I had to go to prison in Wisconsin to find out about programs available right here in Chicago. I read my first issue of Positively Aware in Wisconsin." In Illinois, especially at Cook County Jail in Chicago, he seemed to see a system where, too often, guards were violent or neglectful, authorities ambivalent, programs to inform and educate inmates nonexistent, and conditions overcrowded and unclean.
However, there was one bright spot at Cook County -- Arick echoed a statement we've heard from other Cook County inmates about Dr. Chad Zawitz. "Dr. Zawitz tries to make you feel like a person, to give you that empathy that you want to hear. He's probably the nicest person over at Cook County Jail, but he's up against so much, there are so many powers working against him."
I asked him what he would say to those who might point out that people are imprisoned to be punished for the harm they've done to others, not to make friends, fall in love, get free state-of-the-art medical care, or even to enjoy nutritious food. He responded, "That is true. You're locked away from society as punishment, but somewhere in there, I believe it states that you will be rehabilitated and you will re-enter society. Lots of people, when they're locked up away from family and friends, come out worse because of the lack of care and all the hatred that goes on. That's what you're exposed to in there and you're going to come out with all that mess in you and you'll release it right back out into society."
Paying it Forward
In the course of his work, Arick has had the opportunity to go back to prison -- but not as an inmate! He and his colleagues recently made a presentation to the staff at Cook County Jail so that they would know about the programs and services Chicago House offers and, hopefully, refer inmates who are being released to them, as Oakhill did for Arick. He admitted that going back there was "really, really emotional for me. But I had to do it, I had to, to help someone, because somebody helped me."
His message to others who may be in prison living with HIV? "Denial, ignorance, and shame will kill you." And if he had the power to change the correctional system in this country? "I would give each inmate a bag of condoms at intake. And I'd make sure there were programs available within the prisons to educate people, to let them know they don't have to die with HIV. I've become a big believer in education and prevention."
Like many others, Arick now considers himself "blessed with HIV." He says, "HIV's changed my life since I've addressed it. I love sharing my story and telling people that my life started when I accepted HIV. For a long time, I didn't love myself, I just didn't care. Today I'm at a point of self-love. Today, I know the importance of making positive choices. Today, I smile. I smile now, I love smiling! It's a wonderful thing and I'm at great peace. I am not dying from HIV, I'm living with it."
Making Prison a Positive exChange
In 2007, Heidi Nass put together the first issue of Positive exChange, the newsletter "for and about the people in the Wisconsin correctional system -- those who are incarcerated and staff alike." Heidi's work at the University of Wisconsin Hospital and Clinics HIV Comprehensive Care Program led her to see the necessity of creating "a place where people living secretly with HIV/AIDS can find some comfort in the stories of their peers and learn things about this disease that help them live with it as fully and responsibly as possible." Today, she sends out over 1,000 copies of the newsletter to every prison in the state of Wisconsin.
The shroud of secrecy surrounding HIV is even more prevalent in correctional settings than in society in general. Stigma and discrimination too often create untenable situations in the lives of people living with HIV, but if they're also in prison, the fear that their status will be disclosed can lead to them choosing to die rather than start treatment. In fact, when asked what she would do to change the way HIV is managed in correctional facilities, Nass said, "Raising the level of knowledge and expertise of medical providers when it comes to HIV. And that also means working through the attitudes, judgments, and presumptions that lead to stigma which leads to silence and lack of care."
Dr. Scott Hoftiezer, Associate Medical Director for the Wisconsin Department of Corrections, confirmed that, in his opinion, the most important factor in improving HIV care for inmates is "removing barriers which prevent proper compliance with their medication regimen." This would seem to include improving the methods and oversight of delivery of meds, coordination of timing issues (such as the necessity to take certain meds with food), and educating both inmates and staff about the facts of HIV so that the myths and misinformation that fuel stigma can be decreased, if not defeated.
When asked what the biggest challenge facing medical providers is in dealing with HIV-positive inmates, Dr. Hoftiezer replied, "Ensuring that our patients are adequately educated about their disease and its treatment, along with ensuring they can get their lab studies and medications when they are supposed to have them."
In addition to high quality medical care, the UW HIV Comprehensive Care Program clinic also offers prison case management by a licensed social worker who works closely with inmates as they get ready to be released to make sure that their health care transitions smoothly from prison to the community. As in Arick's case, inmates are referred to providers, agencies, and programs, that can help them with the challenges they face on the outside.
Unfortunately, quality and consistency of medical care for HIV-positive inmates seems to vary from state to state and facility to facility. In New York, where it is estimated that 20% of the HIV-positive inmate population in the U.S. is housed, legislation has been passed that requires the State Department of Health to monitor prison HIV and hepatitis programs to ensure that they are operating efficiently and are up to prevailing medical standards. For reasons that remain unclear, corrections officials are urging the governor to veto the bill.
In contrast, though, Louisiana, a state with some of the toughest prison laws in the nation, has created a hospice program at the State Penitentiary in Angola that ensures that terminally ill inmates are transferred to the hospice ward where inmate volunteers care for them, that the deceased has a memorial service, and that he is buried in a handmade casket, surrounded by friends and family. An exhibition of photographer Lori Waselchuk's work, entitiled "Grace Before Dying," documenting this dignified process, is currently touring prisons, museums, and conferences throughout Louisiana and Mississippi. To learn more and see some of the photographs, visit www.gracebeforedying.org.
As the debate on health care in our society continues to rage in Washington, it seems clear that if Congress can't even manage to overcome the insurance lobby in order to pass legislation that lives up to the principles of what our founders envisioned for our country's citizenry in general, there is little chance that the incarcerated population will receive their attention. -- Sue Saltmarsh
Got a comment on this article? Write to us at publications@tpan.com.