To view a video of this presentation, click here
Please note: Best viewed with Internet Explorer.
(Requires Real Player for Windows or Macintosh)
Impact of Treatment Interruption on Plasma Viral Load, CD4 Count and Virtual Phenotypes (Virco) in HIV Patients Who Failed Multiple Courses of Antiretroviral Therapy (Abstract 111)
Speaker: A. Tesiorowski
Authored by Tesiorowski, A.; Harris, M.; Harrigan, R.; O'Shaughnessy, M.; Montaner, J.; British Columbia Centre for Excellence in HIV/AIDS, Canadian HIV Trials Network, St. Paul's Hospital, University of British Columbia, Vancouver, Canada
The purpose of this observational study was to assess changes during treatment interruption in plasma viral load, absolute CD4 count, genotypic resistance and virological and immunological response to subsequent antiretroviral therapy.
The study examined HIV-infected, treatment-experienced patients, who had stopped treatment due to virological failure and who had documented genotypic resistance to >2 classes of ARV therapy.
Thirty-one male patients were studied; they had a mean age of 38 years and a mean duration of treatment interruption (TI) of 24 weeks (5-111).
Plasma Viral Load Changes
Median
(copies/ml)
Range
(copies/ml)
Highest known ever
270,000
14,000 to 750,000
Last while on therapy
8,660
137 to 200,000
Highest during TI
107,000
27,500 to 75,000
End of TI
169,000
7,520 to 750,000
Change/month during TI
+25,064
+1,201 to 318,389
This table summarizes plasma viral load changes. Note the wide range for each measure. Also note that while pVL was higher during treatment interruption, it did not necessarily reach baseline.
Absolute CD4 Changes
Median
(cells/mm3)
Range
(cells/mm3)
CD4 <200
Nadir CD4 ever
130
10-350
22 (70%)
Last on therapy
320
5-770
8 (3%)
End of TI
170
5-510
19 (61%)
Change/month during TI
-20
0 to -59
This table shows that a majority, nearly 2/3, of the patients at the end of treatment interruption had CD4 counts that were close to their nadir. They were clearly in a precarious immunological position after being off therapy.
Virtual Phenotype Changes
Resistance to:
Number of patients resistant prior to TI
Number of patients resistant after TI
29
19 (34%)
Zidovudine (AZT)
17
5 (29%)
Lamivudine (3TC)
19
3 (16%)
Abacavir (ABC)
11
2 (18%)
D drugs (d4T, ddI, ddC)
7
0 (0%)
NNRTI
8
6 (75%)
PI
17
3 (18%)
This table shows the expected phenomenon that most patients return to a more wild-type configuration phenotypically after being on treatment interruption. What stands out here is the large percentage of patients who still demonstrate resistance to AZT and even more so to the NNRTIs after treatment interruption.
Some researchers, most notably Veronica Miller, have maintained that patients who revert to wild-type virus may do better after treatment interruption. The current investigators examined various factors to see if there was some way to predict who would switch to wild type.
Patients Who Switched to Wild Type vs. Those Who Did Not Switch
Switched to wild type
Not switched to wild type
p-value
# of patients (%)
19 (66%)
10 (34%)
PVL highest ever
325,000
308,500
0.96
PVL highest during TI
289,000
183,000
0.14
PVL end of TI
135,000
240,000
0.30
Abs CD4 nadir
173
50
0.07
Abs CD4 at end of TI
190
130
0.73
The only thing that even approached significance was the absolute CD4 nadir.
Patients were restarted on therapy. There was not statistically significant difference between those who had wild-type virus and those who did not. Both groups achieved undetectability on ultrasensitive testing.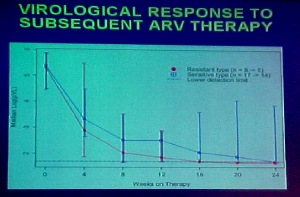 Nor was there any significant difference in CD4 response in the two groups.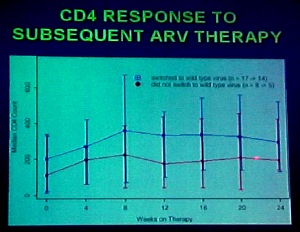 The authors concluded that treatment interruption of 5-111 weeks caused significant increases in pVL and a loss of CD4 cells. Genotypic resistance profiles analyzed by virtual phenotype change considerably after treatment interruption. Once again, while most viral isolates lost their resistance to D drugs, 3TC, abacavir and PIs, there was a tendency to retain resistance to NNRTIs and AZT. Patients with lower nadir CD4 counts were more likely to retain resistant virus and reversion to wild type was not associated with any better response to ARV therapy.
Not much in this study is really surprising. Most data over the last two years has tended to support the notion that the reversion to wild-type virus does not give any better outcome to salvage therapy. The greater decreases in pVL seen in early studies were most likely due to the higher levels seen in patients who were off therapy (if you've got further to drop you can get a bigger log decrease). This study should help lay to rest the need for treatment interruption before real salvage therapy. It may be nice to give patients a "break" before resuming therapy, but it is not necessary, and, as other studies have shown, the large decrease in CD4 levels seen puts some patients at risk of developing opportunistic infections.
The most interesting information was the continued presence of detectable phenotypic resistance to NNRTIs after treatment interruption. Fully 75% of patients who showed NNRTI resistance prior to treatment interruption still showed it after treatment interruption. This should be reassuring for those who are just beginning to use phenotyping, since it alleviates some of the worry that we will miss archived mutations if we don't have prior phenotypes. That worry is clearly still valid, though, for most of the drugs.
Click here to take our survey and let us know what you think of our coverage!