Introduction
Renal complications are common among people living with HIV; in fact, up to 30% of HIV positive individuals may have protein in their urine -- a sign of kidney dysfunction. It is difficult to estimate precisely how many people develop kidney disease -- and, therefore, to implement effective disease prevention or early intervention -- because kidney dysfunction may be asymptomatic or may result in only vague symptoms, such as fatigue or general malaise. Without specific symptoms, many individuals are diagnosed later in their disease course, reducing the efficacy of available treatments.
Given the risks associated with kidney disease, developing awareness of kidney function and getting the necessary tests are essential to maintaining good health with HIV. This article explains how kidney function is assessed, describes the renal complications that are most commonly seen in HIV positive people, and outlines treatment options.
Assessing Kidney Function
Kidney function is assessed using both blood and urine tests to measure two key indicators: serum creatinine and protein in the urine. The presence of an abnormality in either of these measures indicates a functional or structural problem in the kidneys. These two parameters complement each other and should be performed simultaneously.
Creatinine is a product of creatine, a molecule used by muscle cells to break down fatty acids. Creatine is excreted as creatinine by muscle cells in an amount that correlates with the muscle mass of the individual. When the kidneys function well, creatinine is filtered effectively out of the blood serum, and the level is low. As kidney function declines, it is less effectively cleared from the blood, and the level rises. Serum creatinine is assessed using a blood sample.
Urine analysis is the second primary test of renal health and can provide a tremendous amount of information on the presence and activity of disease in the kidneys. A significant majority of kidney diseases (i.e., those related to the glomeruli, tiny structures that help filter the blood) result in abnormal levels of proteinuria, or protein in the urine. Proteinuria can be assessed using a dipstick on a random specimen. The urine dipstick is an inexpensive, efficient way to screen for proteinuria, and if positive, the test is followed up with a measurement of the actual amount of protein excreted per 24 hours.
The amount of protein in the urine can be assessed either from a urine sample taken at a random time (as is often used for a dipstick test) or from a 24-hour collection. Proteinuria levels can provide not only prognostic information about the level of activity of the kidney disease but also a target with which to guide treatment.
An individual with healthy kidneys puts less than approximately 300 mg of protein into their urine in a 24-hour period. The higher the 24-hour urine protein excretion of a person with kidney disease, the greater the activity of the disease within the kidney and the more likely that the disease will become aggressive, resulting in loss of kidney function over time. Further, once a disease has been diagnosed and a treatment plan initiated, tracking the level of urine protein excretion can help direct the course of drug therapy, with the goal of lowering urine protein excretion.
The level of serum creatinine is slightly more complex to interpret. In all individuals, creatinine levels quantify the ability of the kidneys to clear the blood of waste products. But because the absolute amount of creatinine produced per day is proportional to the muscle mass of the individual, the amount of kidney function that is implied by a given level of creatinine must be normalized for the individual's size. A specific absolute value (such as 1 mg/dL) reflects a different amount of kidney function depending on the muscle mass of the individual measured.
It must be recognized that the concept of "normal range" for creatinine is an oversimplification of how creatinine reflects kidney function. For example, many laboratory reports list the normal range for creatinine as less than 1.4 mg/dL. However, a 55-year-old white male with a creatinine of 1.3 mg/dL will have his kidney function estimated at approximately half of normal (54.5 cc/min using the Cockcroft-Gault formula, shown below). This discrepancy highlights the importance of transforming the value of serum creatinine into an estimate of kidney function, such as creatinine clearance or estimated glomerular filtration rate. Each approximates the amount of blood cleaned per minute by the kidneys. Given that "normal" is around 100 cc/min, one could consider the value calculated by these formulae to be a "percentage of normal." In the example above, the individual with a creatinine clearance of 54.5 cc/min would then have approximately 50% of normal kidney function.
Cockcroft-Gault formula
Creatinine clearance = (140 - age) x weight in kg (multiply by 0.85 if calculating for a woman)
______________________________________
(blood creatinine level x 72)
A seemingly small and technical (but equally if not more important) point is that kidney function and creatinine are not linearly related. The amount of kidney function that "lives" between a creatinine of 1 and 2 mg/dL is far, far greater than the amount of kidney function between a creatinine of 3 and 4 mg/dL. An increase in serum creatinine from 1 to 2 mg/dL likely represents a loss of roughly 50% or more of an individual's kidney function, while an increase of 3 to 4 mg/dL in someone with established kidney disease actually represents a relatively small progression (see graph below).
Association Between Increase in Creatinine and Loss of Kidney Function
The amount of kidney function as calculated by the Cockcroft-Gault formula for a 55-year-old white male.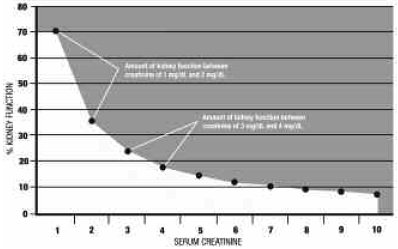 Lastly, the usual symptoms of kidney disease can be safely summarized as "particularly nonspecific." Fatigue, malaise, and loss of appetite may be attributed to many other possible causes, and elevated blood pressure may be treated immediately without identification of its cause. The combination of a nonstandard reference range of normal creatinine, the potential to cut kidney function in half without producing a noticeable rise in serum creatinine, and the exceptionally nonspecific symptoms makes kidney disease easy to miss and insidiously progressive.
Types of Kidney Disease
The kidneys receive approximately 25% of the blood that is pumped out of the heart at any given time. It is therefore not surprising that in addition to diseases that are primary to the kidney, most diseases that affect the system of blood vessels (the vasculature) also affect the kidneys. Diseases of the kidney itself -- ailments that do not stem from a disease of the rest of the body -- are termed primary kidney diseases. Those diseases which are systemic, such as diabetes mellitus, in which the kidneys are affected as a secondary complication, are termed secondary kidney diseases.
Primary Kidney Diseases
While the focus among persons with kidney disease and HIV infection is frequently on those diseases that are related to the HIV, it must be clearly understood that people with HIV infection experience the same kidney diseases for which HIV negative individuals are at risk. That said, the likelihood that a primary kidney disease in an HIV positive person is related to the virus is quite reasonable.
HIVAN
HIV-associated nephropathy (HIVAN) has been demonstrated by renal biopsy in approximately 60% of African Americans with HIV; in contrast, it is almost nonexistent among whites. First described almost 20 years ago, HIVAN presents with substantial proteinuria and progressive loss of renal function. While early reports described an almost universal requirement for dialysis within one year of diagnosis, the progression rate for HIVAN in the post-HAART era has dramatically decreased. Case reports demonstrate the possibility of recovery of renal function following the initiation of HAART in patients who were previously dependent on dialysis. This decrease in progression rate strongly supports the potential therapeutic role of antiretroviral medications in treating kidney disease.
The clinical course of HIVAN also appears to be associated with CD4 cell count and HIV RNA level. A 2002 study involving patients enrolled in the Women's Interagency HIV Study found that, among women with proteinuria, CD4 counts below 200 cells/mm3 were associated with a faster time to doubling of creatinine excretion -- an indicator of renal failure.
HIVAN is likely caused by direct viral uptake into certain cells of the kidney, with incorporation of the viral genome into cellular DNA. This infection results in a loss of regulation of normal cell functions, proliferation of cells, and progressive renal failure. With respect to treatment, observational data suggest that antiretroviral therapy is likely the most effective option, with angiotensin-converting enzyme inhibitors and perhaps the corticosteroid drug prednisone also representing potential treatment options. Several studies suggest a benefit from nucleoside reverse transcriptase inhibitor (NRTI) monotherapy, regimens based on protease inhibitors (PIs), and HAART in general in slowing the progression of HIVAN. Current clinical practice guidelines suggest that patients with HIVAN should be treated with HAART at the time of renal disease diagnosis.
Observational data also suggest that persons with HIVAN derive a therapeutic benefit from the use of blood pressure medications in the ACE inhibitor category (ACE-I). Although studies are small and limited by their non-randomized design, the results are compelling. For example, the serum creatinine of 12 patients receiving an ACE-I drug remained stable during a three-to-six-month follow-up period, whereas the creatinine of patients not taking an ACE-I increased from 1.5 to 7.0 mg/dL. These results have been confirmed in similar small observational cohorts. Among patients with kidney diseases other than HIVAN, the results of one study suggest a longer time from renal biopsy to kidney disease progression in patients using an ACE-I. Although these studies have significant limitations, empirically, ACE-I can be safely initiated in the majority of clinical scenarios and have a proven benefit in patients with diabetes mellitus and proteinuria.
Finally, observational studies also demonstrate an association between improved renal function and survival and use of prednisone in cases of HIVAN. Although treatment with prednisone did uniformly improve renal function in these studies, relapses requiring repeated therapy occurred, and the risk of opportunistic infections increased. The role of corticosteroids in the prevention or delayed progression of renal dysfunction has decreased significantly with the discovery that viral suppression effectively slows loss of kidney function.
Noteworthy in this discussion is that all data available to guide therapy among individuals with HIVAN are observational. No clinical trials have been performed to date; therefore, these studies must be interpreted carefully.
Common Symptoms of Kidney Disease
Specific symptoms that may result from the presence of kidney disease or worsening of kidney function include: If kidney disease is a possibility, a serum creatinine test and urine analysis should be performed.
elevations in blood pressure
edema of the lower extremities or face
discoloration in the urine or changes in urinary habits
Constitutional symptoms are quite nonspecific and can include:
fatigue
loss of appetite
weight loss
change in taste of foods or a bad taste in the mouth
If kidney disease is a possibility, a serum creatinine test and urine analysis should be performed.
Other HIV-related primary kidney diseases
Considerably less is known about the other primary kidney diseases that affect persons with HIV infection, both with respect to their exact relationship to HIV and, more importantly, with respect to their treatment. The table below lists primary diseases other than HIVAN that have been reported in persons with HIV, along with a brief description of their pathology. These diseases are united by a common theme of deposition of antigen and antibody with a subsequent inflammatory reaction within the kidney. Given the kidneys' role in filtering 25% of the cardiac output and the fact that similar kidney diseases are seen in the presence of other chronic infections, such as hepatitis B and C, it is reasonable to suppose that the kidneys may act as a passive trap for the byproducts of chronic infection due to HIV, although this has not been proven.
In general, clinical data describing the course of diseases other than HIVAN are limited and conflicting. Two HIV-infected patients (one with membranous nephropathy and the other with an immune-complex glomerulopathy) were reported to experience a dramatic reduction in proteinuria following initiation of HAART. Additional small studies also suggest a benefit. However, the largest study (including 42 patients with similar non-HIVAN renal diseases), published in the September 2004 issue of Kidney International, suggested that the beneficial association between antiretroviral therapy and the suppression of viral replication and improved kidney survival demonstrated among patients with HIVAN may not be present among patients with these other kidney diseases. These differences in prognosis, clinical course, and potential response to therapy underscore the clinical utility of kidney biopsy among persons with clinical signs of kidney disease.
Kidney Diseases Commonly Described With HIV Infection
Diagnosis
Pathology
HIV-associated nephropathy (HIVAN)
Likely a result of the direct infection of kidney cells by HIV.
IgA nephropathy
Antibodies (primarily IgA) are trapped in the areas of the kidney where filtering occurs. It is unclear whether this is related to a defect in the production of or a defect in the clearance of antibodies.
Immune-complex glomerulonephritis
All types of antibodies produced within the body are trapped in the areas of the kidney where filtering occurs. The deposition of antibodies triggers severe inflammation. Given that the filtering of blood with antigen-antibody complexes is a normal occurrence, it is not clear why certain individuals experience deposition in the kidney and the resultant inflammation.
Minimal change disease
Biopsy reveals little gross change in appearance of the kidney. Small changes apparent at very high magnifications indicate impaired ability of the kidney to maintain a barrier to keep protein from spilling into the blood. Potentially the result of a T-cell mediated abnormality.
Membranous nephropathy and membranoproliferative glomerulonephritis
Two kidney diseases in which certain types of antibodies are trapped in areas where filtering occurs. These areas are not directly adjacent to blood flow; therefore, there is little inflammation. Both are associated with the loss of potentially large amounts of protein in the urine.
Amyloidosis
Abnormal proteins in the blood (thought to be related to the inflammation caused by a chronic infection, such as HIV) are trapped in the kidney, affecting renal function. Deposition of these proteins may occur in other areas of the body -- including the blood vessels, heart, and intestine -- and affect their function, as well.
Thrombotic thrombocytopenic purpura/hemolytic uremic syndrome
Diseases in which the interior of the blood vessels is severely damaged. These syndromes can result in not only kidney failure, but also central nervous system changes, such as seizures, decreased platelet count, anemia, and fevers.
Secondary Kidney Disease
Diseases in which changes in the structure or function of the kidneys can occur as a complication (i.e., kidney disease secondary to another disease process in the body) are the most common cause of kidney failure. In the U.S., diabetes mellitus and hypertension are the two most common causes of end-stage renal disease (ESRD). It is therefore not surprising that these illnesses play an important role in the kidney disease of HIV positive people.
It is not always possible to determine without a biopsy whether diabetes or hypertension (if present) is the sole or major contributor to loss of kidney function. Biopsy may not be necessary, however, as the treatment for the kidney complications of these two diseases is the same, regardless of their cause. Discussion of whether or not a particular individual needs a biopsy should be held with a health care provider specializing in the care of kidney disease, such as a nephrologist. If a kidney biopsy is not initially pursued, that option should be reexamined periodically based on the course of the kidney disease and the individual's response to treatment.
Kidney disease related to diabetes or hypertension may be identified based on classic presenting features. Diabetic kidney disease usually develops approximately ten years after the diagnosis of type I diabetes and three to five years after the diagnosis of type II diabetes. Other complications, such as changes in the eyes, are also frequently noted. The "average" person with kidney disease due to hypertension is a little more difficult to describe, as the duration and degree of hypertension in the setting of other health factors play a role in susceptibility to kidney disease. However, hypertensive kidney disease is frequently associated with a low amount of protein in the urine.
The most influential factor to consider when trying to determine an individual's risk for and type of kidney disease is clearly race. HIV negative African Americans are predisposed to a greater risk of kidney disease compared with whites, and African Americans with HIV infection also have a greater risk of kidney disease. The types of kidney disease seen in HIV positive people also differ by race; for example, HIVAN is significantly more common among African Americans, whereas whites are more likely to experience kidney diseases related to concurrent illnesses, such as hypertension and diabetes mellitus.
Therapeutic options for secondary kidney diseases
Regardless of the type of secondary kidney disease, interventions focused on maximizing control of blood pressure, lipids, and diabetes, as well as management of the complications of the kidney disease, should all be considered or implemented to stop, slow, or reverse damage to the kidneys.
With respect to blood pressure control, the goal of less than 130/80 mm/Hg in individuals with abnormal amounts of protein in the urine or the presence of kidney disease is recommended by the Joint National Committee on Prevention, Detection, Evaluation, and Treatment of High Blood Pressure and echoed by the National Kidney Foundation. Multiple studies of patients with diabetes mellitus, HIV-related kidney disease, and other types of kidney disease demonstrate that the use of blood pressure medications in the ACE-I or angiotensin receptor blocker (ARB) categories provide additional protection by lowering pressure within the blood vessels of the kidneys. While the data surrounding the use of HMG Co-A reductase inhibitor drugs in slowing the progression of kidney disease are not as solid, given their beneficial effects on survival, they are also frequently utilized.
Finally, among persons with diabetes mellitus, good control of blood sugar has been demonstrated to reduce complications within the kidneys. The use of a low-protein diet was also tested but was not found to affect loss of kidney function among non-diabetics. While the utility of a low-protein diet continues to be the subject of debate, most nephrologists warn against a high-protein diet.
Complications of Decreased Kidney Function
In addition to understanding the cause of kidney disease and implementing treatment, another focus in clinical care is treating the complications of decreased kidney function. These complications include anemia and disorders of calcium and phosphorus metabolism.
Anemia is frequently seen among persons with HIV infection due to a number of etiologies, including medications and the primary infection itself. Kidney disease adds to the likelihood of anemia with a decreased ability by the kidney to produce the hormone erythropoietin. While the importance of treatment focused on improving quality of life cannot be emphasized enough, the effects of anemia management should be considered when choosing a treatment program. Recent clinical trials demonstrating an increased risk of tumor progression among oncology patients treated with erythrocytosis-stimulating agents (ESAs), which are drugs to reduce an excess of red blood cells, and an increased risk of cardiovascular events among persons with kidney disease treated to higher hemoglobin goals with ESAs have resulted in a change in the labels of these compounds, suggesting that they be utilized as the smallest dose required to obviate the need for blood transfusions. How these data and warnings should be translated to HIV positive patients has not been defined, but patients and health care providers should be aware of them in developing a treatment plan.
Disorders of calcium and phosphorus metabolism are relevant to the segment of the population with severe kidney disease. When kidney function declines below a certain level, the kidneys lose their ability to excrete the daily intake of phosphorus. A rise in the level of phosphorus sets off a decline in serum calcium and an increase in parathyroid hormone to normalize calcium levels -- potentially at the expense of bone stores.
A unique complication specific to persons with HIV may be decreased virologic response. A single study suggests that individuals with protein in their urine may be less likely to achieve and maintain undetectable viral load. Clearly, a greater understanding of whether this observation is related to the cause of the proteinuria or to underdosing of medications among individuals with lesser kidney function needs to be pursued. If confirmed, this link between proteinuria and viral load could lead to recommendations for earlier initiation of antiretroviral therapy among individuals with kidney disease.
The Impacts of Kidney Disease on Medications and of Medications on Kidney Disease
While awareness of kidney health and disease is important, knowledge of an individual's kidney function is key in choosing and dosing prescription and over-the-counter medications. With respect to dosing, antiretroviral medications in the NRTI class generally require reductions from their full recommended dose when kidney function falls to below 50 cc/min. While other antiretroviral medications may not need to be reduced, care must be taken to monitor doses of medications frequently used by people living with HIV (see table below).
People with kidney disease may be unable to tolerate the full recommended doses of the following drugs:
acyclovir (Zovirax)
amphotericin (Ambisome)
cidofovir (Vistide)
ciprofloxacin (Cipro)
clarithromycin (Biaxin)
ethambutol (Myambutol)
famciclovir (Famvir)
fluconazole (Diflucan)
foscarnet (Foscavir)
ganciclovir (Cytovene)
isoniazid (Niazid)
levofloxacin (Levaquin)
pentamidine (Nebupent)
pyrazinamide (Pyrazinamide, PZA)
ribavirin (Copegus, Rebetol, Ribasphere)
rifampin (Rifadin)
trimethoprim-sulfamethoxazole (Bactrim, Septra)
valacyclovir (Valtrex)
valganciclovir (Valcyte)
Further, medications (antiretrovirals and others) can affect kidney function and have been associated with adverse events involving the kidneys. These medications and their mechanism of potential injury are outlined in the table below. Use of these medications by persons with established kidney disease should be tailored based on severity of risk, likelihood of benefit, and availability of equivalent therapeutic options.
Medications Associated With Kidney-Related Adverse Events
Medication
Adverse Event
Intervention
Aminoglycoside antibiotics
Acute kidney failure
Adjust dose according to level of kidney function
Amphotericin
Acute kidney failure
Adjust dose according to level of kidney function
Atazanavir (Reyataz)
Interstitial nephritis
None
Contrast dye for computed tomography (CT) scans and arteriograms
Acute kidney failure
Avoid use in volume deplete/dehydrated individuals; use minimal volume of contrast
Gadolinium contrast agent for magnetic resonance imaging (MRI)
Nephrogenic systemic fibrosis
Avoid use in individuals with severely decreased kidney function
Nonsteroidal anti-inflammatory drugs
Diminished blood pressure control; acute kidney failure
Avoid use in individuals with reduced kidney function
Pentamidine
Acute kidney failure
None
Tenofovir (Viread)
Acute kidney failure; Fanconi's syndrome
Adjust dose according to level of kidney function
Clinical Events That May Result From Medication Use
Fanconi's syndrome
Fanconi's syndrome is defined as a change in the function of the part of the kidney known as the tubule, which results in an abnormal loss of potassium, phosphorus, glucose, and/or amino acids. This change may or may not be accompanied by a loss of kidney function. Regardless of whether creatinine does or does not rise, there are deleterious effects of the loss of compounds such as phosphorous, including increased bone turnover related to increased parathyroid activity. The majority of cases occur in persons taking nephrotoxic agents, particularly tenofovir (Viread). Clinical practice guidelines suggest at least biannual monitoring of these parameters among persons receiving tenofovir.
Acute kidney failure
The kidneys are the most oxygensensitive organs in the body. Because they process, filter, and "reclaim" so much blood per minute, it is not surprising that they are exquisitely sensitive to the toxicities caused by a number of medications. It must be noted that many medications (particularly those excreted by the kidneys) are highly concentrated within the cells of the kidneys.
All of the medications listed in the table above that promote acute kidney failure appear to do so in a similar manner. Treatment is usually focused on identification and withdrawal of the medication causing the kidney failure, and supportive care is needed until the damaged kidney cells repopulate and begin to function normally. The decision to reintroduce a medication after recovery of kidney function should be made on a case-by-case basis, with consideration of the clinical factors not related to the medication that may have contributed, such as volume depletion (loss of water and salts from cells) or dehydration related to a diarrheal illness, and the potential for other available and equivalent therapeutic options.
Interstitial nephritis
A reasonable analogy to describe interstitial nephritis is an allergic reaction within the kidneys. While the exact mechanism of irritation is not known, medications that cause interstitial nephritis cause an influx of white blood cells into the kidney, disrupting function. The rise in serum creatinine (indicating loss of kidney function) can be accompanied by fever and rash. Upon withdrawal of the drug, kidney function usually returns to its baseline value without specific therapy, although in severe circumstances corticosteroids may be used to accelerate recovery.
Conclusion
Our knowledge that HIV affects the kidneys is solid, but our understanding of certain areas of renal health is still rudimentary. Significant work remains to truly elucidate who is susceptible to kidney disease and why, and how to treat certain kidney diseases that occur in HIV positive people.
Early screening for kidney disease provides a greater likelihood of effective prevention and treatment. Screening is as simple as a urine analysis for protein and a blood test for serum creatinine and should be performed in every person living with HIV. The Infectious Disease Society of America currently recommends that all HIV positive people be screened for kidney disease at least once; individuals at increased risk for kidney disease should be reassessed at least yearly, and those with abnormal screening tests should receive further evaluation by their health care provider and see a nephrologist.
Key to this recommendation is awareness of kidney disease. Without awareness in both the HIV positive community and among health care providers, potentially preventable and treatable ailments can progress unchecked in the unsuspecting and asymptomatic individual. Awareness can lead to a very simple but potentially life-saving question: "Hey doc, are my kidneys OK?"
Lynda Anne Szczech is a nephrologist at Duke University Medical Center. She has a long-standing interest in the care of people with HIV and kidney disease and has been active in research in this area for many years.
Selected Sources
Burns, G. and others. Effect of angiotensin-converting enzyme inhibition in HIV-associated nephropathy. Journal of the American Society of Nephrology 8(7):1140-46. July 1997.
Chemlal, K. and others. Dramatic improvement of renal dysfunction in a human immunodeficiency virus-infected woman treated with highly active antiretroviral therapy. Clinical Infectious Diseases 31(3):805-806. September 2000.
Dellow, E. and others. Protease inhibitor therapy for HIV infection: The effect on HIV-associated nephrotic syndrome. Nephrology Dialysis Transplantation 14(3):744-47. March 1999.
Gupta, S. and others. Guidelines for the management of chronic kidney disease in HIV-infected patients: recommendations of the HIV Medicine Association of the Infectious Diseases Society of America. Clinical Infectious Diseases 40(11):1559-85. June 1, 2005.
Ifudu, O. and others. Zidovudine is beneficial in human immunodeficiency virus associated nephropathy. American Journal of Nephrology 15(3):217-21. 1995.
Laradi, A. and others. HIV-associated nephropathy: Outcome and prognosis factors. Journal of the American Society of Nephrology 9(12):2327-35. December 1998.
Schwartz, E. and others. Highly active antiretroviral therapy and the epidemic of HIV+ end-stage renal disease. Journal of the American Society of Nephrology 16(8):2412-20. August 2005.
Szczech, L. and others. Predictors of proteinuria and renal failure among women with HIV infection. Kidney International 61(1):195-202. January 2002.
Szczech, L. and others. The clinical epidemiology and course of the spectrum of renal diseases associated with HIV-infection. Kidney International 66(3):1145-52. September 2004.
Szczech, L. and others. The association between renal disease and outcomes among HIV-infected women taking and not taking antiretroviral therapy. Clinical Infectious Diseases 39(8):1199-1206. October 15, 2004.
Wei, A. and others. Long-term renal survival in HIV-associated nephropathy with angiotensin-converting enzyme inhibition. Kidney International 64(4):1462-71. October 2003.
Winston, J. and others. Nephropathy and establishment of a renal reservoir of HIV type 1 during primary infection. New England Journal of Medicine 344(26):1979-84. June 28, 2001.