The pharmaceutical industry's trade group, Pharmaceutical Research and Manufacturers of America (PhRMA), has long maintained that developing a single new drug and bringing it to market takes on average 12-15 years and costs $500 million. A new report by Public Citizen, a consumer group founded by Ralph Nader, estimates the pre-tax cost of bringing a new drug to market during the nineties was only about $107M. After taxes, they say, the outlay on research and development (R&D) for each successful drug (which must also cover expenses for unsuccessful candidates) could be as low as $71M. PhRMA immediately responded by quoting new estimates upping their figure to $700M.
The wide gap between these estimates indicates the agendas of their respective sources. PhRMA's mission is to defend the drug industry's image and profits, which they do by portraying drug development as a noble and arduous undertaking akin to scaling Mt. Everest. Public Citizen, fighting unchecked profiteering to reduce the burden of high drug prices on the poor and elderly, challenges the industry's profits and ethics with press releases and lobbying. To counter PhRMA's justification of high profits, Public Citizen and other consumer organizations routinely underplay the amount and significance of R&D performed by the pharmaceutical industry.
Estimating drug development costs isn't easy. Corporations jealously guard research expenses, trade secrets and technology to mask their activity from competitors. The earlier a product can be brought to market, the longer the company may sell the product without competition. In the past, two basic approaches have been used to gauge the outlay needed to bring a drug from laboratory to pharmacy. An estimate can be derived by analyzing several companies' drug development projects individually. A drawback to this method is the reliance on company-supplied figures for research that may not reflect actual expenses. The price of research may also be estimated by using industry-wide aggregate figures for R&D, then apportioning costs among the number of drugs actually approved during the study period.
In 1991, Joseph DiMasi and colleagues from the Tufts Center for the Study of Drug Development published a widely quoted, comprehensive study of drug development costs. Using project data from confidential surveys, the study estimated cash outlays of around $169M to successfully bring a drug to market during a period beginning in the 1970s. PhRMA relies on this research as the foundation for their statements about the cost of drug development. However, PhRMA uses different assumptions about a "hidden" expense called "opportunity cost" that boosts this estimate to the $500 million mark.
Opportunity costs are lost profits that could have been realized if the money tied up in an enterprise had been invested elsewhere. For example, if an investor put up $1 million in 1993 and has received no return on that investment after 10 years, the opportunity cost would be the interest that could have been realized if, say, T-bills had been purchased instead. If T-bills consistently pay 8% per year, and the interest is compounded, the opportunity to make $1.2M on the original $1M has been lost. Investors, of course, put their money into risky ventures such as biotech start-ups precisely because they hope to far exceed the return on investment that T-bills guarantee. Because of compounding, opportunity costs multiply over time and particularly impact industries with long lead periods before revenues can be generated, as is the case with pharmaceuticals. For these industries, the amount of revenue ultimately needed to recoup an initial cash outlay, recover the opportunity cost, and earn a profit is magnified.
PhRMA's assumptions begin with DiMasi's original estimate of R&D outlays with opportunity cost set at 9% and a 12-year development period. A review of the Tufts study performed by the US Office of Technology Assessment (OTA) subsequently calculated opportunity cost at a higher rate, which pushed the estimate towards $360 million. According to Public Citizen, this figure, when adjusted for inflation and rounded up, became PhRMA's $500 million.
But Public Citizen says the OTA report also offers an alternative analysis of development costs. R&D expenses are tax deductible, but DiMasi's 1991 figures didn't consider the discount this offers. If the original Tufts estimate is reduced by 34% in tax savings and opportunity cost is subtracted, Public Citizen says the actual cash outlay for bringing a new drug to market during the seventies and eighties was actually closer to $65 million. Public Citizen also stresses that, during the nineties, accelerated approval times and special tax credits further reduced the cost -- and the risk -- of researching and developing new drugs.
Phases and Stages
In general there are three stages to drug development:
Basic research and preclinical development

Human trials

Regulatory review and approval
Because preclinical research rarely focuses on a single drug, studies by DiMasi and others usually apportion total early phase expenses among the few projects that actually enter clinical testing. Research-based pharmaceutical companies may have large in-house science centers dedicated to drug discovery. For a startup company, basic or preclinical research may be dependent on only a few key individuals, post-docs and students, with financial support coming from academia, government, industry or private sources. Traditionally, government funding has generously supported basic science research -- partly for the public good and partly in expectation that new commercial opportunities will emerge. Industry investment in the uncharted waters of pure research may not be small, but it is highly risky. Many profitable drug products, Public Citizen says, owe their discovery and development to research funded by US government grants, particularly by the National Institutes of Health (NIH). Yet as the layers of dependencies that enable scientific progress are peeled back, it's not so simple to point to paternity.
After several years in preclinical development, there may be only in vitro efficacy and animal safety data available for a new compound. This is generally backed by collateral knowledge about similar chemical compounds from which the new drug evolved. Given the many uncertainties, the initiation of clinical research is a big step. In the US, human trials can only begin after the results from a battery of toxicology, mutagenicity and pharmacokinetic studies in animals have been submitted to the FDA and a research plan has been approved. Increasingly, the first use of a drug substance in humans is performed outside of the US, so that human safety data can be submitted to the FDA along with preclinical results when seeking permission to study an investigational new drug (IND) in the States.
If a compound is determined safe during Phase I studies, larger trials to prove its efficacy are performed. Phase II trials may enroll several hundred people to demonstrate that the drug is active, that there are benefits to using it, and that there is an optimum dose. Phase III trials may enroll hundreds or thousands of people and are designed to show the overall effectiveness of the drug compared to standard treatments. Competition has intensified the need to contain costs and this has resulted in shorter trial times and an increasing number of trials conducted outside of the US. There is also a trend to contract the work of conducting clinical trials to third-party firms that specialize in human research. For new HIV drugs in particular, offshore trials also provide access to larger numbers of previously untreated people than can be found in the US.
The investment required to develop a drug continues to ramp up as each new phase is initiated. Every milestone in the process calls for a business decision about whether to continue to invest money or not. Based on a drug's progress and prospects, new capital must be committed to continue development or else the drug is sidelined. For startup biotech companies, new capital may be raised through private or public stock offerings, loans, or sales of commercial rights and licenses.
Failures or "dry holes" as they are known in the industry have been frequent in recent HIV drug development history. For example, adefovir, a nucleotide analog developed by Gilead Sciences, made it to Phase III trials before being stopped by the FDA due to kidney toxicity. Lodenosine and Remune have also hit crippling barriers on the road to approval. In the rush for market share during the mid-nineties, some drugs were apparently launched into clinical trials without a full understanding of their limitations, toxicities, and doses. Yet in the pharmaceutical business model, the cost of bad decisions, bad drugs and bad luck must be recovered by income derived from future products that successfully make it to market.
The Example of Protease Inhibitors
PhRMA's 12- to 15-year development time estimate was also based on DiMasi's analysis of drugs discovered in the seventies and clinically developed during the eighties. But in the past decade, several changes have facilitated much shorter drug development and approval times. First, the regulatory climate altered dramatically during the early nineties for drugs in general, but especially for HIV drugs. New FDA rules that accelerated the consideration of HIV drugs allowed shorter periods of study, sped review in general and have significantly reduced the time to market. The acceptance of viral load assay results as surrogates for drug effectiveness trimmed trial durations and helped reduce the number of enrollees needed. Recently the Tufts group analyzed drugs approved during 1996-1998, finding the average time in clinical development for 108 new drugs had dropped from 8.5 years to 5.9 years. PhRMA, however, continues to use the outdated figures. It's important to recognize how profoundly any decrease in the time to approval will result in substantial reductions in development costs, not only due to savings in cash outlays, but more significantly in the reduced opportunity cost of investment. It's also important to recognize that an economic incentive to cut corners and compromise safety is in play. That's why we have the FDA . . . and Public Citizen.
An analysis of the time needed to approve HIV drugs in the nineties suggests that the clinical development of AIDS drugs was a bargain compared to PhRMA's estimates for average drug development costs. One easy-to-obtain measure of the time required to prove safety and efficacy to the satisfaction of the FDA is the period between when the first patent application for a new drug is filed and when the drug is approved. By this measure, drug development times for the protease inhibitors were brisk (see Table 1). Fortunately, due to the regulatory reforms, activist pressure and intense competition, the system responded to the opportunity that protease inhibitors offered and moved quickly, developing useful drugs that stemmed the crisis.
Information about the details and timing of HIV drug research are relatively easy to obtain because community and activist publications have tracked the HIV/AIDS drug development process so closely. Typically, the times required for each phase of clinical study of the HIV drugs were less than those estimated by PhRMA for drugs in general (see Table 2). Yet the financial investment in the development of protease inhibitors remains opaque. Since the cost of drug development is so strongly dependent on the time in development, the accelerated approval of AIDS drugs likely helped to make the business risk manageable; no company that successfully brought a protease inhibitor through Phase I trials failed to have their drug approved.
Table 1: Time to Develop Five Protease Inhibitors
Drug
1st Patent Filed
FDQ Approval
Years
Saquinavir
Nov. 1990
Dec. 1995
5
Ritonavir
Mar. 1995
Mar. 1996
1
Indinavir
May 1993
Mar. 1996
3
Nelfinavir
Feb. 1994
Mar. 1997
3
Amprenavir
Sept. 1993
Apr. 1999
6
Table 2
Drug
Phase I
(yrs)
Phase II
(yrs)
Phase III
(yrs)
NDA Filed/
Review
FDA
Approved
Time in
Trials
PhRMA Report
(1.5 yrs)
(2 yrs)
(3.5 yrs)
(1.5 yrs)
-
(8.5 yrs)
Saquinavir
Early 1991
(2)
Mar. 1993
(.75)
Jan. 1994
(1.7)
Sept. 1995
(.3)
Dec. 1995
6
Indinavir
Feb. 1993
(.75)
Oct. 1993
(1.4)
Feb. 1996
(1)
Jan. 1996
(.2)
Mar. 1996
3
Nelfinavir
Apr. 1994
(1.1)
Jun. 1995
(.75)
Feb. 1996
(.8)
Dec. 1996
(3)
Mar. 1997
3
Drugs Out of Bodies
The time needed for preclinical discovery and development are far more difficult to gauge. It was breathtakingly fortuitous that the similarity of HIV-protease to other aspartyl proteases already being studied was so quickly recognized; that drug development was underway with chemical entities known to inhibit these other enzymes; that new tools in molecular biology made a simple HIV-specific activity assay available for testing potential drugs. The first reports identifying renin inhibitors as possible HIV protease inhibitors appeared in 1987. Precursor patents for protease inhibition of other viruses date from 1984 and the first HIV-related patents were applied for in 1990. Scientists at Merck and the National Cancer Institute (NCI) published their crystal structures of HIV-protease in 1989, which helped chemists tweak the fit of the inhibitor molecules they were engineering. Reports of in vitro activity by several HIV-protease inhibitor compounds were published in 1990 by researchers from Upjohn, Roche, Abbott, Lilly, Smith Kline, and the NCI. Saquinavir, the Roche HIV-protease inhibitor, entered human trials in 1991, as did a few candidates from other firms that were ultimately abandoned due to toxicity or poor bioavailability.
A case could be made that HIV-specific preclinical research on protease inhibitors took anywhere from two to six years before first human use. Adding on the duration of clinical development results in a range of 8 to 12 years to bring these drugs to market -- which is in line with DiMasi's revised estimates. But it's difficult to find the starting blocks in basic research since discoveries in one field often enable breakthroughs in other, unrelated fields. If the earlier research on peptidic renin inhibitors is considered crucial, then the time for the preclinical development of HIV protease inhibitors could be plausibly extended by ten years or more.
Two Companies, Two Plans
The actual cash outlays expended for developing any single HIV drug are not transparent in the financial records of the large pharmaceutical makers. Costs for individual drugs are grouped together with multiple product lines, many other drugs at several stages of development, drugs already on the market, research performed in-house and research acquired by license. Sales revenues from top-selling products are often disclosed and it may be possible to see when sales of a new drug impact revenues or when marketing expenses and prices go up. But without inside information, it is difficult to distill the time and money invested in a single drug.
A different approach to estimating the cost of developing a single pharmaceutical product in isolation is to analyze the research expenses of a small, publicly-held, start-up drug developer. A case study of a company with one or two lead compounds can be made by accessing publicly disclosed information in SEC filings that present statements about the firm's financial status, business progress and risks. It becomes relatively simple to chart the company's research and development expenses over time as they change relative to milestones in the drug's development.
Two HIV drug development companies lend themselves to this kind of analysis and are presented here. Trimeris, Inc. and Triangle Pharmaceuticals, Inc. are each similar in size and capitalization; both were founded in 1993; and both are located in the same labor market in North Carolina. However, the companies were organized under very different business models. Trimeris is developing a novel class of compounds based upon original work performed by its founder as a virologist at Duke University. Triangle, in contrast, was organized as a clinical phase development company to purchase or license promising drugs from third parties and then guide them to regulatory approval.
As case studies, these observations may not be generalizable to large pharmaceutical manufacturers for a number of reasons: Overhead may be lower for a small company, economies of scale may benefit a large company and the cost of capital for a biotech startup may be considerably higher than for a large corporation. In addition, tax considerations that may influence a large company's spending do not impact a small startup with no revenue.
These two cases suggest that pharmaceutical development expenses are not trivial, although they do not quite hit PhRMA's new estimate of $700M per drug. Yet clearly, drug development depends on much more than appropriating government-sponsored research and mounting a few clinical trials to gain FDA approval.
Trimeris, Inc.
Trimeris, Inc. is a development-phase company involved with the discovery and development of peptide-based fusion inhibitors. Trimeris performs original research and actively seeks patents to protect its discoveries and processes. Trimeris has a royalty-free patent from Duke University for the underlying concept of fusion inhibition with peptides. The company depends on collaboration with partners for manufacturing and marketing.
Trimeris was founded in 1993 and commenced expenses for development that year. The company has never made a profit and does not anticipate any sales until early 2003. Trimeris' research and development expenses include drug discovery research, drug synthesis and manufacturing costs, patent-associated costs, pre-clinical toxicology tests, clinical research, and employee compensation. From inception to March 2001, Trimeris has spent about $130 million on administration and R&D.
In July 1999, Trimeris announced an agreement with Roche to develop and market their HIV drug candidates, T-20 and T-1249, worldwide. Beginning in mid-1999, Roche and Trimeris have shared US development expenses for T-20 and T-1249 equally. Under the agreement the two companies will split revenues on sales within the US and Canada. In the rest of the world, Roche will bear all development costs and pay Trimeris royalties on sales. The agreement with Roche to share development costs was made at a point when Trimeris had invested approximately $45M on research. R&D expenses increased rapidly after the Roche agreement was signed and expensive Phase III trials were started. By the end of March 2001, cumulative R&D expenses had reached $170M. Some of Roche's investment has been delivered as milestone payments to Trimeris, but most will be carried on Roche's books. Any international expenses are Roche's exclusively. This results in some uncertainty about predicting the ultimate investment in launching T-20.
During the first three months of 2001, Trimeris reported spending almost $14M on R&D. Since this amount is matched by Roche, total R&D for the quarter ran $28M. At this rate, with no increases, over $360M will have been invested in T-20 by the end of 2002 when approval is anticipated. T-1249 is said to be about two years behind in the pipeline.
If opportunity cost, calculated at a rate of 10% compounded quarterly is considered, the investment figure could rise to $460M. That said, Trimeris expects worldwide sales of T-20 to reach $500M per year.
An unusual amount of R&D expense for T-20 may be due to extraordinary investment in the manufacturing process. Because T-20 is not a "me-too" drug, its synthesis on a commercial scale has required a significant amount of research and capital investment that are not part of a more conventional compound's development.
Trimeris, Inc. Cumulative R&D Expenses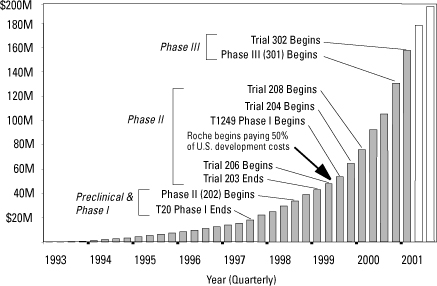 Triangle Pharmaceuticals, Inc.
Triangle Pharmaceuticals, Inc. is a development-phase company that is grooming several antiviral drug candidates for market approval. Triangle's strategy is to focus on drug development rather than drug discovery. The company purchases or licenses drugs that have shown favorable pre-clinical or early phase clinical data. Triangle concentrates on designing clinical trials and optimizing drug synthesis for production, while the actual manufacturing and conduct of the trials are out-sourced to third parties. The firm has relied on clinical trials in countries other than the US for much of its later phase research. The company says that out-sourcing offers flexibility to shift emphasis among projects and respond to changes in opportunities and funding. Developing a patent portfolio is not a significant part of Triangle's strategy.
Triangle was founded in 1993 and commenced development expenses in January 1994. No products have been approved and the company has not yet made money. Currently, six drugs are in clinical development. Triangle's development expenses include drug synthesis and manufacturing costs, patent-associated costs, pre-clinical toxicology tests, clinical research, and employee compensation. Payments of license fees secure the company's right to develop and market its drug candidates. If the fees are not met, these rights can be lost. The HIV drug DMP-450 was acquired in an outright purchase.
This strategy has risks. Trials for two of Triangle's candidate drugs, FTC and DMP-450, were temporarily put on hold by the FDA due to safety concerns. The FDA has also asked for additional clinical trials for emiverine. Certain third parties -- not the licensors -- have made patent claims involving FTC and DAPD, placing Triangle's rights in jeopardy.
Since inception, Triangle has spent about $312 million on development, license fees and purchased research. Approximately 2100 patients have been enrolled in all phases of clinical trials for all of their drug candidates. During 2000, drug synthesis and manufacturing comprised the largest part of Triangle's development expenses. Expenses for clinical trials, employee compensation, pre-clinical testing, and consulting followed as the next largest categories.
Both Trimeris and Triangle have raised money from stock sales. They both entered marketing and development deals with large pharmaceutical corporations as the burdens of starting Phase III trials and developing production capacity loomed. In exchange for exclusive or shared marketing rights, links to large pharmaceutical companies to supply capital and expertise for manufacturing, registration and sales seem inevitable. But when investors understand the risks and commit their time and money, it doesn't matter if they are loved or reviled. The founder of Merck is famous for having said something to the effect that, "When pharmaceutical companies do what is good for people, the profits will follow" . . . or not.
Triangle Pharmaceuticals
Cumulative Drug Development Expenses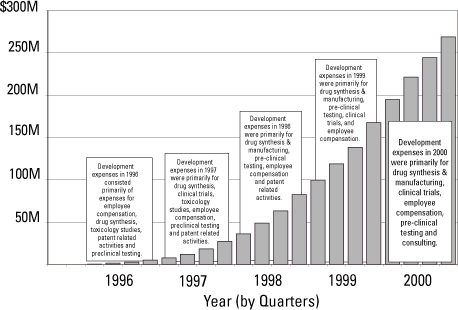 Research Versus Marketing
It's often claimed that pharmaceutical companies spend more money on marketing than on researching and developing new drugs. The Pharmaceutical Research and Manufacturers of America (PhRMA) recently countered this charge with figures that showed the industry's marketing expenses reaching only 61% of research and development (R&D) expenses during 2000. These are aggregates of expenses self-reported by members of PhRMA in an annual survey. PhRMA points out that a considerable portion of money spent on marketing goes for free physicians' samples that ultimately helps poor people. The price basis for the samples was not disclosed.
Figures from the audited financial statements of several large pharmaceutical manufacturers involved with HIV medicine are hard to reconcile with PhRMA's estimates. For example, BristolMyersSquibb reported marketing and administration (M&A) expenses of $5.6B during 2000 and $1.9B spent on R&D during the same period. R&D amounted to 10% of revenue while marketing and administration consumed 31% -- nearly three times as much. The reports of other companies show similar patterns of expenditure (see Table). It should be noted that financial statements usually report marketing and administration (M&A) expenses as a single category, whereas PhRMA excluded administration expenses from their figures. For two startup companies, Trimeris and Triangle, with no products on the market and no significant expenditures for marketing, R&D costs easily dominated each company's cash expenses during 2000.
BristolMyersSquibb, alone among the large corporations, reported advertising expenses separately from M&A. Even so, during 2000, Bristol's advertising dollars ($1.7B) roughly equaled their R&D dollars ($1.9B). After direct-to-consumer (DTC) advertising of prescription drugs was allowed in 1997, advertising budgets, drug sales and prices soared. As an example of the DTC marketing frenzy, Pfizer sponsors Mark Martin's Viagra NASCAR race team at a reported $15 million dollars a year -- roughly the cost of a medium-sized Phase III clinical trial.
Oddly, PhRMA's numbers don't seem to jibe with a simple reality check. During 2000, they estimate, PhRMA's fifty-five members spent $25.7B on R&D. But R&D expenses for just the four companies listed below total $10B, which suggests that the industry-wide estimate may be low. PhRMA also reports $1.8B spent on direct-to-consumer marketing by their members in 1999. Yet, Bristol alone spent $2.4B on advertising and product promotion during that year. Not so incidentally, thirty-eight associate members of PhRMA are firms dedicated to pharmaceutical advertising and communications.
Finally, PhRMA says that pharmaceutical makers spend a larger proportion of revenue on research than either the aerospace or computer software sectors. If we look at Boeing, with only 4% of its revenue going to R&D, this is clearly true. In the case of Microsoft, both M&A and R&D expenses are in line with those of the big drug companies -- although at 40%, its profits were at least two times greater. As consolidation proceeds within the pharmaceutical industry, perhaps PhRMA's members are dreaming of the day when they can enjoy monopoly profits to rival Microsoft's.
Marketing Versus R&D Expenses -- 2000
Corporation
Revenue
(2000)
Marketing and
Administration
% of
Revenue
R&D
% of Revenue
Earnings

% of Revenue
Merck
40.4B
6.2B
15%
2.3B
6%
6.8B
16.8%
Pfizer
29.5B
11.4B
39%
4.4B
15%
3.7B
12.5%
Bristol
18.2B
5.6B*
31%
1.9B
10%
4.1B
22.5%
Abbott
13.7B
2.9B
21%
1.4B
10%
2.8B
20.4%
Triangle
7.2M
12.9M
na
107M
na
110M
na
Trimeris
1.0M
15M**
na
38M
na
51M
na
Boeing
51B
2.3B
5%
2.0B
4%
2.1B
4%
Microsoft
23B
5.1B
22%
3.8B
16%
9.4B
41%
Source: SEC Edgar, 10K filings
* BMS: advertising only = 1.7B
** Trimeris = 100% Admin.

Back to the GMHC Treatment Issues July/August 2001 contents page.