Potent Antiretroviral Effect Seen With the Integrase Inhibitor MK-0518 as Part of Combination ART in Treatment-Naive, HIV-1-Infected Patients
Integrase is an HIV enzyme that allows the HIV virus to insert its genetic material into the DNA of human T cells. HIV integrase inhibition is a new mechanism of viral inhibition that blocks this step in the life cycle of HIV, thus preventing HIV from replicating. The fact that integrase is a new target, makes integrase inhibitors a class of drugs very attractive to patients who are already resistant to existing drug classes.
One of the most anticipated studies presented at the XVI International AIDS Conference (AIDS 2006) was a report from Merck1 on its integrase inhibitor MK-0518, which is currently in development.
MK-0518 has an in vitro activity (IC95) of 33 nM + 23 nM in 50% human serum. Its primary metabolic pathway is via glucuronidation (UGT1A1) and it is not a potent inhibitor or inducer of CYP3A4. Thus, MK-0518 does not require boosting with ritonavir (RTV, Norvir) and expected pharmacokinetic interactions are minimal. Drug interaction studies with other antiretrovirals have thus far shown no need for dose adjustment.2
Since the initial presentation at the 13th Conference on Retroviruses and Opportunistic Infections of a phase 2a study conducted in treatment-experienced patients,3 MK-0518 has attracted considerable attention, due to its high degree of potency and tolerability. In addition, given MK-0518's excellent tolerability, the possibility of using it in treatment-naive patients is now being more seriously considered. The late-breaker presentation by Martin Markowitz and colleagues at AIDS 2006 examined 24-week data on the antiretroviral activity of MK-0518 in treatment-naive patients.
The study was a rollover of a 10-day monotherapy study conducted in treatment-naive patients, the results of which were previously presented.4 In the rollover study, 150 more treatment-naive patients were added to the cohort and randomized to receive MK-0518 (at one of several different dosages) + tenofovir (TDF, Viread) + lamivudine (3TC, Epivir) or to be part of the control arm, which was administered efavirenz (EFV, Sustiva, Stocrin) + tenofovir + lamivudine. Patients in this study were all antiretroviral-naive and had genotypic susceptibility to efavirenz, lamivudine and tenofovir. Patients were also required to have an HIV-1 RNA viral load of 5,000 copies/mL or higher and a CD4+ cell count of 100 cells/mm3 or higher.
The investigators looked at the changes in HIV RNA and CD4+ cell count, as well as the incidence of adverse events. The main results of the study are summarized in the following table and graph: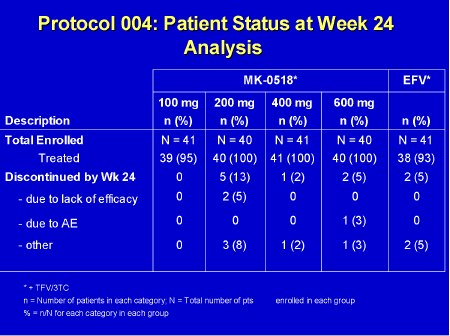 Slide by Martin Markowitz, M.D.; reprinted with permission of Merck & Co., Inc.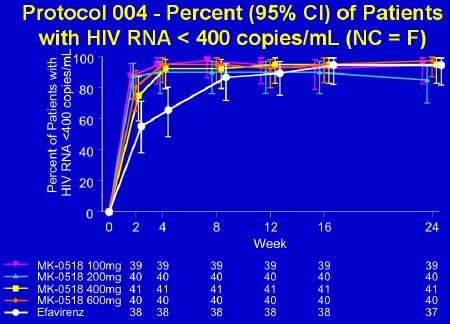 Slide by Martin Markowitz, M.D.; reprinted with permission of Merck & Co., Inc. For full presentation, click
here
.
Based on these results, it appears that MK-0518 is as effective as efavirenz when given as part of potent antiretroviral therapy. In addition, MK-0518 was well tolerated; the most common side effects across all arms were nausea, dizziness and headache. A total of eight severe adverse events were reported, with similar numbers in the MK-0518 and efavirenz arms, but these were not considered drug-related. Abnormal laboratory tests were common, but were mostly mild to moderate.
The researchers concluded in this preliminary analysis that MK-0518 + tenofovir + lamivudine has potent antiretroviral activity and is generally well tolerated in antiretroviral therapy-naive patients. The rapid viral decay observed in this study (as seen in the high proportion of patients who achieved an HIV-RNA level below 50 copies/mL at just two weeks) is something that we haven't witnessed since the advent of highly active antiretroviral therapy (HAART) in the mid 1990s. It is hard not to get too excited about the activity of this compound and the promise it may hold for both treatment-naive and treatment-experienced patients.
Footnotes