Hi, this is Terri Wilder reporting from AIDS 2008. I have with me John Cepek, the national board president of Parents, Families and Friends of Lesbians and Gays [PFLAG] in the United States. John, could you tell us a little bit about your organization?
John Cepek: PFLAG was founded approximately 35 years ago when a woman named Jeanne Manford marched with her son in the 1972 Gay Pride Parade in New York City. She carried a sign saying, "Parents of Gays, Unite in Support for Your Children." As she was marching, she kept hearing people cheering wildly. She thought, "Why are they cheering so wildly?" Then she noticed that Dr. Benjamin Spock was right behind her in a car. She said, "They're cheering for Dr. Spock." At the end of the parade, Dr. Spock went off and nobody followed him. The whole crowd clustered around Jeanne Manford. They were so inspired by this woman showing support for her son.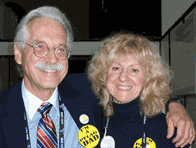 John and Char Cepek
She quite naturally said, "There's a need here for parents to step up and do something." She founded a small chapter in New York -- parents getting together, talking about the issues, coming to grips with having gay children. Then there were other chapters in California. In 1993, we created a national organization.
Currently, we have 500 chapters and affiliates throughout the country -- 200,000 members and supporters -- and as you've learned at this press conference, there are kindred organizations throughout the world.
We have a three-fold mission in PFLAG: support, education and advocacy. The support part means helping people come to grips with having a gay, lesbian, bisexual or transgender relative.
Beyond that, we want them to grow, so there's a strong education component -- we educate them about the issues involved. We also try to educate society at large, because ignorance about sexual orientation, gender identity and sex in general in the United States is rampant. We do all kinds of educational efforts. We speak. We publish materials and so forth and so on.
Finally, a third part of our mission is advocacy, which means that we support legislation that provides full and equal civil rights for LGBT [lesbian, gay, bisexual and transgender] Americans. We work to change social and cultural attitudes, because the homophobia that exists in our society is what underlies the extreme inadequacy of our response to the AIDS epidemic, and the stigma that is applied to people who are infected.
Can you tell me about how you became involved with PFLAG? At one point, you were not the national president.
John Cepek: No, I was a nothing. I was a nobody [laughs], but one Christmas season -- and Char can tell this story.
I'm also here with --
John Cepek: My wife Char. This was our coming out story.
Char Cepek: Well, we have two sons. They're 18 months apart -- John and Michael. John did like to play with little girls when he was young. As he got older, he realized that wasn't cool. He was a very good tennis player, very good swimmer, but not the team sports that his straight brother was involved in. Every once in a while, the idea that I could have a gay kid would just kind of roll through my mind, but I'd push it back because, really, I had no idea that a really happy, functional family living in the suburbs of Chicago could possibly have a gay kid.
He went away to school. He went to the University of Chicago. It was his sophomore year. It was Christmastime, and I noticed he was walking out the door with a bunch of gifts. They all said, "To George." I thought, "Maybe this is the time to really get this out on the table." He was walking out the door and I said, "John, this George must be somebody special to you." He said, "Mom, don't you know I'm gay?"
He cried. I cried. I knew I needed to start educating myself. I went to the library the next day and started educating myself. That's how we became involved.
John Cepek: Yeah, but George got all the presents and we got very few that year because George ate up the gift budget of our son. As I said earlier, we very quickly realized we were OK with having a gay son. I grew up in the 60s. I was one of the kids who had marched to a different drummer. In our society, being gay is definitely listening to a different beat. But we were concerned then about HIV. We were concerned about the gay bashing and just the general level of homophobia.
We were looking for an organization that we thought could be effective in combating the attitudes that militated against a better life for our son. That's how we found PFLAG. That's why we stayed with PFLAG, because we've seen transformation in individual lives. More important than that, we've seen people, individual PFLAG members in chapters, who have gone on to try to achieve better things in communities, collective action to improve laws, to change attitudes, to change workplaces, to change schools to make them safer for LGBT kids, to bring out into the open the fact that being lesbian, gay, bisexual or transgender is as equally valid a way of being human as is being straight, that these are all part of the wonderful thing called humanity. We're working to create a world in which everyone has that realization, and we can then tend to things other than suppressing people.
What year was it that your son came out?
John Cepek: 1991. Christmas of '91.
So you joined PFLAG, but how did you find PFLAG? Did you open up the phone book and say, "I wonder if there's an organization ..."?
John Cepek: It's a mystery to me. I don't know. Char found it.
Char Cepek: Let me say that John and George, his first love, had decided to sign a room and board contract for the following year at the University of Chicago. Unfortunately, over the summer, they broke up, but they were locked into this room and board contract. He was devastated.
Your son was devastated?
Char Cepek: Yeah, because it was his first really, truly romantic relationship. It was like watching anybody break up. Straight, gay -- it's always painful.
We knew that these two guys having to go through a year together wasn't going to be good. I knew I had heard of some organization for parents. Indeed, I did go to the phone book. I did find PFLAG. We went and, of course, they couldn't help us get these two guys out -- it resolved itself. But we found a group that really fulfilled our passion for making society a better place. How nice that it was our son that would be directly affected, but also so many other millions of Americans that need families.
Can I just say that I think, really, this family voice in combating AIDS is so terribly important? I once heard it said that every child needs at least one adult who thinks the world of him or her. I think that, for a lot of people that take risks with sex, they don't feel valued. If you've got parents, if you've got someone who really, really cares about you, I think you're going to be less likely to engage in risky behavior. I think that PFLAG and the many organizations like us play a really vital role in combating AIDS on a physical and a health level.
Would you agree with the statement that homophobia drives, in some parts, the AIDS epidemic?
Char Cepek: Absolutely.
John Cepek: We agree absolutely, because we've seen it. That's not something we've acquired from reading. It's a realization that we've realized from seeing human lives.
What do you say to someone who is a family member or friend who says, "I will not bring my child to an event if there are gay people there, whether they're your friends or a relative who is gay"? How do you respond to something like that?
John Cepek: Well, I would respond by saying that one of the best things you can do in helping your child to grow up and to learn about life is to bring that child to that event, so that that kid can have personal contact with someone who is lesbian or gay, so that that kid can realize that being lesbian or gay is just like being straight. There is no difference. We are all one and the same. We have the same hearts, the same brains. We lead the same lives. We have the same concerns, the same anxieties, the same triumphs.
Char Cepek: I would say that person is confusing sexual orientation with morality. They're really not related. You can very immoral and be straight; you can be very immoral and be gay. You can be very moral and be straight; you can be very moral and be gay. They don't have anything to do with each other.
John Cepek: Sexual orientation is morally neutral. It's how one acts that determines one's morality.
I find that many people who are homophobic tend to lean on their religious dogma to back up what they believe. Does PFLAG do any education with faith communities?
John Cepek: We have a major initiative in faith communities, but there's an interesting point: Last year, we introduced a program called Straight for Equality, in which we're trying to expand beyond the family voice and get straight people in general to be supportive of the movement. Before we introduced the program, we did a survey with Harris. We interviewed, I think, 500 straight people and learned that there were almost an equal number of people whose religion drove them to work for LGBT rights as there were people whose religion encouraged them to remain mired in their abysmal homophobia. Those who actually read the Bible and pay attention to some of the other verses, not just the seven piddling little verses --
Char Cepek: The two great commandments. Love your neighbor and love God. Those are the two really big ones, folks!
John Cepek: -- those people are on our side. They're driven by religious values, as I am largely in this movement.
Char Cepek: We really feel that people are cherry-picking the Bible to support their prejudices. They're really not looking at -- I mean, Jesus never said a word about homosexuality. He told you to love everyone. It's so simple.
John Cepek: It's the same kind of reductionist approach that people use to suppress African Americans, women.
Char Cepek: You can find whatever you want in the Bible to support -- you know, I mean, let's be honest here about what's going on.
John Cepek: I can't remember the play, but Shakespeare said the Devil can quote scripture according to his purpose. That, indeed, is true.
It's very interesting because I attended the MSM [men who have sex with men] pre-conference and Peter Piot was there.1 [You can read or listen to this speech online.] Basically, he said that homophobia is really about that person who is homophobic. He seemed to be saying that, if they're that homophobic, maybe they're questioning their own sexual orientation. Maybe that's why they're so uncomfortable.
John Cepek: I'm sure you're more familiar with the study than I am. I've always been too lazy to look it up, but I know it exists because I've talked to scholars. Some years ago, some researcher wired up men and had them watch gay porn. The ones who responded most fervently to the porn were the homophobic ones.2 Yes, I think some of these people are very uncomfortable about coming to terms with who they really are. These are people we try to reach and try to help as well.
If people wanted to get in touch with PFLAG or find out where a local chapter is, is there a Web site that they could go to that could provide that information?
John Cepek: Sure -- www.PFLAG.org.
Great. Thank you so much for talking with us.
John Cepek: Thanks for being here.
Char Cepek: Thank you.
This transcript has been lightly edited for clarity.
References
Piot P. Mid-day plenary for The invisible men: Gay men and other MSM in the global HIV/AIDS epidemic. In: Program and abstracts of the XVII International AIDS Conference; August 3-8, 2008; Mexico City, Mexico.
Adams HE, Wright LW Jr, Lohr BA. Is homophobia associated with homosexual arousal? J Abnorm Psychol. August 1996;105(3):440-445.