Personal Perspective: Give Us Our Daily Meds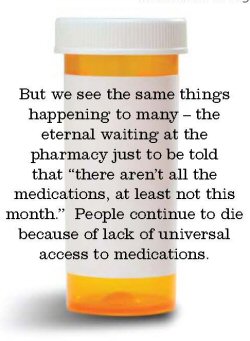 In Peru in the 1980s we first began to hear of gay men -- friends -- dying almost every day, one after another, while the government said nothing about HIV. The only news we heard came from friends in the U.S. At first we joked when someone would suddenly disappear -- we'd simply say "murió" (he died). We didn't know that these friends were actually dying of AIDS, and there was always silence around their deaths. Usually we would find out weeks or months after they passed.
As HIV became more visible, we organized to take care of those who were dying. I had a friend, Pepe, who became terribly ill in 1989. No one had any HIV medications, unless you had a relative wealthy enough to get drugs sent from the U.S. But Pepe had been abandoned by his family and had no one to take care of him. By the time he died in December of 1989, he had been diagnosed with CMV, crypto, toxo, shigella, salmonella, KS, typhoid, thrush, and more.
A group of friends organized to make sure that nothing like this happened to anyone else. We took care of those within our circle, but heard of many more who died in the same condition as Pepe or who chose to commit suicide to avoid the pain for themselves and their families.
I found out I was HIV positive in 1996, when I was given an HIV test without even being asked. I received a diagnosis of PCP, and my T-cells were at 160. Although I had been taking care of friends with AIDS, and had friends who would be understanding, I denied that I had been diagnosed with AIDS when my friends stopped by to visit -- they didn't even ask me, as if they all knew my fate.
I was told that there weren't any HIV medications available, but that soon the health system would be set up so that I could be begin to receive them. I prayed that my fate would not be like that of so many friends. I did get better, but mainly because I began to take care of myself. I ate better, took all of the PCP treatments, and followed up with my doctor as much as I could -- at the first symptom of anything I would be at the doctor's office.
In 1999, I traveled to New York City and was able to get in contact with an agency there that could provide me with HIV medications. I didn't think I would need them, since my health was better and I hadn't gotten sick since I was first diagnosed. My friends suggested that I try to stay in the U.S, but I decided to go back to Peru.
In 2001, I became ill and felt as though my legs were becoming weaker, but my doctors could not figure it out. When I was sent back to New York for a training, I was pushed by friends to get a second opinion. I had dozens of blood tests along with multiple scans, but there was no clear diagnosis.
I returned to Peru, and a couple of weeks later my legs were so weak that I was unable to walk. I have never walked again, and use a wheelchair to this day. Once again, I was told that there weren't any HIV medications, but that soon the health system would be set up to provide medications for everyone. But I couldn't wait. My friends mobilized quickly and I began to receive HIV medications from the organization in New York City.
Finally, in 2004, I was told that I would have access to HIV medications through Peru's social security health system. I decided to try this, but kept my access to treatment through the New York organization. I'm glad I did, because I would see my doctor and he would write my prescriptions, but sometimes after waiting for hours I would be given only some of my medications. I decided not even to attempt to get my medications through the social security system.
In 2006, the government finally announced it would provide universal access to HIV medications. Things have improved for some -- for those better informed, for those with more education, for those who were lucky enough to be insured. But we see the same things happening to many -- the eternal waiting at the pharmacy just to be told that "there aren't all the medications, at least not this month." People continue to die because of lack of universal access to medications.
It's been twelve years since I was told that the system would soon be set up so that everyone could have access to HIV medications. Is it only the government's fault? I don't think so. While the government has attempted to increase the health budget, there isn't enough money to cover universal access to HIV medications. There is much more that could be done, starting with HIV prevention, fighting discrimination against people with HIV, fighting ignorance, improving medical providers' knowledge, etc. However, there needs to be open discussion with local and international pharmaceutical companies and global health organizations to allow universal access to medications.
While I still have a voice, I won't be silent -- there has been too much silence. I remember seeing the phrase "Silence = Death." At first, I wasn't sure what it meant, until I finally saw that my own silence was killing me. Silence will not become my death.