Personal Perspective: Fighting for Treatment in Thailand
I was sitting in my doctor's office back in June of 1995, waiting for my test results. The doctor walked in and said, "So what disease do you think you have? Syphilis, herpes, hepatitis, or HIV?" as if it was a game show. I guessed herpes. "No! You have HIV!"
I felt nothing. I had no information about HIV and no idea about how it would affect me. I was 19 years old, and as I walked down the hospital hall to tell my dad, I felt more stressed out with each step; all of the messages floating around society at that time, such as "AIDS = death" and the scariness of AIDS, starting popping up in my head.
There went my chance to work in Taiwan, since getting a blood test was a requirement for working overseas. I told my father and my family that I wouldn't be able to take that job, even though I had passed every other test. My father was silent. My family was generally supportive, but like me, they had little information. I did think about killing myself when I was alone and my parents were out in the fields, but it was my love for them and thinking of how they had raised me that kept me from doing it.
When I went for another HIV test to see if it was true, I was introduced to a group of people living with HIV at my hospital in Khon Kaen, and it was good to see other people in a similar situation. There were no medications available at that time, so we mostly talked about what we were eating and what herbs we were using. Some of us tried macrobiotic eating: nuts, sprouts, red rice, pumpkin, and I would boil a special mushroom that my grandparents suggested. If we had fevers we would take Tylenol. Someone said a guy had a headache and then just died -- we didn't know then that it was probably cryptococcal meningitis. We didn't even know about generic Bactrim to prevent PCP, which cost one baht (three cents) a day.
Our group became the "Khon Kaen Friends Group," and that was the start of my involvement with AIDS work. We mainly acted as buddies, doing home visits and just talking. Many in the group were happy because they had no one to talk to; they were isolated from their families. Some were forced to live alone on their family's land, outside the family house. It was good to have their family members see that they could have friends help them bathe, to be with them and not ostracize them. In some cases, their children moved back in with them.
I was one of the only people in my area to start saying I was HIV-positive. I was nervous, because at that time no one talked about it. That annoyed me. People asked why I didn't go to Taiwan but when I told the truth, no one believed me!
One friend came to our group with these huge pills: AZT and ddI. We had no idea what they were. He took them in the morning and evening. He was in a study, but the doctor gave him no other information about the meds. He was okay for a while, but then he died. I guess he developed resistance. These were the only drugs available at the time, and only to people in special studies.
I was lucky enough to be invited to a meeting on Samet Island, with a group from the Bangkok Wednesday Friend's Club, an HIV support group at the Thai Red Cross. It was great to meet people who were doing more than just providing moral support ("gamlang jai") -- they had information about treatment from a professor at the Red Cross who conducted trials to help people access medications. And they were all drinking and smoking! This surprised me, because I liked to drink and smoke, but in Khon Kaen we were shamed for this bad behavior. But I saw that the Bangkok crowd did what they wanted, regardless of what anyone thought. They were also doing real community mobilization.
When I went back to the northeast, we started creating support groups there. We didn't have cell phones, but my new Bangkok friends would call and keep in touch. They had to call the village phone, and someone would come running to my house to tell me that I had a call. I ended up going to a pivotal meeting in Chiang Mai, which led to the founding of the national PLWHA network, and it was there that I heard people with HIV talking about treatment information, having sex as a positive person, living as a couple, etc. At that time, having a sexual partner was taboo for people with HIV.
In fact, when I decided to get married, the organization that housed Khon Kaen gave me an ultimatum: lose my job if I got married, or keep working and get a raise. They thought people with HIV shouldn't marry or have children. I chose to get married, and went back to my village. But then a grant that I had written was accepted, and they told me the CDC wouldn't fund it unless I was part of it. I went back, but I insisted that the small group of people who supported me become independent. So we moved into our own space and did a lot of good work at that time.
I started hearing that other countries had HIV treatment called "ARVs." But we were dying of TB, PCP, and crypto. We fought with the HIV organizations here because many said that we shouldn't even be talking about AIDS treatment, that it was too expensive for Thailand and we were living in a dream. But we had to know what this was and why we couldn't have it.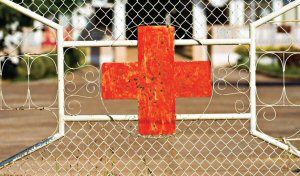 Medecins Sans Frontieres (MSF, Doctors Without Borders) had a chapter in Bangkok and they were a key partner for us. They helped us set up an activist fund for ARVs for people in our network who really needed treatment. We also focused on a campaign to get generic Bactrim for everyone who needed it, since it was affordable. We had to force our doctors to give it to us! They didn't have the knowledge to prescribe it when needed.
Unfortunately, I wasn't facing my own health issues. I had a rash on my arms and legs, but acted unconcerned. I just wore long sleeves. Though I knew it was a choice between dying or taking care of myself, I kept hoping I could wait until there was a cure for HIV. But my body was getting weaker. When I was at the beach with friends and couldn't ignore the rash anymore, I finally got a CD4 count, and it was 66.
I had a chance to start treatment through the government's "Access to Care" program, which had meds for only 1,600 people. And once you were on a regimen you could only take that one. Even if you failed on it or developed an allergy or whatever, you could not switch to another regimen. You simply had to stop. But since I was part of a PLWHA network, I was able to get generic meds from India (illegally), and did that instead of taking one of those precious slots.
I really didn't want to start HIV treatment because it was a change I was not ready for, including having to stop drinking and smoking. Also, I thought that once I started I would be on it for the rest of my life. And if I developed resistance, there were few options available (which is still true today).
I started with vitamins, which is how they test us to see if we can be adherent. I then got nevirapine for two weeks, and finally they added the 3TC and d4T. I soon developed neuropathy, but stuck it out and luckily it never went further up than my legs. My flip-flops were constantly slipping off. To this day I still experience the numbness, but it's not a big deal.
About three months after starting ARV, I got sick with TB. My doctor told me to stop taking my HIV meds while I was on the TB medicine, because of drug interactions. But because of my involvement with MSF, I knew that I could switch to efavirenz to avoid the rifampin interaction. I fought with the doctor, and ended up having to hide the fact that I was continuing to take my HIV meds.
The only time I missed my treatment was for a few hours when I was detained with 1,400 other international activists during the WTO demonstrations in Hong Kong. We were attacked with tear gas and pepper spray. They arrested many people, including about 98 Thai protestors, but they released most of us. I finally managed to have my ARVs returned to me after they let me go to the hospital where a doctor confirmed I should take them, but my wrists were still handcuffed and my legs were in chains.
At that time, there were different healthcare plans for different people. If you were very poor you had to be selected by your village headman, who could buy healthcare for 500 baht. But this option was limited to a certain number of families around the country. There were other healthcare plans for civil servants and laborers, but we felt that everyone in Thailand should have access to healthcare. As people living with HIV, most of us very poor, we were concerned that there was no coverage for us.
We needed 50,000 signatures to propose a parliamentary bill, so people with HIV across Thailand mobilized and got at least 30,000 of those. Then the country's Prime Minister stole our idea and transformed it into his campaign platform, the "30-baht Plan," where in principle any healthcare cost 30 baht. Of course in reality it didn't work that way, and the system had many limitations and strict eligibility criteria. Today, the system has been improved, recognizing that the care should be free, but there are still many issues to work out. We also illegally imported Triomune, a generic HIV med from India, before Thailand began making its own version of this combination of 3TC, d4T, and nevirapine, called GPO-vir.
My wife (who has HIV but still does not need meds) and I decided to try to have a child, one of our dreams. I saw that dreams could come true -- I could have HIV and not die right away, and I could get treatment. We did a lot of research about our options and about the potential of her developing resistance to nevirapine. But we decided to go ahead, and I will never forget the phone call I got after we tested our new daughter for HIV, when I learned that she was not positive. I was so nervous I almost didn't answer the phone!
I feel like all the activism my friends and I did was beneficial for me, too. Those nights sleeping in front of the Ministry of Public Health during protests, illegally importing our first generic meds from India -- these actions had meaning not just for the movement for overall health rights, but for the lives of my friends, and for me. I truly believe that the problems that we face are best solved by us, with our voice. We are so clear about what we need.
Kamon Uppakaew is a former chairman of the Thai Network of People Living with HIV/AIDS (TNP+) and currently manages the PLWHA community development program at Thai AIDS Treatment Action Group (TTAG) in Bangkok.