Peripheral Neuropathy Still Common Among HIV-Infected Patients on HAART; Risk May Increase With Age
An Interview With Scott Evans, Ph.D.
There's nothing like hearing the results of studies directly from those who actually conducted the research. In this interview, you'll meet one of these impressive HIV researchers and read his explanation of a study he presented at CROI 2009.
My name is Scott Evans. I'm with the Harvard School of Public Health. This work is about looking at HIV-associated peripheral neuropathy in the HAART [highly active antiretroviral therapy] era.1
We used data from the ALERT study, a large metastudy of participants who are enrolled in randomized trials in the ACTG [AIDS Clinical Trials Group]. We primarily focused on naive patients: We looked at what sort of neuropathic signs and symptoms they have after they initiate therapy.

Scott Evans, Ph.D.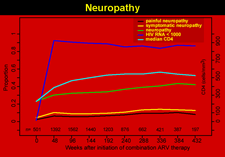 Scott Evans et al. CROI 2009; abstract 462. Reprinted with permission.
Click here to view the full presentation.
A couple of the primary results are that neuropathic signs persist -- and perhaps even increase -- after the initiation of therapy as time goes along, despite the improved immunologic function and viral control [associated] with the initiation of therapy. Many of the neuropathic signs occur without symptoms.
We tried to look at risk factors or things that would be associated with peripheral neuropathy. Many of the usual suspects, such as higher baseline viral loads and "D drug" [didanosine (ddI, Videx) and stavudine (d4T, Zerit)] use, turn out to be significant risk factors. But one thing that caught many people's eye was that the age of individuals appeared to be a significant risk factor. As a matter of fact, for a 10-year increase in increment in age, there's an odds ratio of about 1.9. This caught some attention.
At what age did the risk begin? Was this risk seen for all patients?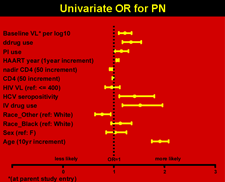 Scott Evans et al. CROI 2009; abstract 462. Reprinted with permission.
Click here to view the full presentation.
Yes: It's sort of a progression. The median age in our particular study is about 40 years of age at the initiation of therapy, but it ranges from the early 20s into early 60s in a sort of progression. The older you are, the higher your odds are of peripheral neuropathy.
How prevalent was this?
Surprisingly prevalent with respect to signs of peripheral neuropathy. It in some sense depended upon how long you've been on therapy: When people initiated therapy, the prevalence of signs was maybe 20% to 25%, but it'd get up to around 35% a few years after therapy.
Your poster notes that neuropathy signs frequently occurred "without pain." How were the symptoms measurable or noticeable to patients?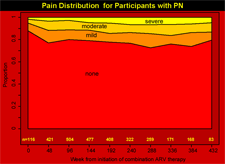 Scott Evans et al. CROI 2009; abstract 462. Reprinted with permission.
Click here to view the full presentation.
We did a systematic look. We asked them for symptoms that they were experiencing: pain, numbness or tingling. A few patients in particular noted some pain, but most of the signs we looked at [were different]. We assessed them for vibration sensation and ankle reflexes. There was a fair amount of either absent or hypoactive ankle reflexes or loss of vibration sensation. Much of the time that occurred without either pain symptoms, numbness or tingling.
We know that neuropathy has been associated both with HAART medications and with HIV.
That's right.
Was there any distinction made between the two in this study? Were there people who were not on therapy, yet they experienced neuropathy?
We do feel that there's an element of neuropathy that's both contributed to [by HIV] disease itself and also contributed to [by] some of the antiretrovirals. In our study, everybody was initiating therapy, so we tried to tease out whether there were drug classes that perhaps contributed a bit more to the neuropathy. "D drugs" have historically been a risk factor, but we've also seen that PI [protease inhibitor] use, to a lesser extent, has been associated with peripheral neuropathy.
What are the next steps?
A number of different questions have come up. We plan to replicate this in experienced patients; we so far have targeted naive patients. We'd also like to look at, perhaps, some of the interactions between different risk factors: HCV [hepatitis C virus] and some factors like that. We also wanted to look at whether people had neuropathy while using "D drugs." If the "D drugs" were removed, are they able to recover? We haven't assessed that yet, but we'd like to.
Thank you very much.
This transcript has been lightly edited for clarity.
Reference
Evans S, Clifford D, Chen H, et al. HIV-associated peripheral neuropathy in the HAART era: results from AIDS Clinical Trials Group longitudinal linked randomized trials Protocol A5001. In: Program and abstracts of the 16th Conference on Retroviruses and Opportunistic Infections; February 8-11, 2009; Montréal, Canada. Abstract 462.
View poster: Download PowerPoint