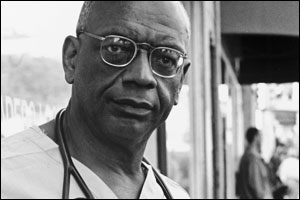 Oakland, Calif. -- The family, friends, colleagues and associates of Robert C. Scott, M.D., are deeply saddened to announce his passing on Thursday, October 8, 2009, approximately 8:00 p.m., PST. Dr. Scott died from complications of two intensive blood clots: one in the lung, and one on the brain. He was in the care of Alta Bates-Summit Medical Center, Oakland, CA.
Scott was admitted to the hospital on Thursday, October 1, and departed one week later. He was 65 years old.
Born in Chicago, IL, Scott earned his B.S. degree at Parsons College in Fairfield, Iowa, followed by a M.S. degree and M. Ed at University of Illinois; he moved to California in 1968.
In 1969, Scott taught anatomy, physiology and microbiology at Laney College in Oakland, CA.
In 1974, he completed medical school at the University of California, San Francisco, followed by the completion of an internship in medicine at Emory University Hospital in Atlanta, Georgia.
In 1975, Scott held a residency in Internal Medicine at Stanford University Hospitals in Palo Alto, California until 1977.
Thereafter, Scott entered private practice some 32 years ago, specializing in infectious diseases and internal medicine. His Oakland based practice served several thousand patients, over 400 of who have the HIV virus -- often working in typical 13-hour work days.
He was a Regent's Scholar of the University of California and a member of Phi Kappa Phi, Beta Beta, and other national honor societies. He served as a clinical instructor at the Medical Schools of the University of California, San Francisco, Davis, and Stanford University.
A leading advocate for HIV/AIDS treatment and research, Scott led best practices in urban HIV prevention and treatment and was frequently asked to address practitioners and medical professionals throughout the United States and abroad.
He pioneered innovative treatment of the HIV/AIDS virus when the disease catapulted within the United States in the early 1980s.
Scott founded AIDS Project of the East Bay in Oakland, CA (est. in 1983), a community based organization dedicated to preventing the spread of HIV and supporting individuals infected with the virus through programs targeted at some of the most vulnerable and marginalized individuals in Alameda County. APEB ensures that individuals and communities beyond the reach of other agencies receive professional services of the highest standard.
He was known for his support and contributions to many organizations throughout the community. He was an elected Board Member of the Project Open Hand, Families Created by Adoption, and the HIV Trial Researchers. He also established the Allen Temple Baptist Church AIDS Ministry (one of few black churches to set the tone for faith-based ministries in this area). In addition, he served as an enthusiastic usher at Allen Temple Baptist Church, where he was a member in good standing.
During 2004, Scott became the first African American doctor to become licensed to practice in Zimbabwe, Africa. At the time of his passing, he maintained, on a volunteer basis, over 800 patients in Zimbabwe, where he traveled several times per year to deliver clothing and supplies from Allen Temple's outreach efforts to children whose parents died of AIDS.
Dedicated in all of his endeavors, Scott was a father-figure to the AIDS orphans in Zimbabwe, a confidante to thousands of HIV positive patients, and is a community role model. Indeed, Dr. Scott's commitment to those who are in need cannot be underestimated -- he even still makes house calls.
His was a legacy rivaled by few. Scott was highly regarded both nationally and internationally for his groundbreaking work in HIV/AIDS, giving care to a patient population of over 800 patients at the Mother of Peace Orphanage in Zimbabwe.
His remarkable care and concern for his patient base gave way to his commitment to treating this disease, particularly among under served populations.
Scott saw himself as a "servant to the people."
He was bestowed innumerable accolades, commendations, special honors and recognition among them:
University of California-San Francisco
Alameda County Office of AIDS, State of Emergency Task Force
New Spirit Community Church
Bay Area Consortium for Quality Health Care
United Nations Association-East Bay
Sinkler Miller Medical Association
He was characterized as a person who felt that his true wealth was the good he did in the world.
He leaves to mourn his partner of 22 years, Lamont Nickens, two adopted sons: Melvin and Jesse; cousins, extended family, loyal patients and a host of colleagues and friends.
Funeral services will be held Saturday, October 17, 2009, 11:00 a.m., Allen Temple Baptist Church, 8501 International Blvd., Oakland, CA.
In lieu of flowers, the family has asked that donations be made to the Allen Temple AIDS Ministry and AIDS Project East Bay.
Additional information will be updated to the website at www.allentempleaidsministry.org.