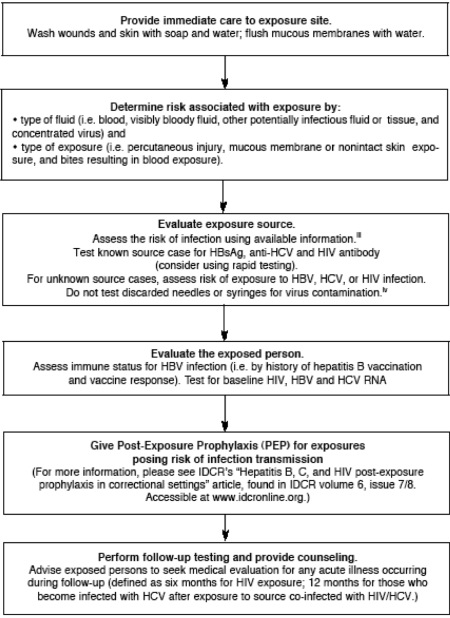 CDC. Updated U.S. public health service guidelines for the management of occupational exposures to HBV, HCV and HIV and recommendations for postexposure prophylaxis. MMWR. 2001; 50(RR11):1-42.

CDC. Appendix B. Management of occupational blood exposures. MMWR. 2001; 50(RR11):45-6.
References
An exposure is defined as a percutaneous injury (i.e., a needlestick or cut with a sharp object) or contact of mucous membrane or nonintact skin (i.e., exposed skin that is chapped, abraded, or afflicted with dermatitis) with blood, tissue, or other body fluids that are potentially infectious.

Semen, vaginal secretions, cerebrospinal fluid, synovial fluid, pleural fluid, peritoneal fluid, pericardial fluid and amniotic fluid are all considered potentially infectious. Feces, nasal secretions, saliva, sputum, sweat, tears, urine and vomit are not considered potentially infectious unless they contain blood.

Laboratory information (i.e., previous HBV, HCV, or HIV test results or results of immunologic testing [i.e., CD4+ T-cell count]), liver enzymes (i.e., ALT), clinical symptoms (i.e., acute syndrome suggestive of primary HIV infection or undiagnosed immunodeficiency disease) and history of recent (i.e., within 3 months) possible HBV, HCV, or HIV exposures (i.e., injection-drug use or sexual contact with a known positive partner).

The reliability and interpretation of findings in such circumstances are unknown, and testing might be hazardous to persons handling the sharp instrument.