How Human Immunodeficiency Virus Voluntary Testing Can Contribute to Tuberculosis Control
Table of Contents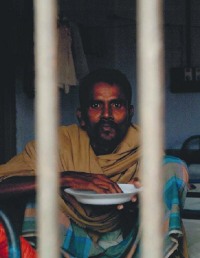 Photo: WHO/TBP/Davenport
The human immunodeficiency virus (HIV) pandemic is the world's leading public health emergency, with a particularly severe impact on sub-Saharan Africa. It is destroying the health of Africans, the economies of African nations and their prospects for development. HIV infection is also fuelling the tuberculosis (TB) epidemic, but TB programs have focused on TB case-finding and treatment, with little attention to HIV/AIDS interventions. Although TB is a leading cause of HIV-related morbidity and mortality, HIV/AIDS programs have generally paid little attention to TB. Thus, despite close epidemiological links between HIV and TB, the public health responses have largely been separate.
WHO has developed an expanded strategy to decrease the burden of HIV-related TB, requiring close collaboration between TB and HIV programs.1 The strategy comprises interventions against TB, including intensified case-finding, cure and preventive treatment, as well as interventions against HIV (and therefore indirectly against TB). The latter include counseling for decreased sexual risk behavior, provision of condoms, treatment of sexually transmitted infections, promotion of safety for intravenous drug users and provision of highly active antiretroviral treatment. WHO and collaborating bodies have embarked on "The ProTEST Initiative" as a starting point at district level for this comprehensive range of interventions aimed at decreasing the burden of HIV-related TB. The initiative promotes HIV voluntary testing as a key to a more coherent response to TB in high HIV-prevalence settings, through strengthening links between HIV and TB programs and general health services.
As part of a new approach to TB control in high HIV-prevalence settings, the rationale for the ProTEST Initiative needs public debate. This concept paper sets out the rationale for the initiative, based on an analysis of the impact of HIV on TB control, describes the elements of the ProTEST approach, reviews progress so far and sets out the future direction. The purpose is to generate discussion and ideas which will help the initiative to make a good start in establishing the comprehensive range of interventions needed to control TB in settings with high prevalence of HIV infection.
TB is a leading cause of death among people living with HIV (PLWH).2 About 12 million out of the 36 million HIV-infected people worldwide at the end of 2000 were coinfected with Mycobacterium tuberculosis, and 8.4 million (70 percent) of those co-infected live in sub-Saharan Africa.3 In countries with advanced HIV epidemics, particularly those of sub-Saharan Africa, the majority of TB patients are also infected with HIV.4
Largely associated with poverty and an inadequate health service response, the TB epidemic in sub-Saharan Africa remained at a relatively constant level until the onset of the impact of the HIV epidemic in the 1980s.5 Since then, HIV has caused a rapid increase in the TB epidemic. In HIV-infected people, HIV promotes progression to active TB in people with latent or recently acquired M. tuberculosis infections; increasing TB cases in HIV-infected people poses an increased risk of TB transmission to the general community, whether or not HIV-infected. Figure 1 shows the trend of cases of TB in sub-Saharan Africa (defined as the WHO region of Africa) since the mid-1980s, with a relatively constant level of cases of TB until the onset of the impact of the HIV epidemic in the 1980s. The assumption that the rising trend since the mid-1980s is attributable to HIV is based on the temporal relation between the two epidemics and their known biological and epidemiological links.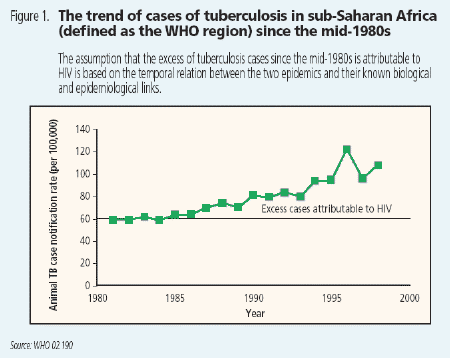 Escalating TB caseloads in many countries in the region are outstripping the ability of health services to cope. Despite the epidemiological links, the public health responses to HIV and TB have largely been separate, and have so far had little success in interrupting the sequence of events by which HIV infection fuels the TB epidemic. Better coordination of HIV and TB program activities may lead to more effective implementation of interventions to decrease HIV transmission and the burden of TB.
There is an urgent need, particularly where HIV is increasing the prevalence of TB, to ensure that all TB patients have access to effective TB diagnosis and treatment. Failure to ensure the essential basics of case-finding and treatment in countries with severe HIV epidemics will result in an increased burden of TB over the coming decades, including increased risk of drug resistance.7 In turn, drug resistance (with its associated increased TB morbidity and mortality) enormously complicates TB control and increases its costs.8
Because of the impact of HIV on the TB epidemic, additional measures beyond TB case-finding and treatment are necessary to control TB.1-9 These measures should complement ongoing efforts to improve specific TB control tools such as the development of a more effective vaccine,10 better diagnostic tests,11 better preventive12 and therapeutic approaches,13 and more vigorous application of specific measures to prevent and interrupt transmission in prisons,14 healthcare institutions15 and other congregate settings.
WHO is coordinating the ProTEST Initiative with the aim of exploring how HIV voluntary testing can contribute to a more coherent response to TB in settings with high HIV prevalence. The core interventions offered to people attending for voluntary counseling and testing (VCT) for HIV are: intensified TB case-finding, and isoniazid preventive treatment for those without active TB. Starting with these core interventions, other interventions may be added to provide finally a comprehensive range of HIV and TB prevention and care interventions. Under the ProTEST Initiative, pilot districts are establishing links between centers for VCT for HIV and TB prevention and care. The aim is to derive mutual benefits by promoting VCT for both improved HIV prevention and care and improved TB control. This will pave the way for operationalization of the comprehensive range of interventions needed to control TB in settings with high HIV prevalence.
The goal of the ProTEST Initiative is to reduce the combined burden of TB and HIV through a concerted approach that will achieve the following objectives: to reduce the number of people becoming infected with HIV; to reduce the number of people transmitting both HIV and M. tuberculosis; and to reduce the risk of developing active TB in those infected with both HIV and M. tuberculosis.
Social Impact
The stigma and silence surrounding HIV may extend to TB (already a stigmatized disease in many societies) in communities which have recognized the link between TB and HIV.16 Thus the stigma attached to HIV may have an adverse effect on TB control activities. For example, people may be frightened to seek a diagnosis for a persistent cough, and try to avoid standing in a line of TB patients, identifiable by their neighbors.17
Epidemiological Impact
Consideration of the basics of TB epidemiology and control18 is necessary to understand the impact of HIV. In the poorer regions of the world, annual risks of infection by M. tuberculosis are typically 1 to 3 percent, leading to prevalence rates of M. tuberculosis infection among young adults of 30 to 70 percent.19 Figure 2 is a schematic representation of the impact of HIV on the cycle of M. tuberculosis transmission, showing first the situation in the absence of HIV and then the situation where the HIV seroprevalence in the general population is 10 percent.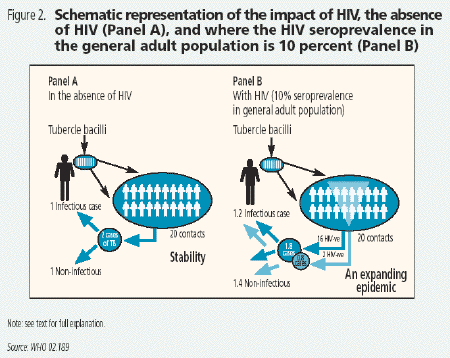 In the absence of HIV, only about 10 percent of people infected with M. tuberculosis will develop active TB (whether from progression of recent infection or from reactivation), of whom about one half will be infectious (usually smear-positive).20 Thus, only one in 20 people infected with M. tuberculosis develops infectious TB, and each infectious case in its turn needs to infect about 20 people in order to generate one further infectious case. This is the situation of stable TB disease incidence (ie, the case reproduction number is one), as shown in Panel A of Figure 2. The primary stratagem of TB control is to reduce the average number of people infected by each infectious case so that the case reproduction number is less than one.
In the presence of HIV infection (the single strongest risk factor for progression from infection to active disease,21 about 40 percent of people infected with M. tuberculosis will develop active TB in their lifetime.22 Panel B of Figure 2 shows what happens to 20 people with M. tuberculosis infection when the HIV seroprevalence in the population is 10 percent. There will thus be 18 HIV-negative and two HIV-positive people with M. tuberculosis infection. With a 10 percent risk of developing active TB, the 18 HIV-negative people will generate 1.8 cases of TB. With a 40 percent risk of developing active TB, the two HIV-positive people will generate 0.8 cases of TB. Although each individual HIV-positive TB patient may be less infectious,23 each infectious case now leads to 2.6 new cases, of whom more than one is infectious. This leads to an expanding epidemic (ie, the case reproduction number is more than one).
These simple calculations illustrate the implications of HIV for TB control. In order to lower the case reproduction number in the face of the HIV-fuelled TB epidemic, TB control programs have not only to detect and cure the additional cases of HIV-related TB, but also to handle each case more effectively. This means reducing the average number of people infected by each case (eg, by reducing diagnostic and treatment delays).
Since the mid-1980s, in many African countries, including those with well-organized programs,24, 25 annual TB case notification rates have risen up to fourfold, reaching peaks of more than 400 cases/100,000 population (Figure 3). The annual risk of infection may also have risen in some of those countries most severely affected.26 Increased funding of TB programs has generally not kept pace with this increasing caseload,27 and many programs are not achieving adequate case-detection and treatment outcomes.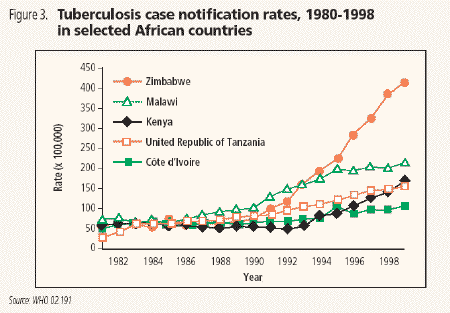 Although it has been shown that "good" traditional TB control measures do blunt the impact of HIV on TB,28 the best available estimates of the incidence of TB in all African countries show a striking correlation with estimates of adult HIV seroprevalence29 (Figure 4). The burden of TB is so closely linked to the HIV epidemic that prevention of HIV must become a priority for TB programs, just as TB care and prevention should be a major concern of HIV/AIDS programs.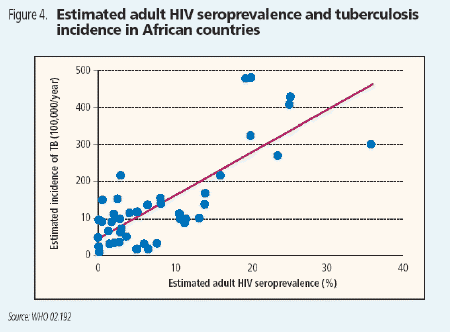 VCT for HIV as a Link Between Control Activities for HIV and TB
Interventions to prevent HIV infection include behavioral factors (eg, counseling to decrease sexual risk behavior), biological ones (eg, treatment of sexually transmitted infections) and the promotion of barrier methods (condoms).30 In industrialized countries VCT has long been an established part of HIV programs, and many HIV-infected people know their HIV status. However, the vast majority of people in developing countries living with HIV infection do not know that this is the case. For instance, in a random population sample in Zambia, where at the end of 1999 the HIV seroprevalence among the general adult population was 20 percent, only 6.5 percent of adults had previously had an HIV test.31 VCT is sometimes available in special groups, such as TB patients at outpatient treatment centers in Abidjan, Côte d'Ivoire.32 However, in most regions of Africa routine VCT for the general population is rarely available,33 although there are a few notable exceptions.34 Reasons include, on the supply side, the high cost of VCT services, and on the demand side, the stigma of identification as HIV-positive and the widespread perception that HIV testing offers little to the individual who tests positive. "Why should I be tested? I will only die sooner if I know" is a remark counselors in developing countries frequently hear.35
From an individual's perspective, the medical and psychosocial support that can be offered to the majority of people who test positive in developing countries remains largely inadequate. However, from the public health perspective, evidence is accumulating that VCT does enable individuals, whether they test positive or negative, to change their behavior in ways that should reduce rates of HIV transmission.36, 37 An economic evaluation of a randomized comparison of VCT versus health information alone in Kenya, Tanzania, and Trinidad and Tobago estimated that the cost of preventing a new HIV infection (assuming that the reported behavior change does translate into decreased HIV transmission) is around US$250.38 This ranks VCT alongside strengthened syndromic management of sexually transmitted infections (STIs) in primary healthcare as a cost-effective intervention to prevent HIV infection.39 This is an important development for TB control.
VCT offers a direct entry point for more effective TB prevention and care for HIV seropositive and seronegative people. The majority of people infected with HIV have no symptoms and the proportion of people who choose to be tested for HIV is smallest among those who are without symptoms, irrespective of their HIV status. As symptoms of HIV-related disease develop, a few people choose to find out whether HIV is likely to be the cause. Those with more advanced HIV-related disease are more likely to be tested by the clinician as part of clinical management.
Those who discover that they are not infected with HIV have a strong motive to ensure that they remain so. Appropriate counseling can help to translate this motivation into behavior change.40 Counseling also offers the opportunity to promote more optimistic messages that may help to destigmatize both HIV and TB.
In those who have no symptoms but are HIV seropositive, counseling aims to prevent transmission of HIV infection as well as to offer psychosocial support. Up to 50 percent of these people will subsequently develop active TB. The incidence of TB in this group can also be reduced, at least for some time, by preventive therapy with isoniazid.41, 42 Counselors need training to offer preventive therapy safely and to ensure that their clients are diagnosed promptly if they later develop symptoms suggestive of TB.
In those who do already have symptoms of HIV-related disease, the challenge is to detect active cases of TB early and to treat them effectively. Not only will early case detection prevent ongoing transmission of TB, it may also slow the progression of HIV infection.43
Finally, among those with TB and advanced HIV disease, many of whom are housebound and unable to visit their local clinic for supervision of treatment, community-based care teams,44-46 while caring for aspects of other HIV-related diseases, can promote adherence to TB treatment and so prevent the development of chronic or drug-resistant TB.
The Elements of the ProTEST Initiative
Under the initiative, the core interventions offered to people receiving VCT for HIV are intensified TB case-finding and isoniazid preventive treatment for those without active TB. Pilot districts are establishing links for centers for VCT for HIV with TB prevention and care in order to derive mutual benefits for promoting VCT for HIV and for improving TB control. Figure 5 shows schematically this link between VCT and access to interventions for HIV and TB prevention and care as a "virtuous circle": promotion of VCT for HIV provides an opportunity to offer interventions for TB prevention and care, which themselves provide an incentive for people to undergo VCT for HIV.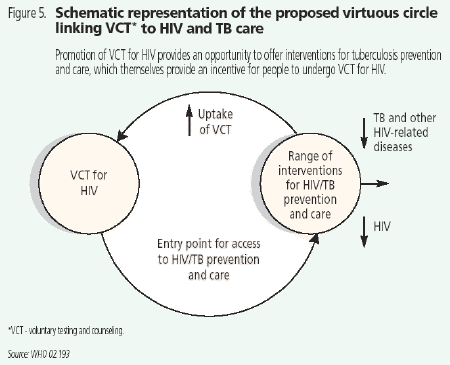 By identifying and linking the government and nongovernmental organizations currently offering support and care for PLWH and by involving the community, the ProTEST Initiative aims to facilitate referral and to provide the opportunity for improving the quality of services. These include provision of the core ProTEST interventions of TB prevention and care, as well as an expanded range of interventions. For example, those with more advanced HIV disease may benefit from cotrimoxazole prophylaxis against some bacterial causes of pneumonia and diarrhea and their complications.47 As antiretroviral drugs become much more widely affordable and available in resource-poor settings, the ProTEST Initiative may be an opportunity to increase access to highly active antiretroviral therapy, which has been shown to reduce the incidence of TB and other HIV-related infections in other settings.48, 49
The elements of the ProTEST Initiative are part of comprehensive care for PLWH, which includes communicable disease control (particularly for TB and STIs), symptom control and pastoral care. This requires close collaboration between community-based care services and government or private health facilities. Developing and making available the "continuum of care"50 should encourage more people to find out their HIV status. To meet increased demand, it will be necessary to expand VCT services and ensure they are accessible and user-friendly.
Openings and Opportunities
The ProTEST Initiative therefore fits well with other movements to encourage HIV testing, such as those linked to programs to deliver antiretroviral drugs to reduce transmission of HIV from mothers to their children.51 By linking with the ProTEST rationale, the benefits can be extended beyond the child to the parents and family and, by reducing transmission of HIV, TB and STIs, to the broader community.
The acceptability of VCT seems to be rising for various reasons, which include increasing awareness of personal responsibility as the HIV epidemic continues to devastate families, communities and countries. The reasons for people to get tested may be shifting. For example, the AIDS information center in Uganda reports an increasing proportion of their HIV testing to be carried out for couples who are using the information to help them plan realistically for their future.52 The falling proportion of positive results among clients attending testing centers after the introduction of healthcare services linked to testing may also reflect a shift towards more proactive planning.
The silence and denial that surround HIV have been well described.53 As more and more people choose to find out about their HIV status, this silence and denial should lessen, with benefits for efforts to control HIV and TB transmission. By engaging with community organizations and encouraging greater openness about TB and HIV, and specifically highlighting the positive steps that can be taken to reduce the burden of TB and HIV, the ProTEST Initiative can help to alter the community's perception of HIV and reduce the associated stigma. "Normalization" of HIV infection should facilitate other efforts aimed at HIV and TB prevention.
Current Progress and Future Direction of the ProTEST Initiative
WHO is coordinating a network of partners involved in the ProTEST Initiative, including ministries of health of countries bearing the dual burden of HIV and TB, international development assistance agencies, nongovernmental organizations, and academic institutions. The network will facilitate the exchange of information and experience between partners and provide oversight of ProTEST projects. Implementation of the first projects is underway in Malawi, South Africa, Uganda, and Zambia.
The projects share the objective of finding out and demonstrating what can be achieved and at what cost. The approach is paving the way for scaling up of the comprehensive range of interventions needed to control TB in populations with high HIV prevalence. WHO is currently supporting the mathematical modeling of the potential impact of a range of interventions on the combined burden of TB and HIV. The projects also act as a catalyst to draw national TB and HIV program staff together in discussions about training, information, education, communication, service delivery, and information management, as well as more upstream activities such as planning and prioritization.
Recent events hold out the promise of substantially increased aid for the priority diseases of poverty -- HIV/AIDS, TB, and malaria. For example, some large-scale funding is becoming available through the Global Fund to Fight AIDS, Tuberculosis and Malaria. The ProTEST Initiative represents an opportunity for financial and technical partners to collaborate with governments and civil society in the countries most badly affected by the HIV epidemic in substantially increasing concerted action against HIV and TB.
Interventions are available to decrease the burden of HIV-related TB. Therefore, the time is ripe for TB and HIV programs to collaborate in carrying out these activities as widely as possible. The ProTEST Initiative can greatly help to build alliances between TB and HIV programs and to scale up the full range of interventions to decrease the burden of HIV-related TB.
About Tuberculosis
Epidemiology
Each year, 1 percent of the global population is infected. From 5 to 10 percent of those infected become sick or infectious. The incidence of tuberculosis by region of the world is as follows: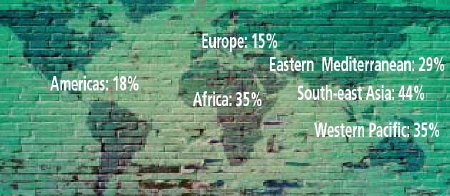 Causative Agent
There are three causative agents of tuberculosis infection:
Mycobacterium tuberculosis is the most widespread bacterium responsible for infection.
M. africanum is primarily found in Africa.
M. bovis is found worldwide, but is limited by pasteurization of milk in the developed world and low milk consumption and boiling milk in developing countries.
Transmission
Tuberculosis is a contagious, airborne infection. A patient with pulmonary tuberculosis can spread bacilli when exhaling, coughing, sneezing, talking, or spitting. Infection occurs when a susceptible human inhales these bacilli.
A person infected with tuberculosis bacilli incurs a 10 percent risk of developing active tuberculosis. Though most can carry tuberculosis bacilli without becoming sick, any weakening of the immune system (e.g., caused by HIV infection or malnutrition) increases the chance that the tuberculosis bacilli will become active.
On average, each infective person will infect 10 to 15 people each year. Although inhalation is the primary mode of transmission, infections can also occur through ingestion and direct inoculation.
Symptoms
The disease is caused by the body's attempt to control the bacilli. Besides causing lung disease, bacteria can infect many parts of the body.
People may be unaware that they are infected because their bodies respond effectively and control the infection. In some, bacteria remain dormant and become active when the immune system is depressed.
A tuberculosis patient will exhibit chest pain, fever, and a persistent cough, lasting for more than three weeks, and often coughing up blood. Other symptoms include localized bone pain and lymphadenopathy.
Prevention and Control
Since tuberculosis is an airborne contagious disease, primary control is effected through finding and treating infectious cases and thus limiting the risk of acquiring infection.
Directly Observed Treatment, Short-Course (DOTS) is a proven system for tuberculosis treatment, based on accurate diagnosis and patients taking a full course of a cocktail of anti-tuberculosis drugs (which include isoniazid, rifampicin, pyrazinamide, streptomycin, and ethambutol). The success of DOTS hinges on government commitment, detection, treatment, uninterrupted supply of anti-tuberculosis drugs, and a monitoring and reporting system to evaluate treatment outcomes for each patient.
Source: Special Program for Research and Training in Tropical Diseases, World Health Organization
Editor's Note: The preceding article, originally published in the December 2002 Bulletin of the World Health Organization (Volume 80, Number 12:939-45), is published here with permission from the World Health Organization (WHO).
Peter Godfrey-Faussett is from the Infectious and Tropical Diseases Department of the London School of Hygiene and Tropical Medicine; Dermot Maher, Paul Nunn, and Mario Raviglione are from the Stop TB Department of the World Health Organization in Geneva; Ya Diul Mukadi is from Family Health International in Arlington, Virginia, USA; and Joseph Perriëns is from the Department of HIV/AIDS at the World Health Organization in Geneva.