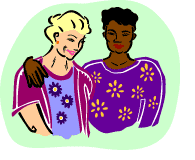 As you age your body undergoes many changes. Some are related to genetics -- if your father or grandfather had cardiovascular disease, then you're at more risk for developing this condition. Other changes are a natural and normal result of your body merely getting older and slowing down. Also, you're more at risk for developing a variety of conditions, like diabetes.
Some of the health changes we experience as we age are similar to some symptoms of HIV infection. The process of aging varies for everyone, but it's not unusual for people to experience fatigue, suppressed immunity, skin conditions and nutritional problems. Some HIV side effects, like loss of fat in the face and arms, also occur naturally in some people as they age. For someone who is aging with HIV, these changes make knowing the cause and treating these conditions more difficult.
For women over 50 living with HIV, there are many unique questions and concerns. Whether you're a woman over 50 who recently found out you were HIV-positive or you've been living with HIV for many years, these years can be very challenging.
What does the research show?
Very little research has been done on HIV and older age; however, there are some answers. A large study to assess HIV, immunology and aging is ongoing and more information will likely be available in the coming years. Even less research and information is available for older women living with HIV. This too is beginning to change as larger studies of women begin to yield information.
Some data suggest that older and younger people do equally well when responding to anti-HIV medications and experiencing side effects or risk of HIV disease progression. However, older people on therapy were less likely to see as large and increase in CD4+ cell counts. For women, questions around HIV and menopause, or taking hormone replacement therapy (HRT), have not been well studied.
One study suggests that women over 40 are at a higher risk for developing changes in body composition, called lipodystrophy. It is unclear whether this is related to gender, age or a combination.
Another study looked at 40 pre- and post-menopausal women, 19 HIV-positive women and 21 HIV-negative women. The study looked at how often reduced bone mineral density occurred in older pre- and post-menopausal HIV-positive women. Bone density on the lower spine, hip and total body was measured. This study showed that women living with HIV who had used a protease inhibitor had reduced bone density compared both to HIV-negative and HIV-positive women who had never taken protease inhibitors. Several observations have been made about bone problems associated with using various anti-HIV therapies. Whether this impacts women more than men is unknown, but even older women without HIV are at increased risk for bone mineral loss. This information is important especially for older women who have other known risks for bone mineral loss. For more information, read Lipodystrophy and Bone Problems or call Project Inform's hotline at 1-800-822-7422.
There are conflicting data around older age and HIV disease progression. One study found that older and younger people had similar rates of viral suppression. However, older people on similar therapies had weaker CD4+ cell count responses. Another study found that people older than 60 at the time of HIV diagnosis have a shorter survival time than younger people at their time of HIV diagnosis. Finally, another study found that older age might be associated with a higher rate of disease progression. This study observed that an older person with HIV is likely to progress to AIDS at a faster rate than younger people at the same CD4+ cell count. Many of these studies are small, however, and many factors besides age could have influenced these observations.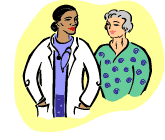 On a positive note, a retrospective study looking at 84 older women with HIV found that women on HRT had a higher survival rate. In addition, researchers found lower rates of cervical dysplasia (abnormal cell changes associated with pre-cancerous conditions) and chlamydia in the older women than the younger women.
The lack of research and information on aging and HIV can be discouraging. However, it is important that we continue to advocate for research, to include older people living with HIV, especially women, and make our voices heard!
Doctors may not talk with their older patients about HIV/AIDS because they do not think they are at risk or they presume symptoms to be age-related. As a result, many older people are diagnosed at a later stage in their infection, and many have an AIDS diagnosis the first time they become aware of their HIV infection. Older people are more likely to be diagnosed with HIV at a generally higher viral load and lower CD4+ cell count, making them more susceptible to opportunistic infections. More aggressive therapy may be required to successfully suppress the virus.
Women who are at an increased risk for bone complications, regardless of HIV status, include Caucasian and Asian women, women with a family history of bone complications, early menopause and/or women who have a small body frame.
Back to the Project Inform WISE Words July 2002 contents page.