HIV and Gay Men: A Global Concern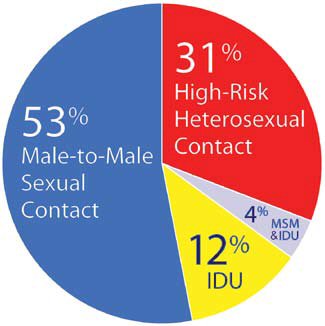 The passage of health care reform (the Patient Protection and Affordable Care Act) on March 23, 2010 is a major historic achievement. In the grand discussion of who needs comprehensive health care, however, gay men and other men who have sex with men (MSM) were conspicuously absent. The health of gay men has historically been ignored, even during times of major public health crisis. This was especially true during the onset of the AIDS epidemic. Policies and prevention efforts to date have failed to address the needs of this population with necessary funding and prevention services.
In the early 1980s, gay men's health first caught mainstream attention with the rise of AIDS, albeit with stigma and discrimination. During this time, political leaders dragged their feet as the country was gripped with fear stemming from false beliefs about becoming infected through a sneeze or a hug. The failure of policy makers and public health experts to demystify the virus in the early stages of the AIDS crisis has largely influenced the current state of HIV across the nation, specifically among MSM.
In March 2010, the Centers for Disease Control and Prevention (CDC) released staggering new data on the prevalence of HIV and syphilis among MSM in the U.S. The analysis of a number of national data sets on sexual behavior, which defined MSM as men who have had sex with another man within the last five years, revealed that MSM are at least 44 times more likely than other men to contract HIV, and at least 40 times more likely than women to contract HIV. Further, MSM were at least 46 times more likely than other men, and at least 71 times more likely than women, to contract syphilis.
In 2006, MSM comprised 57% of people newly infected with HIV in the U.S., even though the CDC states that MSM are only about 2% of the adult population. MSM are the only group among which HIV rates are increasing in the U.S. However, most gay men practice safer sex and gay men are twice as likely as heterosexuals to practice safer sex.
The impact of HIV among MSM is even more troubling among gay and bisexual men of color. A staggering 20% of new HIV diagnoses in the U.S. occur among black MSM even though black MSM represent only 0.25% of the adult population. New infections have jumped sharply among black and Latino MSM aged 13 to 29.
On a brighter note, President Obama's proposed fiscal year 2010 budget calls for $28 million to increase the reach of HIV testing by expanding HIV prevention targeted at MSM.
Internationally, HIV among MSM is also of great concern. UNAIDS reports that 5 to 10% of all HIV infections worldwide occur among MSM. Though heterosexual sex accounts for the majority of HIV infections worldwide, in some parts of the world men having sex with men is the primary mode of HIV transmission. In fact, the difference in HIV rates between MSM and the general population in many countries is often extreme -- in Mexico the rate of HIV among MSM is 109 times greater than among all adults. But the full scope of the global HIV pandemic is unclear, since most countries lack surveillance systems or prevention efforts for MSM due to high levels of stigma and homophobia.
Because HIV prevention messaging in Africa has been exclusively heterosexual, many MSM believe they are not at risk for HIV. Yet several studies show disproportionately high rates of infection among African MSM. Thankfully, the 2008 reauthorization of the President's Emergency Plan for AIDS Relief (PEPFAR) calls for prevention and research targeting MSM. An end to criminalization, which drives homosexuality underground, is also key to fighting HIV among MSM.
The health of gay and bisexual men and other MSM is a global concern that deserves greater attention, commitment, and allocation of resources. Despite strides in HIV treatment, AIDS continues to take the lives of many people, including MSM. Accurate surveillance systems and innovative preventive measures that target MSM are vital to a comprehensive strategy both domestically and abroad.