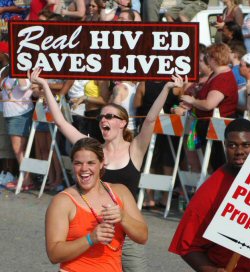 HIV education in middle schools and high schools is critical to prevent HIV infection among youth. According to the Centers for Disease Control and Prevention (CDC), 13 to 29 year olds made up more than a third of people with HIV in the U.S. in 2006; the highest infection rate of any age group. African-American young adults accounted for 60% of all new infections among 13-24 year olds. Men who have sex with men (MSM) made up 80% of new infections in this age group. In spite of these figures, the CDC found that only 16% of young adults reported testing for HIV in 2006.
Young people are more likely to become infected with HIV by having sex than any other method. The CDC's Youth Risk Behavior Survey (YRBS) found that after a steady decrease in teenage sex in the 1990s, there has been no change since 2001. In fact, YRBS reports that almost half of all high school students reported having sex in 2007. But 18% of sexually active youth reported not using prevention the first time they had sex.
African-American and Latino students report having more sex than their white peers. They also had their first sexual experience at a younger age, with 16% of African-American and 8% of Latino students having sex before age 13, compared to 4% of their white peers. Nearly a quarter of high school students that have sex reported drinking alcohol or using drugs, making it difficult to make safer sex decisions. In 2007, the National Center for Health Statistics reported that teen pregnancy increased for the first time since 1991.
Additionally, oral and anal sex are increasingly practiced by youth as forms of contraception. Over half of 15 to 19 year olds report having had oral sex. According to a 2007 study of 350 sexually active 12-18 year old African-American females, 20% had anal sex with someone they considered a boyfriend and 12% with a casual sex partner. Only 21% of females used a condom for anal sex, compared to 33% for vaginal sex. Surprisingly, 61% used condoms with their boyfriends compared to only 47% with casual sex partners.
Anal sex is more risky than vaginal sex in terms of sexually transmitted infections (STI). While these young people are preventing pregnancy, they are exposing themselves to STIs, including HIV. Not surprisingly, a recent national study found that one in four girls ages 14 to 19 have an STI, as did nearly half of African-American girls.
The Need for HIV Education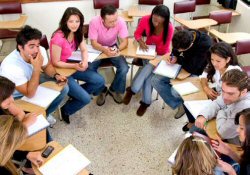 The end of the decrease in teenage sexual activity coincided with an increase in federal spending on "abstinence only" sex education. Abstinence-only education teaches that having sex before or outside of heterosexual marriage is wrong and harmful. But it ignores the needs of sexually active youth. Abstinence-only education prohibits teaching about STI and pregnancy prevention unless the lesson emphasizes condom failure rates.
According to the Sexuality Information and Education Council of the United States (SIECUS), the best predictor of condom use is a positive attitude toward condoms. The Guttmacher Institute reports that in 2002, 62% of sexually active female teens learned about pregnancy and STI prevention, compared to 72% in 1995. They also report that fewer than half of sexually active black females and only a third of sexually active black males received prevention messages before their first sexual encounter.
Public opinion favors sex education that includes HIV information. According to SIECUS, 100% of parents of junior high school students and 98% of parents of high school students believe STI education is appropriate in sex education. They report similar levels of support for HIV education. Parents believe that sex education helps their children avoid STIs and HIV. SIECUS reports that 82% of 15 to 17 year olds and 75% of 18 to 24 year olds also want this information. They also want information on how to bring up sexual health issues like STIs with partners.
Only 30% of U.S. voters believe that the federal government should fund sex education programs that only teach abstaining from sexual activity. However, the Bush Administration decreased domestic HIV prevention funding by over $70 million from 2003 to 2006, and increased annual funding for abstinence-only education by $176 million.
Many states have policies that mandate sex education in public schools. However, all the policies emphasize abstinence over contraception. For example, 23 states are required to stress abstinence, compared to 14 states that are only required to cover contraception. None of the 50 states are required to stress contraception. Additionally, 35 states are required to provide STI and HIV education, but none are required to stress contraception. Of the 50 states, 26 states stress abstinence compared to 17 states that are only required to cover contraception as STI/HIV education.
HIV Education in New York
Since 1987, New York State has mandated that all public schools provide HIV/AIDS lessons to students in grades K-12. In 1991, New York City expanded the mandate to require that all city schools provide five yearly lessons on HIV for students in grades K-6 and six yearly lessons for students in grades 7-12.
But adherence to the HIV education requirements by schools throughout the city and state remains very much ad hoc. A 2003 investigation by then New York Assemblymember Scott Stringer found that 63% of NYC schools failed to meet the city's requirement that students receive sex-ed classes from teachers certified in health education. His conclusion was that the requirement to give HIV instruction in every grade was being met "unevenly at best". The investigation also found a lack of trained teachers, teacher discomfort regarding HIV lessons, and inconsistent use of curricula.
That same year, a survey of 495 high school students done by Youth Organizers United found that only 6% reported receiving the six mandated HIV lessons and 30% said that they had not received any HIV education. 71% reported that their school did not have an HIV Education Team and 31% reported that their school did not have a Health Resource Room where students could access condoms.
To the frustration of many advocates, not much has changed since those reports. One major obstacle is that no city or state agency seems to have the legal or regulatory muscle (or political will) to enforce the mandates or to penalize school districts that fail to comply. As a result of the lack of monitoring and enforcement, it is hard to know the extent to which young people in schools in New York State are getting HIV prevention education, but the evidence is not promising.
Conclusion
As of 2009, 25 states have chosen to reject federal funds that support abstinence-only education. However, much remains to be done to stem the spread of HIV among youth. Abstinence is certainly one way of preventing pregnancy, STIs, and HIV. But the provision of heterosexually-biased, incomplete, misleading, and medically incorrect information about sex before marriage and contraception does a great deal of harm. As a result, abstinence only programs have proven ineffective at reducing the rates of STI/HIV infection or teenage sex.
Sex education in the U.S. denies students the information necessary to make smart decisions about the sex they are having and completely disregards the needs of lesbian, gay, bisexual, and transgender students. The expansion of age-appropriate sexuality education that is inclusive of all students and that stresses HIV, STI, and pregnancy prevention in addition to abstinence is essential to reversing the negative trends in adolescent sexual health we have seen in recent years.
Jaime Gutierrez is Associate Editor of Achieve and Assistant Director of Public Policy at GMHC.
Want to read more articles in the Winter 2008/2009 issue of Achieve? Click here.