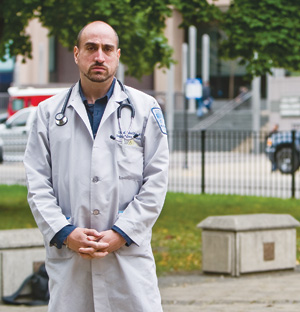 There is a saying in correctional health care: When you have seen one correctional system… you've seen one correctional system. The delivery of health care in jails and prisons varies widely from state to state, with no formal standards universally accepted. The most widely accepted standards of HIV care in correctional facilities are outlined in guidelines provided by the National Commission for Correctional Health Care (NCCHC). These guidelines are more or less in line with the same standards upheld in the community. With regards to the management of HIV, there are significant disparities between jails and prisons, and between local, city, state, and federal systems.
To simplify the issue, I will use a generalized example of how HIV care is managed from intake (when a detainee or inmate is processed into a facility) to discharge.
Intake
At intake, the incarcerated individual will undergo a brief medical screening evaluation. This usually includes a medical history, cursory physical examination, assessment of mental health, and documentation of current medications. This is usually the first opportunity an inmate has to disclose their HIV status (if known). Intake facilities vary from site to site, but some lack privacy or a suitable environment where disclosure of sensitive information such as HIV status can be made. Lack of disclosure almost always leads to a delay in the inmate receiving follow-up medical care.
If the inmate declares their status, the provider will ask about current medications including antiretrovirals. Some inmates can name their medications and doses. Others can identify them off medication posters that may be present. Many more cannot name or otherwise identify their medications at all. This may be because they never learned the names or doses, but more often it is because they have been disconnected from regular care for extended periods of time. The provider taking the history may or may not have the time or resources to call a primary provider or pharmacy during intake. Thus, lack of identification of current treatment regimens by the inmate will again lead to a delay in care.
As an example, my facility (Cook County Jail in Chicago) processes approximately 300-350 new detainees every day of the year. Intake of these men and women occurs over a six- to nine-hour period in the late afternoon until about midnight. Each intake provider has only a few minutes of face time with any one detainee before they have to move on to the next one. Compliant and otherwise knowledgeable patients will name their treatment and receive a written prescription for the medications on site. However, the pharmacy cannot dispense the medications until the Department of Corrections (DOC) has assigned the inmate to a location (cell/tier) within the compound. This can take anywhere from a few hours to nearly a day. Missing at least one scheduled dose of HAART (highly active antiretroviral therapy) may occur in this situation. Additionally, even if a patient has medications in their pocket or personal effects, the DOC will not allow pills or other unknown or unidentified substances to be carried into the jail. These will be confiscated along with the rest of the inmate's clothing and personal belongings, and returned after release from the jail.
Inmates who cannot name or otherwise identify their HAART on site in the receiving area will be given a referral to be seen in sick call and by myself in the HIV specialty clinic. Once the referral is placed, it can take from one to three days (on average) for a follow-up evaluation to be scheduled. Once in the clinic area, the provider can take a more thorough history, including identification of the patient's primary provider, pharmacy, history of adherence, and other relevant information. Inmates who cannot provide this information will have a further delay in receipt of treatment.
Receiving Medication
Once the medications have been prescribed, the pharmacy will process the order. A designated nurse or other provider will visit the pharmacy to collect all the medications for their designated area within the compound. Every correctional facility will have its unique nuances, but the general principles are the same. Detainees who are prescribed medications will approach the nurse via a pill-call window or other method for distribution. This occurs at specific times of the day, and in general the inmates are responsible for approaching the nurse to receive their meds.
There are a number of issues that add layers of complexity to this system. Inmates may not be present on the tier at the time of pill-call due to court, sick call, lockdowns or other security issues, or while performing work duties. Privacy is always a concern since approaching the nurse implies there is something wrong with you that you require medications. Pill-call often does not coincide with meals, and certain medications are required to be taken with food. Some inmates will refuse their medications. Sometimes all of the prescribed medications may not be present, and detainees or health care staff may not know the importance of needing the entire HAART regimen.
A common misconception of jails and prisons is that inmates are receiving directly observed therapy (DOT). DOT usually occurs in special areas such as the mental health units where concern about abuse/misuse/overdose of medications takes precedence over convenience. While this may occur in some facilities (usually smaller jails and prisons), due to time and staffing concerns, many medications are dispensed via keep on person (KOP) format. This means the inmate will receive a designated supply of their medications (anywhere from a week to a month) and they are responsible for taking it on their own accord (just as they would at home). The inmate is also responsible for approaching the nurse when they are out of their treatments and need a refill.
Most jails and prisons are able to perform laboratory assessment of HIV patients. This includes CD4+ and viral load testing along with basic labs such as a chemistry profile or CBC. More sophisticated tests, such as resistance testing (genotypes/phenotypes), may require special approval from administration but usually can be acquired if needed.
After Release
Arguably the most important and challenging aspect of providing HIV care is linkage to care after release. Some patients have a regular provider and they can return to care without difficulty. Most HIV-positive inmates, however, do not have established long-term care with any provider or clinic. This can be due to many reasons. These include but are not limited to: homelessness, substance abuse issues, mental health issues, lack of access/availability of care in their community, recidivism, lack of social support, gang issues, lack of transportation, lack of identification, immigrant status, lack of knowledge of available resources, privacy concerns, and stigma. For these reasons, planning to manage/treat HIV in correctional facilities is far more complex than it appears at face value.
There is intrinsic risk to dispensing HAART to patients who have no supply of medication at home (treatment interruptions and concern for development of resistance). Patients who have not established long-term care and kept appointments may not have demonstrated clear ability to adhere to complex treatments. Lack of access to social workers or case managers will make overcoming complex psychosocial factors and other barriers to care almost insurmountable. For these reasons, it may be the better approach to temporarily delay treatment while the inmate's "real world" concerns are addressed.
Not all jails and prisons have access to intensive case management services or discharge planners. Without these services, inmates are left to fend for themselves after release.
Let me say a few words about correctional officers and other DOC staff. Like any workplace, most employees come to work and do their job to the best of their abilities. The Department of Corrections is no different. Correctional officers (COs) have specific roles, the most important of which is to maintain a controlled environment to keep staff and other detainees safe. They are not trained medical personnel, and it is not their job to assess side effects, missed doses, symptoms, or any other complaints involving medical care. Further, officers may or may not be aware of the laws and policies around confidentiality of medical concerns (including HIV). Ignorance does not excuse anyone from breaching medical confidentiality, but HIV-positive inmates should be especially careful to protect their privacy. There are always a few bad apples in every bunch, but, in general, most COs are professionals who take their duties very seriously. If an inmate believes a CO has breached confidentiality or has otherwise acted inappropriately, they can file grievances or ask to speak to the staff superintendant. In my experience, most of the COs I deal with on a daily basis not only fulfill their duties to keep us safe, they also have a heart and care if someone doesn't look well. I have seen countless acts of officers going above and beyond their required duties to help patients. Just because they wear those cool uniforms doesn't mean they aren't real people just like you and me.
Chad Zawitz, M.D. is a native of Allison Park, Pennsylvania, a suburb of Pittsburgh. He graduated from Rush Medical College in 1999 and went on to complete his residency in internal medicine at the University of Pittsburgh Medical Center in 2001, followed by an Infectious Diseases fellowship at Rush University Medical Center in 2004. Since July of 2004, he has worked for Cermak Health Services at the Cook County Jail as Attending Physician and Clinical Coordinator of HIV/Infectious Disease Services, providing care to HIV-positive detainees and inmates there and also at his continuing care clinic at the CORE Center. In 2005, he received the HIV Leadership Award as Up and Coming Physician from The Body.com. Dr. Zawitz has written for Positively Aware on a variety of topics, including the Physician's Comments in the 2006 10th Annual HIV Drug Guide.
For more information on guidelines for standards of HIV care in correctional facilities, visit www.ncchc.org.
General Facts
The prevalence of HIV in correctional facilities is roughly four to five times higher than in the general U.S. population.
Roughly one in every five HIV-positive people in the United States has been in a correctional facility at some point in their life.
There are no uniform standards for HIV testing in jails or prisons. Some states require opt-out testing at some point during incarceration. This usually applies only to prisons.
Rapid testing is ideally suited for jails. This is because the duration of a stay in jail is highly variable, and waiting days to weeks for ELISA and Western Blot testing often leads to significant numbers of patients being released before getting their results.
Very few correctional systems have an on site HIV specialist. M.D.s, P.A.s, N.P.s and other medical personnel provide much of the care. Specialty consultation is usually available via periodic site visits or by telemedicine.
Condoms and other barrier precautions are considered contraband in most U.S. jails and prisons. While there has not been a single documented case of misuse of condoms in correctional facilities that allow them, U.S. DOCs cite a number of reasons: sex is a prohibited activity; condoms can be used as weapons (tied together to make ropes, filled with urine, etc.); conservative administrators; lack of desire, interest, and funding for preventative services; and concern about "promoting" sexual behavior. -- CZ
Tips for HIV-Positive People Who Get Arrested
Know your medications by name and dosing. This cannot be emphasized enough. Carrying a card or list may help, but sometimes personal belongings may be confiscated before being seen by a health care provider. Patients should also know their doctor by name, and from which pharmacy they receive their meds.
Having your medications with you is usually irrelevant. Since DOC officials are not pharmacists, anything on your person at arrest will be confiscated and placed with your personal effects.
Privacy is always a problem in every jail or prison. There is no easy answer, but any delay in disclosing your status is a delay in getting access to medical care.
Take advantage of your time in jail or prison to sort out your life. Whether you are innocent or guilty, time out from daily pressures, drugs, homelessness, and gangs can be a welcome reprieve. This sounds crazy, but I cannot tell you how many times patients have told me getting arrested was the best thing that ever happened to them. Some even say it saved their lives.
Having family or friends contact the correctional facility to provide collateral medical information is extremely helpful.
Know your most recent labs (especially CD4+ and viral load).
Protect your privacy while incarcerated. While it is essential to inform health care staff of your status, officers and other inmates do not need to know your personal business.
Ask about social services and case management services that may be available.
Know your rights. You cannot be denied access to medical attention, and you are entitled to the community standards of care.
Do not engage in unprotected sexual activity while incarcerated. This is not only to protect your partner, but yourself as well. You do not know what communicable diseases others may be carrying.
If you believe you are not receiving proper care, utilize the available medical grievance process. -- CZ
Got a comment on this article? Write to us at publications@tpan.com.