HIV 101: Adult Immunization Schedule
The following are recommended as a standard of care.
Figure 1: Recommended Adult Immunization Schedule by Age Group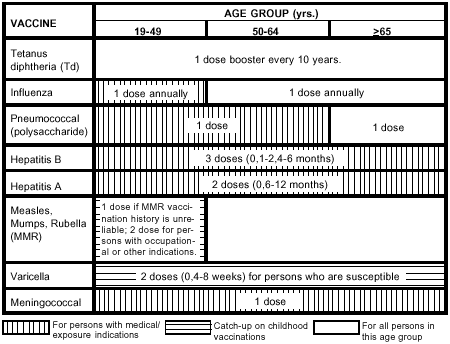 Figure 2: Recommended Adult Immunization Schedule by Medical Condition -- United States, 2003-2004*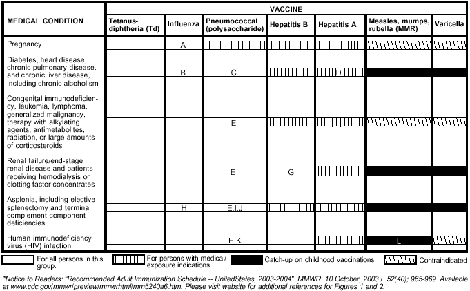 Click image to enlarge.
References

For women without chronic diseases/conditions, vaccinate if pregnancy will be at second or third trimester during influenza season. For women with chronic diseases/conditions, vaccinate at any time during the pregnancy.
Although chronic liver disease and alcoholism are not indicator conditions for influenza vaccination, administer 1 dose annually if the patient is aged >50 years, has other indications for influenza vaccine, or requests vaccination.
Asthma is another indicator condition for influenza but not for pneumococcal vaccination.
For all persons with chronic liver disease.
For persons aged <65 years, revaccinate once after 5 years have elapsed since initial vaccination.
Persons with impaired humoral but not cellular immunity may be vaccinated.
For hemodialysis patients use special formulation of vaccine (40 mg/mL) or two 1.0 mL 20 microgram doses administered at one site. Vaccinate early in the course of renal disease. Assess antibody titers to hepatitis B surface antigen (anti-HBs) levels annually. Administer additional doses if anti-HBs levels decline to <10 mlU/mL.
No data have been reported specifically on risk for severe or complicated influenza infections among persons with asplenia. However, influenza is a risk factor for secondary bacterial infections that might cause severe disease in asplenics.
Administer meningococcal vaccine and consider Haemophilus influenzae type b vaccine.
In the event of elective splenectomy, vaccinate >2 weeks before surgery.
Vaccinate as close to diagnosis as possible when CD4 cell counts are highest.
Withhold MMR or other measles-containing vaccines from HIV-infected persons with evidence of severe immunosuppression.