What began in the early 1980s as a plague of the gays, found only in white homosexual urban American males, has over the course of the last three decades diversified its wrath to affect millions of men, women and children of every sexual orientation, color, country, and creed. Biological and social gender differences regarding HIV perhaps lend further support to the theory of Martian men and Venutian women. The timeless battles cries of "she's so emotional" and "he never listens" are personified by the simplicity that, men and women are just plain biologically and socially different. This holds true not only in the unique way that each sex inherently communicates but also in the unique ways in which they physically and socially process disease, including HIV. The topic of gender differences and HIV is of relatively recent exploration, though its implications are vast in terms of social and medical intervention, prevention efforts, and appropriate and effective treatment.
The Greeks originated the term "stigma" to refer to bodily signs meant to expose something unusual and bad about the moral status of an individual. Visible markings were cut or burnt into the body and signified that the bearer was a blemished person, "ritually polluted," and should therefore be avoided.1 Goffman defines stigma in its current usage as "an attribute that is deeply discrediting" within a particular social interaction, suggesting that it constitutes "a special discrepancy" between reality and social expectations.1 Often the stigma attached to HIV plays a major role in preventing access to medical and social services. Furthermore, gender is a factor in health-seeking behavior, and health care is a by-product of the culture in which it is generated.2 Though both men and women experience stigma, they tend to experience it in much different ways. HIV/AIDS-related stigma is compounded by gender stigma, which reinforces existing economic, social, educational, cultural, and access issues associated with sex.3,4 An article published by The World Health Organization's Department of Gender and Women's Health suggests that women are perhaps more affected due to differing social norms associated with appropriate sexual behavior.2 A UNAIDS study found that in seven different clinical settings, men where scarcely questioned about how they contracted the disease and were simply provided treatment. Women, on the other hand, often were accused of engaging in extramarital sex and received lower levels of care and support.2 Such factors limiting access to resources may result in a more rapid progression of disease for women and a poorer psychosocial adaptation.5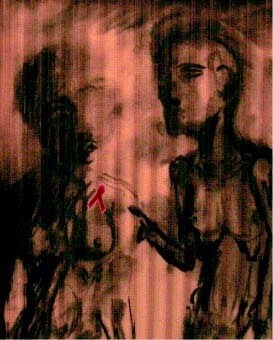 Little is known about why such gender differences in health-care utilization exist; however, Penniman et al. suggest time and financial restraints of women inhibit their ability to obtain medical care6 and can affect adherence to medication. Sex, race, age, personality traits, education, and alcohol use have been identified as variables impacting adherence to medication. Prior to 2002, a review of the literature failed to identify any gender differences associated with adherence to highly active antiretroviral therapy (HAART); however, more recent data contend that woman are less adherent than men to their treatment regimen.7 Other theories implicate a higher rate of reported competing needs among women, such as providing food, clothing and housing for themselves and perhaps children.6 Psychological distress and depression associated with HIV have also been found to be more prevalent in women,5 impacting access and adherence.
In 1994, heterosexual transmission surpassed intravenous drug use as the primary mode of transmission to women in the United States, accounting for 60% of the identifiable risk. This underscores "the need to continue developing new theoretical and methodological approaches in HIV research that adequately address the contextual issues of heterosexual relationship dynamics."8,9 Poverty, young age, and lack of education are all confounding risk factors for the increased likelihood of domestic abuse and violence against women, and "the epidemics of violence against women and HIV tend to overlap in the social context of women's lives. Therefore, violence may be a risk factor for HIV infection."10 In 2004, 340 women participated in a study concerning domestic violence and HIV, which found that the odds of reporting domestic violence was significantly higher among HIV-positive women, and for those less than 30 years old, the odds of reporting violence increased ten fold.10 Identification of such interrelated variables associated with gender is imperative in the development and design of successful prevention initiatives and intervention efforts.
By two or three years of age an awareness of the biological differences between men and women has developed.11 Arguably not as innate as the Oedipus complex is the realization that often these biological differences house dissimilarity when it comes to the effects of disease. Each sex experiences clinical manifestations unique to them or perhaps more prevalently that the other. For example, women have a higher rate of reporting adverse HIV-related symptoms, such as pain.5 According to one of the largest and possibly most notable studies conducted concerning gender differences and HIV, it has been known for the better part of the last decade that during the first few years infection, women have substantially lower amounts of the virus in their blood than do men.12,13 The study found that the median viral load for a woman is 15,103 copies/mL compared to 50,766 copies/mL for men. Despite a significantly lower vial load, women are subject to equal risk of their disease progressing into AIDS, and in addition, men and women experience a similar rate of loss of their CD4 T-cells, the immune cells that decrease as a result of HIV infection.13 Clinical research has faced criticism related to gender-biased outcomes heavily inclusive of males but perhaps ungeneralizable and inaccurate in representing other populations.5,14 "Previous studies in men have shown that initial viral load can be used to gauge their [men's] likelihood of progression to AIDS, but these data confirm that the initial viral load is much lower in women than men and consequently not as predictive for women," says Dr. Thomas C. Quinn, senior author of the above mentioned study and senior investigator in the National Institute of Allergy and Infectious Diseases (NIAID), Laboratory of Immunoregulation, at the National Institutes of Health.13
Since its advent in 1996, HAART has substantially reduced the rate of disease progression and prolonged the lives of those who are HIV-positive.15 Disease progression, and subsequently determination of when to begin treatment, is assessed by a variety of markers, including CD4 T-count and HIV RNA concentrations.16,17 It can therefore be assumed that initiation of and response to treatment will differ between men and women. Moore, et al. explore gender differences in virologic response to treatment using a cohort of patients na?ve to protease inhibitors and who were starting a HAART regimen. They found women using HAART were able to suppress their viral load more quickly and had a slightly more durable response to treatment than men.15 However, these results contradict those of an earlier study, which concluded that "women had a reduced likelihood of sustained virological response to treatment when compared to men."18 Access to treatment and adherence differences may account for the differing findings of these two studies.
Women and men are at differing risk for other health factors that affect HIV disease progression, such as the occurrence of anemia. Experienced by about 30% of asymptomatic HIV-positive individuals and in 75 to 80% of those with clinical AIDS, anemia has been associated with decreased quality of life and decreased survival rates, though as Berhane et al. point out, such studies have been conducted primarily on men.14 Other studies have found that recovery and management of anemia has been associated with prolonged survival.14 It has been suggested that both hemoglobin and albumin levels are strongly linked with fatal HIV disease progression. The results of a study conducted in 2007 imply that hemoglobin and albumin levels are lower in women both before and one year after starting HAART. The absolute difference in levels between the genders resulted in a higher percentage of women who were anemic at both time-points during the study.17 Though the differing levels are not associated with HIV disease and are also found among those who are HIV-negative, the implications are vastly different for the two populations.
"The awareness of physical difference is followed by an awareness of cultural differences between males and females."11 The biology of gender is defined as the "scientific analysis of the physical basis for behavioral differences between men and women."19 It is manifested in stereotypes of highly emotional women who cannot operate motor vehicles and men's inability to process additional stimuli while watching television. What should be remembered when discussing the management of HIV infection is that there is truth to the Mars/Venus dichotomy. There are not only the obvious physiological differences between men and women and how they process disease, but there are also more understated causes for why treatment and intervention modalities must differ between the genders.
Carlie Ann Brown has worked for health-related non-profit organizations since 2002 and is currently Lead Project Coordinator at Baylor College of Medicine for Healthcare for the Homeless -- Houston.
References