Hepatitis B Virus (HBV) PEP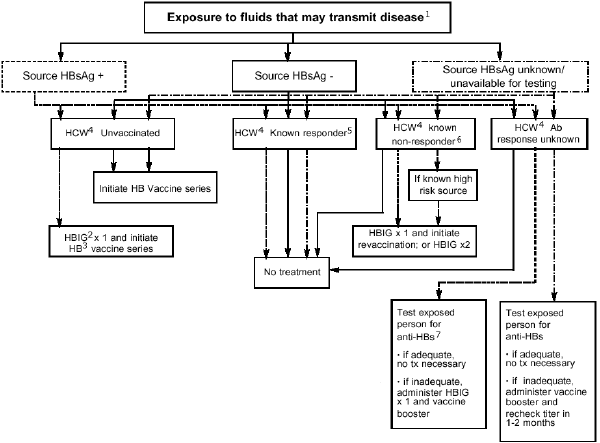 Notes
Neither pregnancy nor lactation should be considered a contraindication to vaccination or treatment with HBIG.

Persons who have previously been infected with HBV are immune to re-infection and do not require PEP.
An exposure that may carry a risk of disease transmission is defined as a "percutaneous injury (e.g., a needlestick or cut with a sharp object) or contact of mucous membrane or non-intact skin (e.g., exposed skin that is chapped, abraded, or afflicted with dermatitis) with blood, tissue, or other bodily fluids that are potentially infectious."

Hepatitis B immune globulin; dose is 0.06 mL/kg intramuscularly; when indicated, should be given as soon as possible, preferably within 24 hours

Hepatitis B vaccine; when indicated, should be given as soon as possible, preferably within 24 hours

Health Care Worker

A responder is a person with adequate levels of serum antibody to HbsAg (i.e. anti-HBs >10mIU/mL)

A non-responder is a person with inadequate response to vaccination (i.e. serum anti-HBs <10mIU/mL)

The option of giving one dose of HBIG and reinitiating the vaccine series is preferred for non-responders who have not completed a second 3-dose vaccine series. For persons who previously completed a second vaccine series but failed to respond, 2 doses of HBG are preferred.
Hepatitis C Virus (HCV) PEP
HCV is not transmitted efficiently through exposures to blood in the occupational setting, and the incidence of anti-HCV seroconversion after accidental occupational exposure is 1.8% (0%-7%). Unlike HBV, data indicate that HCV does not survive well in the environment, suggesting that environmental contamination with blood is not a significant risk for HCV transmission in the health care setting (the only exception may be in the hemodialysis setting). In addition, there are no data supporting the use of IG (anti-HCV antibody) as PEP to prevent HCV transmission. None of the antivirals currently available to treat HCV infection are FDA approved for use in PEP, nor have any clinical trials been done to assess the effect of antivirals (ie interferon with or without ribavirin) as postexposure prophylaxis. Recommendations for postexposure management of HCV are to achieve early detection of chronic disease and, if present, refer to an expert for treatment options. There are data from studies done outside the US to suggest that a short course of interferon (IFN) alfa-2b therapy in the acute stage of HCV is associated with higher rates of resolved infection than when therapy is begun once chronic disease has been established (Jaeckel E., et al. NEJM 2001; 345 (20): 1452-7). The theoretical argument exists, then, that antiviral treatment at the first signs of detectable HCV RNA may prevent the development of chronic infection.
Reference
All information from MMWR 50 (RR-II). www.thebody.com/cdc/pdfs/rr5011.pdf (PDF).
Back to the HEPP News April 2002 contents page.