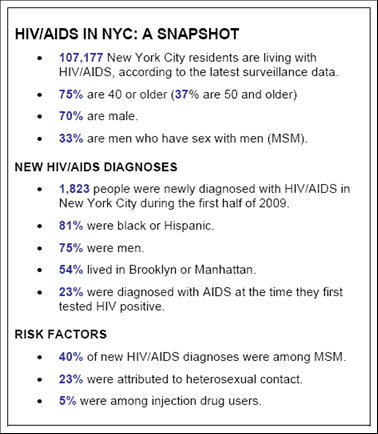 HIV/AIDS and the risky behaviors that spread it are often associated with youth. However, in the wake of the White House unveiling its first formal national HIV/AIDS strategy, the Health Department reports that 30 years into New York City's epidemic older adults now account for a growing percentage of people living with the disease. Some 75% of HIV-positive New Yorkers are now 40 or older, and more than a third are 50 or older. Younger adults still account for most new infections -- 17% of the city's new HIV diagnoses occur in older adults each year. But, as people with HIV live longer, the number of HIV-positive New Yorkers aged 50 and older continues to grow. From 2004 to 2008, the number increased by 45% among men in New York City (from about 20,000 to 29,000) and by 58% among women (from roughly 7,000 to 11,000). The new data come from the Health Department's latest semi-annual HIV surveillance report, which covers the first half of 2009. The full report is available at nyc.gov/health.
Because they're generally assumed to be at lower risk, older adults may be less aware of HIV, and providers may be less likely to recommend testing. "Older New Yorkers, like all New Yorkers, are at risk for HIV if they have unprotected sex or inject drugs," said Dr. Thomas Farley, New York City Health Commissioner. "Health care providers should counsel all patients, not just younger ones, about HIV prevention, and testing should be part of routine health care."
That message may be especially important for women. Though new HIV infections are most common in younger adults, women 50 and older accounted for 22% of the city's female HIV diagnoses in 2008 -- up from 17% in 2004.
The earlier an HIV infection is diagnosed, the less harm it is likely to cause. When people with HIV are diagnosed early, they can take steps to preserve their health and protect their sexual partner(s). In New York City, 87% of young adults learn they have HIV before the infection has progressed to AIDS, but older adults are often diagnosed late. Some 38% already have AIDS by the time they first learn they are HIV positive. Receiving an AIDS diagnosis when first learning they are HIV positive means these New Yorkers may have gone undiagnosed for a decade or more, missed opportunities for medical care and possibly unknowingly infected others with HIV.
"Age is not a vaccine against HIV/AIDS," said Dr. Monica Sweeney, the Health Department's assistant commissioner for HIV/AIDS Prevention and Control. "If you are having sex, be safe and use a condom. If your doctor gives you the eyeball test instead of offering you an HIV test, ask for it. We all need to work together to make sure we are all protected."
What Health Care Providers Can Do
Older adults have more contact with the health care system than young adults do. Health care providers should seize this opportunity to offer voluntary HIV testing.
Additional Highlights From the Semiannual Report
Men who have sex with men (MSM) and people of color continue to be disproportionately affected by HIV. During the first half of 2009, more than 80% of newly diagnosed New Yorkers were black or Hispanic, and 40% were MSM. The proportion of new HIV diagnoses among injection drug users fell from 6.7% in the first half of 2008 to 4.6% in the first half of 2009.