NEW YORK CITY -- Staying safe in New York City just got even sexier. The Health Department today unveiled a brand new look for the NYC Condom and launched a cutting-edge media campaign to encourage New Yorkers to "get some." Tomorrow, street teams will meet commuters at busy crossroads around the city -- including Union Square in Manhattan, the Atlantic Avenue station in Brooklyn, and 149th Street and Grand Concourse in the Bronx -- to hand out the new NYC Condom for Valentine's Day.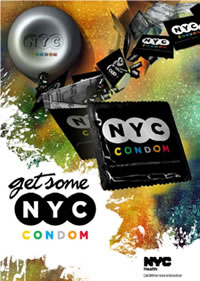 The NYC Condom's new look includes a fresh package design and an elegant new dispenser, which will debut in 200 New York City venues in the coming weeks. Both were gifts to New York City from designer Yves Behar, founder of the San Francisco-based design agency, fuseproject. Behar's clients include One Laptop Per Child, Johnson and Johnson, Jawbone and Herman Miller. "Good design can help bring condoms out of the closet," said Behar. "The brand's friendly design and the dispenser's approachable shape convey openness and acceptance. They say condoms are nothing to be embarrassed about."
New ads, set to hip hop, jazz and Latin beats, feature images of New Yorkers set against boldly colored cityscapes. They will air in English and Spanish on cable and broadcast TV as well as radio. Display ads are also appearing in more than 1,000 subway cars citywide, as well as on phone kiosks and in check cashing outlets. The ads are available online at www.nyc.gov/condoms.
"The NYC Condom has shown us what a sexy brand can do for safer sex," said Dr. Monica Sweeney, the Health Department's Assistant Commissioner for HIV Prevention and Control. "We gave out more than 36 million of them last year. I hope the fresh look will help even more New Yorkers protect themselves from infection and unintended pregnancy in 2008."
In the year since the NYC Condom was introduced on Valentine's Day, the Health Department has distributed more than 36 million condoms -- an average of 3 million every month. That's twice the number given out annually before the City launched its own brand and seven times the number given out annually just a few years ago. Some 900 local businesses, clinics, and non-profit organizations now distribute them free-of-charge.
Despite its new packaging, the NYC Condom itself has not changed. The distinctive new wrapper contains the same lubricated Lifestyles latex condom that was in last year's subway-themed package.
Any New York City establishment -- whether it's a health club, coffee house, bar, barbershop or clothing store -- can order NYC Condoms in bulk by calling 311 or visiting www.nyc.gov/condoms. The Health Department will deliver free NYC Condoms as needed to meet demand. Telephone and online orders are for organizations only.  But individual New Yorkers can call 311 or visit the website for updated information on where to find NYC Condoms -- and how to get the most out of them. Here are some highlights:
When used correctly, condoms prevent the spread of HIV and other sexually transmitted infections, as well as unintended pregnancy
Use a new condom before each sex act
Put the condom on when the penis is erect, before sexual contact occurs. Unroll it all the way down
Leave a half-inch at the tip to collect semen. Squeeze out any extra air
If you put on a condom the wrong way by mistake, just throw it away and use a new one
After sex, pull out before the penis softens. Hold the base of the condom to make sure it doesn't spill
Throw the condom away.
Condoms should always be stored at room temperature, and latex condoms should be protected from prolonged exposure to extreme temperatures, moisture, direct sunlight and fluorescent light. Don't carry condoms in your wallet or car for too long -- this can make them break easily.
Street teams will be handing out NYC Condoms between from 8-10 AM and 5-7 PM on Valentine's Day, unless otherwise noted.
59th Street -- Columbus Circle
42nd Street -- Grand Central
42nd Street -- Times Square
Penn Station (morning only)
14th Street -- Union Square
Brooklyn Bridge -- City Hall
Wall Street and Broadway (evening hours are 4 - 6 pm)
Fulton and Nassau Streets  (evening hours are 4 - 6 pm)
Whitehall Street -- South Ferry
125th Street, by the Apollo Theatre
149th & Grand Concourse -- Bronx
Queensboro Plaza -- Queens
Atlantic Avenue Station -- Brooklyn (morning only)
Borough Hall/Court Street -- Brooklyn