Background
Since the large prospective D:A:D (Data Collection on Adverse Events of Anti-HIV Drugs) study linked duration of antiretroviral therapy to a higher risk of myocardial infarction,1 there has been new attention paid to the impact of highly active antiretroviral therapy (HAART) on lipid levels. As a result of the emerging data on adverse metabolic effects associated with these agents, experienced HIV providers now take the metabolic and lipid effects of these agents into consideration when prescribing antiretroviral therapy.
Non-nucleoside reverse transcriptase inhibitor (NNRTI)-based HAART, particularly nevirapine (NVP, Viramune), has been shown to increase high-density lipoprotein (HDL) cholesterol levels, sometimes quite considerably.2 The 2NN study compared nevirapine and efavirenz (EFV, Sustiva, Stocrin)-based therapy in 1,216 treatment-naive patients. Both groups received background therapy with stavudine (d4T, Zerit) and lamivudine (3TC, Epivir), and were followed for 48 weeks. There were increases in HDL cholesterol observed in both groups, but the nevirapine-treated subjects had significantly greater HDL increases than those treated with efavirenz.3
The 2NN Extension Trial
One of the criticisms leveled at the 2NN study was that a 48-week follow-up was too short a period of time to fully assess the efficacy and metabolic effects of antiretroviral therapy. The purpose of this analysis was to provide longer-term data on the lipid changes, and to see whether the differences between nevirapine and efavirenz would persist.
This study was a single cross-sectional analysis of fasting blood samples from patients who were still on their original randomized NNRTI treatment after completion of the trial. Because enrollment in this study occurred over a period of 16 months, there was considerable variation in the length of time on antiretroviral therapy when the lipid analysis was performed.
At the 48-week mark in the 2NN trial, there were 417 subjects on nevirapine, with 178 available for the extension lipid testing. Similarly, there were 289 subjects on efavirenz and 123 available for fasting lipid analysis. The post-trial samples for this study were performed at a median of 84 weeks (range 48-132 weeks) after initiation of antiretroviral therapy.
Both the nevirapine and efavirenz groups continued to show increases in HDL at the post-treatment time points, as this table indicates.
NVP (n = 178)
Base
W48
PT
HDL-cholesterol
1.01
47
34
LDL-cholesterol
2.28
33
65
Total cholesterol
3.96
28
45
Triglycerides
1.61
20
95
EFV (n = 123)
Base
W48
PT
HDL-cholesterol
1.05
37
31
LDL-cholesterol
2.35
60
72
Total cholesterol
4.03
35
45
Triglycerides
1.48
42
126
Base = baseline; W48 = % increase start ART med week 48; PT = % increase start ART and post-trial time point
However, the significant difference between HDL levels in the nevirapine and efavirenz groups that was present at week 48 was no longer present at the post-treatment time point.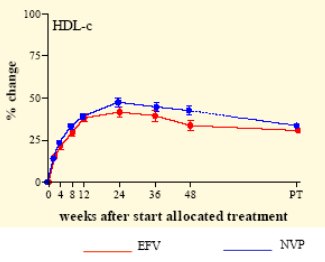 In both groups, the authors observed a significant jump in total cholesterol, low-density lipoprotein cholesterol, and triglycerides at the post-treatment time point.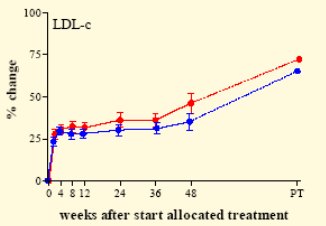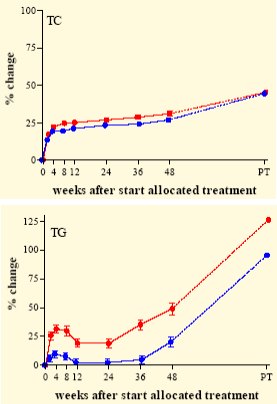 One of the potential explanations proposed was that because 90% of the patients were on stavudine, the deleterious metabolic effects of stavudine may have been driving the lipid increases.
Comment
This follow-up information on the 2NN study was interesting and informative, but the authors acknowledged the limitations inherent in post hoc trial addenda. For example, the extremely high drop-out rate weakened the study, as did the variable time to lipid testing after initiation of HAART.
Actually, the most notable aspect of this data was not that the HDL benefit persisted during the extension, but that the overall cholesterol and triglycerides increased so much in both groups. This finding is probably a reflection of the long-term effects of stavudine use, and the ability of this agent to overcome the potentially beneficial HDL-raising effects of both efavirenz and nevirapine.
These data highlight the importance of longer-term follow-up in contemporary HIV research to more fully elucidate the metabolic effects of long-term antiretroviral therapy.
Footnotes
The Data Collection on Adverse Events of Anti-HIV Drugs (D:A:D) Study Group. Combination antiretroviral therapy and the risk of myocardial infarction. N Engl J Med. November 20, 2003;349(21):1993-2003.

Fisac C, Fumero E, Crespo M, et al. A randomized trial of metabolic and body composition changes in patients switching from PI-containing regimens to abacavir (ABC), efavirenz (EFV) or nevirapine (NVP). In: Program and abstracts of the 9th Conference on Retroviruses and Opportunistic Infections; February 24-28, 2002; Seattle, Wash. Abstract 699.

van Leth F, Phanuphak P, Gazzard B, et al. Lipid changes in a randomized comparative trial of first-line antiretroviral therapy with regimens containing either nevirapine alone, efavirenz alone or both drugs combined, together with stavudine and lamivudine (2NN Study). In: Program and abstracts of the 10th Conference on Retroviruses and Opportunistic Infections; February 10-14, 2003; Boston, Mass. Abstract 752.