There's nothing like hearing directly from researchers and HIV/AIDS leaders. In this summary, you'll hear U.S. National Institute of Allergy and Infectious Diseases head Anthony Fauci, M.D., and Global Fund head Michel Kazatchkine, M.D., Ph.D., discuss "The Future of U.S. and Global HIV Research, Policy and Program Implementation." It is followed by questions from reporters and comments by Craig McClure., executive director of the International AIDS Society. To see Dr. Fauci's special session, click here. To view his slides, click here.
Craig McClure: We had a very dynamic special session this afternoon looking at the future of global HIV research, policy and program implementation under the new U.S. Obama administration. We were fortunate enough to have with us to speak Dr. Anthony Fauci, who, I'm sure all of you are well aware of his role as Director of the National Institutes of Allergy and Infectious Diseases, at the National Institutes of Health, and his longstanding leadership, since the very beginning, of the HIV epidemic, and HIV research and Dr. Eric Goosby, who will be joining us momentarily.
Dr. Goosby has been a HIV clinician since the beginning of the epidemic in the west coast of the United States, in San Francisco and, as of three weeks ago, has become the HIV ambassador for the U.S., and the coordinator of the global AIDS program [i.e., U.S. President's Emergency Plan for AIDS Relief (PEPFAR)] in the United States.

Craig McClure
© International AIDS Society / Simon Deiner / SDR Photo
We were also fortunate to have Dr. Michel Kazatchkine, who is the Executive Director of the Global Fund to fight HIV and AIDS, moderating and chairing the session. I think it goes without saying that the Global Fund is the largest multilateral financing agency for HIV programs, as well as TB and malaria programs and the U.S. PEPFAR program is the world's largest bilateral funding program in HIV, TB and malaria.
Before we start, I'd like to mention that, in Dr. Fauci's presentation, he noted -- which is supported by Dr. Goosby -- a number of policy changes coming down the pipeline under the new U.S. administration, including the removing of the needle and syringe exchange ban on federal funding -- both for domestic and global programs, health reform domestically and the elimination of travel restrictions, as they're commonly referred to, or entry, residence and stay restrictions for people living with HIV and AIDS. This has been a factor for the past 20 years that has meant that the International AIDS Society has not been able to hold its conferences in the U.S. and that has been, of course, of great distress for us, with the U.S. being the world's leader on HIV research and programming.
In light of the removal of the ban from law last July 2008, and the imminent removal of the policy restricting entry of people living with HIV and AIDS, the governing council of the International AIDS Society has provisionally committed to host the International AIDS Conference in Washington, D.C., in 2012, for the first time in the U.S. in 20 years.
I'd like to turn to Dr. Fauci first of all to give a short summation of his remarks. We'll open up for questions after that.

Anthony Fauci, M.D.
Anthony Fauci: Thank you, Craig. I'm just going to take a minute or two. Because I know most of the productive aspects of these things are answering your questions. I was in a session on the role of the new [Obama] administration in the science and policy of HIV regarding pathogenesis, prevention and treatment, since that's what the theme of this meeting is, the International AIDS Society Meeting on HIV Pathogenesis, Prevention and Treatment. So I divided the talk into two sections. One was science. I hit on some of the challenges that were going to be faced scientifically.
One of the most important challenges in pathogenesis is particularly understanding the early events in HIV infection, when it becomes clear that the ultimate course of HIV disease is, for the large part, not completely determined by what happens early on. Which informs us that the more we learn about treatment, the more we feel and see that the data points towards the earlier treatment, the better.
"The sobering news is that, despite the enormous successes ... only about 30 percent of people who need therapy are on therapy. And for every person we put on therapy, two to three people get newly infected." _\-- Anthony Fauci_
We know we've been spectacularly successful with therapy, in the sense of those people who have access to therapy. In the United States, there are 30 approved antiretroviral drugs which, when used in combination, have turned HIV into what was formerly a virtual death sentence, into now, people living decades and decades longer.
There was an interesting paper that came out recently that said if you had HIV and you contracted it today, and you were in a country or in a facility that you had access to drug, and you were treated appropriately, that the modeling would show that you would live to more than 69 years. That's an overwhelmingly dramatic change from what it was.
That's the good news. The sobering news is that, despite the enormous successes with PEPFAR, the Global Fund, the Clinton Foundation, Gates Foundation, etc., still, only about 30 percent of people who need therapy are on therapy. And for every person we put on therapy, two to three people get newly infected.
So, there are a lot of challenges. There are challenges in prevention. It is very clear that there's a concept called "test and treat," which is going through a feasibility testing now, where we'll be looking at the possibility that this would work. We don't know if it works. It's a program that would universally, and in a voluntary way, test everyone [for HIV] at least once a year, determine if they're infected, and treat them, regardless of what their CD4 count or viral load is. Again, I want to emphasize this is not a policy. It's still at the conceptual research stage.
The other issue that I point out is that the more and more we look, the more and more we see that the earlier the better to treat people. The idea of treating people at [CD4 counts of]less than 200 right now; it is very, very clear that it is better to treat people -[at CD4 counts of] less than 350.
The recent data from cohort studies indicates that it's even better to treat people [at CD4 counts] between 350 and 500, versus less than 350. The more and more we see, the more and more it becomes clear that earlier therapy is better. This obviously has implications for programs in different countries.
Finally, the points that I made about policy, Craig just made. We have a new administration. The last administration did a wonderful thing with PEPFAR. PEPFAR will be continued. The authorization for the funds has increased. We want to make sure they stay high.
There are a number of issues, such as abstinence being a part of the [PEPFAR] program -- it is no longer a required part of the program. So the whole issue of the difficulty and the attention that was brought to the [PEPFAR} program because of abstinence only [U.S. policies] is no longer a factor in there. That's very, very important.
The other point is that there is a clear-cut intention now on the administration's part to remove the ban on federally funded needle exchange programs. It is currently working its way through the United States Congress, and it looks like it is going to be passed. It hasn't been passed yet, so I can't make an announcement that it's gone. But the intention of the President, and the intention of the Democratically controlled Congress, is to get rid of that ban -- which is very, very important.
As was also mentioned by Craig, the administration is very much in favor of the restrictions on people entering the country who are HIV positive. The reason we don't have a policy that has been changed right now is that, by law in the United States, it has to go through 45 days of public announcement, so people can comment on it.
I can tell you that there is an overwhelming feeling, among the people -- at least that we have interaction with -- that that ban has to go. That's the reason why we feel confident that it will and we will have the 2012 International meeting [on AIDS]in the United States. So I'll stop there and I'll be happy to answer questions.
Craig McClure: I'll turn to Michel, now, to make a few comments.

Michel Kazatchkine, M.D., Ph.D.
Michel Kazatchkine: Thank you. This is a press conference about the new U.S. administration, so I'm here as part of the fan club, somehow. The U.S. is the largest donor to the Global Fund, and a major contributor to the fight against the three killer diseases of the developing world.
Let me just say, very quickly, three things -- two things. One is that I'd like to thank Tony [Fauci]and Dr. Goosby for their words, and for the clear shift on some of the policy issues that many of us outside the U.S. in the developing world, in Europe, were somehow struggling with in the past. Your answers to that were very clear. I certainly welcome those policy changes that were announced.
The second point is that -- and maybe that could also start somehow the discussion -- is about the fact that there seems to be also a bit of a change of emphasis in the new U.S. administration, with a more comprehensive approach to health, that you briefly mentioned Tony, that Eric has mentioned.
My concern, you know, as a funder of AIDS, TB and malaria -- at a time where the Global Fund is facing a major financial gap in 2010 -- at a time when we, in this country, we face major challenges with MDR/TB, at a time where, as you said, there's still 70 percent, or 60 percent of people in urgent need of treatment that have no access to treatment, is how -- and here I turn to the FY10 budget that has been put forward -- how can we manage to reconcile all of that, and have that more comprehensive approach, and deliver on what we need urgently to deliver on, when it comes to HIV, TB and malaria?
Anthony Fauci: What Michel was referring to is that the fundamental principle that the President understands very well is that you cannot address diseases in a vacuum. You can't just say, "We're going to do this for HIV. We're going to do this for TB; and we're going to do this for malaria." He also understands that you cannot even treat all of them unless you have a health infrastructure that addresses the health needs of individuals.
Now, it's important that he [President Obama] understands that, because that's a very, very critical philosophical appreciation of what the real world is like.
Michel asks a very good question. We have constraints and resources. Are you going to add something else on that you're going to have to pay for? The answer is, yes, when the resources come. But you can do things even with the level of resources you have. You can get rid of the stovepiping in bringing things together, and make part of your process the development of sustainable infrastructure that would last beyond the initial purpose of the funds that were put into it.
So, we don't have unlimited funds, where we're going to solve the problem of comprehensive health care, both domestically and internationally, but the decisions that will be made, and the economic crises, I hope, will get better. When it does, I think, Michel, the fundamental principles will still guide that, that it will be a more comprehensive approach.
Craig McClure: Thank you. Let's open it up for questions now. If you would come to the microphone and state your name and where you're from?
Reporter #1: Hi. My name is Adam Graham-Silverman. I'm with Congressional Quarterly in Washington. The President, as you know, laid out a longer term, more wholistic global health plan. I'm wondering if you can talk a bit about how that will work with existing APFAR [PEPFAR] programs, and what you would say to those who are here and elsewhere who believe that it's going to result in a tradeoff, with decreased emphasis, and not funding for the core of APFAR programs.
Anthony Fauci: No. I don't think so, because, first of all, the program that the gentleman is referring to is a broader program. I think the original amount was $63 million, with $12 million being for maternal and child health care. And then, $51 million over six years for HIV, tuberculosis and malaria. Obviously, that's a lot of money, particularly in constrained times. The intention, as we said, is to make that get closer to a more comprehensive approach, as opposed to just focusing it on one particular issue.
So the plan for the next five to six years is very heavily steeped in global health issues, but it isn't just confined to HIV/AIDS. I don't think that will necessarily have a deluding effect, because you get an economy of scale when you put things together. So just because you're doing more than one thing doesn't necessarily mean that the individual elements are going to suffer. I think it will just be more efficient.
Reporter #1: If I could follow up, are there any examples of that that pop to mind?
Anthony Fauci: Let me give you an example of the direction that we're going in the institute [National Institutes of Allergy and Infectious Diseases] that I direct, which is the major funder of at least the research component of HIV, tuberculosis and malaria.
We have a very broad, well-funded, clinical research network that has six components of it that started off domestically and now has an international component. Part of that are treatment groups, prevention groups, vaccine groups, pediatric groups, microbicide groups, community groups, etc. We are going to veer towards, gradually -- in fact, some things are going to be done right away -- to make those sites what we call more multi- or plurally potential, where we're not just going to restrict what we study to HIV, but other diseases in the context of HIV. The obvious comorbidities that come into mind are tuberculosis, malaria to some extent and hepatitis.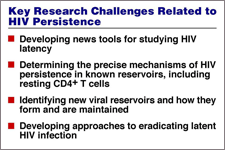 Anthony Fauci. IAS 2009; abstract MOSS101. Reprinted with permission.
Click here
to view the full presentation.
I visited Guguletu [a township close to Cape Town, South Africa] this morning with some of my South African colleagues from the University of Cape Town. And to think that you could address HIV without simultaneously addressing tuberculosis, you almost have to be insane to think that that's the case. Because the prevalence of active tuberculosis, the people who come in with known active tuberculosis, and the people who walk into the clinic and you find out that they have active tuberculosis, with a large percentage of them that have latent TB; it just doesn't make any sense not to address those together. Those are some of the things that we're going to try and do from a research standpoint -- is to allow the study in the sites that have been built up over several years more than just one disease.
I don't think it's going to dilute away from HIV. I think it's going to make it better, because the HIV infected individuals are also getting sick and dying from TB. So in the long run, it's going to help HIV.
Craig McClure: Michel, a follow-up?
Michel Kazatchkine: I'll also add that it would almost also be "insane," quote, to think that one can address strengthening health systems separately from HIV...or TB.
Since you refer to other programs, let me just also give an example. I think an extraordinary example from the region that I mentioned earlier, maybe, to some of you, which is the fact that, in the early days of the Global Fund, 2002, Lesotho came to the Global Fund with a request for access to treatment for 3,000 people. We were all wondering at that time. In 2002, no one trained, you know, no infrastructure: how would Lesotho manage with 3,000 patients?
Last year, Lesotho came with a second request to the Global Fund, for treatment for 55,000 people. Now Lesotho is moving to 65% coverage of their estimated needs with antiretroviral treatment. Now, if Lesotho could move in four years from a 3,000 request to a 55,000 request, it means that, during those four years, the AIDS money that has been coming in, has contributed building the platforms, training the people, and basically establishing the systems that now allow Lesotho to scale up very, very significantly.
I think the point we're making here, and I'm sure somehow, Tony, you would agree with that, is that the AIDS response has actually driven better outcomes for health systems. That's one more reason why I do believe, as you do, Tony, that we should look at things in a broader and more comprehensive fashion.
Yet, we will face, and we are already facing, and in Guguletu they are facing, major financial constraints. And on TB, I heard them yesterday say that they face almost tragic dilemmas this time.
Anthony Fauci: I agree with you.
Reporter #2: Mark Harrington, Treatment Action Group, New York City. I wanted to ask both if you if you were aware of the recent data that was shown at the TB/HIV satellite two days ago, by Dr. Robin Wood, who is from the University of Cape Town center that you visited earlier. He described an as-yet unpublished study, in which the Guguletu HIV treatment cohort, which is about 2,800 people, out of probably about 10% of the Township's HIV-infected population, has been put on treatment over the last four years. And for the first time since 1990, when TB rates began increasing exponentially because of HIV, the Guguletu Township TB rate has flattened out. The new incidence of TB has flattened out, because of ARVs [antiretroviral therapy] and because of the good, well-functioning TB program. So we're just beginning to see the signs that these long-term investments and scale-ups can actually reverse the epidemics. But we haven't gone to scale yet. If we don't go to scale, these will be short-term gains that will just be a blip in the history of the epidemics, because human population growth will continue, and yet the pandemics will continue to expand. So if we don't go to scale, we will lose all the gains we've had up to date, and not achieve the MDGs, and not reverse the epidemics. If we continue, and go to scale, the money that will be saved by saving all those lives will also be used to strengthen the health systems of the people that have by then kept alive, and their children.
I think that study is going to be critical in showing the effectiveness, at a population level, that ART can reverse the TB pandemic, and the hyperepidemic.
Anthony Fauci: It's a very good point, Mark. And it also is a very cogent example of a principle that we face all the time. And that is -- and it has to do with treatment, and the things that Michel was talking about, when you talk about health systems -- if you invest a lot of money now, it looks like, particularly when you have constraints on resources because of economically difficult times, the political leaders that are doing the investment now are going to have to make an investment now for something that's going to pay off when they're no longer there. And that's a tough thing to do in the world of politics.
But the fact is, the up-front investment now, when you treat people, or treat people earlier than you normally would, ultimately is going to save you money.
"When you reach a certain threshold in the scale-up, you see benefits at the population level that are beyond just the addition of the individual benefits. That could be true on HIV transmission, ... that could be true on prevention of incidence of TB." _\-- Michel Kazatchkine_
I showed a slide that's just one example of that during my talk, of an analysis that was done in the United States, of people who were treated when they had advanced disease, versus people who were treated when their CD4 count was around less than 350, and became less than 350. The annual yearly cost of taking care of those people was double if you started when the person got sick, versus if you started when they were relatively well.
So even though it looks like you're spending more money by treating more people earlier, at the end of the day, in the long run, you're going to wind up saving a lot of money. And those are principles that we have to keep hammering away it. It has to do with the health systems that you were talking about.
Michel Kazatchkine: Yes. And I think what's fascinating in these results is that what you see when you scale up is that, when you reach a certain threshold in the scale-up, you see benefits at the population level that are beyond just the addition of the individual benefits -- That could be true on HIV transmission, according to some of the models; that could be true on prevention of incidence of TB. These are things we're seeing clearly in malaria, whether above a certain threshold of accessibility to bed nets, child's mortality drops abruptly.
So, I think this is a very interesting concept which I wish the political world could hear when they think of their midterm investment. Again, after certain thresholds of scaling up, large population size benefits that go beyond just what we have done for the individual.
Craig McClure: I'd like to ask a question from the IAS. It links science and implementation, the real purpose of this conference, to these issues of financing of global health. In your talk, Dr. Fauci, you talked about some very promising, promising areas of research, both in terms of looking at latent reservoirs towards sort of a cure, if you like, quote-unquote, promising work in vaccine research. And then, of course, you also address, as many other people have at this conference, a lot of compelling evidence from many different perspectives, for the need for earlier treatment.
And Mark, in the TB/HIV meeting, I believe, Robin also reported that TB incidence dropped significantly, with treatment at higher thresholds of CD4 counts.
All of this will cost a lot of money. Our concerns at the IAS are that many people, including donors -- but also people working within the global health field -- seem to think that the pie for global health is finite, and that if money for systems in other areas of global health is to be found, it must be taken away from HIV.
You've noted, of course, that in many ways, it doesn't. But this notion that the pie is finite and cannot grow, and that health is something that is funded in good economic times, as an extra, but cut in difficult economic times... When I think, in the past 20 years, we've learned that health is a prerequisite for global development, rather than an extra. If you could address this issue?
"It's really unfortunate that we are in such a global economic downturn, because that's clouding not only the picture of what's practical to do now; it's clouding some of the fundamental principles." _\-- Anthony Fauci_
Anthony Fauci: No. It's not a finite pie. It's really unfortunate that we are in such a global economic downturn, because that's clouding not only the picture of what's practical to do now; it's clouding some of the fundamental principles. When I first took over as Director of NIAID, I argued very forcefully for investments in global health. Very few people listened to what I had to say. I was kind of like the Lone Ranger out there, and there were a couple of senators or congressmen who thought it was a good idea, mostly, for humanitarian purposes. But humanitarian motivation, in fact, is very short-lived -- usually until the next thing catches your attention.
Then there was the concern about maybe there were diseases over there that might come over here. So there was a little bit of interest in that. But then, after awhile, when it was clear that many of the diseases that are killing people over here just don't have any traction back home... We had a little TB blip during the late '80s and early '90s, but good public health measures made it go right back down to baseline, while it was raging in the rest of the world. So we forgot about it.
The thing that's going to drive it is the economic globalization -- globalization of economies, globalization of security, globalization of environmental issues. When people realize that a healthy world is essential for successful economic globalization, that pie is going to be very non-finite, or, should I say -- I don't want to say infinite; that's being too, too out there -- but it's not finite. Because people are going to realize that it isn't just a small, constrained amount, that if you really want to have a global society and a global economy, it's got to be a healthy world.
That's why, maybe I'm a fundamental optimist, but I think that when all of these constraints and economic downturn starts to balance up, that realization is going to come back.
Craig McClure: Michel?
"There will be no globalization with an unhealthy world, and there will be an unhealthy world, from a societal and a political perspective, if it is a world that still lives in profound inequities and gaps between the rich and the poor." _\-- Michel Kazatchkine_
Michel Kazatchkine: I have a very quick comment. And I'm very pleased Eric Goosby came. I would like to apologize. I will have to move to another meeting. But, as I said from the beginning, I was here as a supporter, and part, I said, of the fan club. It is your press conference. But on this, Craig, let me just add two things onto what Tony said, which I fully share.
One is that yes, indeed, investing in health is not investing in a humanitarian action in the development world. It's actually investing in development. So it is a mid- and long-term investment.
And second, that, yes, there will be no globalization with an unhealthy world, and there will be an unhealthy world, from a societal and a political perspective, if it is a world that still lives in profound inequities and gaps between the rich and the poor. I think health is one of the areas where we, in the last eight years or so, have been showing that we can close the gap between the rich and the poor -- or at least significantly decrease that gap in inequities in a globalizing world.
Craig McClure: Thank you, Michel. And we'll let you get to your meeting. I'd like to very much welcome Dr. Goosby. Ambassador Goosby has recently been appointed, as you know, three weeks ago, as the Global AIDS Coordinator. I'd like to offer you the opportunity to share a few words.
Eric Goosby: Oh, thank you. I apologize for being late. I had an opportunity to talk to the newly appointed minister, and I wanted to take advantage of that. So, my apologies.

Eric Goosby, M.D.
It is really an extraordinary time. I think that Dr. Fauci's discussion that I just caught the tail end of makes me think of what an extraordinary time it is. We have the convergence of a number of movements from an awareness that a chronic, progressive, complicated disease can indeed by successfully engaged and responded to in a multiplicity of different settings, from high tech and developed country-level medical delivery systems to very low resourced, poor medical delivery systems successfully. The outcomes that are achieved, although be it through extraordinary and rapid orchestration of very difficult delivery systems from drug to lab to the medical education component, making that, the medical education component, look as if it's the easiest; but all of that can be orchestrated to converge on patients in a way that produce the same outcomes.
I think that the clinical perspective of both Tony, Michel and myself is the basis in which we have confronted these issues, and have seen our work degenerate and go for naught, when there is not an economically stable situation in which the patient and their family and the community are sustained. The best medical delivery system can only go so far when there is not an ability for that patient and their family to be supported.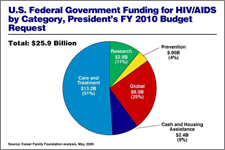 Anthony Fauci. IAS 2009; abstract MOSS101. Reprinted with permission.
Click here
to view the full presentation.
So I embrace and am excited about the awareness at the highest levels, both within the United States, at both the State Department of Health, and the President, the White House, that this is an important issue, an issue that does address, and is based in basic human rights, but has economic legs and security legs that I hope will keep it on the radar screen. We look forward to thinking and hoping that this may, indeed, be that moment when we move into a dialogue that's worldwide, with our multilateral partners and our European colleagues, around talking to the specifics that need to be in place to have health care for the planet. So it's that vision of hope and optimism. I heard Tony say he's optimistic. I know he's optimistic. But I share that optimism and that was one of the reasons that we were willing to engage with this work. Thank you.
Craig McClure: Thank you. Can I ask if there are any further questions? Your third question?
Reporter #1: Now that the Ambassador's here, I wanted to ask a similar question about integrating -- or, I should say, taking a more wholistic approach -- as it seems that is the direction that the Obama administration is heading in. Are there examples or ways you're already seeing that you're going to move APFAR [PEPFAR} program into the more wholistic approach that it seems the administration is envisioning for their long-term global health plan?
Eric Goosby: I think that the first way will have to be a movement toward a more intimate integration with Ministries of Health. Bricks and mortar management need to be moved back and/or initiate a partnership that allows the management and bricks and mortar of the Ministry of Health in the system that you're in to be the dominant site in which we implement these programs. The human resources and our ability to increase doctors, nurses, health care workers, empower peer education, make outreach part of a community response that's integrated into not just the medical delivery system, but the educational system and the business community, becomes of utmost importance, I think, now, as we try to reposition these programs in those institutions that are most likely to sustain themselves, and be the most durable.
Our ability to do that is predicated on the Ministry of Health having an ability to take their plans of operation, the one plan idea, and prioritize their unmet needs, have the plan be the predominant orchestrator of Global Fund, as well as PEPFAR resources, to allow the countries' unmet needs be the needs that are prioritized, and the needs that get the allocation.
Our commitment to that is not to give up excellence, or quality, or to pull back on urgency in our intent in the implementation effort. It is to try to transfer the nidus of that activity to the individuals who are responsible for these populations in the long run.
Craig McClure: Thank you. We have time for one final question, if there is one.
Reporter #3: Elizabeth Mwai, Kenya Standard Newspaper. The majority of African countries committed themselves to expand their financial budget. I'm wondering, in view of the past, that there is a shrinking in the economy, how do African governments recommit themselves in order to ensure that there is sustainability and expansion of those people on ARVs?
Craig McClure: I'm not sure whether we're the most appropriate people to answer that question.
Eric Goosby: I can take a short shot at it, and we can both answer that. That is a critical question that each country is going to have to answer. I think the goal that many have shared, the African Union, the African Development Bank, in particular with the 15%, the Paris Declaration, etc., is a wonderful goal. But I think each country needs to look at their unmet needs and try to garnish and sustain the resources that are available to them. When those resources are breached or defeated, I think that the need to turn to multilateral, bilateral relationships to help to close that gap will continue to be part of our world for a long time. And I think that the shift, I hope, is that those relationships now hold close as a principle that the programmatic responsibility of the program begin and end with the partner country.
Craig McClure: Thank you, Ambassador Goosby. Thank you, Dr. Fauci. Thank you, all of you.
This transcript has been lightly edited for clarity.
To view Anthony Fauci's presentation, "U.S. Supported HIV/AIDS Research on Pathogenesis, Treatment and Prevention: Science and Policy," click here.
To view his slides, click here.