Efavirenz-Based Regimens Best Lopinavir/Ritonavir Regimens in Head-to-Head Trial
Traditionally, an antiretroviral therapy regimen has consisted of two nucleoside/nucleotide reverse transcriptase inhibitors (NRTIs) plus a third drug, either a protease inhibitor (PI) or a non-nucleoside reverse transcriptase inhibitor (NNRTI). The U.S. Department of Health and Human Services treatment guidelines1 list lopinavir/ritonavir (LPV/r, Kaletra) and efavirenz (EFV, Sustiva, Stocrin) as the only two preferred agents recommended for use as this "third" agent. But, although there has been much discussion regarding this, it has never been decided which of the two agents is the best one to initiate therapy with. In fact, even though efavirenz has proven to be extremely effective in patients with advanced disease, many people are under the impression that when compared to a boosted PI such as lopinavir/ritonavir, perhaps efavirenz is not as effective, especially when it's used in a treatment-naive patient with advanced disease. Likewise, the use of a potent NRTI-sparing regimen, such as the combination of lopinavir/ritonavir + efavirenz, has never before been evaluated in large, randomized studies.
AIDS Clinical Trials Group (ACTG) 5142 is a phase 3, randomized, open-label study that sought to compare three different class-sparing regimens for the initial treatment of HIV-1 infection. Sharon Riddler from the University of Pittsburgh presented the study in a late breaker session at the XVI International AIDS Conference.2
There are three arms in this study:
Arm A: lopinavir/ritonavir (533/133 mg capsules twice daily) + efavirenz

Arm B: lopinavir/ritonavir + two NRTIs

Arm C: efavirenz + two NRTIs
The nucleoside backbones used in arms B and C (which were selected prior to randomization by site investigators) consisted of lamivudine (3TC, Epivir) plus zidovudine (AZT, Retrovir) or stavudine (d4T XR, Zerit) or tenofovir (TDF, Viread).
The randomizations were stratified by: HIV RNA (100,000 or less versus more than 100,000 copies/mL); the presence or absence of chronic hepatitis B or C; and the NRTI choice by the investigators.
To enroll in this trial, patients had to be antiretroviral naive. There were no limitations on CD4+ cell count, but HIV RNA had to be more than 2,000 copies/mL. To determine the efficacy of these regimens, the study compared the median time it took for patients in each arm to develop virologic failure. Also, the researchers calculated the "time for regimen completion" (RC), which was the amount of time before any patient either developed virologic failure or discontinued any component of the regimen. The overall study design is summarized in the following diagram.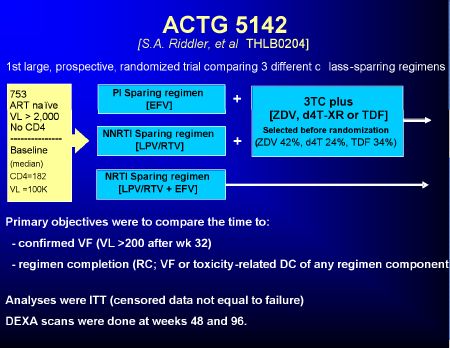 The study had 753 patients enrolled and randomized equally between the study arms. Although DEXA (dual energy X-ray absorptiometry) scans were done at different time points, the DEXA results were not part of this presentation.
The main results of the study are summarized in the next graph. When compared with a regimen of efavirenz + two NRTIs, lopinavir/ritonavir + two NRTIs trended toward having a shorter time to virologic failure and a shorter time to regimen completion. In addition, the proportion of patients with an HIV RNA of less than 50 copies/mL at 96 weeks was statistically significantly higher in the efavirenz arm, when compared to the lopinavir/ritonavir arm. The same results were seen for patients with low CD4+ cell counts or high viral loads or both at baseline.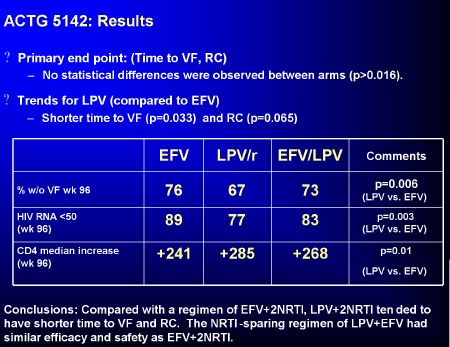 The NRTI-sparing regimen of lopinavir/ritonavir + efavirenz had a similar virologic efficacy and a similar time to treatment-limiting toxicity to that of efavirenz + two NRTIs. In addition, lopinavir/ritonavir + two NRTIs had a better immune reconstitution than efavirenz + two NRTIs.
The preliminary resistance analyses indicate a trend toward more NNRTI resistance in the lopinavir/ritonavir + efavirenz arm compared with efavirenz + two NRTIs. Two-class resistance was more common in the efavirenz + two NRTIs arm. The resistance patterns observed in the efavirenz and in the lopinavir/ritonavir arms were similar to what have been previously observed in other trials that have had these class regimens fail.
This well-conducted study is extremely important, as it will hopefully clear up once and for all the notion that efavirenz-based regimens with standard nucleoside therapy may underperform when compared with a boosted-PI regimen. It also reassured us that patients with advanced disease who are treated with efavirenz-based regimens have virologic responses that are equal, if not better, than boosted-PI regimens. On the other hand, patients treated with a boosted PI appear to have a better immune reconstitution and, as expected, they tend to develop less resistance-associated mutations in the face of virologic failure.
These study results are preliminary, since there are large amounts of data that were collected in the study that have not been looked at yet. Further analysis, comparisons and interesting results will come as the data continue to be mined and interpreted.
Footnotes
Panel on Clinical Practices for Treatment of HIV Infection. Guidelines for the Use of Antiretroviral Agents in HIV-1-Infected Adults and Adolescents. U.S. Dept of Health and Human Services; May 4, 2006.

Riddler SA, Haubrich R, DiRienzo G, et al, for the AIDS Clinical Trials Group 5142 Study Team. A prospective, randomized, phase III trial of NRTI-, PI-, and NNRTI-sparing regimens for initial treatment of HIV-1 infection -- ACTG 5142. In: Program and abstracts of the XVI International AIDS Conference; August 13-18, 2006; Toronto, Canada. Abstract THLB0204.
View slides: Download PowerPoint