Another Integrase Inhibitor -- Elvitegravir (GS-9137) -- Progresses in Development
Integrase inhibitors continue to be the most exciting agents in the new armamentarium for the treatment of HIV infection. During the past few conferences we have viewed the results of several studies on two compounds that have progressively advanced in clinical development. One of them, Merck 0518, now known as raltegravir (MK-0518, Isentress), is currently in phase III development and has recently become part of an expanded access program for antiretroviral-experienced patients. The preliminary results of raltegravir's phase III study, also conducted in treatment-experienced patients, were revealed for the first time at this conference.
Gilead Sciences is also moving along on the development of their integrase compound, previously known as GS-9137, but now given the name of elvitegravir (EVG). The preliminary results of this phase 2B program were presented also at this conference by Andrew Zolopa, from Stanford University in California.
First some background on this new class -- integrase inhibitors interfere with HIV replication by inhibiting the viral encoded integrase enzyme which is responsible for the incorporation of the double stranded DNA, a product of the reverse transcriptase enzyme, into the DNA of the infected cell.
Elvitegravir is a dihydroquinoline carboxylic acid strand transfer inhibitor with a chemical structure resembling the quinolone compounds, but with no antibacterial activity or quinolone-associated toxicities. Preclinical pharmacokinetic studies have demonstrated potent anti-HIV activity in vitro with a serum free IC50 of 0.2 nM and an EC90 in peripheral blood mononuclear cells of 12 nM.
Elvitegravir is metabolized via a combination of oxidative (CYP3A) and glucoronidation pathways. It is known to be a moderate inducer of CYP3A, but not an inhibitor. It is boosted with ritonavir (RTV, Norvir). In preclinical studies, this compound has been found to be fully active against nucleoside-, non-nucleoside- and PI-resistant isolates, and it has shown additive to synergistic activity with all other antiretrovirals.
The proof-of-concept study results for this compound were presented last year at this conference. In that study, treatment-experienced patients with an HIV RNA between 10,000 to 300,000 were randomized into five different doses of elvitegravir given with or without RTV. At ten days, HIV viral load reductions for all patients treated with elvitegravir 50 mg and 100 mg ritonavir were more than 1.5 log copies/mL; and the drug was found to be safe and well tolerated.
The preliminary (week 24) data presented at this conference was from their current phase II, dose-finding study in which 300 patients were randomized to three doses of elvitegravir (20 mg, 50 mg and 125 mg) all boosted with 100 mg ritonavir versus a comparator protease inhibitor (CPI), both in combination with an optimized background therapy (OBT) consisting of two nucleos(t)ide reverse transcriptase inhibitors +/- enfuvirtide (ENF, Fuzeon), to be used at the investigator's discretion.
At baseline the median CD4 count for all patients was less than 200 cells and about one third of all patients had no active nucleosides as part of their OBT. Enfuvirtide was used in ~20% of the patients. About 12% of all patients discontinued the study for diverse reasons, but they were equally distributed across study arms, including the control arm (CPI).
At week 8, the Data Safety Monitoring Board recommended the termination of the 20 mg arm due to poor virologic response and patients were offered to take elvitegravir 125 mg/ritonavir 100 mg. Also because new data available at that time indicated the lack of drug-drug interactions with protease inhibitors, patients were permitted to add either TMC114 (darunavir, Prezista) or tipranavir (TPV, Aptivus) to the ongoing middle or high dose of elvitegravir/ritonavir.
The following table summarizes the results of the primary end point for this study. As you can see, the results seen with both arms of elvitegravir at week 16 and week 24 were better than for the control arm, but only the results for the elvitegravir 125 mg/ritonavir 100 mg were statistically significant over the CPI. The proportion of patients achieving a 1 or 2 log reduction in HIV RNA from baseline were highly statistically significant for both elvitegravir arms when compared to CPI control arm.
ITT
CPI

n = 63
GS-9137
50 mg
n = 71
GS-9137
125 mg
n = 73
DAVG16
Mean, log10 copies/mL (P-value*)
-1.2
-1.5
(0.09)
-1.7
(0.01)
DAVG24
Mean, log10 copies/mL (P-value*)
-1.2
-1.4
(0.27)
-1.7
(0.02)
Ever achieved > 1 log10 copies/mL reduction by Week 24
61%
91%
92%
Pairwise P-value vs. CPI
P < 0.0001
P < 0.0001
Ever achieved > 2 log10 copies/mL reduction by Week 24
51%
69%
76%
Pairwise P-value vs. CPI
P = 0.06
P = 0.005
This graph illustrates the changes in HIV RNA by ITT analysis. We can appreciate a dose response between the different elvitegravir arms, and the virologic rebound that was seen with the low dose of boosted elvitegravir 20 mg, which was eventually discontinued. The dotted line below indicates the follow up responses after that regimen was intensified with either a higher dose of boosted elvitegravir, the addition of a PI, or both.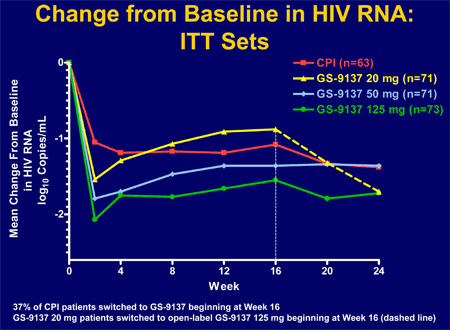 Click to enlarge
Reprinted with permission.
Click here
to download the complete slide presentation.
The proportion of patients with an HIV RNA below 50 copies was 30%, 38% and 40% for the CPI, elvitegravir 50 mg and elvitegravir 125 mg, and the mean increase in CD4 counts were +28, +52 and +62 respectively. With regard to safety, the proportion of grade 3 and 4 adverse events and laboratory abnormalities was similar among study arms, with few adverse events leading to study discontinuation.
This preliminary study results showed that both elvitegravir 50- and 125-mg arms met primary endpoint of non-inferiority for DAVG24. The higher dose of 125 mg was statistically superior to CPI group and showed potency within two weeks (more than a two log10 decrease) that was durable when combined with an active OBT.
Although the Merck integrase (raltegravir) may have a role in the treatment of naive and experienced patients, it seems that this Gilead integrase inhibitor, if proven successful in further trials, may only be limited to the treatment-experienced population. In any event, the availability of all these new agents and drug classes could revitalize the treatment regimens of people living with multidrug-resistant HIV today.
Footnote
Zolopa A, Mullen M, Berger D, et al. The HIV integrase inhibitor GS-9137 demonstrates potent ARV activity in treatment-experienced patients. In: Program and abstracts of the 14th Conference on Retroviruses and Opportunistic Infections; February 25-28, 2007; Los Angeles, Calif. Oral 143LB.
View slides: Download PDF