I am a board-certified gerontological and HIV/AIDS nurse practitioner. Love my "older people!" Mind you, I am not using the U.S. Centers for Disease Control and Prevention definition (which also happens to be my son's definition) of adults older than 50 in my definition of "gerontological." You're not old until 65 -- and I feel that's still young!
How did I go from older adults to HIV? That is a question that I've been pondering for 15 years. Not a logical decision, but a decision nonetheless. The answer to this question lies with a most amazing woman, Dr. Sherry Luck, an internal medicine specialist in Chicago, Ill. Back in 1995, she became my clinical preceptor for my post-master of science as a gerontological nurse practitioner. Dr. Luck was providing medical care to adults in day care. Blew me away!
I didn't realize at the time that she had started an HIV clinic on Chicago's South Side for indigent, underinsured, uninsured and disenfranchised HIV-positive persons -- the people who had been kicked to the proverbial medical-care curb due to poverty and other societal ills. All of the major medical centers were out of reach because transportation was not affordable when you used all your money to eat and have shelter. Dr. Luck truly believed that persons living with HIV should have expert medical care and social services within their own community.
By October 1997, Dr. Luck had virtually dragged me to this clinic at Roseland Community Hospital, where I began part-time. You see, Dr. Luck believed in me and in her vision. I started working one day a week before I left Rush University and Northwestern University (holler Magnificent Mile) to work there full-time.
My first days left me ready to run back to the "top-drawer" facilities, questioning my sanity. I remember one moment in particular when I was shocked to find my patient perming her hair in the exam room sink (after stealing the relaxer kit from a drug store). But after the shock wore off, I had to laugh! There would never be a dull moment from now on. I was good and caught.
Caring for HIV-positive people has been my passion and mission ever since. I wouldn't consider any other field to work in. Over the years, I have run a clinic that was rededicated in Dr. Luck's honor (Luck Care Center in Chicago); volunteered in Ethiopia to assist health care providers in scaling up antiretroviral therapy with the help of the Clinton HIV/AIDS Initiative; taught an HIV curriculum to nursing students in Suriname, South America; and I continue to precept health care providers and lecture (to everyone) across the country.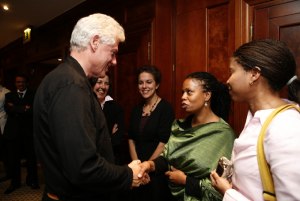 Bethsheba Johnson (in green) at a meet-and-greet with former President Bill Clinton for Clinton HIV/AIDS Initiative volunteers; Addis Ababa, Ethiopia, 2006.
My friends and colleagues describe me as nurturing, compassionate and extremely down to earth. There is nothing I won't or can't discuss with my patients -- to their chagrin at times (including sex -- I'm a hot mess on that topic). Silence is not my issue!
One of my passions is HIV prevention, in addition to the medical care I provide currently in Dallas, Texas. Another is empowering women in the areas of health, education and finances. Yet another, as you can probably imagine from my gerontology background, is the topic of HIV and aging.
When I began working in HIV, there was a paucity of literature on the topic of HIV and aging, because we had not expected people to live as long as they are currently. This changed with the advent of highly active antiretroviral therapy. As providers, we are observing an increase in patient co-morbidities (cardiovascular disease, neurological complications, decreased bone density, renal dysfunction, hypogonadism and other endocrine disorders, lung disease and non-HIV-related malignancies) in addition to the iatrogenic effects and toxicities caused by the very therapy that has provided longer life expectancy.
How do we assist our clients in teasing apart what is normal aging versus what is not? For example, a woman in her mid-to-late 40s presents with complaints of amenorrhea. Is it menopause, a normal aging process? Or is it a lack of menses due to HIV's effect on the immune system? We know the average age for menopause is approximately 52 years of age, but we also know that HIV can be associated with premature cessation or interruption of menses. Both conditions can present with night sweats, depression and arthralgia. Knowing the natural aging process and the effects of HIV can lead to the appropriate assessment of this issue through a review of the patient's medical history and laboratory work-up. This is just one example of how aging can mimic a disease state, and it's one of many complex issues we will have to unravel in the future as our patients live longer.
Of course, this is only one of many important issues impacting my patients -- and yours as well, I'm sure. I'm looking forward to sharing with you the work that's grown out of all these passions of mine, and to having a dialogue on topics that are clinically relevant to your practice as health care providers, but that you may not often read about in the medical or field-related journals.
Copyright © 2011-2016 Remedy Health Media, LLC. All rights reserved.
Comment by: Joseph J
(Denton, TX.) Thu., Jun. 30, 2011 at 7:40 pm UTC
A very thoughtful article about an almost 'non-existant' subject, Bethsheba! I'm glad that you brought this subject up, being that I fit into this age bracket. I wish I could supply more information about it, but my sexual activeness has diminished somewhat over time. Although I plan on restarting, it has much to do with the other partner, and in our being able to 'get along' in other aspects. I know that I have a snoring problem which will kill any relationship (yes, if you are married/living with, and you find that you have double beds or are sleeping elswhere than with your mate...then YEA you are a victim ~ lol!), and I have just learned that long-distance associations do the same. I'm still optimistic and willing to keep searching for my "ideal" woman, so your article about this subject is very necessary for us 'silent ones' of the higher age demographic ;-)
You are one of the reasons I am as healthy and strong, so I 'now' take your words of calling us all 'older people' as a compliment! I have many other names to describe you other than ' nurturing, compassionate and extremely down to earth...but you know they are all good points about you and those who know you will agree wit me 100%.
In closing, I'd just like to say that 'sex and older people' are alive and well. Some of us (like ME!) are good at hiding it, but it is just as much a part of our lives as getting good exercise. Aside from us picky ones, we all need to have 'safe-sex', no matter how old we are. There are no excuses, and as we are in an age of making 'intelligent' choices and decisions...'no regrets'. There was a time long ago (short-window) where people did not have to worry about sexual consequences impacting whole families, but we don't live in that era anymore. Choose your partners wisely and for all the good reasons, but protective-sex practices is the only way to be (...Charlie Sheen doesn't need this anymore ~lmao) #Winning! 
Replies to this comment:
Comment by: Lynn K
(Pickering, ON, Canada) Tue., Mar. 22, 2011 at 10:28 pm UTC
I feel that as an HIV+ person who has been living well with this disease for what will be 30 years on April 1, 2011, that I have a lot to share about my lifestyle and what keeps me active and healthy. I just had my 60th birthday on Feb. 13th and celebrated with a trip to Carnival at Quebec City. I play tennis 4 times a week and travel several times a year with my HIV- husband. I was diagnosed in 1993 at the age of 42 and by that time, infected over 12 years. A CD 4 count of 190 put me among the ranks of a diagnosis of clinical AIDS. I resisted any of the meds at the time and only began a cocktail of ARV's in October 1998...17 1/2 years infected and CD4 count of 47. Viral load was "up there". I felt like I was continually fighting the flu. But the magic bullets did their job and within 3 days, I felt like I had my life back and I haven't slipped since. A positive attitude and a determination to "make it" have stood me in good stead. AS well as the ARV's, I also take a long list of natural supplements and vitamins as well as HRT. I feel like 40 years old!!! A ruptured ectopic pregnancy at the age of 30 and the administration of 2 units of packed cells was the vector of my infection. Luckily I was able to self-diagnose what happened and got myself to ER in time. Oh, I forgot to mention, I'm also a registered nurse (ret'd) and had the opportunity to care for AIDS patients in the 80's, not knowing at the time, I was harboring the very same virus as those patients I was looking after...gowned, gloved and in the early days, masked! Who knew?? Life is full of surprises. I hope my story is of some encouragement to anyone who happens to read it.
Replies to this comment: