This article is part of a transcript of a presentation delivered at the XVIII International AIDS Conference in Vienna, Austria. The original session took place on July 21, 2010. Jump to the table of contents to see other articles in the series.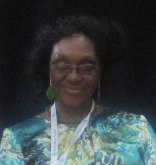 Lydia Mungherera, Uganda
Lydia Mungherera, M.D., has worked in the area of HIV/AIDS for 10 years as a Medical Doctor, peer educator and advocate. She is a co-founder of several grassroots initiatives in Uganda, including Mama's Club in Uganda in 2003. Read her full bio.
Even in Uganda -- a model for the African continent and other resource-limited areas of the globe in many aspects of the HIV/AIDS response -- there are profound barriers to access to family planning and reproductive options. Dr. Lydia Mungherera, an HIV-positive woman and longtime activist, discusses some of these barriers -- structural as well as cultural. Says Dr. Mungherera: "The cultural practices in Africa are one of the biggest reasons why women cannot make their own choices."
I'm going to go through some of the issues which affect women, and mothers, especially, and those who are living with HIV/AIDS in my country and, generally, Africa. I'm an HIV/AIDS-positive mother. My two children are older, of course. One is 22; the other is 20. I was tested in 1996. My children are both HIV negative. I work with HIV-positive mothers almost every day, at the grassroots level, and in the community.
The story of Uganda may be the same as most African countries, where most of the people having HIV/AIDS are women. And of course, Uganda was one of the first countries to develop a multi-sectoral approach to fight this epidemic. And we have national PMTCT [prevention of mother-to-child transmission] guidelines as a policy document. And of course, this policy was built with wide stakeholder involvement. We have a national PMTCT Advisory Committee. PMTCT, which is very critical, was launched a year ago, involving other organizations. And we did the DAPs, WHO [World Health Organization].
The AIDS response in Uganda was taken over many years ago, in the late '80s, by NGOs [nongovernmental organizations], CBOs [community-based organizations], and FBOs [faith-based organizations]. These NGOs are involved in policymaking, and they do help improve access to information, and provide community-friendly material, reproductive health services and family planning options. And of course, we have peer support groups -- not only Mama's Club [the group Dr. Mungherera founded], but now we also have father mentors; and we have young positives who do go around their community, talking to other young people.
Uganda was also one of the first countries to adopt home-based care and support. It helps to talk to women about their reproductive options and family planning options in their homes. Going into the home, you find the woman, you find her partner and you find the family. Home-based care also helps to support [HIV treatment] adherence.
Uganda was one of the first countries to reduce the stigma. TASO [The AIDS Support Organization], which I work for, was the first AIDS service organization in Africa. One of the main things which TASO did was to fight stigma.
Now, barriers: Of course, poor health systems. And this is not only in Uganda. In most of Africa, we have poor health systems: Human resource is poor; infrastructure is poor; and services are very far from people who need the services.
We have also a lack of family planning options. At many of the government health centers where women go, you find that they tell you to go to have an injection [of what ...], and there's nothing else. All these new options, which young people prefer, are not there.
Culture practices: I want to talk about this, because the cultural practices in Africa are one of the biggest reasons why women cannot make their own choices. We have this male dominance, which is very critical. Most of the time, in Africa, a woman can't decide on her own about family planning and reproductive health, because she's part of a big family of her in-laws, as well. Her brother-in-law, her mother-in-law: they control this woman -- especially those in the grassroots regions. And she can't make her own choices.
Advertisement
We have total lack of user-friendly reproductive health services. And I really believe this is very critical, especially for young people. They might go to a clinic and actually be faced by these nurses, who are going to look at them and say, "Why did you become pregnant? You're too young," especially if they are HIV positive.
We have lack of information to communities, and lack of information translated into a lot of different languages. Many of our women and people are not educated, so that area of information is very critical.
Lack of male engagement is a real critical factor. If a woman has to have a child, goes through an antenatal clinic and hasn't discussed it with her spouse, she can get back home and be beaten. Gender-based violence is one of the biggest drivers of this epidemic in Africa. It causes women to be controlled, in many ways. They don't have their own choices, even in having children. If a man finds out that his woman is taking family planning [birth control] pills, for example: According to the culture, you are supposed to have somebody's children. And if she hasn't had a boy, she must have a boy, so she may continue to have children, about 10 girls, waiting for one boy, because in Africa, traditionally, the boy is supposed to carry on the clan.
We have many policies, but another barrier is turning policies into effective programs on the ground.
And of course, the biggest issue we have now is stigma and discrimination. They are people who still believe that, having HIV/AIDS, the family has been bewitched. "Oh, this family has a curse." "This woman has a curse." So people are still hiding, especially out there in the grassroots areas.
Some recommendations:
First, very high political commitments. If we don't have political commitment from the top, meaning the president, parliamentarians, and decision-makers in our country, I don't think we are going to fight this epidemic, even when it concerns reproductive health, and family planning, and anything that really has to happen in a country. The political commitment must be there.
Stakeholder involvement -- involving the community and positive women's groups. That means also involving young people in the conversation. This is very critical.
Alternate methods for communicating information. In Africa, because many people are not educated, song acts and drama have worked for many years. In fact, TASO -- which, I told you, was the first organization -- used drama and song to pass on messages, even to women. This is what is important.
Improving health systems. I've talked about that above.
Providing different options. In many of the government health centers, we don't have those family planning options that are found in other places, and it's expensive to go to private [health centers].
Using proven evidence-based methods which contribute further to research is very critical. We need research in Africa, done in Africa, and produced in Africa.
Peer groups. I've talked about the male mentor groups to engage young boys and men into reproductive health services.
"Task shifting" is a word which has been used. It's something which came out of the WHO, but already we are task shifting. In many of the health centers, we don't have doctors or very highly qualified nurses; we have community health workers in faraway areas. And I think what needs to happen is that this needs to be understood. They [community health workers] need to be compensated and trained.
Involving young people in discussions and provide appropriate health services for them. And, of course,
Removing cultural practices that make women and girls vulnerable to gender-based violence.
This transcript has been lightly edited for clarity.