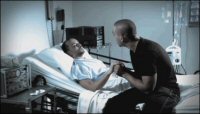 A new HIV prevention ad depicts life with HIV as a horror show.
The top brass in New York City's Department of Health is defending a controversial ad that uses rotting brains, decaying bones and bleeding anuses to convince young men to use condoms.
"I am completely comfortable with what we put out here. I have talked with many young men who are HIV positive," said Dr. Monica Sweeney, assistant commissioner for the city's Bureau of HIV/AIDS Prevention and Control. "This is not fabricated. These are real conditions that affect people even though their viral load might be under control."
The ad has pitted those who are offended by its scare tactics and call the campaign dishonest against those who think the video's shock value could prevent the spread of HIV.
"I reject portraying my life -- 15 years and counting with HIV -- as a hellish nightmare," said Jim Pickett, advocacy director at the AIDS Foundation of Chicago. "Has it been tough? Yes ... Living with HIV is challenging, but it is not one big long scream of agony for most of us. But nuance isn't eye catching or sexy, is it?"
While the video's shadowy imagery and morose-looking characters raise questions about taste, its claims are based in fact. Men who have sex with men account for 44 percent of newly diagnosed HIV infections in the city each year. The number of new diagnoses among those under 30 has skyrocketed from 489 in 2001 to 747 last year. According to Sweeney, the ad was developed after city health officials met with several focus groups consisting of men who have sex with men.
Advertisement
The ad posits that those with HIV are at higher risk of osteoporosis and dementia, and are more than 28 times more likely to get anal cancer. Research does show that those with HIV appear to be far more prone to low bone density than HIV-negative counterparts of the same age. And while the frequency of dementia caused by HIV has declined since the advent of HAART, cognitive disorders continue to have significant impact on many of those infected, according to doctors at the University of California San Diego. The city grabbed the statistic about anal cancer from this article in the Annals of Internal Medicine.
"Showing that HIV comorbidities exist is not fear-mongering," said Mark Peterson, program director at Michigan Positive Action Coalition. "... I freely admit to the devastation that HIV has brought into my life and the lives of my friends. I think to hide and sugar coat this has added to the myths regarding the 'miracle benefits' of ART."
And while some fault the ad's lack of tact, it's worth noting that New York has successfully employed some fairly nasty imagery to change behavior. In 2006, officials launched an anti-smoking campaign that depicted horrific images of the brain, lungs and arteries and featured testimony from dying smokers and their children. Smoking rates plummeted, and several studies said the ads played a huge role.
"When you sit where I sit, and you know that HIV is going up among men who have sex with men who are under 30 ... You know we can't keep doing the same things we've been doing," said Sweeney. "This is an effort to get a conversation going. HIV is not a death sentence, but it is a life sentence."
The ad will run on cable and broadcast television for the next month. What do you think? Is the piece honest? Do fear tactics help stop the spread of HIV or do just propagate stigma? Is this what NYC needs? Share your opinions here.