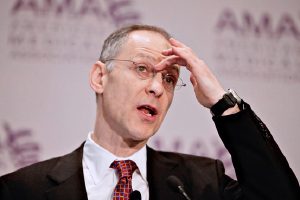 Emanuel's neo-Malthusian views are shaping global AIDS policy, writes Gonsalves.
This week AIDS activists are mired in debate about whether the election season is the "proper" time to criticize President Obama's global AIDS strategy. In the midst of it all, activist Gregg Gonsalves has written a powerful essay criticizing Zeke Emanuel, the chief architect of the president's global health policy.
Dr. Ezekiel Emanuel has had a long career in bioethics, since 1997, as the chair of the Clinical Center Department of Bioethics at the National Institutes of Health and before that as an associate professor at Harvard Medical School. Currently, he is a special advisor to the Director of the Office of Management and Budget (OMB) in the White House.
Sadly, Dr. Emanuel became the target of right-wing commentators during the national debate on health care reform as a proponent of "death panels" and state-sanctioned euthanasia, which distorted his writing on end-of-life care and grossly misrepresented his views.
Though conservative criticism of Dr. Emanuel is largely based on fabrication, there are deep concerns among mainstream public health and medical professionals about the global health policies that Dr. Emanuel has helped to shape and promote over the past two years while in the White House.
In particular, his views on AIDS treatment and his most recent comments on the treatment of multi-drug resistant tuberculosis (MDR-TB) in developing countries, put him at odds with many working in these fields. Dr. Emanuel has suggested that treatment for both diseases is not cost-effective. In the case of HIV/AIDS, his analyses argue that new resources should not be devoted to antiretroviral therapy:
"Yet doubling or tripling PEPFAR's funding is not the best use of international health funding. In focusing so heavily on HIV/AIDS treatments, the United States misses huge opportunities [...] PEPFAR has been an important step for US international health aid, but multiplying its funding misses enormous opportunities to save lives, especially young lives, with more cost-effective interventions."
His comments in October 2010 on MDR-TB, suggest that MDR-TB treatment is also not cost-effective or optimally targeted towards young patients, whom he believes should be the primary recipients of care in situations of limited resources.2
Dr. Emanuel's views on AIDS treatment are reflected in the Obama Administration's proposed budgets for the President's Emergency Plan for AIDS Relief, which essentially flat-lines funding for the effort, while investing in new initiatives in maternal and child health and other areas, which Dr. Ezekiel has outlined as critical in his published article and public comments.
Last November, close to 40 deans of US of medical and public health schools, clinicians from the USA and Africa, and leading global health figures including Partners in Health founders Paul Farmer and Jim Kim and Sophie Delauney, the US Director of Doctors without Borders, wrote to President Obama, with deep concerns about Dr. Emanuel's approach, which the Administration has taken on as its own:
"Today, some argue that we cannot increase the so-called 'treatment mortgage' or that HIV resources should be shifted to other health care priorities. We reject the notion that urgent health conditions should be pitted against one another. Narrow conceptions of cost-effectiveness, or the cost of a given intervention in isolation, cannot become the litmus test to compare interventions for different diseases or to prioritize U.S. global health funding."3
The Obama Administration has been unwilling to heed the advice of these and other experts and continues to shape global health priorities based on Dr. Emanuel's metrics. Thus, the Obama Administration has come under growing criticism internationally from clinicians, scientists, front-line care providers and even Nobel Prize Winner Archbishop Desmond Tutu, culminating in demonstrations against President Obama by students in Boston, Philadelphia and Connecticut; AIDS activists in New York City, Johannesburg and Nairobi; and a large demonstration which interrupted the opening ceremonies of the XVIIIth International AIDS Conference in Vienna, Austria, this past summer. At the opening of the AIDS conference, the President of the International AIDS Society, Dr. Julio Montaner of the University of British Columbia, made the following comments:
"As we gather in Vienna today, we find the global AIDS response at a crossroads. In 2005 at Gleneagles, the G8 set 2010 as the target for universal access to prevention, treatment and care. This represented a bold and visionary objective. In short order, it led to the establishment of one of the most successful ever multilateral and bilateral efforts, including the Global Fund and PEPfAR. We went from almost no one on HAART in 2005 to nearly 5M today. This unprecedented rollout success proved many skeptics wrong. Having said so, I cannot hide my profound disappointment and deep frustration with the recently concluded G8/G20 meetings in Canada. By failing to take responsibility for the Universal Access pledge, and more importantly for failing to articulate next steps to meet not just the 6th MDG but all of them by 2015, the G8 has, quite simply, failed us."
Is Dr. Emanuel responsible for the failure of the G8 to live up to its promises on HIV/AIDS? Of course not. However, he is the prime architect of the US' global health policy and has crafted it so that it is in line with his own thinking. He also takes pride in his own inflexibility:
"I am an Emanuel. We are pretty thick-skinned. I am not going to change my colors. I am not going to crawl under a rock."4
Advertisement
Rather than modify its global health initiative to build on the successes of PEPFAR, under Dr. Emanuel's guidance, the Obama Administration has shifted its priorities away from HIV/AIDS. This hasn't involved outright cuts to the program, but it has pulled the effort off the track of robust growth it had been taking for the past several years. As Doctors without Borders has said in a recent report, the Obama Administration is punishing PEPFAR and global AIDS programs for their success.5 Dr. Emanuel has also been disingenuous about his intentions and those of the White House. After the criticisms of the Administration by scientists, clinicians and activists alike this summer in Vienna, Dr. Emanuel wrote a quick rebuttal to the charges against the White House in the Huffington Post. In this piece, he gave the Obama Administration credit for the funding of PEPFAR by the past administration, without mentioning the actual budget figures proposed for the program by the current White House, which dramatically slowed the program's growth. He went on to castigate critics for focusing on money rather than program efficiency and outcomes and for focusing on single diseases rather than comprehensive health interventions. These criticisms are absolutely hollow. For 30 years, AIDS activists have been watchdogs of AIDS programs around the world and AIDS programs are under more independent scrutiny and evaluation than probably any other area of global health. Furthermore, AIDS is a disease of primary care -- only by strengthening health care overall can the epidemic be confronted and AIDS activists have been part of the revival of the primary health care agenda both domestically and internationally for years.
Dr. Emanuel is entitled to his views. However, when his opinions become public policy, he stands accountable to those he serves and those affected by his decisions. Dr. Emanuel's views are derived from a theoretical framework almost exclusively based in bioethics and he is using US global health policy as a personal laboratory to experiment with his model. Furthermore, his clinical training is as a pediatric oncologist and he has no experience in the developing world whatsoever. Leaders in global health with decades of experience have challenged the Obama Administration's policies on HIV/AIDS, yet the White House has refused to significantly change its approach to the issue, in part, due to Dr. Emanuel's influence.
Dr. Emanuel is wrong. He has the President's ear. The decisions made in Washington, DC, affect millions of lives of people living with HIV and other health conditions around the world. We reject the narrow, neo-Malthusian view that Dr. Emanuel espouses, and believe we can fight AIDS and promote global health and development overall -- it is not necessary to pit AIDS against other critical priorities. Over the last year, world leaders had absolutely no problem finding the money on a moment's notice to bail out their corporate friends, and greedy Wall Street bankers, yet when it comes to global health, we are always told that we have to do more with less. A tiny fraction of the money spent on bailouts over the past eighteen months would make it possible to launch a truly comprehensive global health initiative by the USA, vitiating the false choices being posed by Dr. Emanuel and the President.
Gregg Gonsalves is a founding member of the International Treatment Preparedness Coalition, which advocates for universal access to HIV/AIDS treatment. Contact him gregg.gonsalves@gmail.com.
Colleen C. Denny; Ezekiel J. Emanuel, US Health Aid Beyond PEPFAR: The Mother & Child Campaign, JAMA. 2008;300(17):2048-2051.
Scherer, Michael, "Ezekiel Emanuel, Obama's 'Deadly Doctor,' Strikes Back," TIME Magazine, August 12, 2009.