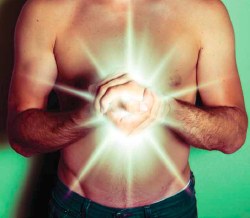 Photo: Chris Knight.
Finding a cure for HIV is one of the "holy grails" of medical research. Yet even as progress in treating HIV has leapt forward, and while AIDS vaccine research remains a high research priority, the search for a cure has received little attention.
But hopes for a cure are on the rise. The government and drug companies are starting to take cure research seriously, and more and more scientists are joining the effort. At the 2010 International AIDS Conference in Vienna, curing HIV took a prominent spotlight in the opening presentations.
A vaccine would protect people who do not have HIV from getting it. A cure would remove or disable the virus for people who already have it. While HIV medications are extremely effective at stopping the virus from replicating within the body, there is no effective preventive vaccine and no practical cure for HIV.
Unfortunately, unlike many diseases that can be eliminated by antibiotics or other medications, HIV becomes a permanent part of the body (see sidebar, "Reservoir Dogs: A virus goes into hiding").
Curing it is not going to be easy, but the impact of a permanent cure would be so important -- especially in light of the high cost of lifetime treatment for the millions of people in the world who are infected -- that it is important for scientists to make a strong effort to search for it.
Fortunately, the outlook for eventually finding a cure for HIV infection has never been better, as some of the top scientists in HIV research begin turning their attention to the problems of persistent HIV infection and how the virus might be permanently switched off or even eradicated from the body.
New Day for Cure Research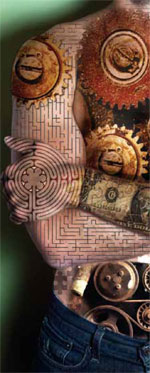 Photo: Chris Knight.
There are a few reasons why the search for a cure has been reawakened. First, there is the need for a new paradigm for controlling HIV. While lifetime treatment is effective at preventing AIDS, it is expensive and may cause side effects for many of those on therapy -- even after many years. There has been backpedaling among big government donors about funding long-term ARV (antiretroviral) treatment for the millions of people in Africa and Asia who need it. Even in the United States, waiting lists for the states' AIDS Drug Assistance Programs (ADAPs) are growing as budget deficits soar.
There are also growing concerns that people with HIV -- even after the virus has been suppressed with drugs -- may be experiencing signs of premature aging, such as cardiovascular problems, kidney disease, diabetes, and cognitive dysfunction. It is not yet clear if these are due to the drugs or to HIV itself. One theory is that the low levels of HIV proteins produced by infected cells -- even if not capable of infecting other cells -- can disrupt how the immune system is regulated and stimulate inflammation, causing the body to attack itself.
Another reason for the renewed interest in a cure is the disappointment that has dogged vaccine research. After searching for 25 years, hopes for a vaccine to prevent HIV infection were again dashed after the failure of a large clinical trial in 2007. While vaccine research has not been abandoned (much, much more research money goes to it than to cure research), some scientists felt it was time for a fresh look at finding a long-term solution to HIV. As one key scientist in the search for a cure put it, "Lots of people are working on vaccines, but the people who are working on eradicating the latent reservoir of HIV is a pretty small group."
And finally there is the intriguing possibility that one individual may have received a virtual cure for his infection. An oncologost in Germany treated an HIV-positive leukemia patient from the U.S., who had been on ARV drugs, with a bone marrow transplant, a procedure where the patient's cancerous immune system is destroyed and replaced with healthy immune system cells from a donor. In this case, the doctor used donor cells that coincidentally lacked the CCR5 receptor protein that HIV generally requires to infect new cells. So far, going on three years after the transplant, the patient is not taking ARV drugs and continues to have an undetectable viral load.
Has he been cured? It seems unlikely that his latent reservoir of HIV has been eradicated, but rather that he has been made resistant to HIV infection.
Advertisement
Bone marrow transplantation is an expensive and dangerous step to take, so it is not a viable risk for anyone without a life-threatening cancer or certain other diseases. But if his virus remains at bay, this case proves that the quest for a cure is not foolish.
If HIV can't be eradicated, then the next best thing would be a "functional cure" that uses the immune system to control the virus, much like that which occurs naturally to a small percentage of people with HIV called elite controllers who maintain low viral loads without drugs. There are several avenues of research investigating these ideas. A spinoff of preventive vaccine research may produce a therapeutic vaccine that trains the immune system of an already infected person to keep viral load levels in check. Some vaccines have already been tested in people with HIV, though none have been able to consistently control the virus.
Another approach is experimenting with gene therapy to modify the body's immune cells to make them HIV resistant -- a less drastic step than bone marrow transplantation. Any kind of breakthrough that allows a person to control their HIV without taking drugs would be a huge step forward in the history of this disease.
The Martin Delaney Collaboratory
If the immune system won't clean house, then we will need to develop medicinal torpedoes to destroy the infected cells.
In June, Dr. Anthony Fauci of the National Institutes of Health announced an $8 million grant program called the Martin Delaney Collaboratory: Toward an HIV-1 Cure. The program offers two $3-5 million grants to research institutions who will partner with industry to solve some of the key problems standing in the way of a cure for HIV infection. The outline for this approach was presented in a 2009 article in Science magazine authored by Douglas Richman, of the University of California, San Diego, along with several other key scientists in cure research, and AIDS activist Martin Delaney.
Delaney, who died of liver disease in 2009, was not a scientist, but a pioneer AIDS treatment advocate and founder of the San Francisco AIDS education and advocacy group Project Inform. Even during the enthusiasm surrounding the success of the first effective drug regimens in the 1990s, Delaney continued to remind government scientists, drug companies, and other activists that curing HIV remained the ultimate prize.
The goal of the collaboratory proposal is to quickly move forward on answering some key questions about curing HIV and to develop some drugs that may lead to tests in people. Just as important is the goal of getting a new generation of young scientists involved in this area of HIV research.
The amount of money in this initial wave is small compared to vaccine funding, but aims to plant seeds and create a foundation for building more focused research in the future. Unless we are incredibly lucky, curing AIDS will not happen in the next few years.