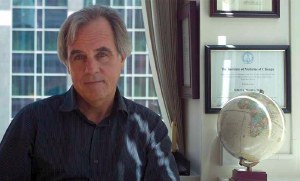 Dr. Robert Murphy: "We know that with the drugs that we use, we can drop the virus to undetectable levels, but ... we can't cure the virus."
Yes, the search for a cure continues. "Now more than ever," says Robert Murphy, MD, an HIV specialist and researcher at Northwestern University Feinberg School of Medicine in Chicago, and its Director of Global Health.
Dr. Murphy oversees a small study that takes another step towards eradication. In other words, the cure. The year-long trial began enrollment in August.
Among the many research routes to the cure, the concept of chasing HIV from its hiding spots in the body in order to kill it is the hottest in the field today. This study aims at doing just that.
It focuses on people who've had undetectable virus on HIV therapy for at least three years, "the longer, the better," says study coordinator Baiba Berzins.
The study intensifies their already-successful therapy with two of the newer HIV drugs on the market, drugs which function in a way that's of particular interest in the search for eradication, Isentress (raltegravir) and Selzentry (maraviroc). Then participants are given a vaccine to flush out that hidden virus in order to see if the intensified therapy can decrease the levels of that now-activated virus.
A number of pilot studies in conjunction with a French research organization, including this study, are scheduled to run for just over a year.
"Right now," said Dr. Murphy, "we know that with the drugs that we use, we can drop the virus to undetectable levels, but ... we can't cure the virus. As soon as you stop the drugs -- even if you've been on them for 10 years -- it's really just a matter of time before the virus returns in the blood. That can be anywhere from a few days to a month or so.
"We don't really know how big the reservoirs are, but we think they're much smaller than what is floating around."
"That happens because the virus is integrated into a group of long-living, what's called 'latently infected' cells," he continued. "So they're infected, but they're just sitting there. They're not replicating. And when they periodically do start to activate and replicate, the virus comes back. Those cells are in what's called the reservoir. Over a period of time after a lot of therapy, there's actually not that many of those cells. What we hope to do, based on a couple of experiments that have been done in the last couple of years, is to try to activate those cells so that they basically extinguish themselves and you would decrease the amount of virus that's in the reservoir and hopefully -- theoretically -- eradicate the virus."
Moreover, some of the virus in the reservoir of a person on successful treatment is not functional, he explained, which is yet another reason for hope.
Newly infected people generally have between 10,000 and a million viral particles per milliliter of blood, "an enormous amount," Dr. Murphy explains, which becomes undetectable with treatment.
"We don't really know how big the reservoirs are, but we think they're much smaller than what is floating around [in the blood and plasma]. If we could just activate those cells that are latently infected, we think it's possible to eradicate the virus. It may not be eradicable in every patient, but we think there are some patients who could respond to a therapeutical approach like this.
"If we can decrease the viral reservoir, then we can do an experiment where we actually stop the drugs. But we're not anywhere near that," he said.
Advertisement
The HIV research world still has much to learn about viral reservoirs. Among other things, the best way to measure virus in the reservoir is not known. "There's been a huge amount of attention in the last couple of years in this area," he said. "We're going to certainly learn more about the reservoirs and how to measure the level of virus in them. That's going to be a secondary objective in this process. Maybe there are more sanctuary sites. Maybe it's in the brain. Maybe it's in a place that's not going to be affected by the therapy that we're doing."
In the meantime, with longstanding lack of attention and money, the search for a cure remains behind the eight ball. As such, as small as this study is -- only 28 participants -- it represents a big step forward.
"I don't know anyone who's gotten to the point of doing a study like ours," said Dr. Murphy. "This group we're working with [in France] is the furthest ahead clinically. We're ready to actually test the concept. We've got the drug. We're working with the NIH -- the National Institutes of Health -- and two pharmaceutical companies, and a small biotech company has applied for the parallel IL-7 study [in Europe]. We have several other companies lined up to work with once these studies are done.
"We're giving the NIH adenovirus vector vaccine," he continued. "It's very similar to the Merck vaccine that was used in a prevention trial, and what they found in that study was that the vaccine did not work. Not only did it not work, but patients on the vaccine were more likely to get infected. It's the immune stimulation that was detrimental at preventing the infection that actually may be beneficial in a person who's already infected."
Dr. Murphy said that ultimately, the two therapies -- the immodulatory NIH vaccine and the IL-7 -- may be put together, perhaps with a third drug. "If we see a decrease in the viral particles [at this point], and we're seeing this by measuring HIV DNA in the blood and seeing what happens in the lymphoid tissue of the gut, that alone is a positive sign. And then we have to continue on in that vein," he said.
There's a small chance that stimulating the immune system in this way may backfire. "Could that have a detrimental effect? We don't know. We don't think so, because these drugs are used for other things," said Dr. Murphy. "There's plenty of safety data on them. The adenovirus vector vaccine -- you're not talking about doing multiple doses of this product. It's a relatively short period. So, although you're stimulating the immune system, and that's a potential downside, we're not going to be doing it for a very long period of time. These are pilot studies and the drugs so far have been used and are safe."
If even one of the 28 study participants shows a drop in the reservoir virus mentioned, Dr. Murphy said he would be "ecstatic. That means it can be done."
For more information on the EraMune 02 HIV Eradication study, visit http://globalhealth.northwestern.edu/Projects/Eramune.html. The two other sites are San Francisco (Dr. Steven Deeks) and New York City (Dr. Timothy Wilkin).
Stem Cells, Gene Therapy and More
There are hundreds of studies working towards an HIV cure. Many involve the very early work of basic science, with lots of test tubes in the mix. Others that are much further along, involving actual people, are fewer. Researchers looking for a cure have even created their own conference, the International Workshop on HIV Persistence during Therapy, also known as the "HIV eradication conference." The fifth workshop is scheduled for December 2011.
Contrary to the idea that pharmaceutical companies are not interested in finding a cure when they can make money from selling drugs, there are private firms investigating potential compounds for the cure, as well as ways to do the work that is necessary to establish it, such as looking at how the body responds to HIV. Among these companies is Gilead Sciences, the maker of the successful HIV drugs Viread and Truvada, and one of the two pharmaceutical companies, along with Bristol-Myers Squibb, behind the top-selling antiviral drug, Atripla.
One cure research approach is gene therapy -- can someone's cells be modified so they are resistant to HIV?
The U.S. National Institutes of Health (NIH) is the main player involved in the quest for the cure. In Minnesota, the University of Minnesota took out a full-page ad in a local gay news publication inviting both HIV-positive and -negative people to join them in various studies to figure out why HIV persists and can't be cured through antiviral treatment. Understanding that problem can help lead to a solution.
One cure research approach is gene therapy -- can someone's cells be modified so they are resistant to HIV? What about a stem cell transplant, with cells from someone who is already genetically resistant to the virus?
The American Foundation for AIDS Research (amfAR), has funded cure studies for years. In May, the foundation announced the establishment of a collaborative effort among four research teams in search of a cure. Among the work which received grants: a look into the circumstances of the Berlin patient, a man from the U.S. who appears to have been cured of HIV following treatment of his cancer; an examination into the role of ongoing activation of the immune system in HIV's ability to persist for a lifetime; and attempts to determine which cellular reservoirs are most responsible for the persistence of the virus and the extent to which they can be affected by HIV drugs.
In the conclusion of a report issued in July, the AIDS Policy Project, an advocacy group for cure research, writes, "It comes down to both money and vision -- the vision to imagine a world where people in Philadelphia and Capetown are lining up at clinics not for their monthly allotment of AIDS medication, but for the last AIDS drug they will ever need."
To look into cure studies, visit www.clinicaltrials.gov and search for "HIV eradication."
Got a comment on this article? Write to us at publications@tpan.com.