Appendix A: Assay Procedures
I. Enzyme-Linked Immunosorbent Assay (ELISA)
In the first step of this procedure, patient serum or plasma is added to the viral antigens attached to a solid support and allowed to react. If present, specific antibodies to the virus will bind to such antigens. A series of subsequent steps involving incubation with an anti-human immunoglobulin attached to an enzyme followed by incubation with a substrate will result in the production of a signal (often a color change). This color change is measured by a spectrophotometer, and its relationship to the positive and negative controls of the test serve to quantitate the extent of antibody-antigen complex formation. Between each step of the assay, unbound antibodies or reagents are washed away from the reaction site prior to the initiation of the next step.
II. Western Blot (WB)
Serum is allowed to react with the viral proteins on the membrane, and then an enzyme-substrate reaction is performed to visualize immunoreactive bands. Nine HIV-specific antigen bands are monitored: gp160, gp120,
p66, p55, p51, gp41, p31, p24, and p17. Of these bands, gp160, gp120, gp41, and p24 are the major bands of diagnostic importance.
III. Immunofluorescence Assay (IFA)
Patient serum is reacted with HIV-infected cells and with control uninfected cells in wells on microscope slides. A fluorochrome is used as the indicator system (instead of the enzyme substrate system used for both the WB and the screening ELISA). The use of control wells allows for the detection of nonspecific reactions.
IV. Viral Culture
Incubation of the patient's peripheral blood mononuclear cells (PBMCs) with mitogen-stimulated PBMCs obtained from an HIV-negative donor is allowed to occur. A sample of the growth medium from these co-cultures is routinely removed and tested for RT activity or for the presence of p24 viral antigen. Fresh medium and freshly stimulated donor PBMCs are added as needed to maintain the cultures for up to 1 month. A positive culture is demonstrated by the detection of RT activity or p24 antigen in the supernatant fluid.
V. DNA Polymerase Chain Reaction (PCR)
The individual's PBMCs are harvested, cellular DNA is extracted, and target DNA is amplified using a very specific set of oligonucleotide primers. The reaction progresses through 30 to 35 cycles of denaturation, annealing, and synthesis of new DNA, ending with billions of copies of the target DNA.
VI. Lymphocyte Analysis
Whole blood is incubated with lymphocyte-specific monoclonal antibodies. A lysing reagent is added to remove red blood cells. The cell analysis is then performed, using a flow cytometer, an instrument composed of three interacting elements: a computer, a laser, and a fluidics system. Fluorescent labels attached to the monoclonal antibodies have specific light absorption and emission wavelengths. Each wavelength is characterized by a specific color of light emission. This information is captured, collected, and collated in a computer. Cells, one at a time, pass in front of the laser, producing light scatter and fluorescent light emission. Cell populations are identified and characterized by their size, granularity, and intensity of fluorescence.
VII. Reverse Transcriptase Polymerase Chain Reaction (RT-PCR)
This test uses RNA from an individual's plasma. An oligonucleotide primer specific to HIV-1 is used to synthesize a DNA copy (cDNA) of the HIV RNA. This cDNA is then amplified by PCR for either quantitative or qualitative measurement. Although this procedure is quite specific, its sensitivity may be reduced when the virus strain causing the infection is an HIV-1 group M non-subtype B variant. Generally, HIV-1 group O and HIV-2 will not be amplified or will have a greatly reduced amplification. As with all methods that involve oligonucleotide binding, the genetic differences in HIV-2 strains in comparison with HIV-1 may impair oligonucleotide binding in RT-PCR. For RT-PCR, this can reduce the efficiency of either the RT or PCR step, reducing or preventing amplification even if the amount of HIV-2 virus is high. Similar problems may be observed with HIV-1 group O or even some group M HIV-1 strains, depending on the assay design.
An additional factor for reduced amplification of HIV-2 is that viral loads are generally lower for HIV-2 (i.e., the viral load set point), as determined by assays optimized for HIV-2 quantification, and may possibly explain the lower pathogenicity and reduced amplification of HIV-2 compared to HIV-1. For specific quantification of HIV-2 viral load, an assay designed specifically for that purpose is preferred. However, such assays are limited to those developed in-house by laboratories because no FDA-approved HIV-2-specific viral load assay is presently available.
VIII. DNA Sequencing
In general, a specific region of the HIV RNA is amplified by RT-PCR. Copies of the RT-PCR product are synthesized using a specific oligonucleotide primer and reaction terminators that ultimately result in products that stop at every position along the region of DNA. A fluorescent label is incorporated into these products during the sequencing reaction. The products in the reaction mix are then separated and sorted by polyacrylamide gel electrophoresis and analyzed to determine the order in which the nucleotides occur in the region of interest.
Appendix B: Enzyme-Linked Immunosorbent Assay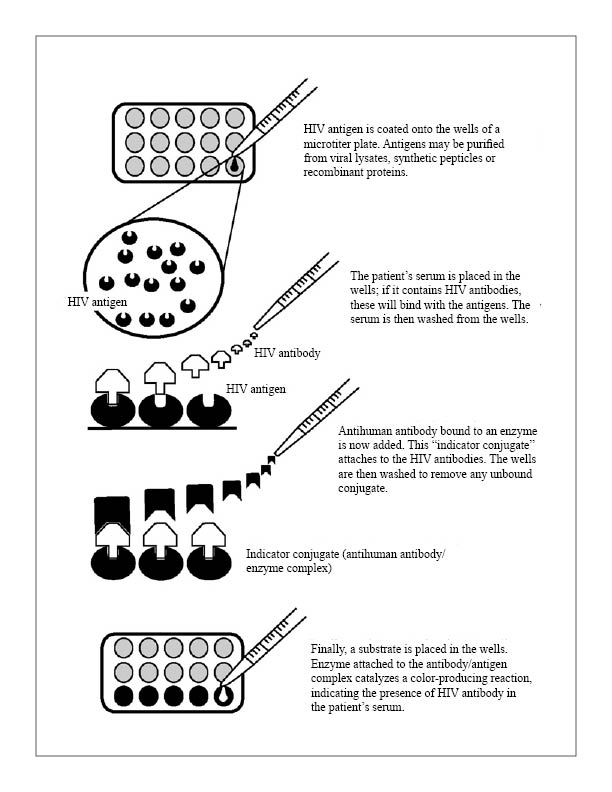 Provided courtesy of Sara T. Beatrice, Ph.D.