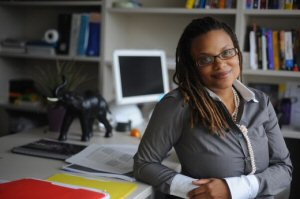 Photo by Kyle Cassidy
Many people quote the old saying, "When you know better, you do better." But some surprising new research suggests that in the Black community, that time-tested maxim ain't necessarily true. While researching her
doctoral dissertation
, Robin Stevens, Ph.D., M.P.H., a senior research associate at the University of Pennsylvania School of Medicine, reached a shocking conclusion about the media's effects upon African Americans: "The more we hear and read about HIV/AIDS, the less many of us are getting tested. Out of sight, out of mind," she says.
This finding is particularly disturbing, considering Centers for Disease Control and Prevention (CDC) data indicating that 56 percent of late testers -- defined as those who were diagnosed with full-blown AIDS within one year after learning they were HIV-positive -- are African Americans. People diagnosed with HIV late in their illness, when the virus has already damaged their immune system, miss out on the opportunity to take medications that treat HIV and slow its progression to AIDS. Curious about the implications of her research, we asked Dr. Stevens about these shocking results.
Advertisement
Will you describe your research?
We looked at health statistics from the CDC on behaviors of African Americans and Whites, and compared them with the coverage of HIV/AIDS in the mainstream news. We followed newspaper and television coverage across the country to see how, if at all, it affected how HIV/AIDS is seen, and how this coverage affected whether people of each race got tested.
What did you discover?
First, we saw that most of the coverage was devoted to HIV/AIDS from an international point of view, not to the epidemic in the United States. This left the impression that AIDS is "an African thing." Second, we found that the more coverage of the general subject of HIV/AIDS by mainstream media, the less African Americans got tested. As important, over the last 10 years there are fewer media stories on HIV/AIDS.
Why do you think Blacks got tested less?
For many Black study participants, the media coverage was seen as a source of shame and embarrassment. As a result, they seem to have gone into denial and dissociated themselves from the story. Whites were more likely to experience news stories as a source of education and information.
What about your findings most interested you?
The results raise big questions about what we all previously thought: that the more the media provided information about HIV/AIDS, the more it would lead to less-risky sexual behavior and more people getting tested. But in the U.S., news coverage of AIDS tends to focus on Africa, and when it is about African Americans, it almost makes it seem like a kind of criminal behavior.
What surprised you most about your results?
That news coverage of HIV/AIDS could actually increase health disparities. With disparities for African Americans being so widely acknowledged, it's puzzling that the health epidemic could be made worse by media coverage that makes people more aware.
What did you learn that you will now incorporate into your life?
As a person who gets interviewed by all sorts of media, I am now always mindful how important it is for me to communicate to reporters that the epidemic in this country cannot be lost in the story. Since finishing, I have paid careful attention to how much the media reports on HIV/AIDS as a local issue, right here in the U.S.
How can the average Black person who wants to take responsibility for helping end the epidemic use this information?
Based on the results of this research, mainstream media have to take a backseat when African Americans look for information that speaks to their unique needs and interests. Black newspapers and Black radio have always been the source of trusted information and news throughout the history of African Americans in this country. This research says to me that they are still valuable tools in the health of African Americans today, especially in terms of HIV/AIDS.
Glenn Ellis is a Philadelphia-based health writer and columnist and author of Which Doctor? What You Need to Know to Be Healthy.