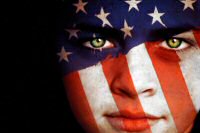 Who's really welcome at IAC 2012?
With the 2010 International AIDS Conference barely a month behind us, controversy is already brewing over who will -- and won't -- be able to attend the conference when it hits Washington, D.C. in 2012.
At the closing of this year's conference, President Obama delivered an enthusiastic video message, welcoming "all" delegates to the capital in 2012. In reality, however, strict U.S. travel regulations ban two groups heavily impacted by HIV -- sex workers and drugs users. The restrictions, if left unchanged, threaten the conference's efficacy as a forum for all, further disenfranchising two of the major populations it claims to serve.
Advertisement
Earlier this month, four human rights organizations sent a
letter
to Dr. Elly Katabira, president of the
International AIDS Society
, requesting that the conference be moved out of the U.S. Meanwhile, the
Conference Coordinating Committee
, the group charged with planning the event, has created a working group that will meet in September to tackle visa policies. While the committee has several options for approaching this issue, none seem to ensure full participation while keeping the conference in the U.S. capital.
What Are Our Options?
One option the committee may explore, according to Phill Wilson, executive director of the Black AIDS Institute and a member of the Conference Coordinating Committee, is to lobby the U.S. to change immigration law before 2012. That's no small task, however. "To be honest there's not a chance in hell," that such a change would happen, said Wilson.
A second option involves moving the conference to a nation with looser travel restrictions. "Logistically that would be very challenging, almost impossible," said Mats Ahnlund, IAS executive director and a member of the planning committee. Having the conference in the U.S. has huge advantages -- more media will attend and more high-powered politicians will pay attention. Many would be loathe to change the venue now. "In the bigger picture, this is where the important research is, this is where the money is," said Ahnlund. "We might get a more efficient response if we're in the U.S.A., and we know that."
The third option -- and what appears most likely to occur -- involves the U.S. issuing waivers for conference delegates who acknowledge sex work or drug use on their visa applications. But this not a solution, said Kelli Dorsey, the executive director of Different Avenues, one of the four sponsors of the Katabira letter. By answering honestly on their U.S. visa applications, these individuals "will have the equivalent of an international tattoo" marking them as sex workers or drug users. While they will be permitted to enter the U.S. for the conference, they then must return to their countries and accept the consequences of this label. Many will risk persecution, even death.
How Will the U.S. Respond?
More than 100 groups have signed Dorsey's letter requesting a change in conference locale.
She suggests removing the questions about sex work and drug use from the U.S. visa application altogether. "The bottom line is, if there are demographics that are so disproportionately affected by HIV and AIDS, and they may not be safe getting into the country or leaving the country after, then the conference needs to moved," she said. "It's a human rights issue."
Conference coordinators have faced visa challenges in the past. According to Ahnlund, government hosts of the last four conferences (Thailand, Canada, Mexico and Austria) have done "their utmost to make it possible for everybody to come to a conference." In Vienna this year, just 1.4 percent of those who wanted to attend were turned away for visa reasons.
A call to the U.S. State Department yielded little information about U.S. willingness to issue waivers.
"It would be difficult for the department to answer any theoretical or hypothetical actions, as the conference is two years away," said spokesman Darby Holladay. "We don't do theoretical."