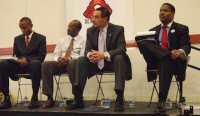 Who will turn the tide in D.C.?
Last night's Washington, D.C. mayoral candidate forum on HIV/AIDS was a success in terms of numbers -- nearly 100 people filled a hall in the city's historic Eastern Market to press would-be mayors on AIDS issues. But the audience left without hearing any concrete solutions to the city's immense HIV/AIDS epidemic.
Sadly, no one in D.C. was surprised. It's been nearly a year and a half since the city's HIV/AIDS office released an epidemiology report that placed the District's prevalence rate as the worst in the nation. But so far, no politicians -- past, present or future -- have made an aggressive attack on the problem a top priority.
Advertisement
"The fact that the mayor didn't even show up, and the fact that none of the candidates brought clear plans about how they'll do things differently than him, it's depressing," said Matt Kavanagh, a member of D.C. Fights Back, one of the forum's sponsors, and a D.C. resident for a decade.
To their credit, four of the five major candidates did show up, crowding a tiny stage to answer questions volleyed by an audience of AIDS advocates, service providers and HIV-positive individuals. In some ways, the cards are stacked: Many of the audience members deal with with the intricacies of HIV/AIDS in the city every day. The politicians, however, are simply that -- politicians who must be knowledgeable about a range of issues. The fact that they even attended demonstrates that they'd hope to make HIV/AIDS a priority. (Mayor Adrian Fenty did indeed skip out.) All four in attendance have pledged to create a comprehensive HIV/AIDS strategy for the city.
Looking for In-Depth Knowledge
But in Washington, D.C., simply showing up isn't enough. The District -- where the HIV prevalence rate is significantly higher than those of Haiti, Ghana and Ethiopia -- is in desperate need of a leader with in-depth knowledge of the way community conditions propagate the spread of HIV.
In response to a question about the recently released National HIV/AIDS Strategy, candidate Ernest Johnson admitted that he wasn't aware such a plan existed. Leo Alexander did propose some ideas. The problem is that they were completely unrealistic, said Christine Campbell, Housing Works vice president of national organizing and one of the forum's moderators.
(One idea: Implement universal testing at the Department of Motor Vehicles and then label licenses by HIV status. Another: Provide $15 million to end housing wait lists in D.C. "Where in the world are you going to get that money?" said Campbell. "These are pie-in-the sky ideas.") Sulaimon Brown was also in attendance.
Next to Fenty, Vincent Gray, the current council chairman, has perhaps the deepest résumé when it comes to HIV/AIDS in the city. During his first term on the council he spearheaded the Effi Barry HIV/AIDS initiative, which provides grants to organizations that want to integrate HIV/AIDS programming into their activities. He's also the former director of Covenant House, a privately-funded agency that provides food, shelter and crisis care to homeless (and sometimes HIV-positive) youth.
If anything, the forum served to educate voters about what the candidates do (and don't) know about the crisis in their own neighborhood. Advocates plan to challenge the candidates to explain exactly how they'll expand needle exchange programs, promote condom use, eliminate housing wait lists, create a concrete comprehensive sex education curriculum, increase testing and chip away at the crisis ravaging our nation's capital.
"I honestly didn't expect any of these guys to be the expert on the issues," said Larry Bryant, Housing Works national organizing coordinator. "But what I did want to hear is: Who has a comprehensive understanding of this epidemic as a community problem? I wanted to know, who understands that we need to examine the community problems that we have here in D.C. -- that means homelessness, and poverty and other disparities -- in order to address HIV? And really, none any of them put that together."