AIDS 2010 Session Meshes Research on Pos-Neg Relationships With Personal Stories
Table of Contents
Sero-different couples (or magnetic couples, or serodiscordant couples, or mixed-status couples, or whatever your favorite name is for an intimate pairing of people who don't share the same HIV status) have existed since the beginning of the HIV epidemic. There hasn't been much exploration into how these couples make their unique relationships work -- either from the more obvious HIV prevention angle, or on a psychosocial level: What sorts of stresses does each partner face? How do they talk about HIV with their respective families, and with their children? And what about gay couples, who are left to draw conclusions about their relationships from an already paltry pool of literature that's overwhelmingly focused on heterosexuals?
Advertisement
The body of knowledge is slowly growing, though; and in this session at AIDS 2010, partners in sero-different couples gathered with researchers in the field from all over the world, to share what they've all learned.
The moderator of the session was Christo Greyling, a Dutch Reformed minister who's the HIV-positive half of a sero-different couple. (I was about five minutes late to the session so if he told the crowd this, I didn't hear it; but I recognized him from his AIDS 2008 video interview with TheBody.com, in which he talks about his own experiences conceiving his daughters with his HIV-negative wife. He talks about those experiences starting at the 8:30 mark in the video!)
The session had an even braid of research findings and personal testimony that's rare in a conference presentation on any subject. However, I'm going to unravel that braid to make it easier for those interested in research to skip to the descriptions of those presentations. For further reading, the U.S. Positive Women's Network put together an excellent recap and perspective piece on some of the research presented at this session. The listing below is not in the exact order of the original presentations.
In some cases, if you click the links on the titles of each part of the session, you can listen to their presentation along with the slides on the AIDS 2010 Web site -- if you're willing to download a little piece of quick-to-load, free Microsoft software.
"Living the Sero-Different Life"
Positive and Negative Sex: Sex Realities and Perspectives
"Sex" may appear twice in the title of the kickoff portion of the session, but in the presentation itself there was much more talk of love. The speakers were Major Rubaramira Ruranga and his wife, Eva Nkoba Kanyiginya, both from Uganda.
Major is not this stately, lyrically spoken gentleman's first name -- though that's what the panelists and question-askers ended up calling him. It's his rank in the Ugandan military. He was diagnosed with HIV in 1989, and to date he's the highest-ranking military officer in the world to go public with his HIV-positive status.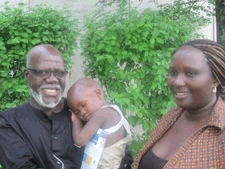 Eva Nkoba Kanyiginya; her husband, Major Rubaramira Ruranga; and their son, Rolf Ruranga.
Major's wife, Eva -- whom he refers to as "my friend, my love" -- spoke next on the panel. She's HIV negative, but she lost her mother, father, brother and uncle to AIDS complications before she was 16. Utterly alone in the world, she proceeded to have two children (now in their teens), fathered by men she took up with in order to survive.
She and Major met when he came to her job to speak about his HIV status, which alone was unheard of to her. "Though elderly, he looked strong and happy" reads a line from her session slide describing the day the two met. The span between their ages is significant indeed -- Eva is 33, Major is 62 -- but the level of respect that's apparent when they speak to one another makes it easy to forget the difference. I'll let you see for yourselves, though, in this video of Major and Eva -- complete with surprise cameo by their 1 1/2-year-old son, Rolf.
Living With Sero-Difference: Intimacy, Condoms and Support
Monique Tondoi, a feminist activist from Kenya, was next to share her personal experiences on the panel. It's definitely worth listening to the audio if you're able. Tondoi has been living with HIV for 16 years and has been with her HIV-negative husband for 20, and according to her, they still argue about condom use because he doesn't want to use them. Her teenage children still sometimes slip into believing societal myths about HIV transmission, even with an outspoken, educated, HIV-positive mom at home.