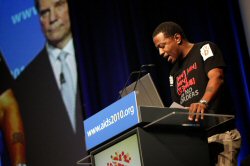 Bryant closes the ceremony.
In a speech delivered to thousands, Housing Works' Larry Bryant helped close the International AIDS Conference in Vienna on Friday, calling on the global AIDS community to turn a critical eye to HIV/AIDS policies coming from the host of the 2012 conference -- Washington, D.C.
"My hometown of D.C. has an extraordinary opportunity as a host city," he said. "We have a unique and challenging task to set a global standard. Before that can happen, however, the District of Columbia, led by Mayor Adrian Fenty, has a severe mess of an epidemic to address."
At least 3 percent of those in the nation's capital are HIV-positive, making Washington, D.C.'s incidence rate higher than any other city or state in the country. That number far exceeds the 1 percent threshold that comprises a "generalized and severe epidemic," according to the Washington Post, and puts the District's rate at the same level as that of Uganda and some parts of Kenya.
During Bryant's speech, a group of Housing Works activists jumped from their seats and paraded in front of the stage, carrying posters burnishing critical messages about HIV issues in the U.S. In the ceremony's front rows, international AIDS policymakers applauded the action. Jeff Crowley, U.S. director of the Office of National AIDS Policy, watched from the stage.
Advertisement
"Really, Really Shocked"
While protestors repeatedly criticized the U.S. this week for not living up to promises to ramp up global AIDS funding, the U.S. is still -- by far -- the largest contributor to the Global Fund to Fight HIV, Tuberculosis and Malaria, accounting for 58 percent of contribution.
Bryant's speech, therefore, surprised several conference-goers who were unaware that the U.S. continues to battle high HIV-prevelance rates and major AIDS funding shortages.
"We in Africa, when we see the U.S., we think it's the leader," said Hatim Mustafa, a doctor from Sudan. "Three percent positive? I'm really shocked. Really, really shocked. When I see this picture, I will never follow the U.S."
Who's Welcome in 2012?
Several closing ceremony speakers, including outgoing International AIDS Society President Julio Montaner, turned attention to U.S. border policies that will restrict attendance at the 2012 conference.
For nearly two decades, a policy banning HIV-positive individuals from entering the U.S. has prevented the country from playing host to the event. Obama lifted that ban in late 2009 ("If we want to be the global leader in combatting HIV/AIDS, we need to act like it," he said at the time), to the cheers of activists who called the policy draconian and discriminatory.
But the U.S. continues to restrict entry for those with drug use or sex work on their records. While leaders and protestors at the 2010 conference have put a special focus on achieving human rights for the most unpopular populations affected by or at risk for HIV -- making human rights "Right Here, Right Now" the event's official theme -- the 2012 conference threatens to bar those very individuals from attendance.
"We ask you to do more to help marginalized groups affected by HIV and AIDS," Montaner said, directing his comments to Obama, "including sex workers and drug users."
Bryant was more direct in his approach. The U.S. has nearly 2,500 people sitting on wait lists for critical AIDS drugs. Obama's recently released National HIV/AIDS Strategy sets a goal of reducing domestic HIV infections by just 25 percent over five years, meaning the nation would still have at least 42,000 new infections in 2015.
If the president does not more aggressively address HIV/AIDS, Bryant said. "We will shame you at the 2012 International AIDS Conference in Washington, D.C. -- in your backyard. "
See Bryant speak at minute 1:40:00