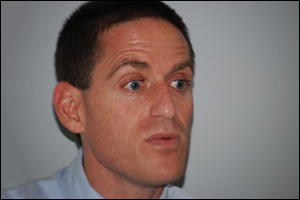 Photo Credit Ann Ragland
Vienna, Austria -- The Centers for Disease Control and Prevention (CDC) released a study Monday showing that although African-Americans are eight times more likely to contract HIV than Whites, among impoverished inner-city heterosexuals, poverty is such a driving force that the HIV infection rates are roughly the same for African-Americans, Whites and Hispanics.
"These findings have significant implications for how we think about HIV preventions," Dr. Jonathan Mermin, director of the CDC's Division of HIV/AIDS Prevention, said in a statement. "This analysis points to an urgent need to prioritize HIV prevention efforts in disadvantaged communities."
Under the recently-announced HIV/AIDS national strategy, federal agencies have been directed by President Barack Obama to shift more resources to groups that need them the most. In addition to high-risk groups, such as men having sex with men and African Americans, poverty will now be looked at as a major risk factor. The federal government spends more than $19 billion each year on HIV and AIDS.
The CDC findings were released here at the XVIII International AIDS Conference. The study, conducted between 2006 and 2007, included results from more than 9,000 heterosexual adults in 23 cities, about 77 percent of them Black. Certain census tracts with a poverty rate of at least 20 percent were selected to conduct the study, which excluded high-risk groups such as men having sex with men and intravenous drug users. Because the study intentionally excluded gay and bi-sexual men, the largest group of infected people, researchers cautioned others about drawing broad conclusions about HIV infections in general.
Earlier CDC research showed that although African-Americans represent nearly 13 percent of the U.S. population, Blacks are 46 percent of all people living with HIV and 45 percent of all new HIV infections; Black women represent 66 percent of all new HIV cases among women; and although African-American teenagers represent only 15 percent of U.S. teens, they account for 68 percent of all new AIDS cases among adolescents. In addition, a study conducted in five major cities showed that Black gay and bisexual men are more than twice as likely to be infected by HIV than their White counterparts.
Advertisement
In an interview Sunday with a group of African-American reporters assembled by the Black AIDS Institute, Mermin stated, "There is nothing biological that has caused African-Americans to have such a disproportionate rate of HIV infection. It's the social, it's the economic, it's the epidemiological environment in which people live."
He added, "There are multiple factors associated with HIV infection in the United States. One of the main factors is race. In addition, even among African-Americans, poverty is also a risk factor, as it is with others."
According to the National Poverty Center at the University of Michigan, in 2008, 24.7 percent of Blacks lived below the poverty line, compared to 23.2 percent of Hispanics, 8.6 percent of non-Hispanic Whites and 11.8 percent of Asians. Poverty was defined by the federal government in 2009 as a family of five living on $25,603 a year or less.
Perhaps the most surprising finding of the study was that heterosexual Blacks and Whites living in communities with at least 20 percent of its residents living below the poverty line had essentially the same HIV infection rates.
"Poor Whites and poor Latinos living in those areas have much higher rates of HIV infection than they do outside of those areas," Mermin said.
But the study raises as many questions as it answers.
"Why poverty is associated with HIV infection among African-Americans and even moreso, perhaps, among White Americans and Latino Americans?" Merimin asked. "That's something we need to look at."
George E. Curry, a syndicated columnist, is former editor-in-chief of Emerge magazine and the NNPA News Service.