There's nothing like hearing the results of studies directly from those who actually conducted the research. In this interview, you'll meet one of these impressive HIV researchers and read her explanation of studies she presented at the 5th International AIDS Society Conference on HIV Pathogenesis, Treatment and Prevention (IAS 2009). This interview took place at the conference on July 21, 2009.
My name's Leslie Shelton and I'm a Ph.D. candidate in physics at Brown University in the United States. I've collaborated with a doctor from the Brown Medical School on various circumcision devices.

Leslie Shelton
Initially, the doctor I work with did a lot of circumcisions. He was a general practitioner in the Navy, and he did all the neonatal circumcisions. He couldn't stand the clamps that were being used because they left room for error, i.e., there's the possibility of laceration and there's a possibility of amputation -- a lot of things along those lines. So several years ago he went into his basement and re-engineered a tool that he thought took care of every single possible problem. You don't need a dorsal slit. You don't have a chance to cross-infect. That was his project.
We have that tool, and he didn't distribute it or do much with it. Then this study came out about the correlation between circumcision and lower HIV rates in Africa1 and he got re-motivated. That's what we have. It's called the AccuCirc. It is the only tool I've ever seen of its kind. It's impossible to cross-infect because, once you use it, you can't reuse it. It is the cheapest tool I've ever seen. It's totally self-contained; all you need is a table and you can use it.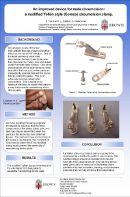 Click to enlarge

David Tomlinson et al. IAS 2009; abstract TUPEC065. Reprinted with permission.
We've used it in a couple of clinics in Nigeria, one in Ile Ife and one in Ibadan. They've been using it for some time now. There have been hundreds of cases. They've come out perfectly well.
Since then, we've gotten FDA [U.S. Food and Drug Administration] approval and two hospitals are using it in the United States. What these two posters are showing are along those lines, so it's a whole line of circumcision tools. It's not just one tool.
We decided that these tools are possible for those who are already used to using tools. Some people are used to their product and their system and they might not want to change it. We decided to go through the other tools that are most popularly used and re-engineer them to have all the safety features we wanted, but to aesthetically look the same and to be completely functionally the same, so you wouldn't have to change your procedure.
The first poster is called "An Improved Device for Male Circumcision: A Modified Yellen Style (Gomco) Circumcision Clamp."2 That is just like the typical Gomco clamp that's most used in the United States and in several other countries. It just has these added security features where you cannot mismatch device parts. That's one of the main problems with this tool. If you do, if you use a smaller bell than plate size for example, it is possible to amputate the head of the male penis. That's been eliminated.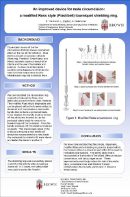 Click to enlarge

David Tomlinson et al. IAS 2009; abstract TUPEC066. Reprinted with permission.
Then we've redone the Plastibell -- which is one of the cheapest -- and often used in developing countries or resource-limited countries.3 We've made it so that it's completely self-contained. You don't need the various tools that come with it, hemostats, scissors, any of it. You don't need a dorsal slit. It has this kind of fancy, but very cheap, circular plastic contraption that kind of swirls the foreskin up on top of it, so you've eliminated all the other tools that are necessary.
Why do you need a clamp in the first place when you're doing circumcision?
As opposed to just using a blade?
Part of the idea is now that there's this correlation with HIV, the World Health Organization and UNAIDS convened in March of 2007, and recommended circumcision for HIV prevention meeting certain criteria. There wasn't yet a tool that did it. There wasn't yet a method. If you want to put circumcision on a mass level into a new place that's not used to it, you really need something that doesn't have a lot of these catastrophic dangerous side effects that can come with it. I know of some tribes in Africa and there are some Jewish traditions where you literally just use a blade. They call a person who does it a "mohel" in the Jewish tradition. I believe that they do sometimes just use a blade because they've been doing it for years and they're used to it. But this tool was supposed to be designed so that there couldn't be any mistake made. You didn't need to be a professional. Why allow room for error when you can do it just as cheap as those things and not have it there?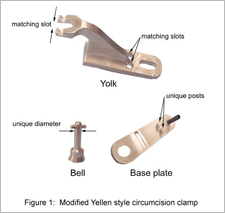 Click to enlarge



Advertisement

Modified Yellen style (Gomco) circumcision clamp. From David Tomlinson et al. IAS 2009; abstract TUPEC065. Reprinted with permission.
Have there been groups that are used to doing it with traditional methods that have been introduced to this clamp?
Yes, the doctors in -- I believe it's Ibadan, but it might be Ile Ife -- they were used to old methods. I think typically they used the Gomco and that's what they used in their clinical setting, which is one of the ones that's been revamped. But they were familiar with all the various styles and with all the other clinics that use the other methods. And they are now only using the AccuCirc.
How have they responded to that?
They love it. Actually, in developing it, once we came in contact with them and put it into their clinic, they kept giving us feedback I mean even down to the aesthetics, they were really involved in saying, "This is how we want it to be." Our goal was really to appease other users. So we worked with it until it ended up the way it is. They are completely happy with it and have chosen not to use anything else.
Do you think it will have to be adapted to different groups that are used to different ways? Or is it kind of a uniform style that can work?
I'm not a physician, so being introduced to this and seeing all the different tools that are used, I think it's the most obvious and easy to use. It's literally a handlebar that you click, and it works. I personally think it is easier, but fortunately because, like I said, it's designed with these safety features that you really can't mess it up in trying to figure it out. But like anything, no matter how easy, someone has to see it first. I mean there's some level of adaptation to anything.
Do you think you actually could walk me through the steps of how to use it?
There are three pieces to this. One is the bell. One is the base plate. And one is the yolk. And this is the standard Gomco. What you do, initially, you usually make a dorsal slit where you take a pair of scissors and you cut down the foreskin and you pull the foreskin up over this bell. Often times -- and this is literally in the best of hospitals -- they use a safety pin and they hold together the part that they just slit. You're sitting on top of this bell, and you need to pull the bell through the base plate where this hole is. You put the yolk on top of it. The hole is not quite big enough for the bell to go through. That's where the crush is going to be made for the foreskin, so as you twist on that onto the back of the yolk, tightening it down on the back, you're pulling the bell up through the base plate. You're basically crushing the skin and this is to stop any bleeding. It [cuts the circulation right there. Then you take a blade and you go around it. That's how the standard Gomco works.
Like I said, there's the possibility of laceration with the dorsal slit. There's the possibility of amputating by just using wrong pieces together. We've designed little safety features that are unique to each piece, so you can literally only use the bell that goes with the right plate, and only use the yolk that goes with the right yolk. That's something that's never been done, but the tool's been used for so long, it really should have been.
This is another revamped tool, the Plastibell. The Plastibell looks kind of like this. It's a piece of plastic. You still need the dorsal slit. You cut it. You pull the foreskin up. But then you tie like a little band or rope around it and literally the baby goes home with this thing on him for however long it takes to fall off. I think it's like a week, or two or something. But ours just eliminates the need to take scissors and cut down it. It's like those old egg dippers from Easter, like a circle with a little slot in it. You literally pull the foreskin up and you put the slot of that circle over the part that you pulled up and by just twisting the handle, you can literally make the foreskin go up over this contraption. Really simple, but really clever idea and now you don't need to cut it. No incision, no cutting, no anything. And it's self-contained like that.
Great. Thank you so much.
You're welcome.
References
Wawer M, Kigozi G, Serwadda D, et al. Trial of male circumcision in HIV+ men, Rakai, Uganda: Effects in HIV+ men and in women partners. In: Program and abstracts of the 15th Conference on Retroviruses and Opportunistic Infections; February 3-6, 2008; Boston, Mass. Abstract 33LB.
Tomlinson D, Shelton L, Caldamone A. An improved device for male circumcision: a modified Yellen style (Gomco) circumcision clamp. In: Programs and abstracts of the 5th International AIDS Society Conference on HIV Pathogenesis, Treatment and Prevention; July 19-22, 2009; Cape Town, South Africa. Abstract TUPEC065.
View Poster: Download PDF
Tomlinson D, Shelton L, Caldamone A. An improved device for male circumcision: a modified Ross style (Plastibell) tourniquet shielding ring. In: Programs and abstracts of the 5th International AIDS Society Conference on HIV Pathogenesis, Treatment and Prevention; July 19-22, 2009; Cape Town, South Africa. Abstract TUPEC066.
View Poster: Download PDF