Why Some People Can't Get HIV and an Explanation of CCR5
Some people don't understand how HIV enters a cell. Could you explain that and why CCR5 is important?
Any virus, any bug that you get infected with only does you damage because that bug has gotten inside your cells. If it's floating around not activating anything, not harming anything, it's irrelevant and it's going to get washed out.
HIV gets into critical cells of the immune system -- the T cell, basically -- through two doors. One door is called CD4, and that's why we count CD4 cells. But the critical door is called CCR5. If you don't have CCR5 sitting on top of your T cells, it is virtually impossible for you to be infected with virtually all strains of HIV.1
So, by having this mutant given by this donor, the person's cells are resistant to being infected with HIV. You could ask, "It's a mutation that is found only in about 1.5 percent of Caucasians, 4 percent of Scandinavians. Why is it there? Where'd it come from? Is it harmful?"
Martin Delaney on a Cure for HIV/AIDS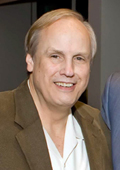 One of the strongest advocates for an HIV/AIDS cure during the last few years was Martin Delaney, the founder and longtime director of the HIV advocacy/education organization Project Inform. Before his death in late January, we had a chance to talk to him about a cure for HIV/AIDS. He offered interesting insights into the Berlin case and discussed what he thought the chances are for a cure anytime soon.
We know it prevents HIV, but surely evolution didn't create this mutation just to stop one from getting HIV 100,000 years ago (or whenever it's perceived that Caucasians and Asians separated from Africans in the cradle in Africa).
Truthfully, we don't know why. The hypothesis has always been that there must have been some huge epidemic way back when that was present in Western Europe, in Scandinavia, that didn't occur in Asia and didn't occur in Africa, that wiped out so many people who didn't have this kind of spontaneous mutation.
Therefore, among the people that were left to breed, many, many more of them had this mutation. At this moment, we may never know what that catastrophe was tens of thousands of years ago that could have protected some people that had this mutation, and led to the death of so many others.
The Black Death [bubonic plague] obviously comes to mind, but people have tested the bacterium that we believe caused the Black Death in the 13th, 14th to 15th centuries and it's unrelated to CCR5, so we may never know.
But anyway, CCR5 is the key door for HIV to get into a cell. And the delta32 CCR5 mutation means the door ain't there. There's no way for the virus to get in. Therefore, it just kind of knocks around helplessly and eventually dies off.
I know people who were exposed to HIV repeatedly, but for some mysterious reason, weren't infected. Have there been any studies to see if such individuals have that mutation?
Absolutely. It was one of the very best things to have come out of a study that the U.S. government started a long time ago called the Multicenter AIDS Cohort Study [MACS]. MACS followed large numbers of predominately gay men in six centers throughout the United States, asking them everything about their lives and testing them at regular intervals.
Advertisement
It was discovered that there was not a small number of men who were having unprotected anal intercourse with people known to be HIV positive, and yet did not become infected themselves over the course of months or many years.
Their blood samples had been stored away, and with their permission, these blood samples were tested for the CCR5 mutation. In fact, some of these blood samples assisted scientists at the NIH [U.S. National Institutes of Health] in discovering CCR5 in conjunction with scientists funded by amfAR.
The disappointing news is that out of 100 people that are like that (i.e., they've had unprotected sex for many, many years and haven't gotten infected), maybe only 5 percent of them are explained by this CCR5 mutation. For the vast majority of people that are like this, we have no idea why they're protected.
So it could be another mutation?
Most of us believe it is another mutation. You can absolutely bet that there are many, many people working through these registries, trying to discover what those other mutations are. There have been a couple of hints, but so far, no slam dunk as with CCR5.
I think this is information that's going to be useful when talking about what a cure would look like and how we're eventually going to get there. It'd be nice to have more than one avenue. CCR5 is basically our major link right now. Hopefully, that kind of research will give us other links.