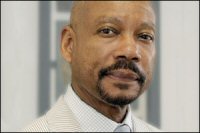 In October 2009 the Obama administration announced its decision to end the ban prohibiting HIV-positive people from traveling and immigrating to the United States. The highly celebrated change took effect January 4. We asked Frank J. Oldham Jr., president and chief executive officer of the National Association of People With AIDS (NAPWA), for his thoughts on how this important policy change might affect Black America's fight against AIDS.
Why was ending this ban so important?
A civil rights issue has been addressed for minorities, gay people and women of all colors with HIV. It's long overdue. It was a completely backward policy.
How will this change impact Black people -- both HIV-positive and HIV-negative -- particularly in the United States?
When someone dies of AIDS, they're really dying of poverty, racism, homo-hatred, stigma around substance abuse and no health care. African Americans make up 13 percent of the U.S. population and [almost] 50 percent of the AIDS population. Lifting the ban helps remove stigma and saves lives. NAPWA represents 1.1 million Americans living with HIV, over 50 percent of them Black, and we don't want them to progress to AIDS, [but they can] if they don't get care. Lifting the ban ensures that we can learn from people overseas how to best get people into care and keep them there.
Advertisement
What possibilities exist now for Black people that didn't exist before?
The ban said that HIV is so horrible that if you [have HIV and] have family in other countries -- whether it's Trinidad, Jamaica or a country in Africa -- and you left this country, you could [have trouble] getting back in. If you had your meds and they saw them at the airport, you could be stopped. It's a total outrage. They were increasing AIDS stigma. The ban was an obvious injustice and violation of civil rights.
What do Black Americans stand to learn from Black people fighting AIDS around the diaspora?
We can learn so much, for example, from countries in Western Europe, where the AIDS epidemic has not grown like ours. When you look at the infection rate in Washington, D.C., and compare it to HIV infection rates in London, Paris, Copenhagen and other Western European capital cities, we should be totally ashamed. There is also a lot to be learned from Africa, and a lot that we can offer in terms of controlling and ending their epidemic. Letting HIV-positive people from other countries into the U.S. who can present us with HIV interventions that are effective and have been evaluated, [helps us make] a stronger case to [encourage] the CDC to develop and implement similar interventions in the United States. Banning people with such experience and expertise has erected an iron curtain of fear, and it has been deadly. This is especially true for gay men of all colors. I think that we should take every opportunity possible to learn more about access to care and how to stop HIV so that people don't progress to AIDS.
What are the implications for Black Americans now that the International AIDS Conference will be held in Washington, D.C., in 2012? Does holding the conference in D.C. have implications for D.C.'s beleaguered AIDS-prevention efforts?
I think it's a dynamic and powerful statement. The District, which is 80 percent Black, has the highest HIV infection rate in the country. It is an example of the African American AIDS epidemic at its most tragic. With Washington being the capital of the U.S., having other countries come here can energize the domestic agenda. We have people of color in powerful places -- African American people who understand the epidemic. We have those allies, and we need to work with them.
What should members of the AIDS community, particularly its leaders, do to continue the momentum of this decision?
AIDS activists can help with health care reform and ending poverty and [can] support the Obama administration. We don't need to be so critical of the administration that we shoot ourselves in the foot. The AIDS community should embrace a new AIDS activism -- a constructive and positive engagement with our allies in government. Rather than picking apart their decisions, we should work with and support them to get the best care and programs for people living with HIV/AIDS. It's a once-in-a-lifetime opportunity.
Nicole Joseph is a Chicago-based journalist and media researcher.