Introduction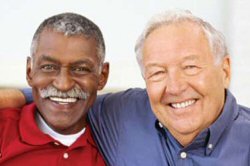 Of the more than one million people in the U.S. who have been diagnosed with AIDS, over 12% were over 50 at the time of their AIDS diagnosis (19% of those diagnosed with AIDS in 2005 were over 50). Older African-Americans and Latinos are particularly vulnerable: Rates of HIV in persons over 50 years of age are 12 times higher among African-Americans and five times higher among Latinos than among whites.
Two factors account for much of the increase in AIDS cases in older adults. First, more effective HIV treatment has prolonged life, and second, there has been an increase in the number of new infections in people over 50, due primarily to unprotected sex. In 2001, 13% of newly infected people were over 50. By 2005, this had risen to 16%.
New Infections in Older Adults
The U.S. is not the only country seeing this increase. Similar trends have been documented in France, England, Italy, China, and elsewhere. Reasons for this include:
High rates of divorce and separation that lead to new relationships
Internet dating
International travel
Medications for erectile dysfunction (ED), like Viagra. As these meds enable more older men to remain sexually active, older women are not being offered risk reduction interventions.
After menopause, women's vaginal tissues thin and natural lubrication decreases. This can increase the risk of microtears and of sexual transmission of certain diseases.
Older people are less likely to use condoms because:

They don't consider themselves to be at risk for STDs.
They are no longer concerned about becoming pregnant.
Few older adults were educated that condoms should be part of their sex lives.
Physicians rarely talk to older patients about sex or other risk behaviors.
Research on Unsafe Sex
Four studies have examined sexual risk behavior in HIV-positive older adults.
ACRIA's 2006 Research on Older Adults with HIV (ROAH) study of 914 older adults with HIV in New York City found that half had been sexually active within the last three months. The type of sexual activity reflected their gender and sexual orientation, with oral sex being least common in heterosexual women (63%), vaginal sex being most common in heterosexual men (89%), and anal sex being most common in gay men (71%).
Of those who were sexually active, 39% had sex exclusively with HIV-positive partners. Fewer (29%) had sex only with partners who had a negative or unknown HIV status, and 32% had sex with HIV-positive and -negative partners or those of unknown HIV status. Most of those who had sexual partners reported having only one (77%), and 23% had more than one. Unprotected anal or vaginal sex occurred in 33% of those who were sexually active in the last three months, and in half of those instances, it occurred with a partner who was not known to have HIV.
A 2007 study of 356 men with HIV who were over 49 found that 42% of those who were sexually active had engaged in one or more sexual acts without a condom in the last six months. Those who had sex without a condom, multiple partners, or sex in exchange for money or drugs also reported more frequent alcohol use and the use of ED meds.
A 2008 study looked at sexual risk behaviors in 210 sexually active HIV-positive adults in Miami who were over 45. Of the men, 46% had had more than one sexual partner in the preceding six months and 60% had had at least one sexual encounter with someone who was HIV negative or whose HIV status was unknown. A lower percentage of women (14%) had more than one partner in the six months, and 61% of women who were sexually active had sex with a partner of negative or unknown HIV status. Twenty percent of all participants reported inconsistent condom use, and 17% of participants who reported sexual contact with a partner of negative or unknown HIV status used condoms inconsistently. Older adults who reported inconsistent condom use reported a more negative mood, multiple sex partners, and more years of education. The researchers concluded that therapeutic interventions targeting mood state may improve condom use in older adults with HIV.
Another 2008 study looked at sexual activity and condom use in 290 HIV-positive adults over 50 living in New York City, Columbus, and Cincinnati. Of the 38% who had been sexually active in the past three months, 26% used condoms regularly, 7% used condoms irregularly but had sex with only HIV-positive partners, and 6% used condoms irregularly with at least one partner of HIV-negative or unknown status.
Rates of sexual activity, however, differed by sexual orientation and gender. While only 36% of gay/bisexual men and 21% of heterosexual women had had sex in the past three months, 72% of heterosexual men had been sexually active during this same time period. Among gay and bisexual men, inconsistent condom use was associated with being less knowledgeable about HIV transmission, having better cognitive functioning, and having lower annual incomes. Among older heterosexual men, inconsistent condom use was associated with increased loneliness. Among older heterosexual women, it was associated with being less knowledgeable about HIV transmission.
The research team highlighted the importance of not treating HIV-positive older adults as one large homogenous group when developing sexual risk reduction interventions.
Sexual Risk Reduction
While risky sexual behaviors in older adults with HIV have been studied, remarkably little research has attempted to develop interventions to help them refrain from high-risk behaviors. One study at the University of Pennsylvania examined an intervention to increase condom use in 60 older HIV-positive African-American men who have sex with men. Surveys were completed before the intervention, immediately after, and three months later.
The research team first conducted focus groups to develop an age-appropriate intervention, tested the survey, and then actually tested the intervention. The 60 participants were assigned to either an HIV risk-reduction intervention or a health intervention. Each intervention consisted of four two-hour sessions delivered over four weeks in a classroom-like setting. After the intervention, men in the risk-reduction group were twice as likely to use condoms consistently as those in the health intervention.
Mental Health Interventions
The mental health needs of older adults with HIV are diverse and complex. Roughly 25% of people with HIV over 50 have "moderate" or "severe" depressive symptoms. One study of 113 people with HIV over age 45 found that 27 said they had suicidal thoughts in the previous week but would not carry them out. Two said they would like to kill themselves, but none said they would commit suicide if they had the chance. Unfortunately, very little research has aimed at developing age-appropriate interventions.
At the Ohio University College of Osteopathic Medicine, we tested whether a 12-session group intervention delivered via teleconference could improve quality of life in 90 older adults with HIV. In this study, half participated in the intervention immediately and half after the first group finished. Compared with those who had not yet received the intervention, those in the first group reported fewer psychological symptoms, lower levels of stress, and improved skills to cope with stress.
Effective Interventions
No interventions developed for older adults are available, and simply using another intervention not designed for older individuals is unlikely to be helpful.
As of 2009, no sexual risk reduction or mental health intervention that has been shown to be effective with HIV-positive older adults is available to AIDS service organizations or other agencies that work with older adults. The Diffusion of Effective Behavioral Interventions (DEBI) program is a federal strategy that makes 26 different interventions available to state and community HIV/STD program staff (effectiveinterventions.org). The majority are designed for the African-American community, injection drug users, or adolescents. This is understandable given the extent to which these communities have been affected by HIV. But no interventions developed for older adults are available and simply using another intervention not designed for older individuals is unlikely to be helpful without first being specifically tailored and adapted.
One DEBI program (Sister to Sister) is a brief, 20-minute, individual risk-reduction intervention for African-American women 18 to 45 years of age. It is unclear why the original research did not include women over 45. Several programs have age limits associated with them. For example, TLC (Together Learning Choices) is for persons 13 to 29 years old, while SIHLE (Sisters Informing, Healing, Living, and Empowering) is a peer-led social skills training intervention for African-American teenage females. Clearly, interventions of this genre are unlikely to apply to older persons affected by HIV.
Conclusions
Older adults account for an increasing number of HIV infections and AIDS cases in the U.S. Indeed, approximately one in six people with HIV in the U.S. is over age 50. Sexual risk-reduction interventions are urgently needed that can prevent HIV-negative older adults from contracting HIV and enable older adults with HIV to remain safe.
Interventions are also needed to improve the quality of life of older adults with HIV. These interventions must carefully consider the unique physical, social, and emotional characteristics of older individuals. More research is needed on how to reduce risky sexual behaviors and improve psychological functioning in older adults with HIV. Finally, proven interventions are needed so that AIDS service and older adult organizations can offer these programs to their clients.
Timothy Heckman is a Professor of Geriatric Medicine/Gerontology and the Director of the Center for Telemedicine Research and Interventions (CENTRI).
Want to read more articles in the Fall 2009 issue of Achieve? Click here.