An Interview With Edwin DeJesus, M.D.
There's nothing like hearing the results of studies directly from those who actually conducted the research. In this interview, you'll meet one of these impressive HIV researchers and read his explanation of a study he presented at the 49th Interscience Conference on Antimicrobial Agents and Chemotherapy (ICAAC 2009).
This is Edwin DeJesus. I'm the medical director for the Orlando Immunology Center.
I had the opportunity to present the metabolics study for the STARTMRK trial,1 which compares the use of raltegravir [RAL, Isentress] 400 mg BID [twice daily] versus efavirenz [EFV, Sustiva, Stocrin] 600 mg QHS [before bedtime] in combination therapy with the fixed-dose co-formulation [i.e., Truvada] of FTC [emtricitabine, Emtriva] and tenofovir [TDF, Viread].2 The results of the safety and efficacy data have been reported up to 96 weeks.
Are these treatment-naive patients?
These are treatment-naive patients, correct. The efficacy and safety results have been presented in other presentations. Here is a subanalysis -- a metabolic and body composition analysis -- where we looked specifically at changes in lipid parameters and changes in body composition.
After 48 weeks, we see that there's an increase in total cholesterol, HDL [high-density lipoprotein], LDL [low-density lipoprotein] and triglycerides, all of which were statistically significant in the efavirenz arm versus in the raltegravir arm.
We also did an analysis to see how many of those lipid elevations resulted in patients with levels that are above the NCEP [National Cholesterol Education Program] guidelines. We observed that there was a small percentage of patients that had triglyceride elevations in the efavirenz arm that were above the NCEP guidelines.
Was this known about efavirenz before?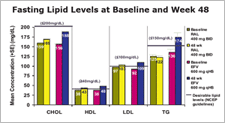 Edwin DeJesus et al. ICAAC 2009; abstract H-1571. Reprinted with permission.
Click here
to view the full presentation.
That's a really good question. Efavirenz is known to cause mild dyslipidemia, which means a very small elevation in total cholesterol and a modest elevation in triglycerides. What we observed here is not that different from what we have been observing in previous studies.
But with that said, it's reassuring to see that, in the raltegravir arm, there were no changes or elevations in lipid parameters at 48 weeks.
Was this true for women, men, African Americans, whites?
We didn't do a stratification based on gender, but we did have a mixed population in this analysis: About 41% to 44% of the patients were Caucasians and the rest were members of minority groups.
The gender breakdown was 20% female versus 80% male. The analysis was composed of that mixture of patients.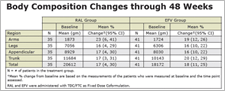 Edwin DeJesus et al. ICAAC 2009; abstract H-1571. Reprinted with permission.
Click here
to view the full presentation.
Then, finally, we looked at body composition changes. This study was significant because they did perform baseline DEXA [dual energy X-ray absorptiometry] scans. We had baseline DEXA scans for the arms, legs and both combined -- also known as the appendicular area -- and it was about 8.9 kg of fat at baseline in the raltegravir group and 8.0 kg of fat at baseline in the efavirenz group.
We also measured trunk fat in both groups. We saw that after 48 weeks of treatment -- we have here the mean and 95% confidence interval -- there was about a 17% increase in body fat in the raltegravir group and an 18% increase in the efavirenz group.
This is a subgroup analysis. There were only 35 patients in one arm, and 41 patients in the other arm of the subanalysis. That said, there was no quantitative documentation of lipoatrophy seen in any of these.
But there was fat gain. Can you talk about the fat gain that you saw?
The fat gain is interesting because, yes, there was a 17% increase in fat in the raltegravir group and an 18% increase in the efavirenz group, but if you look at fat gain in the appendicular and trunk areas, it was 17% also. We can see that this is diffuse fat gain. Perhaps because some of those patients entered the study with advanced disease, there had been some degree of wasting.
We know anyway that the initiation of antiretroviral therapy results in some weight gain, so that's pretty much what is represented there.
What about patient reporting? Sometimes these kinds of studies ask the patients if they notice any difference in their own body shape.
The findings that I've discussed with you are the findings for the 76 patients that participated in the DEXA scan subgroup. But the investigator analyzing the entire study group noticed that there were two patients that developed symptoms consistent with lipodystrophy. Those two patients were in the efavirenz arm. Now this is a blind study, so by the time the investigator reported that, they didn't know if the two patients were taking raltegravir or efavirenz. But those two patients that were reported with some findings consistent with lipodystrophy were in the efavirenz arm.
Has efavirenz been known to cause lipodystrophy?
Advertisement
Edwin DeJesus et al. ICAAC 2009; abstract H-1571. Reprinted with permission.
Click here
to view the full presentation.
If you remember the results of AIDS Clinical Trials Group study 5142, in the metabolic and body composition analysis, they found that about 12% of patients developed some degree of lipodystrophy.3 These numbers may be consistent with that, but again, this is observational for an investigator, not quantification for an unvaried subgroup.
Do we know the mechanism behind even the two patients who developed symptoms of lipodystrophy? Do we know why some patients develop lipoatrophy or lipodystrophy and some patients do not?
I think that we have a clear understanding of how lipoatrophy or lipodystrophy can occur by mitochondrial toxicity in patients that are taking thymidine analogs. But how that occurred with either efavirenz or, perhaps, with the nucleoside backbone that was used in this study, is not clear.
Can patients and physicians be assured that raltegravir looks good from a body shape change point of view?
Yes, this study pretty much supports that. There do not appear to be any significant body composition changes in patients that are starting raltegravir and being treated for a period of 48 weeks.
Thank you.
This transcript has been lightly edited for clarity.
References
Lennox J, DeJesus E, Lazzarin A, et al. STARTMRK, a phase III study of the safety & efficacy of raltegravir (RAL)-based vs efavirenz (EFV)-based combination therapy in treatment-naive HIV-infected patients. In: Program and abstracts of the 48th Annual ICAAC/IDSA 46th Annual Meeting; October 25-28, 2008; Washington, D.C. Abstract H-896a.
DeJesus E, Lazzarin A, Lennox J, et al. Metabolic profiles and body composition changes in treatment-naive HIV-infected patients treated with raltegravir (RAL)-based vs. efavirenz (EFV)-based combination therapy: 48-week data. In: Program and abstracts of the 49th Interscience Conference on Antimicrobial Agents and Chemotherapy; September 12-15, 2009; San Francisco, Calif. Abstract H-1571.
View poster: Download PDF
Riddler SA, Haubrich R, DiRienzo G, et al, for the AIDS Clinical Trials Group 5142 Study Team. A prospective, randomized, phase III trial of NRTI-, PI-, and NNRTI-sparing regimens for initial treatment of HIV-1 infection -- ACTG 5142. In: Program and abstracts of the XVI International AIDS Conference; August 13-18, 2006; Toronto, Canada. Abstract THLB0204.
View slides: Download PowerPoint