More than twenty years after the approval of the first antiretroviral and despite numerous advancements in the treatment of HIV, getting HIV-related medications to all those who need them remains a critical challenge, even in the United States. Throughout this time, ADAPs, or AIDS Drug Assistance Programs, have served as the medication lifeline for many people with HIV.
What Are ADAPs?
Part of the Ryan White HIV/AIDS Treatment Modernization Act of 2006 (Ryan White Program), ADAPs are the major source of prescription drugs for low-income people living with HIV/AIDS in the U.S. who have limited or no prescription drug coverage. The purpose of ADAPs, as stated in the Ryan White law, is to "provide therapeutics to treat HIV disease or prevent the serious deterioration of health arising from HIV disease in eligible individuals, including measures for the prevention and treatment of opportunistic infections".1 This is accomplished in two main ways -- providing Food and Drug Administration (FDA)-approved HIV-related prescription drugs to people living with HIV/AIDS and paying for health insurance (premiums, co-payments and deductibles) that includes coverage of HIV treatments.
When Did They Begin?
ADAPs began in 1987 as AZT Assistance Programs when the federal government provided grants to states to help them purchase the first FDA-approved antiretroviral, AZT, for people living with HIV/AIDS. As community members began demanding that treatment be accessible and that the federal government develop a response to the HIV/AIDS crisis, ADAPs were written into the newly created Ryan White CARE Act in 1990; in 1996, the Congress began earmarking funds for ADAPs specifically, as part of Ryan White. In that year, approximately 69,000 people were served by ADAPs.2 Today, close to 150,000 people are served.
How Do They Work?
Each state3 administers its own ADAP and is given flexibility under the Ryan White Program to design many aspects of the program, including client eligibility, drug purchasing and distribution arrangements, and drug formularies (although there are minimum requirements for including one drug from every class of antiretroviral medications). No standard client income eligibility level is required by law, although clients must be HIV-positive, low income and under- or uninsured. In June 2007, client eligibility levels ranged from 200% of the federal poverty level (FPL) in nine states to 500% FPL in six states. Twenty-five states had levels over 300% and 19 states had set their levels between 201% and 300% of the FPL (see Figure 1). The national ADAP budget in Fiscal Year 2007 was $1.43 billion. Major sources of revenue were federal funding through the Ryan White Program (54%), state general revenue funds (21%) and drug rebates from manufacturers (18%).4
Figure 1: ADAP Income Eligibility, December 31, 2007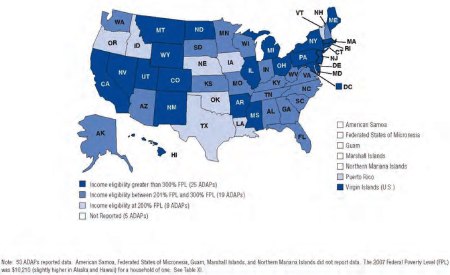 Click to enlarge
Source: Kaiser Family Foundation and NASTAD, National ADAP Monitoring Project -- Annual Report, 2008
ADAPs serve as "payer of last resort"; that is, they provide prescription medications to, or pay for health insurance premiums or maintenance for, people with HIV/AIDS when no other funding source is available to do so. Demand for ADAPs depends on the number of clients seeking services, the cost of medications, and the size of the prescription drug "gap" that ADAPs must fill in their jurisdiction. Larger gaps, such as in states with a less generous Medicaid program, may strain ADAP resources further than in others. This, coupled with an estimated annual (2007) drug cost for each ADAP client of nearly $12,000 and escalating prescription drug costs, places ADAPs under continual fiscal pressure to meet the demands for services.5
ADAPs are discretionary grant programs, dependent on annual funding from Congress, funding which may not correspond to the number of people who need prescription drugs. Therefore, annual federal appropriations and contributions from other sources (such as state funding), determine how many clients ADAPs can serve and the level of services they can provide. When demand for ADAPs exceeds available funding, as has been the case for much of the program, ADAPs have turned to a variety of cost containment measures, including waiting lists, reduced formularies or client eligibility, cost-sharing and/or expenditure limits (monthly or annual). Waiting lists, while not the only indicator of fiscal pressures within ADAPs, have been a steady element of ADAPs since 2002 when tracking began. The number of individuals on ADAP waiting lists reached a high of 1,629 in 11 states in 2004, and has fluctuated over time, most likely a result of variable funding levels and demand for services.6
What Are the Latest Program Trends?
Through a more than 10-year collaborative effort, the National Alliance of State and Territorial AIDS Directors (NASTAD) and the Henry J. Kaiser Family Foundation (Kaiser) have been working to collect data on ADAPs through The National ADAP Monitoring Project, which tracks the program on an annual basis. The most recent report, from April 2008, highlighted several key findings about ADAPs, including the following:7
Across the nation, ADAPs have served an increasing number of clients over time. With nearly 146,000 enrollees in 2007 -- and 102,000 served in the month of June 2007 alone -- the national ADAP client caseload was at its highest level since the program began. It is estimated that ADAPs reach nearly three in 10 people with HIV estimated to be in care nationally.8
As the nation's prescription drug safety-net for people with HIV/AIDS, ADAPs are designed to serve some of the most vulnerable people with HIV in the country, and, indeed, most clients are low-income and uninsured, with more than four in 10 having incomes at or below 100% of the Federal Poverty Level (FPL was $10,210 annually for a family of one in 2007), and seven in 10 being uninsured. Approximately two-thirds are people of color. Without ADAPs, many of these individuals would likely fall through the cracks in the larger health care system.
ADAP clients primarily reflect the national epidemic, concentrated in states with the highest incidence of people living with HIV/AIDS. Ten states accounted for two-thirds (67%) of total client enrollment in June 2007. Regionally, more than a third (37%) of clients enrolled lived in the South, 27% in the West, 25% in the Northeast, and 11% in the Midwest.
The 2006 reauthorization of the Ryan White Program, the federal program under which ADAPs were established, changed the way in which federal funding is distributed to states for ADAPs. It also instituted new ADAP policies such as a minimum drug formulary requirement for antiretrovirals, the first such requirement in the program's history. While the implications of these recent changes are still playing out at the state level, they have introduced both new opportunities and new challenges for ADAPs. For example, the funding formula change has resulted in fluctuations in the amount of ADAP funding received by states between Fiscal Year 2006 and Fiscal Year 2007 and may continue to do so. Additionally, the new formulary requirement has served to expand access to medications in a few states but may pose resource challenges in others, particularly as newer, but usually more expensive, classes of antiretrovirals are introduced (see Figure 2).
Figure 2: ADAP Formulary Coverage of Antiretroviral Drugs, December 31, 2007

Click to enlarge
Source: Kaiser Family Foundation and NASTAD, National ADAP Monitoring Project -- Annual Report, 2008
There generally has been good news for ADAPs, as several factors have combined to ease past fiscal pressures, although relief has not been felt equally across the country and its longevity is uncertain. Waiting lists are at nearly their lowest levels since the Monitoring Project began tracking them: as of July 3, 2008, there were 35 individuals on ADAP waiting lists in two states (Indiana and Montana). Over the past year, most ADAPs increased client enrollment and added medications from two new drug classes (integrase and CCR5 inhibitors) almost immediately upon their approval, despite having a multi-month grace period for doing so.

Among the factors contributing to the easing of past pressures for many states were:

President's ADAP Initiative (PAI): The PAI, initiated in 2004, provided additional one-time funding to 10 states with waiting lists, resulting in a drop in the number of people on waiting lists throughout the country (although not eliminating waiting lists completely; at the end of the PAI in 2006, more than 300 additional individuals were still on waiting lists in six states).
Medicare Part D: Some ADAPs reported that the introduction of Medicare Part D in 2006 helped to ease constraints and/or provide a new avenue for prescription drugs for people with HIV. For example, many ADAPs have been able to reduce drug costs for Part Deligible clients by transitioning from paying all prescription drug costs for Part D-eligible clients to covering their wrap-around costs such as co-payments, monthly premiums or costs when beneficiaries reach the coverage gap in their Part D plans.
Non-Federal Funding Sources: Over time, non-federal funding sources -- particularly state general revenue support and drug rebates -- have become critical parts of the ADAP budget. States, although not required to do so, have generally acted to provide additional funding to ADAPs at key times, sometimes in response to statelevel advocacy efforts. In addition, the easing of the economic downturn that hit states hard in the early part of the decade likely led to some states increasing their contributions to ADAP this year. Moreover, because of the uncertainty of ADAP funding from year to year, ADAPs have become increasingly sophisticated at seeking other sources of revenue, particularly pharmaceutical manufacturer drug rebates, which now appear to be a main factor allowing most ADAPs to continue to meet client demand and even expand access in some cases.
ADAP Supplemental Treatment Drug Grants: The 2006 Ryan White reauthorization increased the amount of funding available for ADAP Supplemental Drug Treatment Grants, a set-aside of the federal ADAP earmark designed to provide additional funding to states with significant ADAP program limitations. This resulted in the first increase in funds available through the ADAP Supplemental since Fiscal Year 2003 and likely contributed to the easing of fiscal pressures in those states that received increases in (13 states) or first-time (3 states) ADAP Supplemental funding.

Despite these factors, there is concern for the future of ADAPs. ADAP funding levels and budget compositions are highly variable from year to year, with revenue sources often triggered as "levers" that rise and fall depending on the amount of federal funding available. Trend data indicate that when one revenue source decreases, others often increase to fill the gap. For example, as growth in federal ADAP earmark funding has slowed in recent years, other funding sources, such as drug rebates, have been sought more actively. These "levers," however, are seldom permanent and usually unpredictable. The only two ADAP funding sources that increased over the last period were drug rebates and the ADAP Supplemental; all others decreased, including state funding, which has historically been a key driver of ADAP budget growth.
The Outlook?
As of the time of this writing, there are still several unknowns concerning the near and longer term outlook for ADAPs. It is still not clear, for example, how the recent changes in the Ryan White Program will affect ADAPs over time. ADAP earmark funding, for instance, is still expected to shift state-by-state as hold harmless requirements (provisions within the Ryan White law that protect jurisdictions from substantial losses in funding) and other provisions in the law play out. This is occurring against the larger backdrop of a more general economic downturn that is impacting state budgets, with many reporting overall budget shortfalls for Fiscal Year 2008 and/or expecting shortfalls for Fiscal Year 2009, which could stand to affect ADAPs.
In addition, Fiscal Year 2009 Congressional appropriations for ADAP have still not been completed by Congress. Both the House and Senate have proposed increases of approximately three percent over current levels, but differences between them must now be resolved. The pending national election could bring changes as well, with both presumptive Presidential nominees having mentioned the need to further address the growing HIV epidemic in the U.S. Furthermore, there is ongoing discussion nationally and at the state level about the need for broader health reform, and any changes in the larger health system will stand to affect ADAPs. What is clear is that ADAPs have and will continue to play a critical role in providing prescription medications to people with HIV/AIDS in the U.S. who would otherwise have nowhere else to go.
ADAPs have been highly successful in meeting the needs of uninsured and underinsured Americans with HIV. As the new President, Congress and states seek to affect changes in health care, the role of ADAP as a safety net program in our nation's larger health care system remains critical and must be at the forefront of health care reform discussions.
Murray Penner is Deputy Executive Director at the National Alliance of State and Territorial AIDS Directors (NASTAD).
Jen Kates is Vice President and Director of HIV Policy at the Kaiser Family Foundation.
References
Want to read more articles in the October 2008 issue of GMHC Treatment Issues? Click here.